Conveniently situated on Al Muroor Road, Dusit Thani Abu Dhabi offers easy access to Dubai's business and government district, as well as several places of interest that are popular with tourists and visitors. It is difficult to miss the impressive glass tower that houses this outstanding Thai-inspired 5-star hotel. Dusit Thani Abu Dhabi welcomes guests to enjoy the stylish, luxurious accommodation and excellent amenities. Choices of fine restaurants, and access to great facilities such as the Namm Spa and DFiT Fitness Centre are just some of the sought-after amenities that Dusit Thani Abu Dhabi has become known for.
The well-known Corniche Road with its different amenities for visitors to the city is a short drive from the hotel.  The hotel is situated withing walking distance of the Al Jazira Sports & Cultural Club, the Al Bahr Towers and Abu Dhabi Media Company. It is also situated in close proximity to Mushrif Central Park, Umm Al Emarat Park and Al Nahyan Stadium and other attractions that guests can explore during their stay. After a busy day out, guests come back to true luxury as they relax in exquisite rooms and apartments, while they get ready for early drinks and dinner. Service is outstanding throughout, with staff going out of their way to make one's stay comfortable, and amenities are among the best anywhere.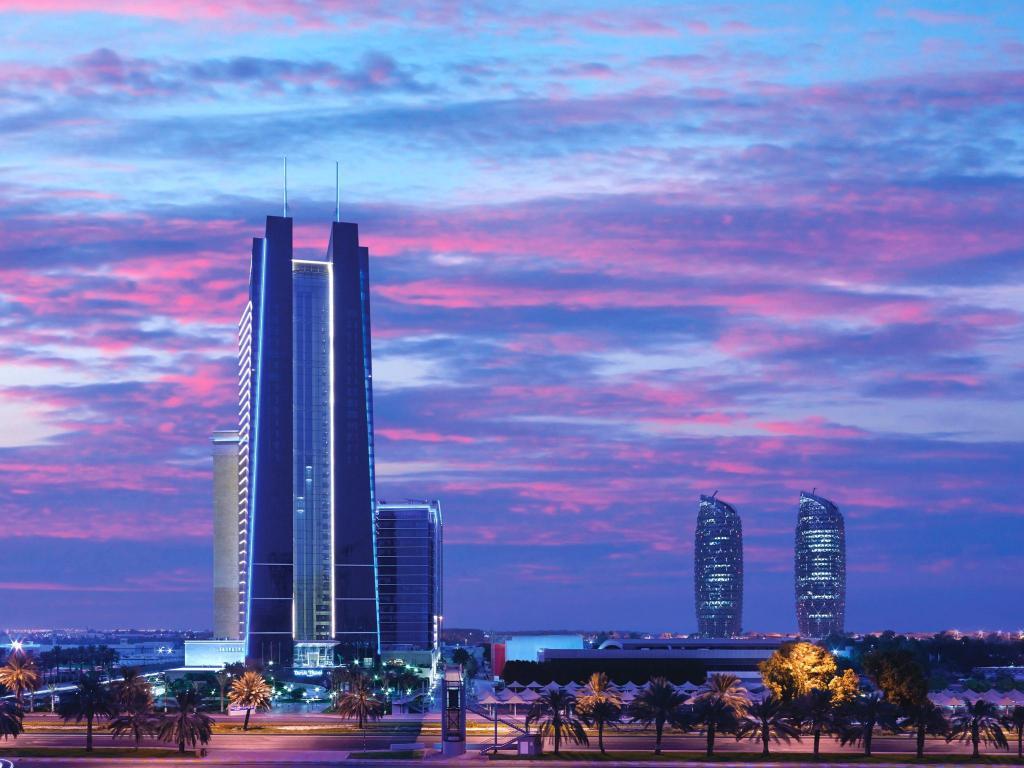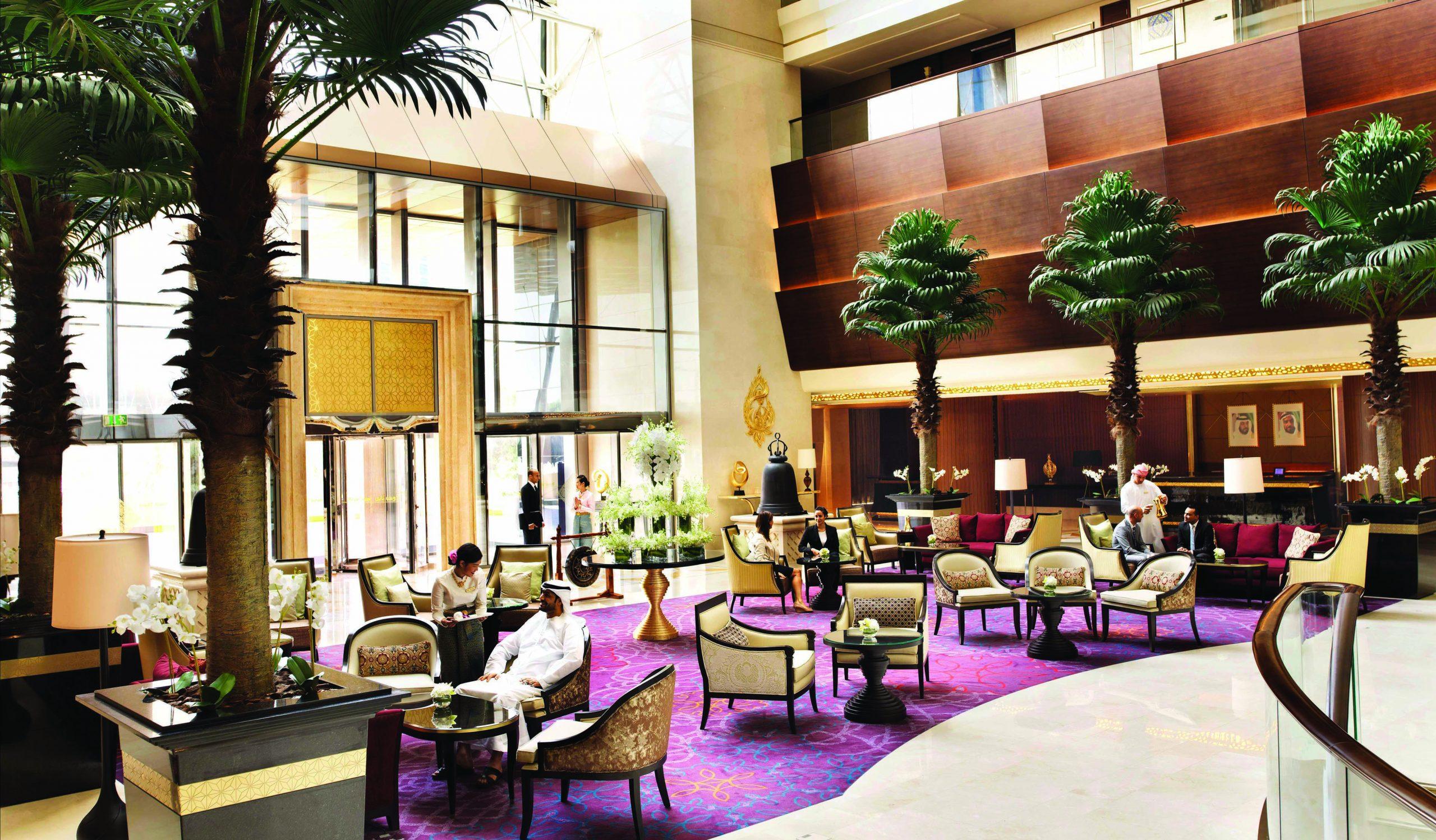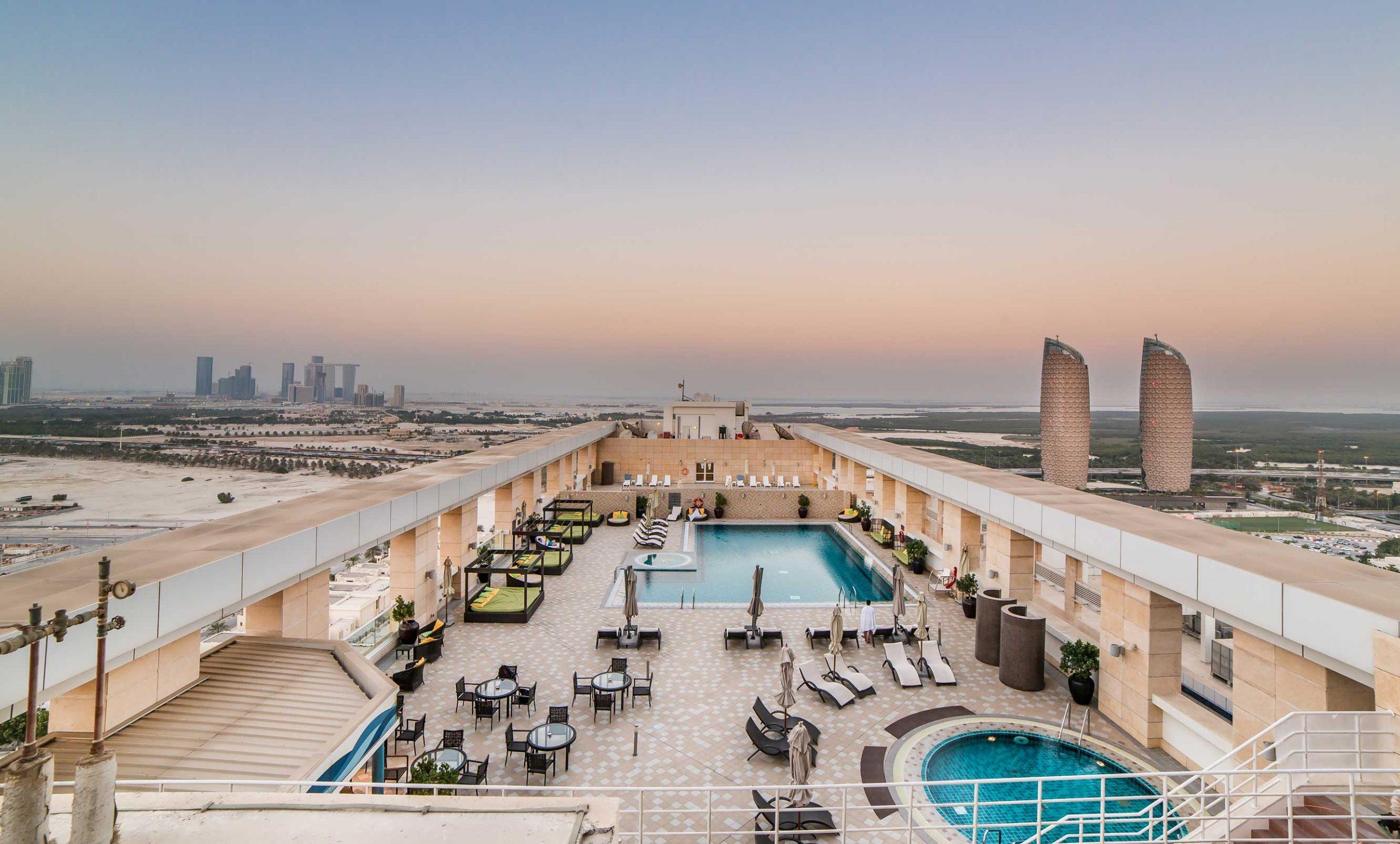 Why You Should Go There
Dusit Thani Abu Dhabi has become known for being a top-class establishment that offers excellent accommodation, access to various sought-after amenities, as well as a destination that ensures guests are treated like true 5-star visitors. In addition to elegant accommodation, guests can expect to be offered a number of services that make their stay a satisfactory experience. Among these are the hotel's conferencing facilities that include stylish meeting rooms and boardrooms where guests can host meetings. Events right from intimate meetings to large-scale functions can be booked. Business facilities also include fax and photocopying services as well as further services that the businessman and businesswoman can benefit from.
Guests never have to leave the hotel for the best dining options. They offer a mix of traditional and modern fare, which include choices of Thai cuisine, as well as steaks and other international cuisine options. There is Namak for excellent choices of Indian dishes during lunch and dinner, and the excellent, often awarded Benjarong Restaurant and Lounge that serves Thai dishes. Urban Kitchen is known for its outstanding buffet choices, while McGettigan's is mentioned for being a popular pub style meeting place for friends that enjoy a light-hearted atmosphere in a relaxed setting. Further choices are Orchid Lounge, and for pastries and cakes, you can visit Dusit Gourmet. Guests that want to grab something quick, should visit Dusit Breeze and Urban Café.
Enjoy a great workout at the hotel's fully equipped gym, or book yourself one of the special body treatments and massages that await at Namm Spa. Guests at Dusit Thani Abu Dhabi can expect to relax in great surrounds that include gardens, sun terraces and a sparkling pool. A minimarket on site is an added bonus, with barber and beauty shops available too. Shuttle services, free public parking, ATM machines on site and a good concierge service are further features to ensure guests' comfort and satisfaction.
Accommodation
Guests can choose from 402 rooms and suites that offer several modern conveniences and amenities to add a special touch to their stay. Décor is warm, elegant and well-appointed. Spacious working areas, flat-screen TVs and free Wi-Fi everywhere are some of the features that the modern guest expects and is offered.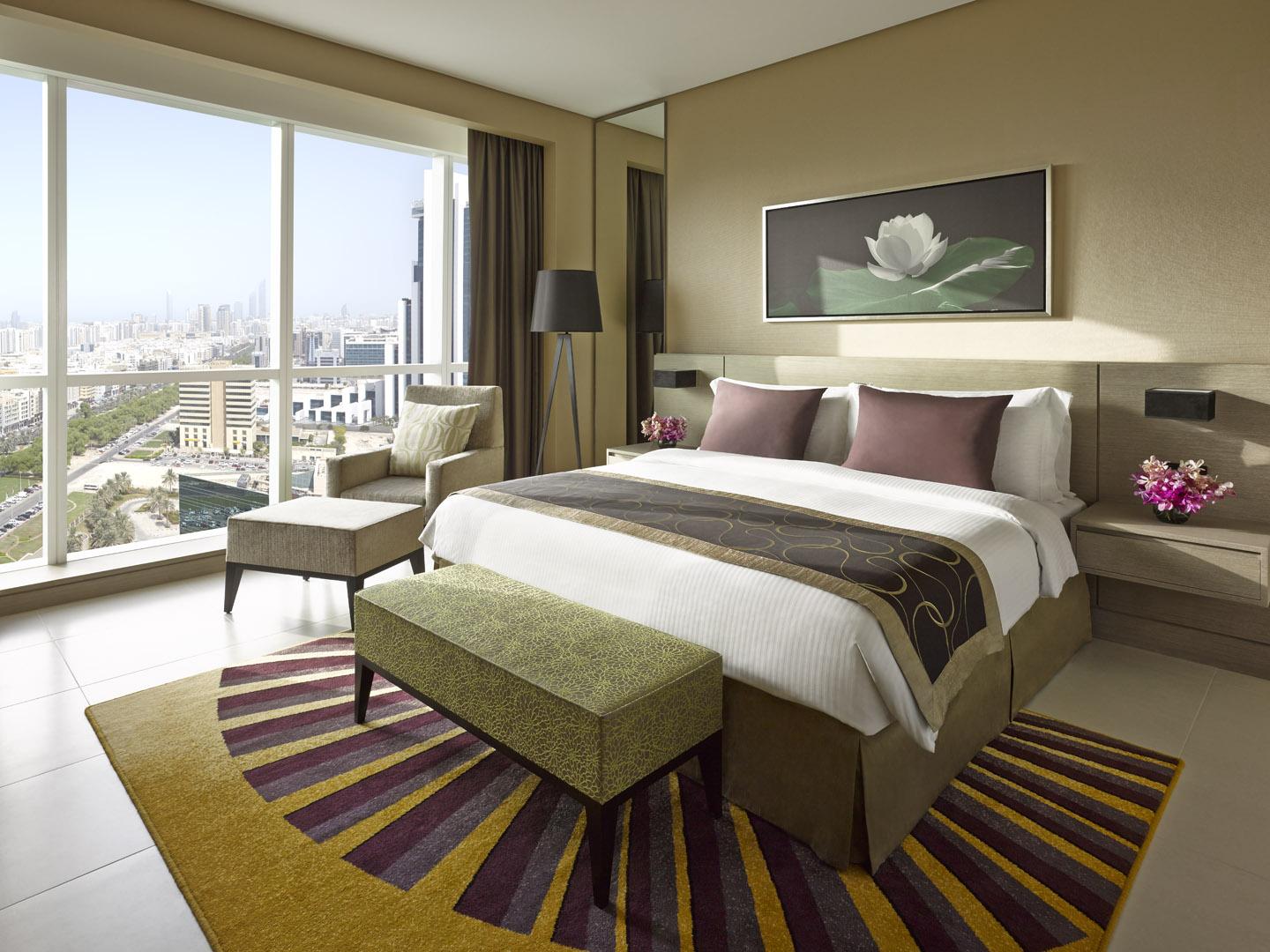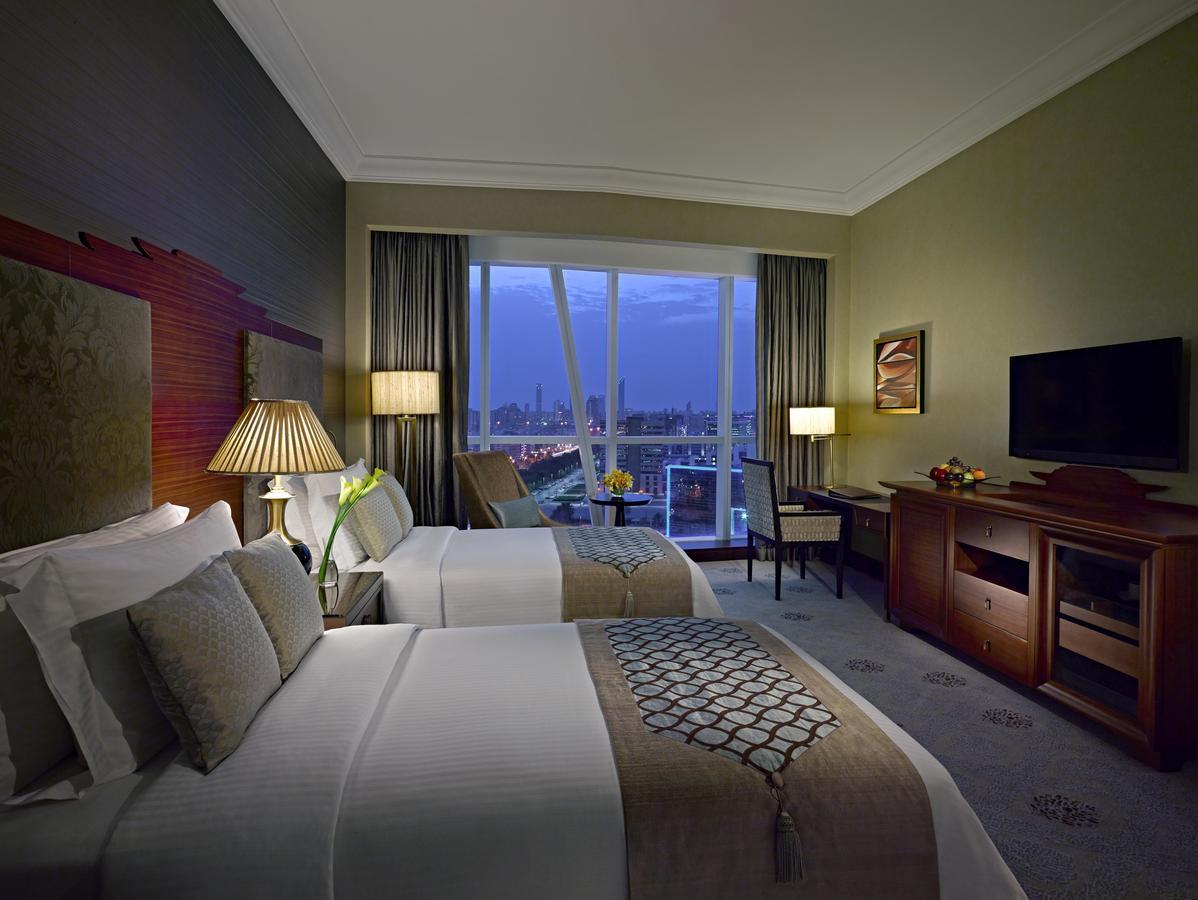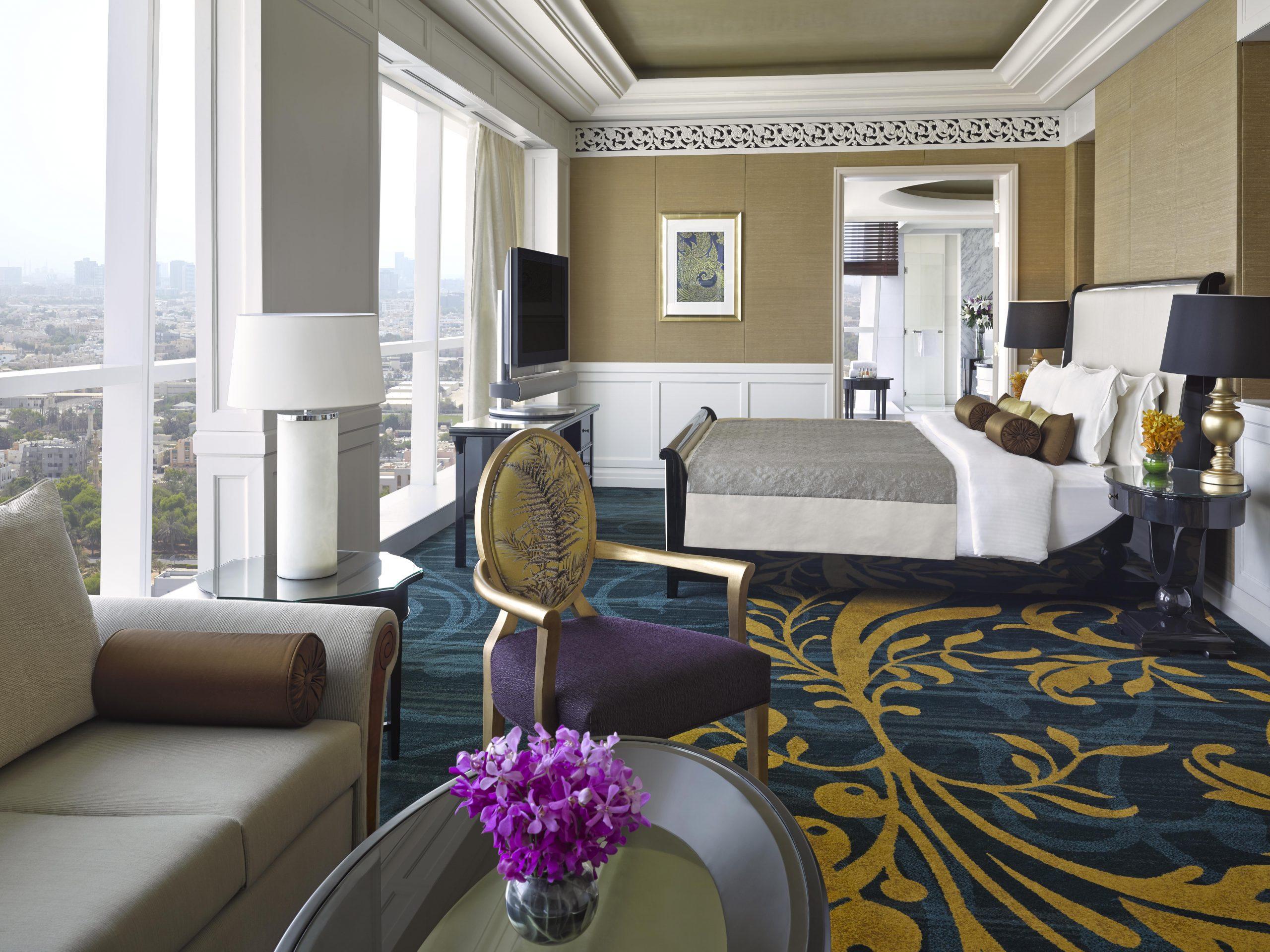 Guests have different options so that all requirements and expectations are met. Views are exquisite, and bright light pours in through floor-to-ceiling windows. Choices are offered from Deluxe Rooms starting at 44 sq. m going up to the Club Executive Suite that features 87 sq. m of true luxury. The Presidential Suite measures 375 sq. m of luxury, and the equally impressive Royal Suite an almost palatial 450 sq. m of space, comfort and luxury. Further choices include studio and one-bedroom apartments.
Executive Club Lounge and Kids Club
The Dusit Thani Abu Dhabi features a great Executive Club Lounge for the discerning guest, but unfortunately they do not have a Kids Club.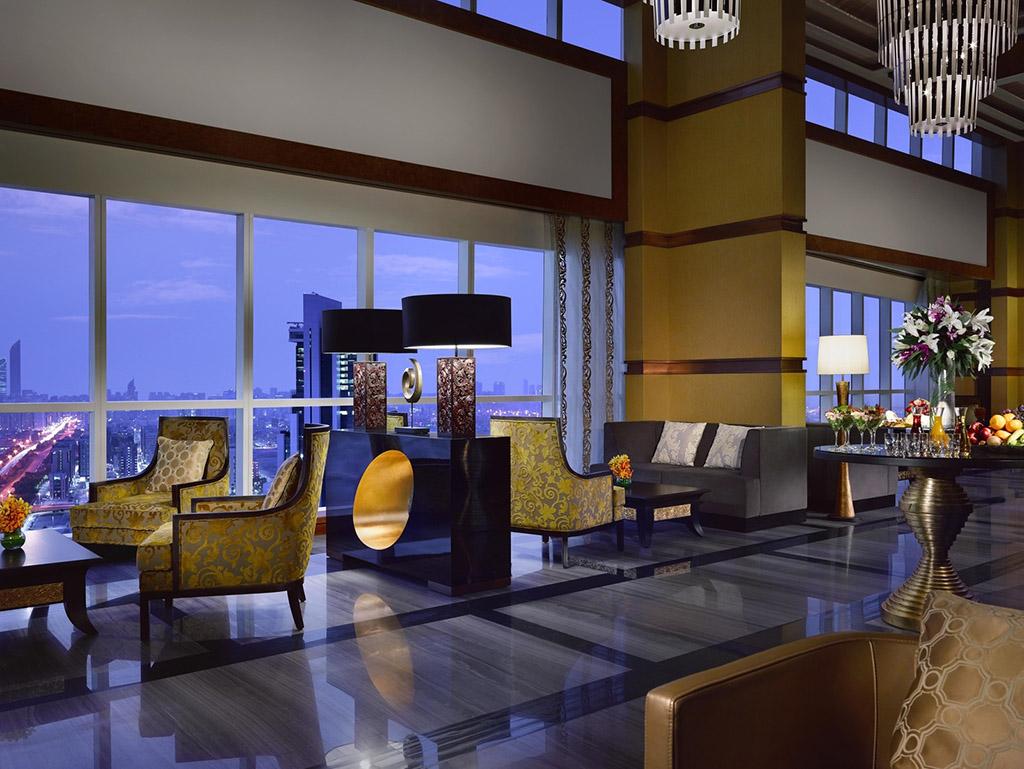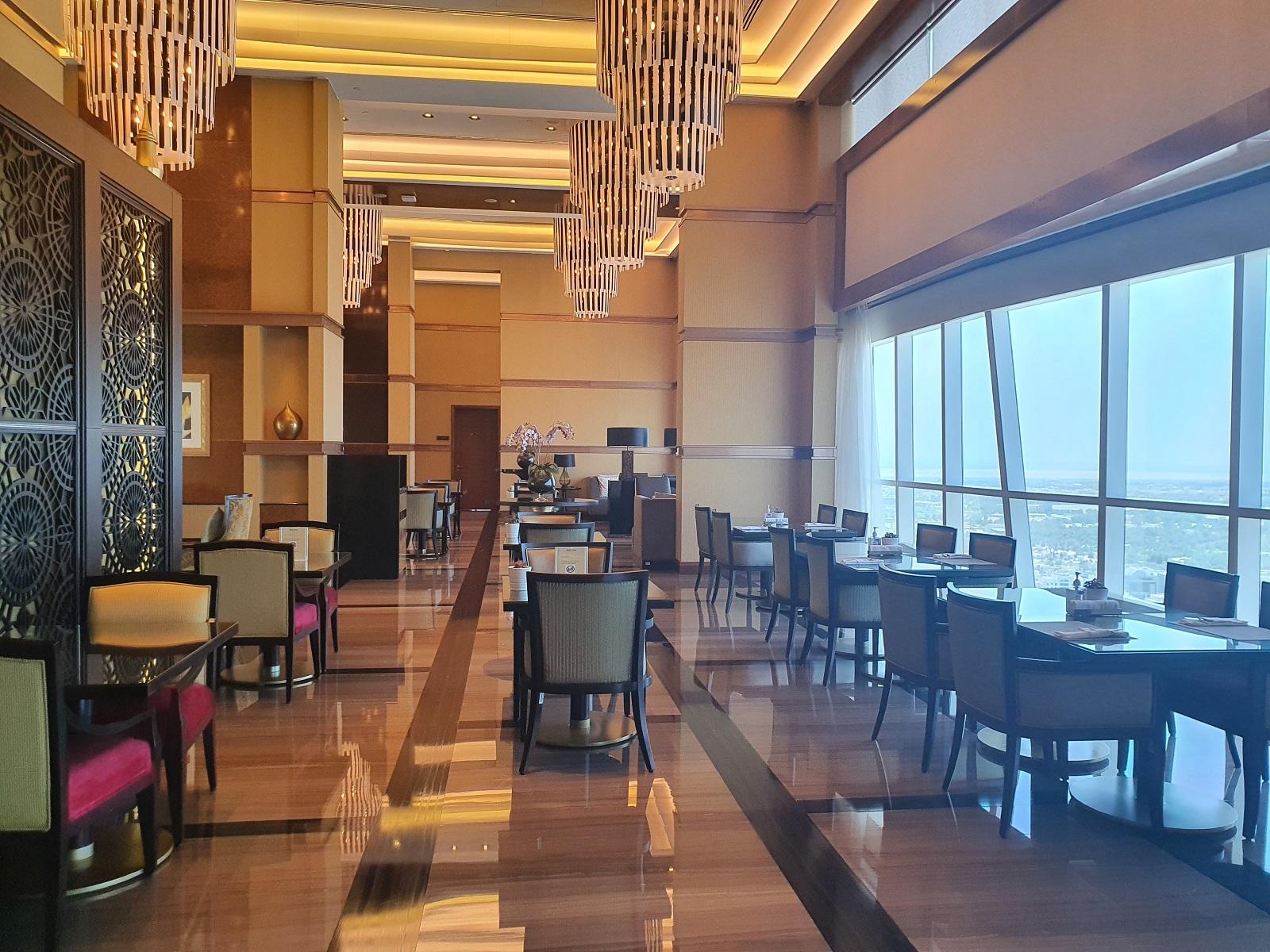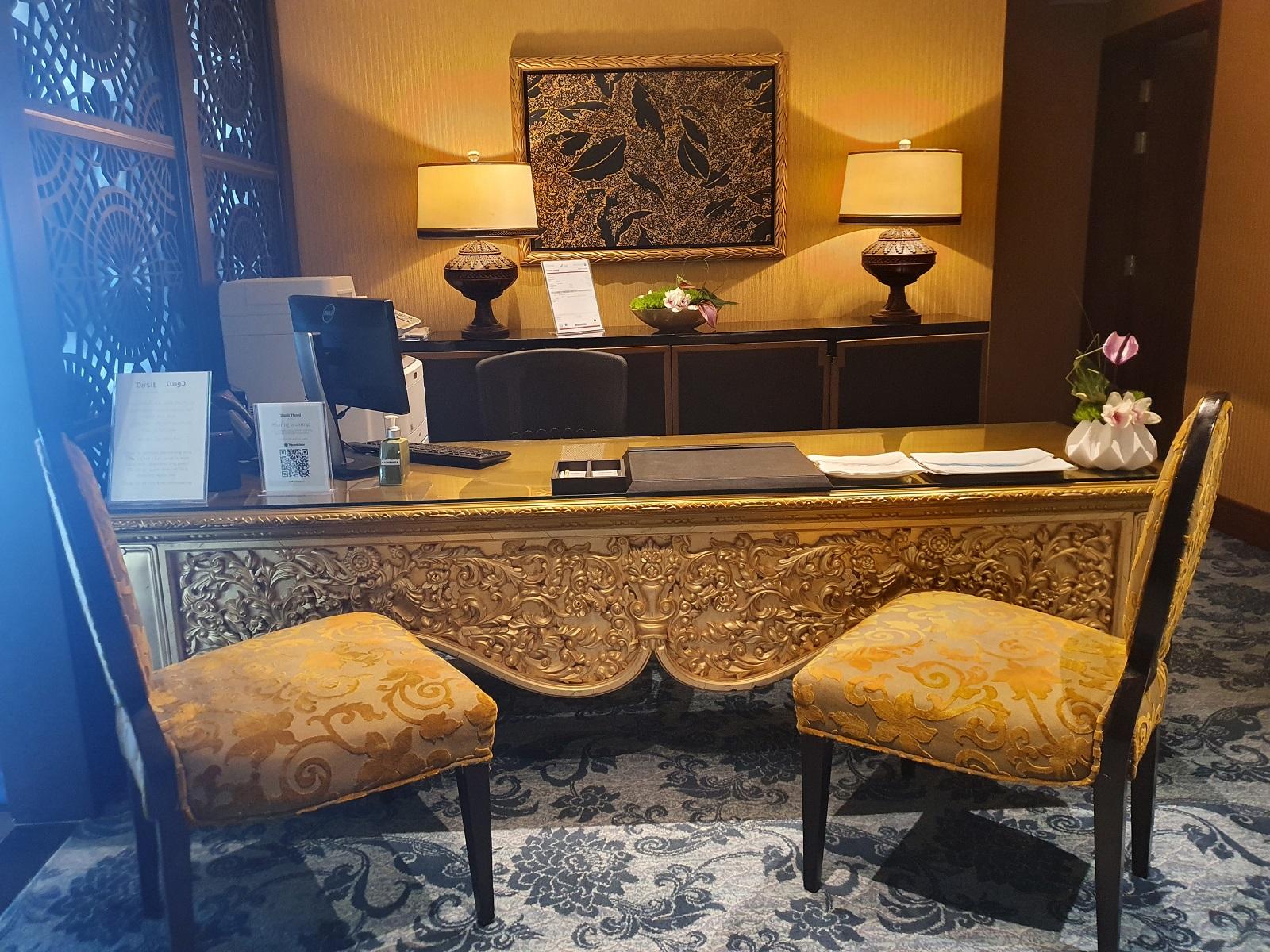 The Executive Lounge for Executive Club Lounge Guests is situated on the 35th floor and is open every day from 11:00 am until 10:00 pm to ensure guests in this category are offered special service and privileges. Read about their Executive Club Lounge by clicking on the button below:
Dusit Thani Abu Dhabi Executive Club Lounge