Ritz-Carlton Shanghai, Pudong Hotel Bedroom Welcome Review
We arrived at the Ritz-Carlton, Pudong Hotel to find it was even more impressive than we had anticipated. We were given a warm welcome and our luggage was taken swiftly to our room. We exited the elevator in the lobby and made our way to our room. When we opened the door to our room, we were astonished by the sight. The suite was absolutely stunning and had been upgraded from the room we had booked. We were pleasantly surprised to find the suite had been beautifully decorated in preparation for our daughter's birthday. There were decorations adorning the walls and the room was filled with balloons. We were truly touched by the extra thoughtfulness and effort the hotel had gone to in order to make this special day extraordinary.
Even though we knew they were doing planning something special for our daughter, we were still totally gobsmacked when we went into the suite and we couldn't believe our eyes.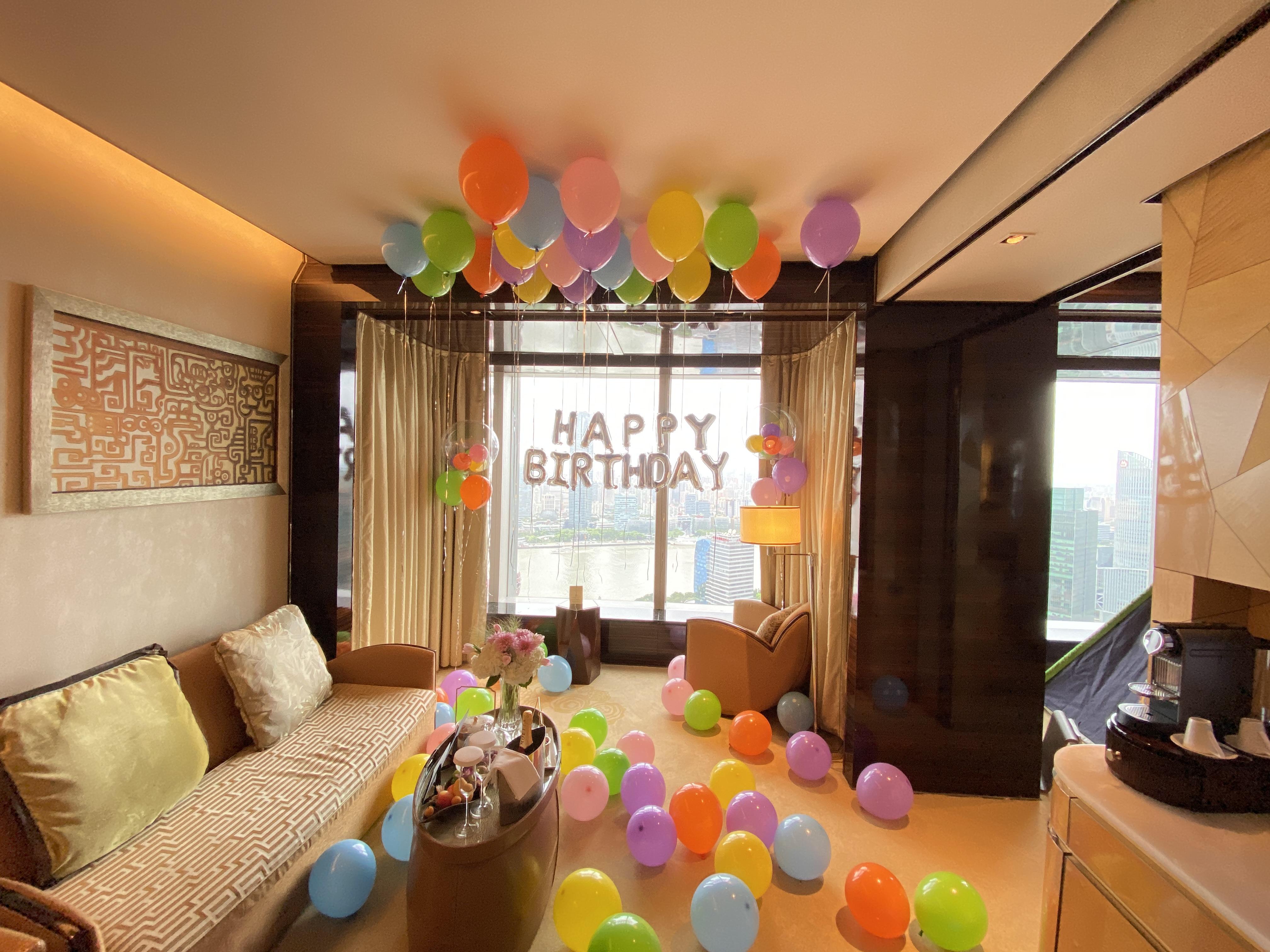 Image: Stunning balloon display to mark birthday at Ritz-Carlton Shanghai, Pudong Hotel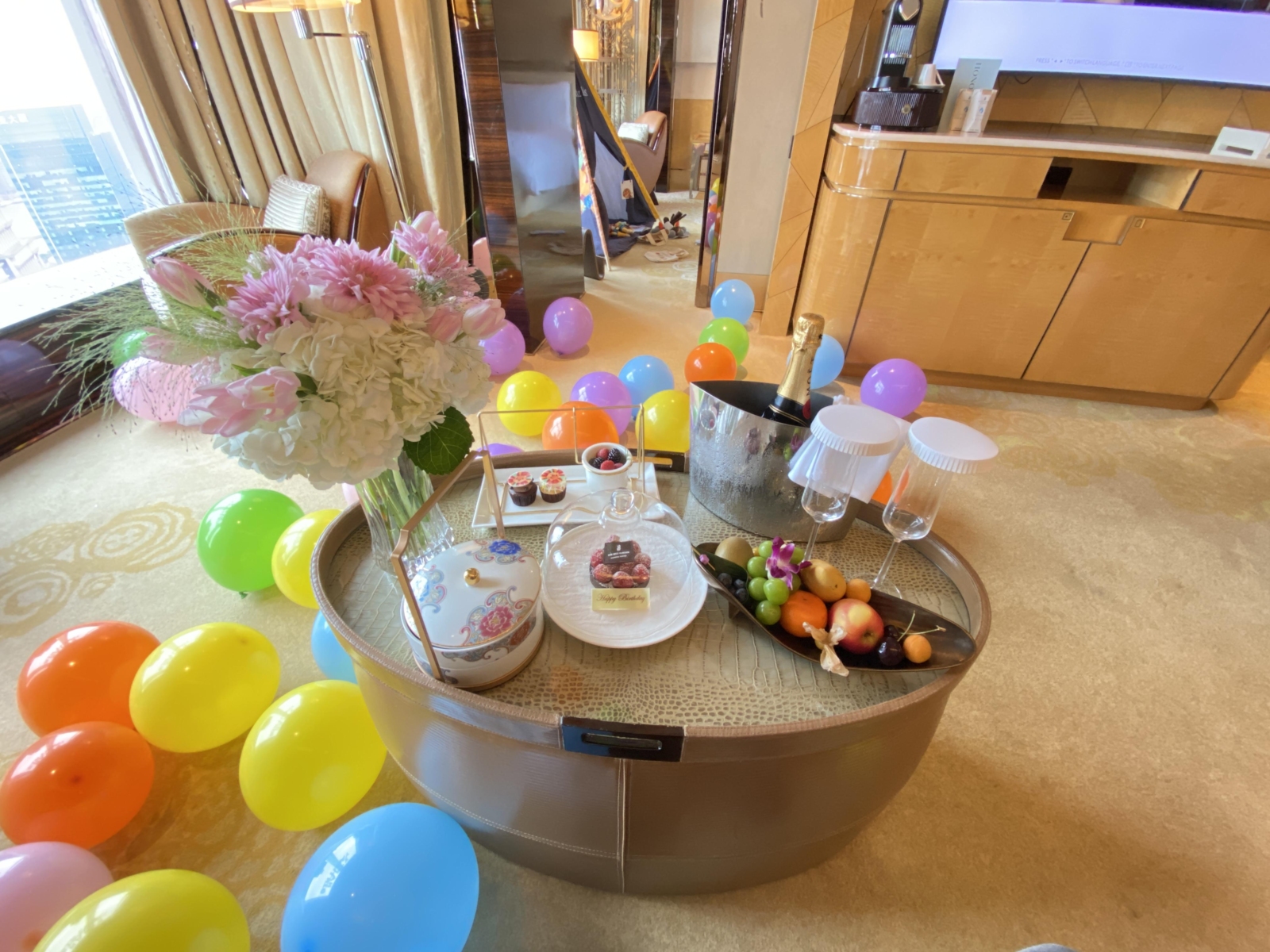 Image: Selection of fruits, cake, champagne together with flowers to mark birthday celebration at Ritz-Carlton Shanghai, Pudong Hotel
Our daughter was speechless with amazement when she saw countless number of balloons all around the room together with the foil balloons specially stuck on the window that said, 'Happy Birthday!' Beside it, an exquisite hamper of food was placed on the table, including a chocolate cake, fruits, desserts, a bouquet of flowers and a bottle of champagne, all of it topped off with a personal note from the Ritz-Carlton Shanghai, Pudong Hotel wishing her a very happy birthday. She was overwhelmed by all the attention and it was the first time she had ever experienced such a delightful surprise like this. For sure, she was one pleased birthday girl, and so were we!
Just when we thought things couldn't get any better, we walked into the main bedroom area of the suite and discovered a beautiful pitched tent designed specifically for the kids. Inside the tent, there was a Ritz Kids discovery map to help the kids explore their surroundings, a Ritz Kids backpack to store essentials, colouring pencils to bring their stories to life, Leo the Lion Plush Toy to cuddle up with at night, a night safari campfire plush toy for magical evenings and a night safari latern to create a warm comforting glow. Our kids were so excited and couldn't believe their luck! Both of our children were super exited to start exploring and spending time relaxing in the tent. The tent truly made our stay even more special and unforgettable!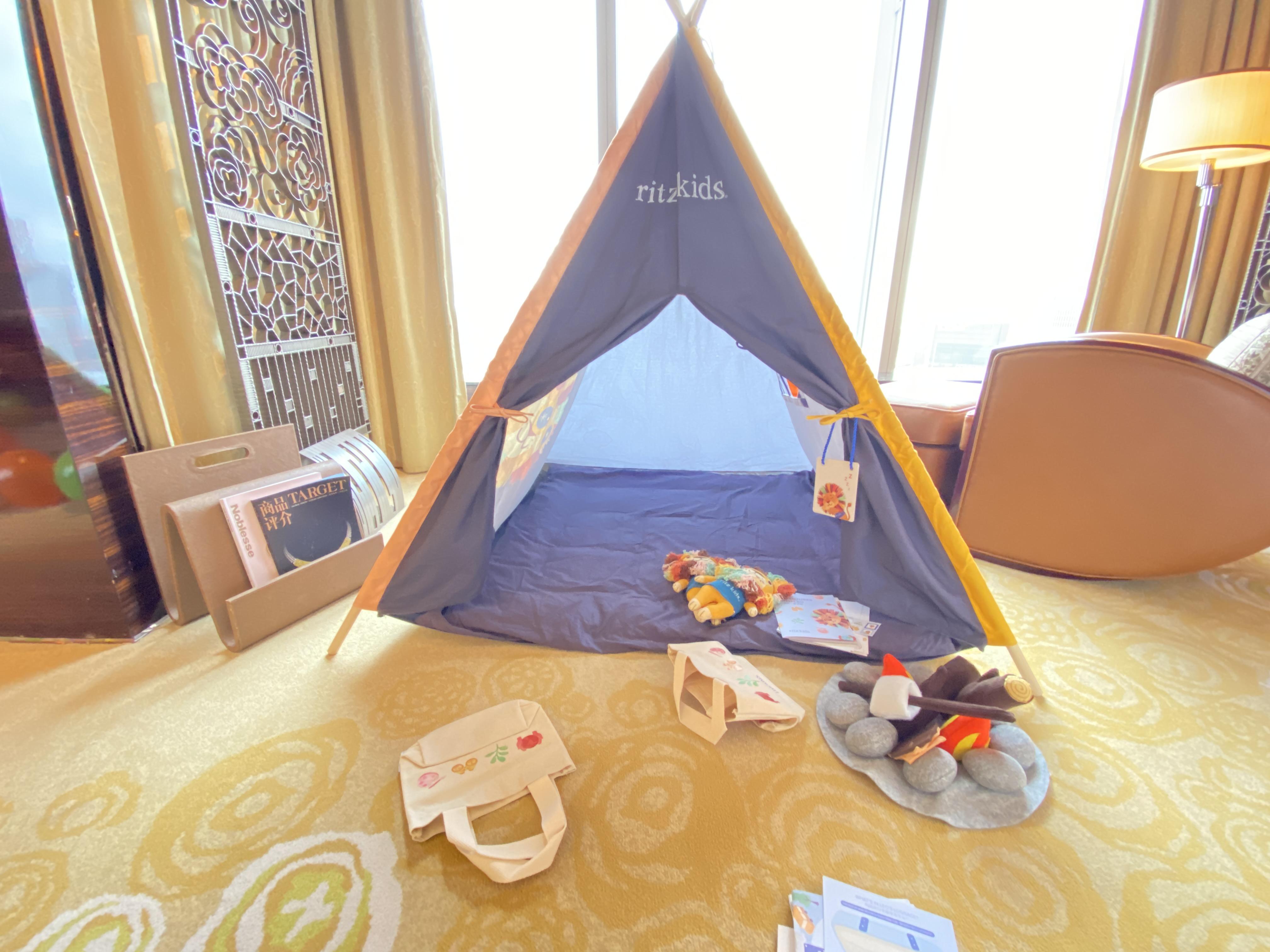 Image: Ritz Kids Night Safari Adventure Tent at the Ritz-Carlton Shanghai, Pudong Hotel
The tent lit up our children's eyes in total amazement. The colourful decor of the room and the variety of toys were more than enough to whip them into a frenzy of excitement. And soon enough, they were off and running into the night, playing and having lots of fun. The room was large enough for all the balloons that had been waiting for them, making it seem like a wonderland. As they moved around in the tent, giggles and laughter were heard throughout - it seemed like nothing could stop their fun. In the end, all the kids were exhausted but incredibly happy.
We will never forget this amazing birthday experience at the Ritz-Carlton Shanghai, Pudong Hotel.