Top 5 Best Value Family Friendly Hotels in the United Kingdom
Don't let your accommodations fall short when you take a family holiday to the United Kingdom. You don't have to pay a premium price to get a wonderful room with plenty to explore in the area. We have looked at plenty of hotels and found these 5 offer the best deals for the cost.
The Montcalm Royal London House
This is a large hotel in the heart of the city. The swimming pools are a common place to find families hanging out. Enigma Quests is a popular place for families too, offering a variety of games and sources of entertainment. Street Feast is a great place for the flea market and amazing cultural artwork.
The Montcalm Royal London House isn't far from Covent Gardens or many other attractions. Several monuments of historical events is in this area. It is easy to walk to them or take a shuttle. You will find numerous shops, live entertainment, and places to dine. You can enjoy an upscale meal or a delightful café!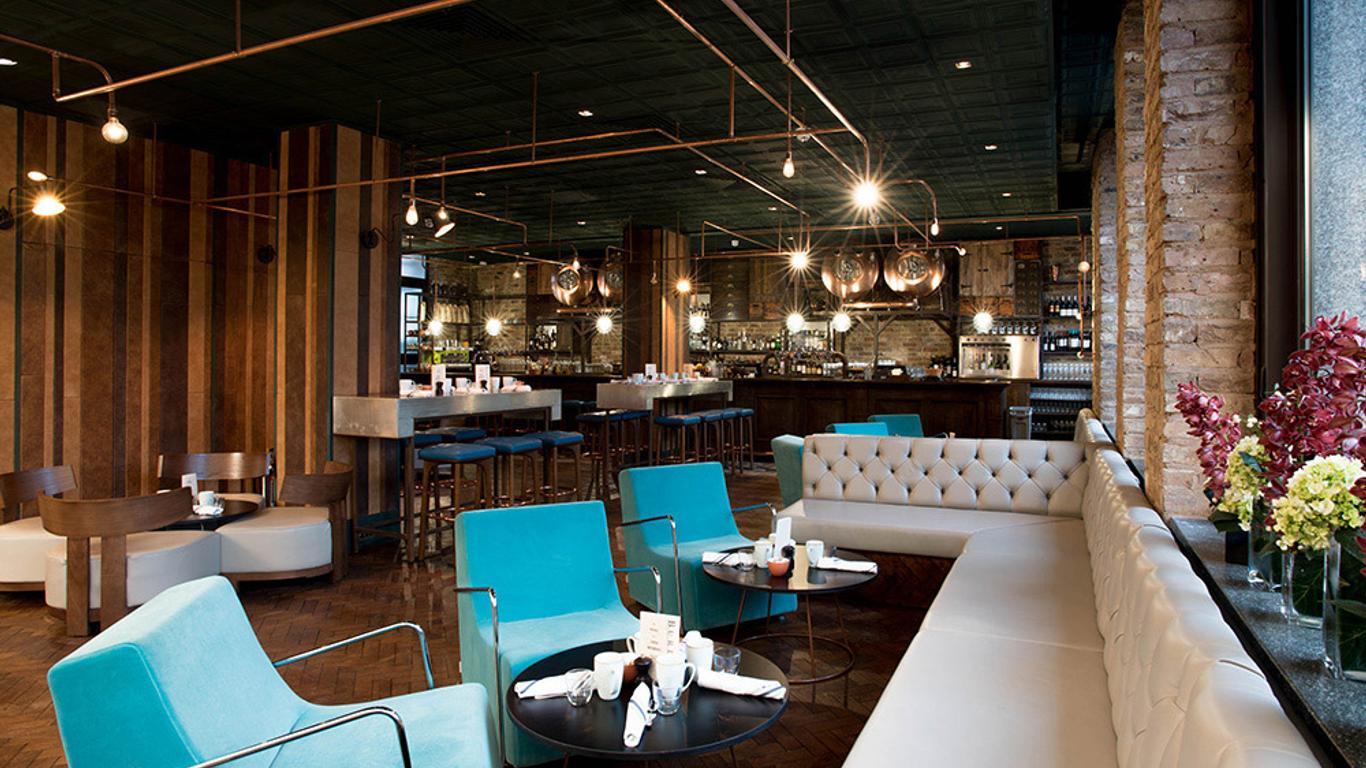 Image: The Montcalm Royal London House is one of the most amazing hotels you will ever stay in!
Sofitel London Heathrow Hotel
The Sofitel London Heathrow Hotel is a large structure, with over 600 rooms and suites. The hotel is quiet though due to the soundproof rooms and designs. It is a lovely place to stay with a family. The restaurant offers many cultural favourites and they have a kid-friendly menu too.
Burberry is about a 5 minute walk from the hotel. This is the area where you will find many specialty shops, places to eat, and live entertainment. About 10 minutes from the hotel there are parks, museums, and architectural structures. When it gets too hot to roam, consider one of the hotel swimming pools for some relaxing family time.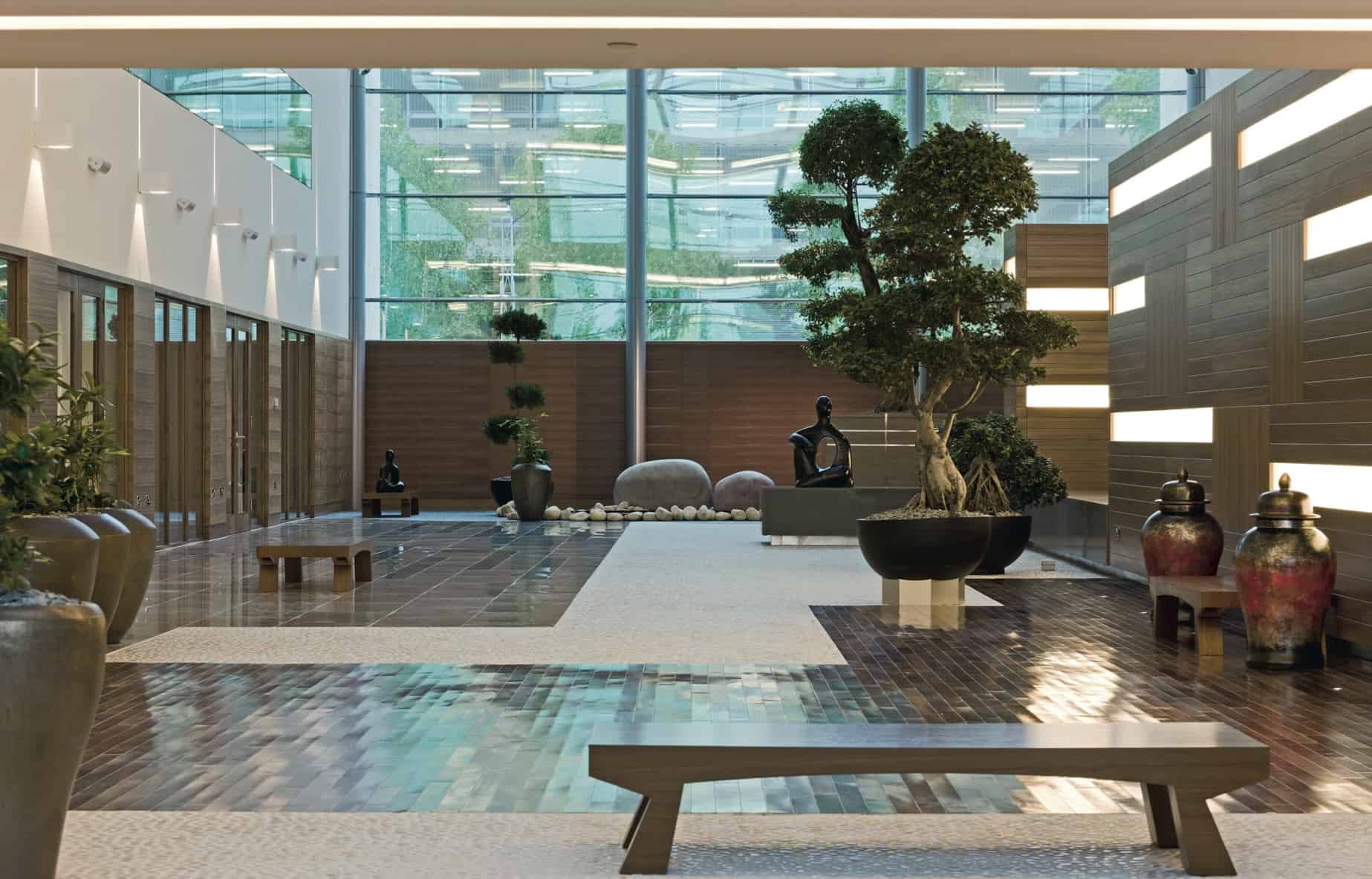 Image: The Sofitel London Heathrow Hotel is in a great location, offers comfortable rooms, and you are close to the popular attractions of the area.
Cheval Old Town Chambers
A great location in the city is a perk when you stay here, but the rooms aren't your typical hotel offering. Instead, they are designed like apartments, providing your family with ample space to relax, sleep, and eat. The place is stylish, but also offers cultural décor and artwork you will appreciate.
Edinburgh Old Town is a wonderful place for walking tours your family will be thrilled with. The National Museum of Scotland and a science museum aren't far from the hotel. Allow a full day to get through each of them so you aren't rushed. When you wish to relax at the hotel there are two swimming pools. There are children's programs on the TV for them to enjoy.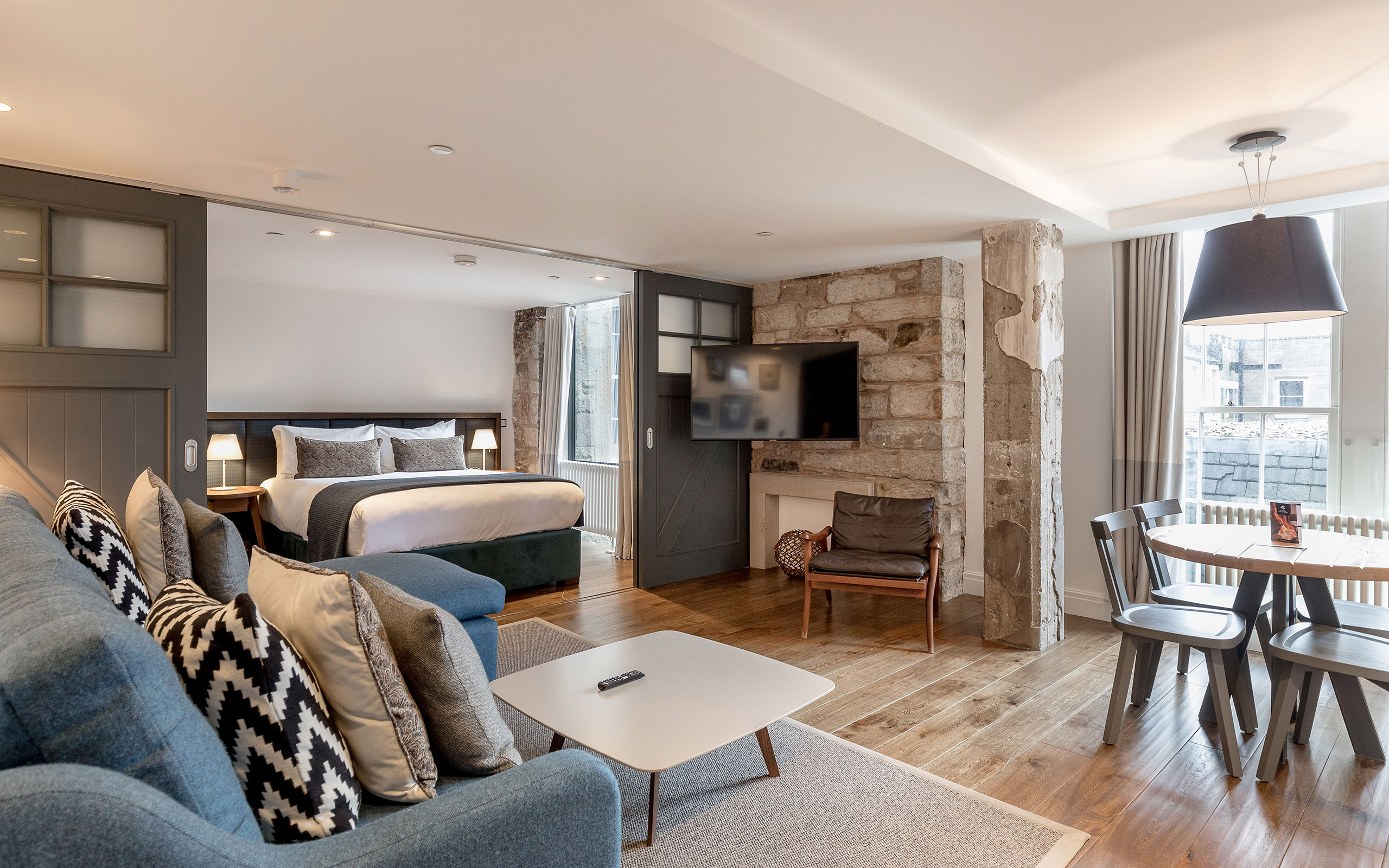 Image: The Cheval Old Town Chambers offers apartment style rooms for your family to have the best stay possible.
Bathen House Boutique Hotel
Each of the rooms and suites at the Bathen House Boutique Hotel is uniquely designed with Victorian style furnishings. They are comfortable and give it a rustic touch. You will feel like you have gone back in time to that era! This is a non-smoking hotel throughout the establishment. Children are welcome and there are TV programs for them in the rooms.
The Corridor is an area close to the hotel, and some of the best shopping around The UK. Beazer Garden Maze is a delightful place to take the kids, there are mazes they can run through and a large playground. The grassy areas offer a great spot for a picnic lunch.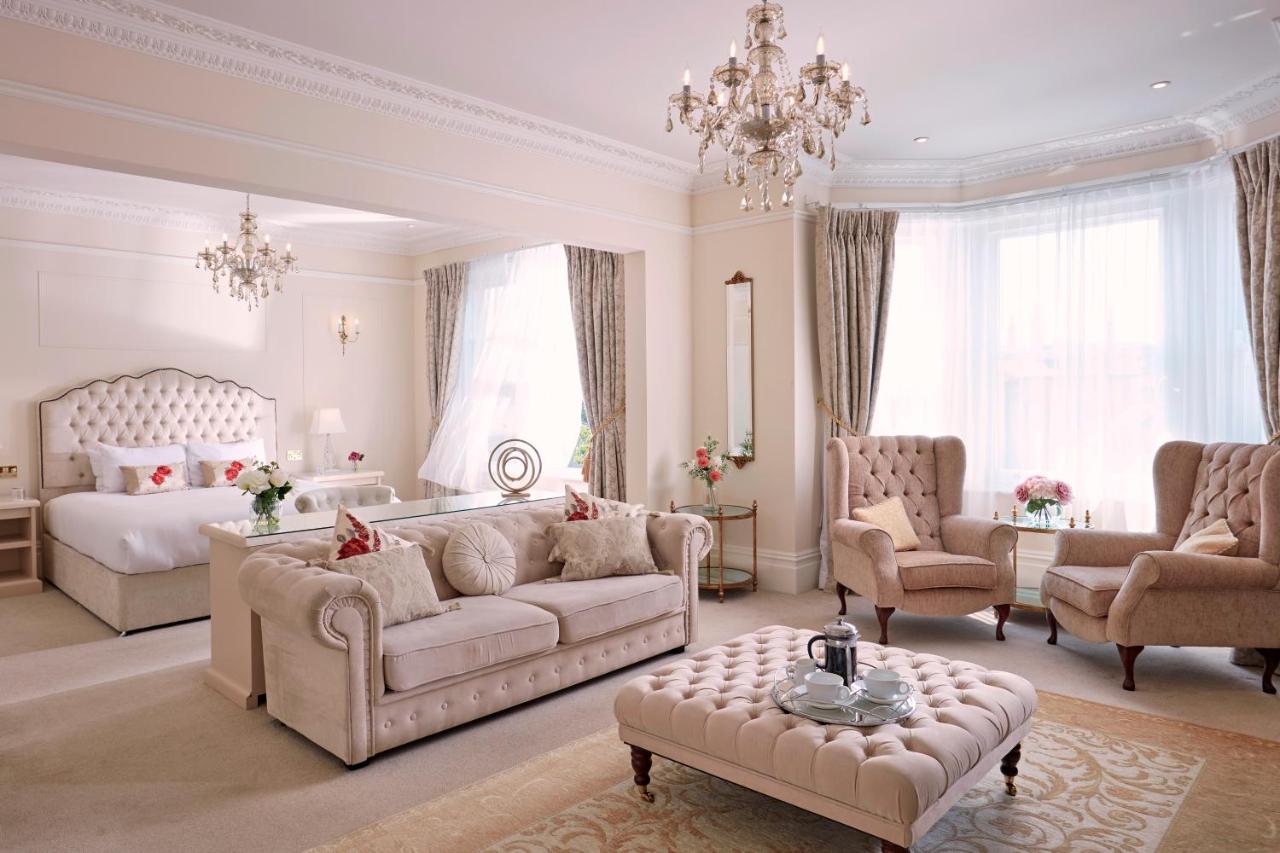 Image: The gorgeous design and the location make Bathen House Boutique Hotel an ideal place for your family holiday in the UK.
Wyndham Duchally Country Estate
The secluded location of the Wyndham Duchally Country Estate is perfect if you long for some peace and quiet. The area is full of lush green landscaping as far as the eye can see. The free shuttle will take you into town if you desire time there to explore and shop. The hotel features an outdoor playground with plenty of toys the kids will have a blast playing with!
There are two swimming pools, offering a fun place to relax and cool off. The area has plenty of walking trails so your family can explore. There is also a picnic area where you can enjoy breakfast outdoors or you can pack lunch for a stop along the paths later in the day.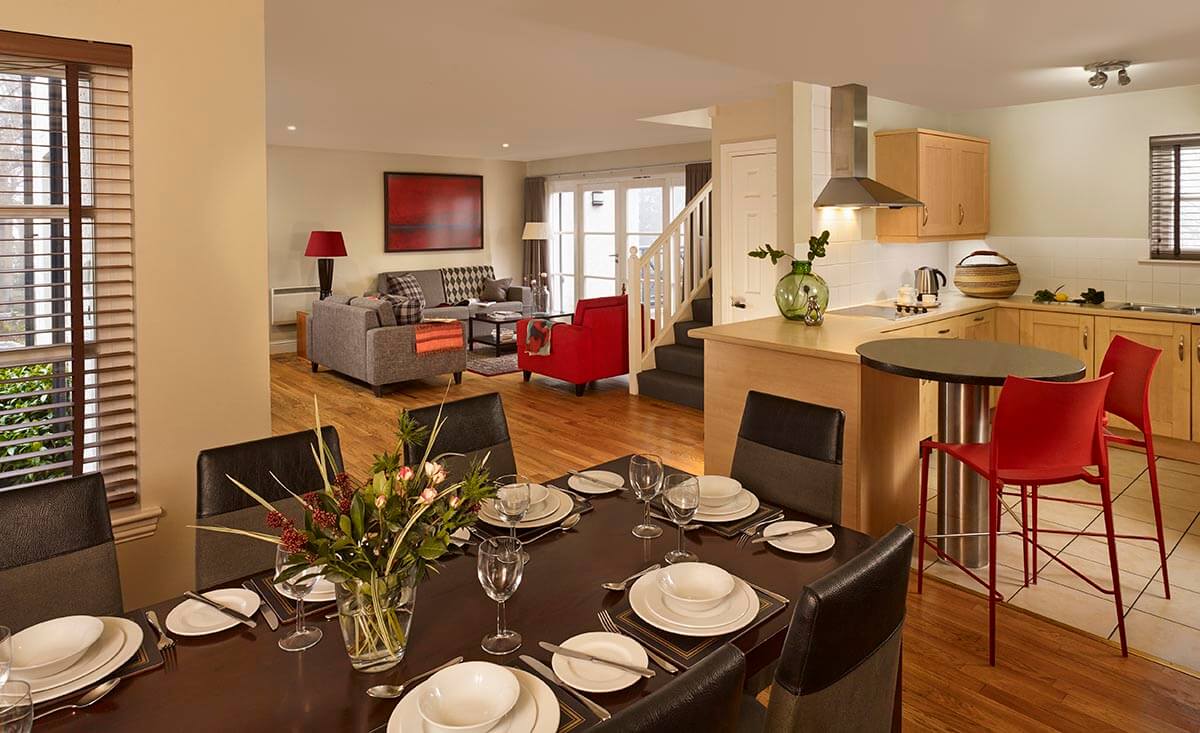 Image: Your accommodations at the Wyndham Duchally Country Estate will be more like an apartment than a hotel room!