Top 5 Rated Best Value Family Friendly Hotels in Brisbane
Brisbane has been a top family friendly travel destination for years, offering a range of fun and exciting activities, entertaining children of all ages. What makes Brisbane great, is that it is in the prime location, only one hour to the Gold Coast and just over an hour to the Sunshine Coast, making it easy to explore as a day trip. This city is very family friendly and you will find your days are filled with fun, learning and adventure to entertain the whole family.
Meriton Suites Herschel Street, Brisbane
The Meriton Suites Herschel Street are only one hundred metres from the Brisbane River, offering self contained accommodation, complete with complimentary wireless internet, television and DVD player. A short walk and you are at the Roma Street Train Station, making it easy to explore the city. The suites boast fully equipped kitchens with laundry facilities and a bathroom.
For families visiting Brisbane you can take advantage of the complimentary parking on-site, swimming pool, twenty four hour front desk and fitness centre. The suites are designed for groups of any size, making them ideal for small and large families with spacious living areas, complete with floor to ceiling windows. Enjoy panoramic views for the city and beyond and watch Brisbane come to life in the evenings, as the lights start to glimmer. This is a great choice for families with Queen Street Mall, South Bank Parklands, City Botanical Gardens, Story Bridge and New Farm Riverwalk, all less than two kilometres from the door.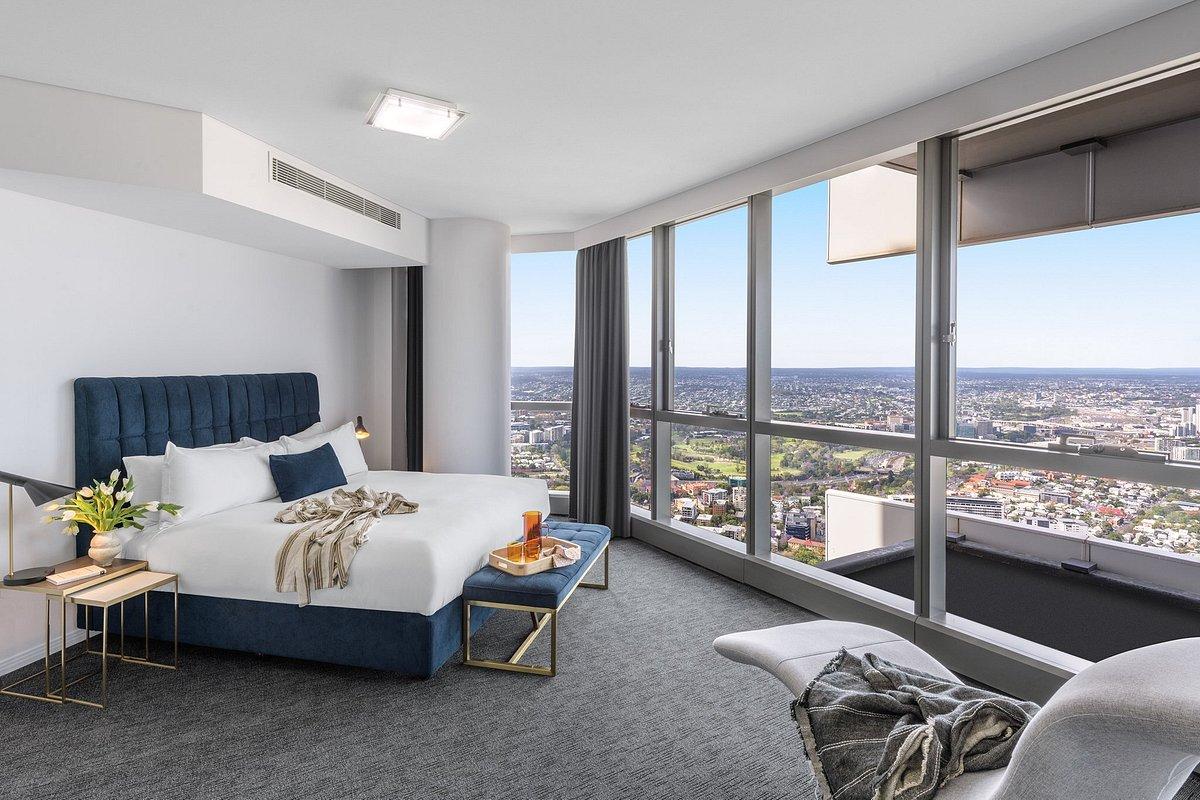 Image: Self contained family friendly accommodation in the heart of Brisbane.
Pullman Brisbane Airport
Pullman Brisbane Airport offers five star luxury with outdoor pool and fitness centre. There is an on site restaurant, making it ideal for dining with children. This family friendly hotel offers air conditioned guest rooms with televisions and en-suite bathrooms. The pool is surrounded by a patio with daybeds, with a dedicated twenty metre lap zone. This luxurious best value family friendly hotel in Brisbane is ideally located next to the Brisbane Airport Conference Centre, within easy reach of all the top sights and attractions that Brisbane has to offer.
The hotel offers the convenience of an outdoor swimming pool, twenty four hour reception desk, complimentary wireless internet, free parking and an airport shuttle on request, which is a great opportunity for families arriving in the city after a long flight, especially with tired younger children in tow.  All guest rooms accommodate two adults and one or two children. It is in the perfect location with Fort Lytton National Park, Brisbane Entertainment Centre, Rivergate Marina & Shipyard and Gateway Bridge all within seven kilometres.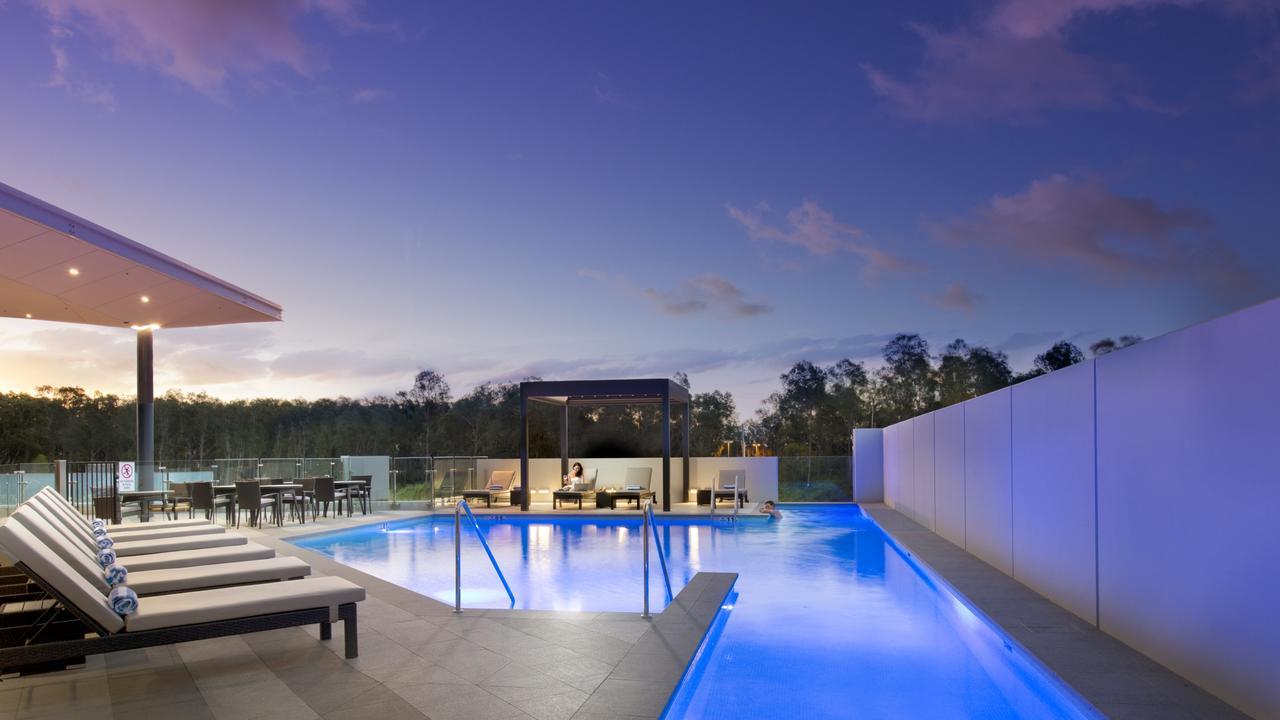 Image: Five star family friendly hotel in the perfect Brisbane location.
Crystalbrook Vincent
Crystalbrook Vincent has everything to make your family holiday in Brisbane enjoyable and comfortable, from the on-site restaurant and outdoor swimming pool to the fitness centre, room service and twenty four hour front desk. This luxurious hotel offers complimentary wireless internet and private parking. The spacious and well appointed guest rooms offer en-suite bathrooms, a work desk and television. Choose from an American or Continental breakfast each morning before you start exploring the local sights.
This luxurious hotel is located within one kilometre of the top sights an attractions, including Story Bridge, New Farm Riverwalk, The Zoo, St Johns Anglican Church, Story Bridge Adventure Climb and the Eagle Street Pier. The closest airport, Brisbane Airport, is less than twelve kilometres from the hotel, making it easier when travelling as a family. They also provide express check in and check out facilities, a concierge service and their pool accommodates all ages, making it convenient when travelling as a family.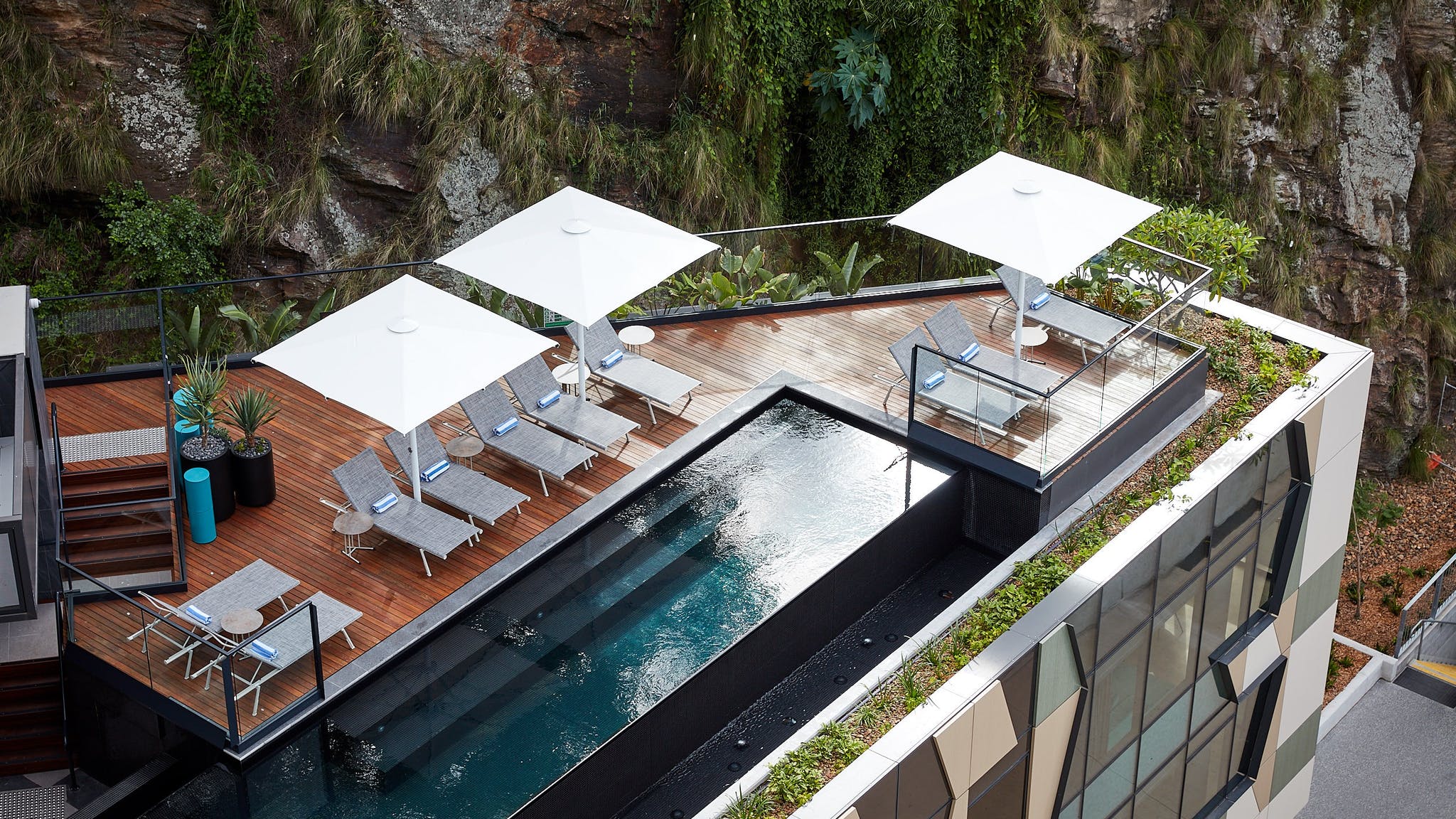 Image: Family friendly hotel only one kilometre from the top Brisbane sights and attractions for children.
Brisbane Marriott Hotel
Brisbane Marriott Hotel is ideally located in the heart of Brisbane's Central Business District, overlooking Story Bridge with modern guest accommodation offering panoramic views. This hotel offers the convenience of an outdoor swimming pool, on-site restaurant and fitness centre. The air conditioned guest rooms offer comfort and space, combined with complimentary wireless internet and tea and coffee making facilities.  You can walk to the top sights, including the Queen Street Mall, Eagle Street Pier and Chinatown.
The on-site restaurant is open for breakfast, lunch and dinner daily with stunning river views. What makes this luxury hotel popular with families is the twenty four hour front desk, non smoking rooms, fitness centre and complimentary parking, along with the fact that they offer the convenience of currency exchange on site. Take advantage of the hotel's M Passport Family Package with encourages younger guests to embrace their creativity with daily activities, a Kids Gift Pack, $30 food and beverage credits each evening and breakfast for two adults daily.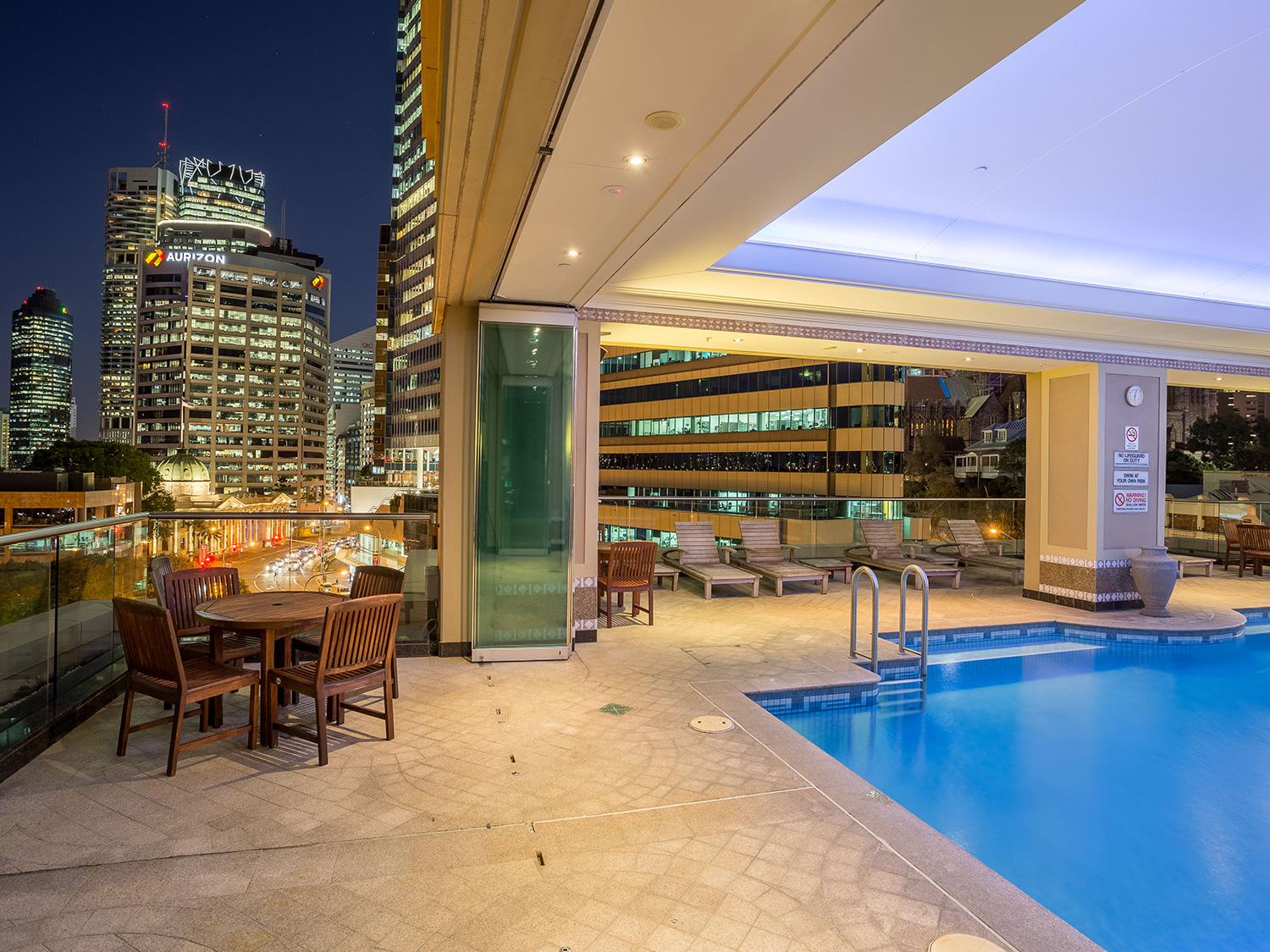 Image: Stunning Brisbane based family friendly hotel in central location.
Pullman Brisbane King George Square
The Pullman Brisbane King George Square Hotel is the ideal choice when travelling as a family, directly opposite City Hall offering spacious guest rooms, all of which can accommodate two adults and children. This hotel is a five minute walk from the Queen Street Mall and the Central Train Station, making it easy to explore all that Brisbane has to offer with ease, when travelling with your family. The modern guest rooms and spacious and beautifully furnished, all offering modern amenities, satellite televisions and more.
The on-site restaurant is open for breakfast, lunch and dinner daily offering Mediterranean inspired dishes. There is also a recreation deck with fitness centre on-site, enabling you to keep up with your fitness goals while on holiday. In addition to a beautiful swimming pool and fitness centre, the hotel also offers a twenty four hour reception desk, parking and complimentary wireless internet.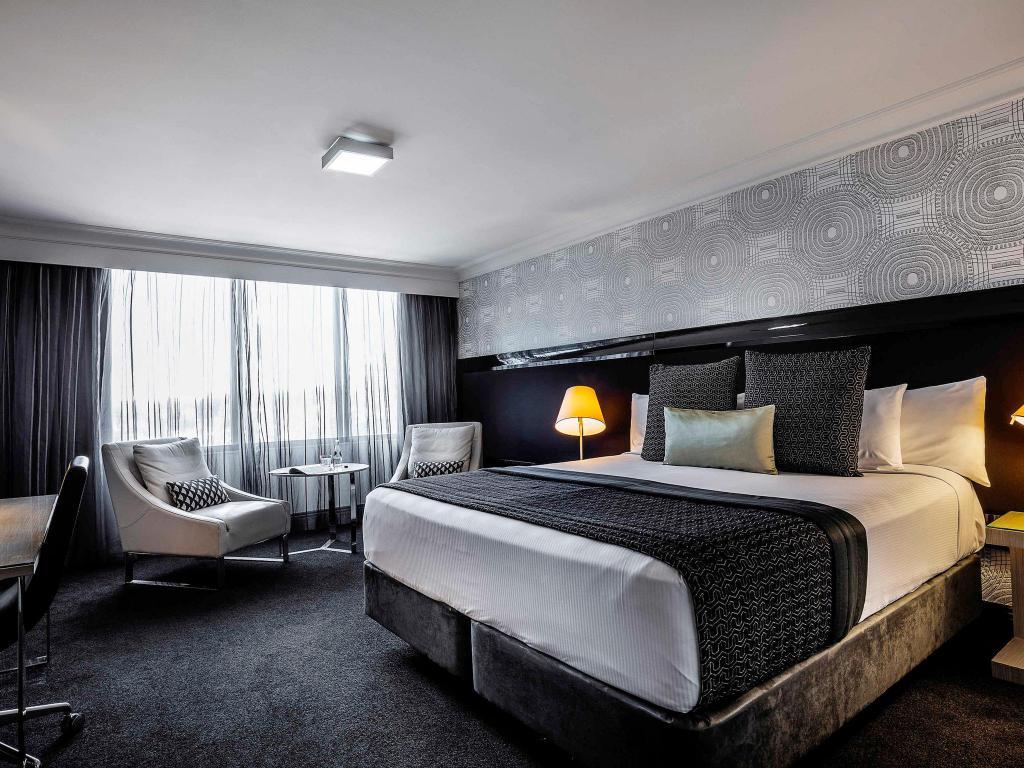 Image: Modern and luxurious family friendly hotel with top amenities.