Bangkok Marriott Hotel Sukhumvit offers an exclusive access executive club lounge, located high on the fortieth floor. The executive club lounge is open daily from 6.30am to 10pm for your convenience, offering four complimentary food and beverage presentations. These food and beverage presentations include:
Continental breakfast is offered from 6.30am to 10am. This includes a choice of fresh fruit, meats, eggs, breads and pastries
Enjoy all day non-alcoholic beverages and snacks from 12pm to 5pm
Afternoon tea is provided from 2.30pm to 4.30pm
Evening drinks and canapés can be enjoyed from 5.30pm to 8.30pm
Children are welcome in the executive club lounge during the day. Children under the age of twelve cannot access the executive club lounge during evening cocktails. Families are welcome to use the lobby lounge during evening cocktail times.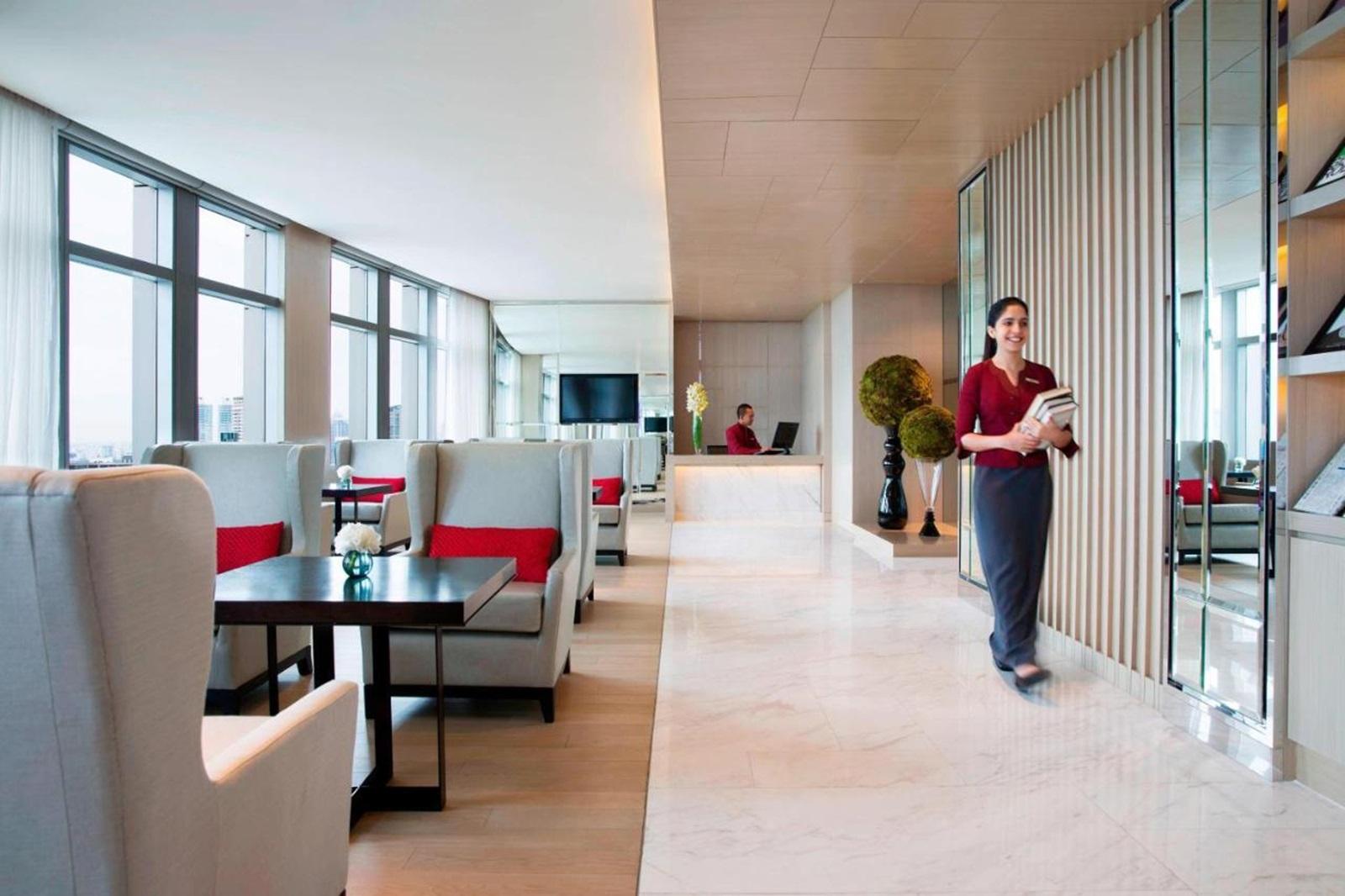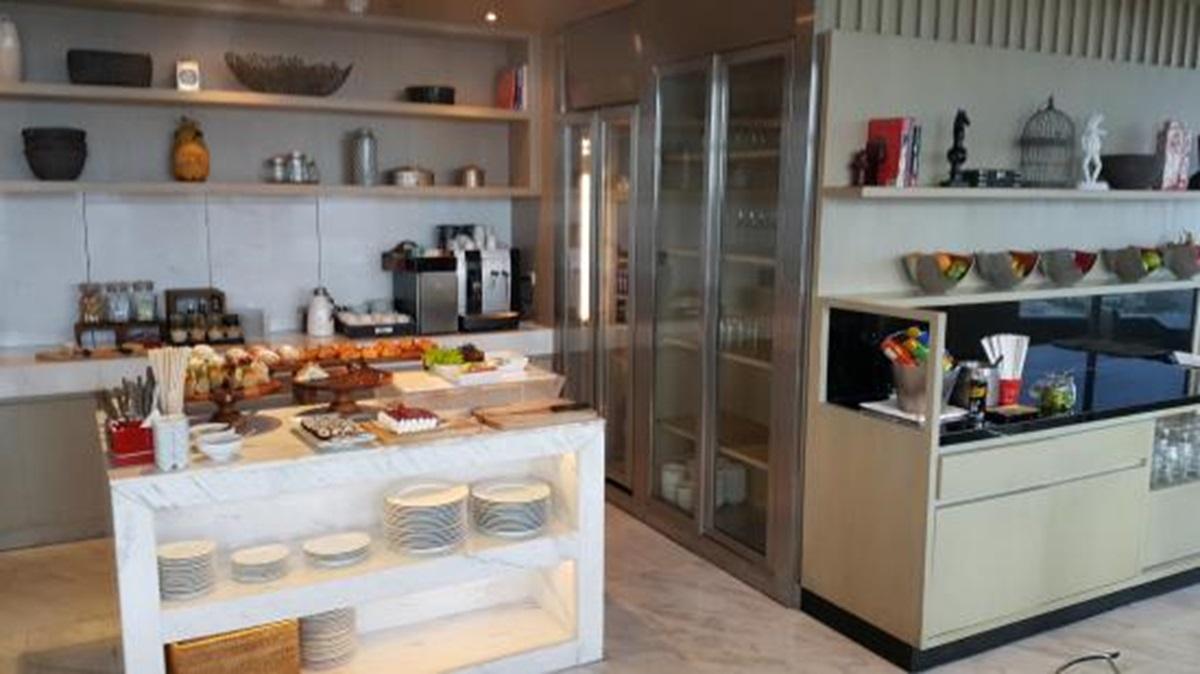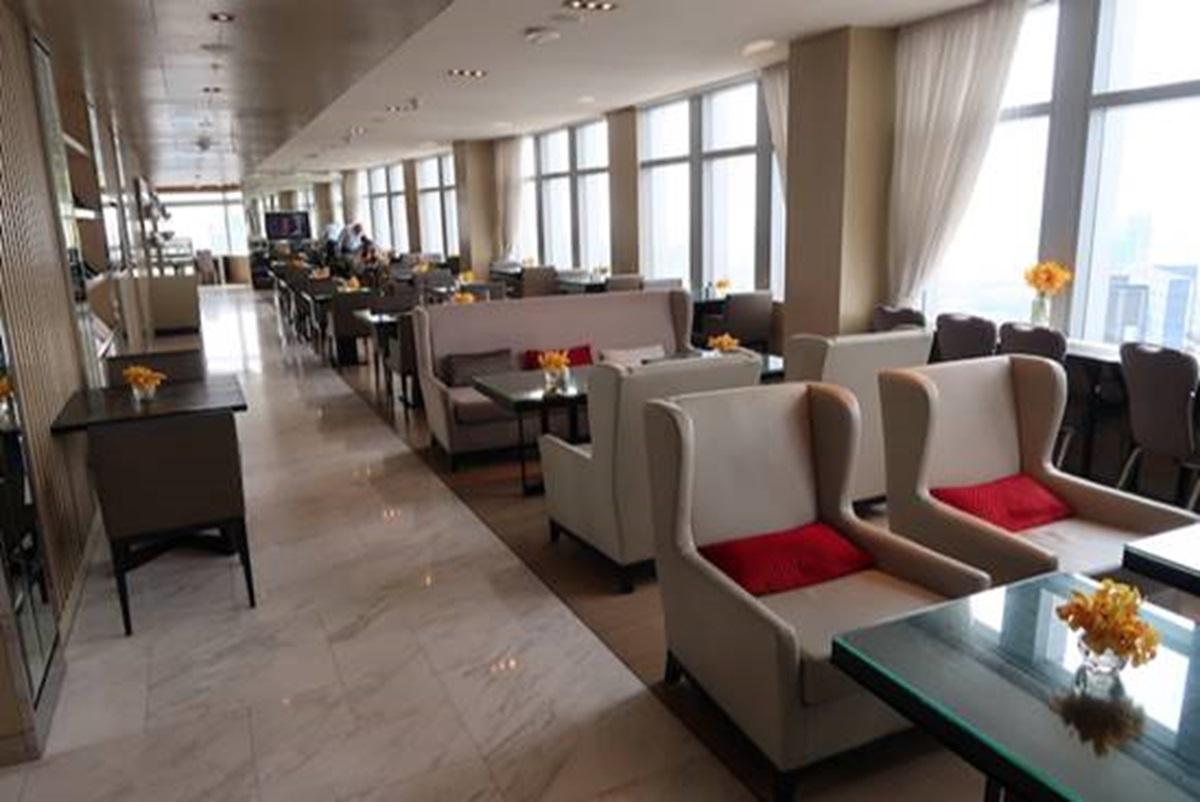 The executive club lounge at Bangkok Marriott Hotel Sukhumvit provides complimentary and exclusive access to guests staying in the hotels club level guest rooms and suites. The executive club lounge does have a strict smart casual / business dress code at all times. The benefits of this executive club lounge are limited to a maximum of two registered guest per room or suite.
Picture Windows Capture Spectacular Views
As an executive club lounge guest, you enjoy a number of complimentary benefits, including enjoying high speed internet in your guest room or suite and in the executive club lounge. In addition to this, you get the complimentary ironing of two items In addition to this, business travellers can use the meeting room for one hour at no charge. This must be booked in advance and is subject to availability.
Over and above the complimentary and exclusive benefits you enjoy as an executive club lounge, this lounge offers a professional team providing you with an elevated guest experience. What does catch your eye when first visiting this exclusive area is the large picture windows that capture the spectacular views, that can be enjoyed from everywhere in the executive club lounge.
Beautifully Furnished Providing the Ultimate in Comfort
This light and spacious executive club lounge has been designed with care. It is beautifully decorated with high backed chairs, providing comfortable seating, combined with an abundance of natural light that flows from the windows surrounding the lounge area.
There is no shortage of comfortable seating, making it the perfect place to relax with an evening drink or check your emails after a day of meetings. It is designed to provide you with the space you need to hold a quiet discussion with colleagues before heading to an important meeting or presentation. The food area offers an excellent choice of food presentations throughout the day, all are offered buffet style.