Best 5 Kids Clubs at Hotels in Kuwait
A family holiday to Kuwait would not be complete without choosing a hotel with a Kids Club. While you will want to be exploring the sights of Kuwait, a Kids Club is a great opportunity to leave your children supervised, giving you some adult time. Kids Clubs are supervised, engaging and fun, usually catering to children up to the age of twelve. Continue reading below to see our best five Kids Clubs at Hotels in Kuwait.
Four Seasons Hotel Kuwait at Burj Alshaya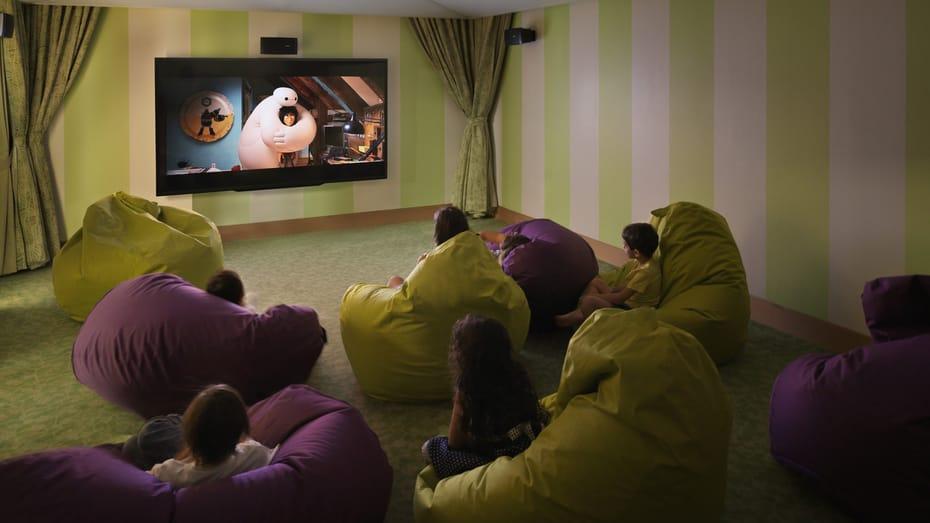 Image: Movie time at the Four Seasons Hotel Kuwait at Burj Alshaya Kids Club.
The Kids Club at the Four Seasons Hotel Kuwait at Burj Alshaya, the Ferjeej Club, offers supervised entertainment for children aged four to twelve years of age. They open daily from 9am to 7pm offering a selection of fun, entertainment and learning experiences. This is a spacious Kids Club with games, toys and board games, all set around a central library. They offer scheduled activities for their younger guests, keeping them engaged and occupied for hours.
This Kids Club encourages fun and creativity, they give children the opportunity to be crazy inventors, desert adventurers and video champions. The scheduled activities include paper mask making, henna tattoos and face painting. They offer dance and singing competitions and have a hotel story teller who shares great stories. They offer indoor and outdoor fun with a water fountain, waterfalls and more.  Indoors, children can enjoy free play or make use of the Wii games and PlayStation 4 Pro. Children under the age of four are welcome when accompanied by an adult.
Hilton Kuwait Resort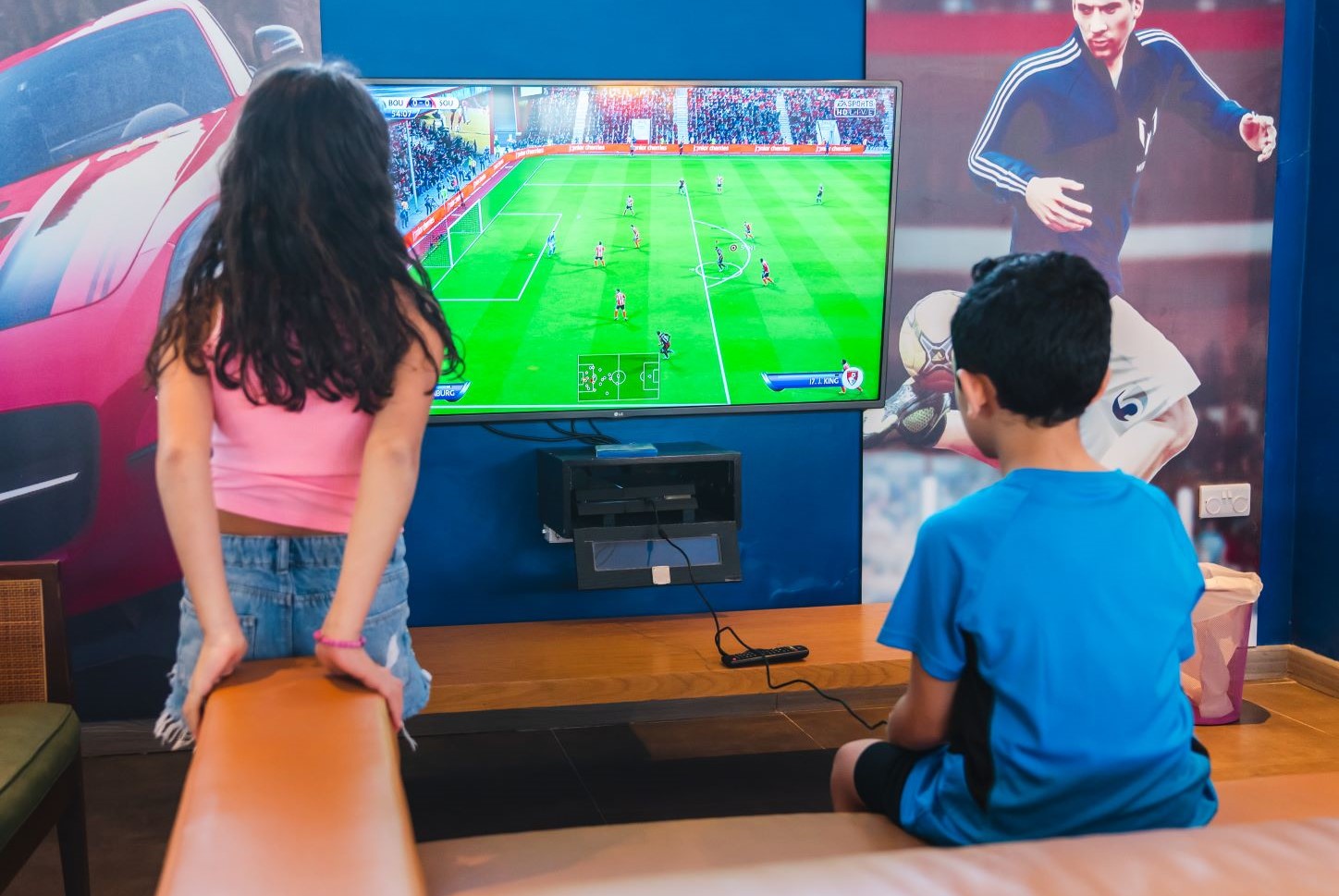 Image: Gaming station at the Kids Club at Hilton Kuwait Resort
The Kids Club at the Hilton Kuwait Resort is open every day from 12pm to 9pm. They cater to children of all ages, along with a modern teens areas. The number of team members in the Kids Club is determined on need, though younger guests must be accompanied by an adult. They offer a choice of games and toys, which are age appropriate and for teens there is gaming consoles, billiards, foosball, table tennis and more. There are time limits for each game, which is to be booked in advance, ensuring all children have the opportunity to enjoy the great facilities at this Kids Club.
There is an outside playground, complete with swings and a slide. The video games and air hockey table is only available to children over the age of eight, while billions is only offered to those over sixteen. This is a large, bright and spacious Kids Club with plenty of natural light. The club is separated into two large rooms, the area for the younger children is bright and fences, complete with toys and games to keep the children occupied for hours.
Jumeirah Messilah Beach Hotel & Spa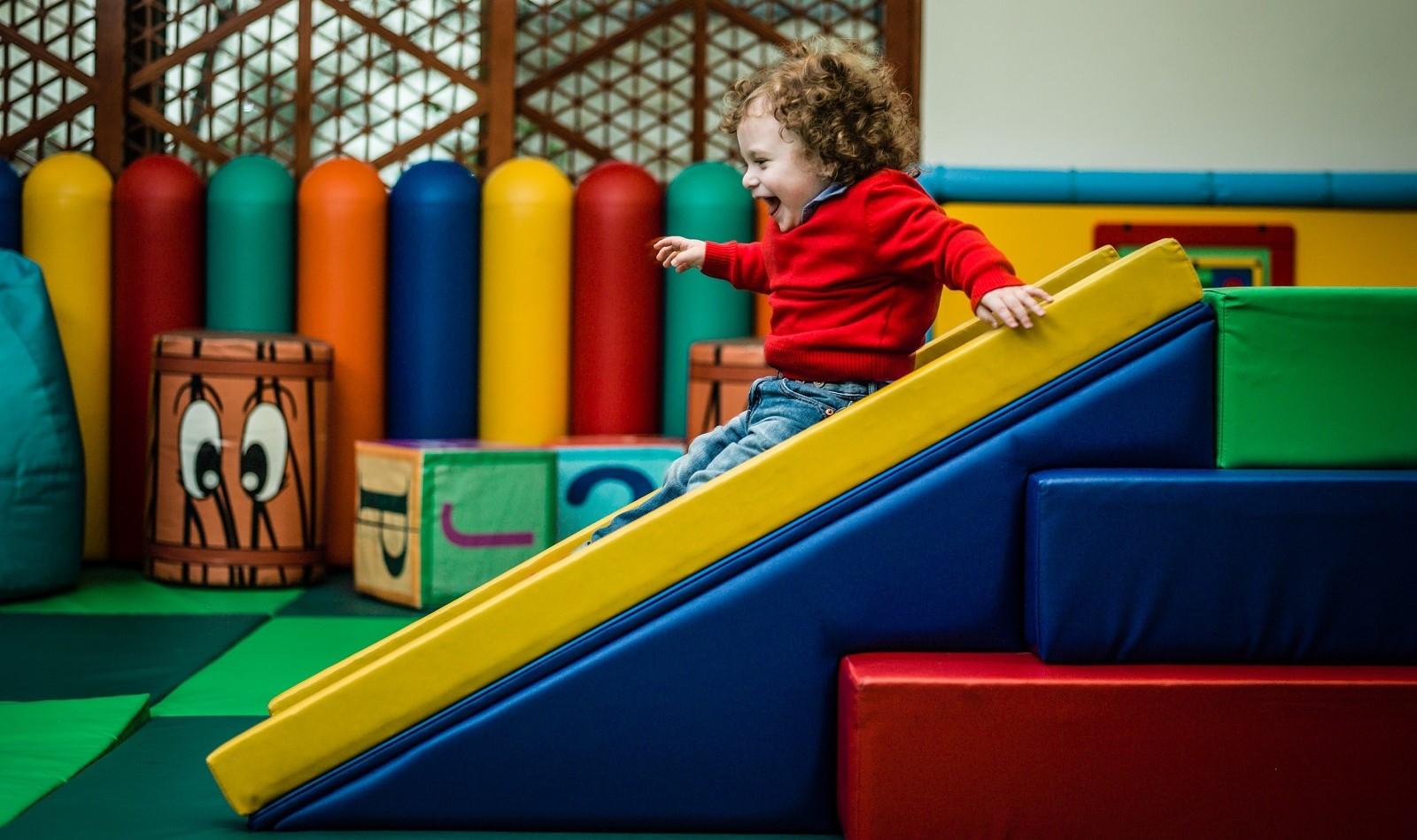 Image: Fun and safe indoor play area at the Jumeirah Messijah Beach Hotel & Spa
This Kids Club, known as Sinbad's Kids Club, is open from 3pm to 6pm during the week and 10am to 8pm on weekends. This is a supervised Kids Club, catering to children of all ages. This Kids Club has an experienced team supervising the children of all ages. They are also all first aid certified. There are scheduled activities for children under the age of six, along with a welcome gift when arriving at the Kids Club for the first time.
The indoor air conditioned club provides children with toys and games, along with age appropriate movies. It offers children a chance to play, engage and socialise with other children. There is an indoor soft play area, slides, seesaw, blocks and more. They also offer supervised scheduled activities, which change regularly to eliminate boredom, these include hand painting, blocks and shapes, musical chairs, memory games and kitchen play, to name a few. The indoor Kids Club reduces the need for children to be out in the heat, while giving parents some relaxation time.
Symphony Style Hotel Kuwait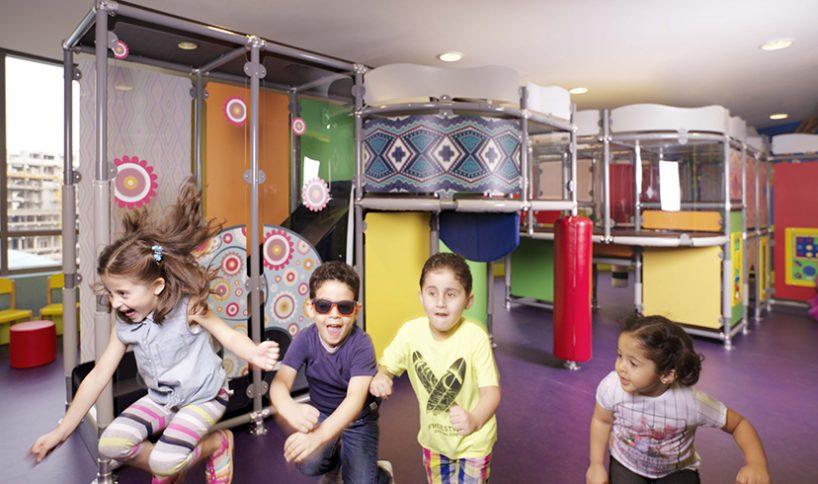 Image: Fully supervised Kids Club at Symphony Style Hotel Kuwait
The Symphony Style Hotel Kuwait offers a safe Kids Club that opens daily from 12pm to 9pm. This Kids Club offers children a place to explore, play and learn. It is fully supervised, enabling parents to leave their children in the club area with confidence. This Kids Club offers a space for younger guests and a Teens Hub for older children. This purposely designed Kids Club is five hundred square metres and includes a playroom, sleeping area, kids cinema, library and slide room. It offers a chance for children to have fun, play and engage with other children staying at the hotel.  They have converted the third floor into a great place for teens to make new friends with the latest PlayStation and Wii games, along with motion virtual reality experiences.
The indoor play area is designed for children aged one to ten years of age, offering constant supervision and fun activities. The kids cinema plays age appropriate movies with comfortable seating. They also offer scheduled activities, which includes cooking classes, dance classes, story time, colouring and arts and crafts.
Radisson Blu Hotel Kuwait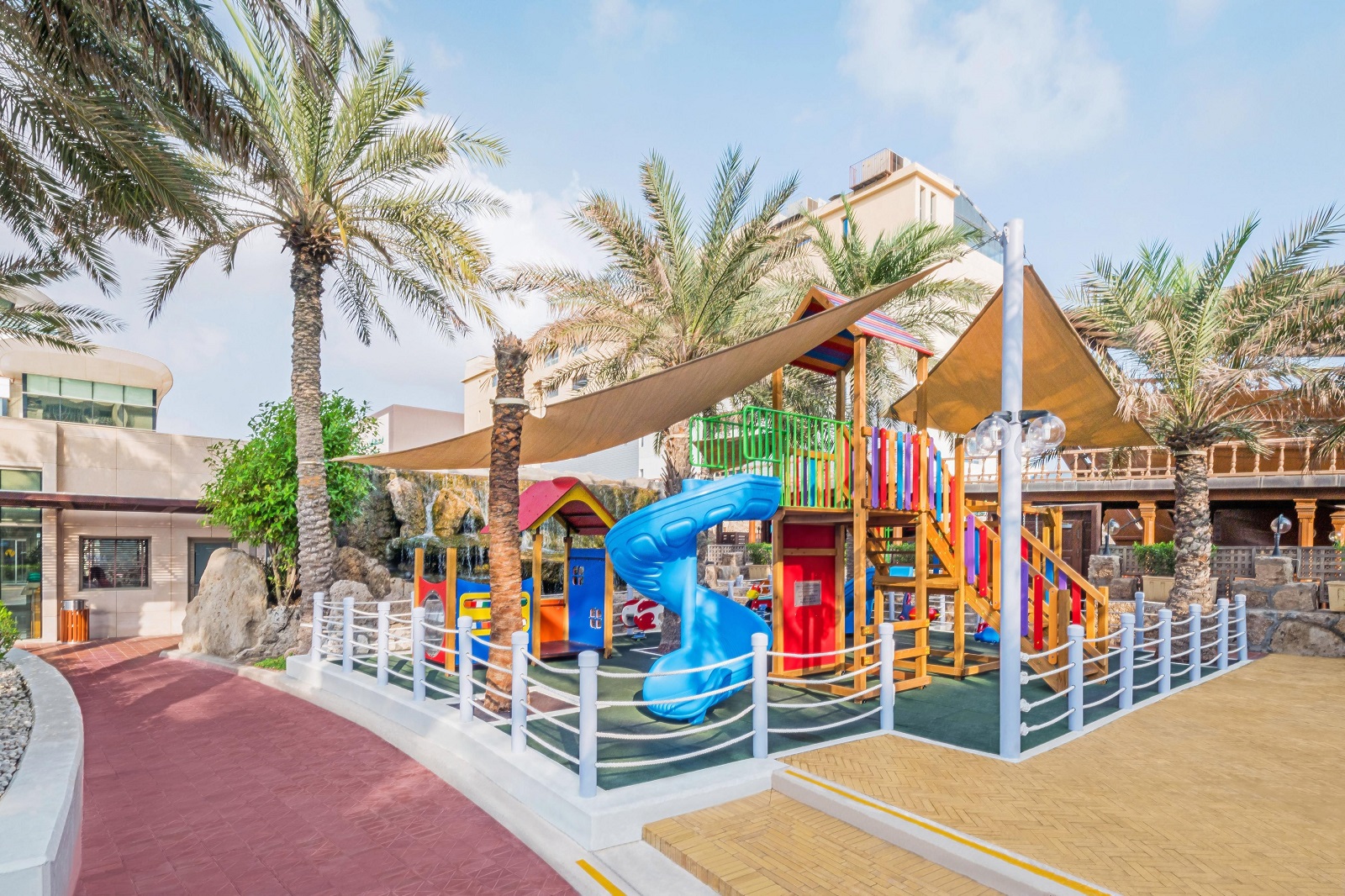 Image: The outdoor play area at the Kids Club at Radisson Blue Hotel Kuwait
The Radisson Blu Hotel Kuwait Kids Club opens daily from 9am to 9pm, catering to children up to the age of ten. They offer supervised entertainment for younger guests, where they can play and engage with other children staying in the hotel. There are four supervisors on duty at all times, offering a safe and secure environment for children. They offer toys, games and activities from dancing and drawing to trampolines, ride on cars, basketball rings and more. The television shows age appropriate movies.
They also offer a range of scheduled activities, including colouring, quiz time, drawing, dancing, finger art, word hunts, paper aeroplanes and a movie time. They offer safe indoor and outdoor play areas. The outdoor play area is shaded, eliminating the risk of children being in the sun for extended period. Indoors is fully air conditioned and brimming with space and colours with tables and chairs, a climbing area, along with the daily scheduled activities.
In Summary
If you have not considered a hotel with a Kids Club when on family holidays before, you have no idea how advantageous they can be. All these Kids Clubs are fully supervised and are designed with children in mind, offering fun, excitement and entertainment. They keep children occupied for extended periods, giving you that free time you need, whether you just want to relax in your room for a while, you want to visit the spa or you want a quiet afternoon lunch with your partner. These Kids Clubs offer a full range of scheduled activities, encouraging creativity and getting children's imaginations flowing, while they make new friends and engage with children their own age.