A family-friendly, sunny, tropical island in Southeast Asia
For some time now, Singapore has been regarded as a playground for the wealthy, and the little city-state does indeed exude riches. But Singapore has more to offer than exquisite dining (though it's worth indulging in a little of each if you can), luxury hotels, and high-end shopping malls. There are several family-friendly attractions, a diverse cultural section and a strong history to explore, as well as many wonderful public areas to make exploring this rather futuristic city, worth your while.
Singapore's public transit system is outstanding, which makes navigating easy and convenient. Fortunately, English is spoken everywhere, and signage is also in English and once you've mastered the metro map, you will be able to get from one section of town to another without worry. Singapore is one of the easiest countries in Southeast Asia to navigate, and as long as you don't compare rates to neighbouring Vietnam or Thailand, you'll have a wonderful time.
Singapore also provides a plethora of fun activities and family entertainment, making it one of the greatest international destinations for a family holiday.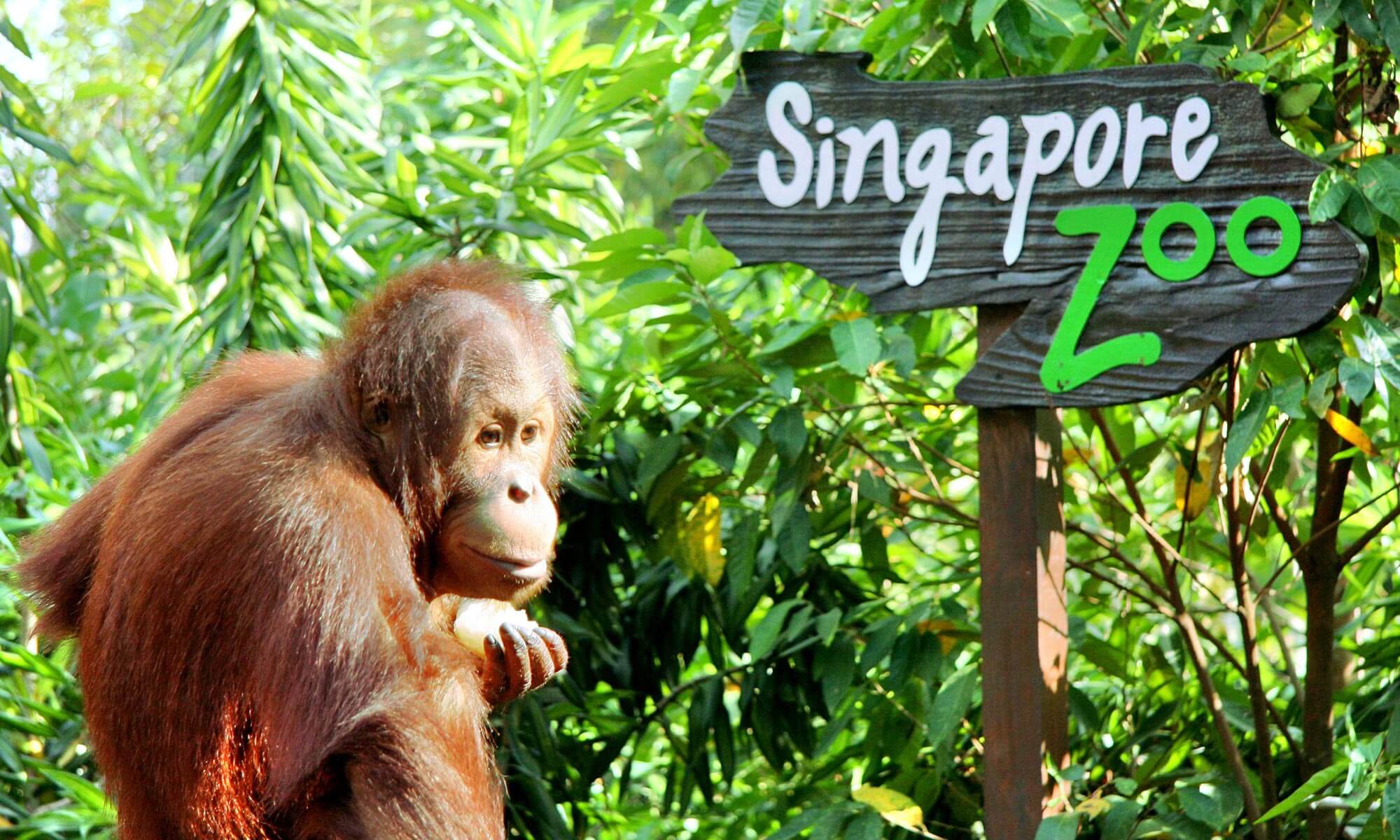 IMAGE: The orangutans at Singapore Zoo are quite spectacular, with visitors able to observe adult orangutans and their babies snacking on fruits and swinging high over their platforms. There are also chimps, a Komodo dragon, kangaroos, meerkats, zebras, white tigers, mole rats, and many other animals.
Singapore Zoo
The Singapore Zoo, which bills itself as the world's best rainforest zoo, is a fairly remarkable tourist attraction site, and the kids will enjoy this excursion. The facility is welcoming and clean, and the animals look to be well-cared for, with plenty of lush greenery and habitat area.
If Singapore Zoo doesn't fulfil your need to get up close and personal with nature, there's also the Night Safari, Jurong Bird Park, and River Safari (where you can see a giant panda in its natural habitat). If you want to visit more than one wildlife park with your family, park hopper passes are also available.
Marina Bay Sands
The upscale resort complex - Marina Bay Sands - comprises a mall with a canal flowing through it, a high-end luxury hotel, the Marina Bay Sands Skypark Observation Deck (which offers a bird's eye view of the city) and the ArtScience Museum.
The Skypark's infinity pool and viewing deck are located on the hotel's roof in .... wait for it.... a ship! Unfortunately, the pool is only available to guests staying at the hotel, however, the observation deck can be visited by tourists at any time.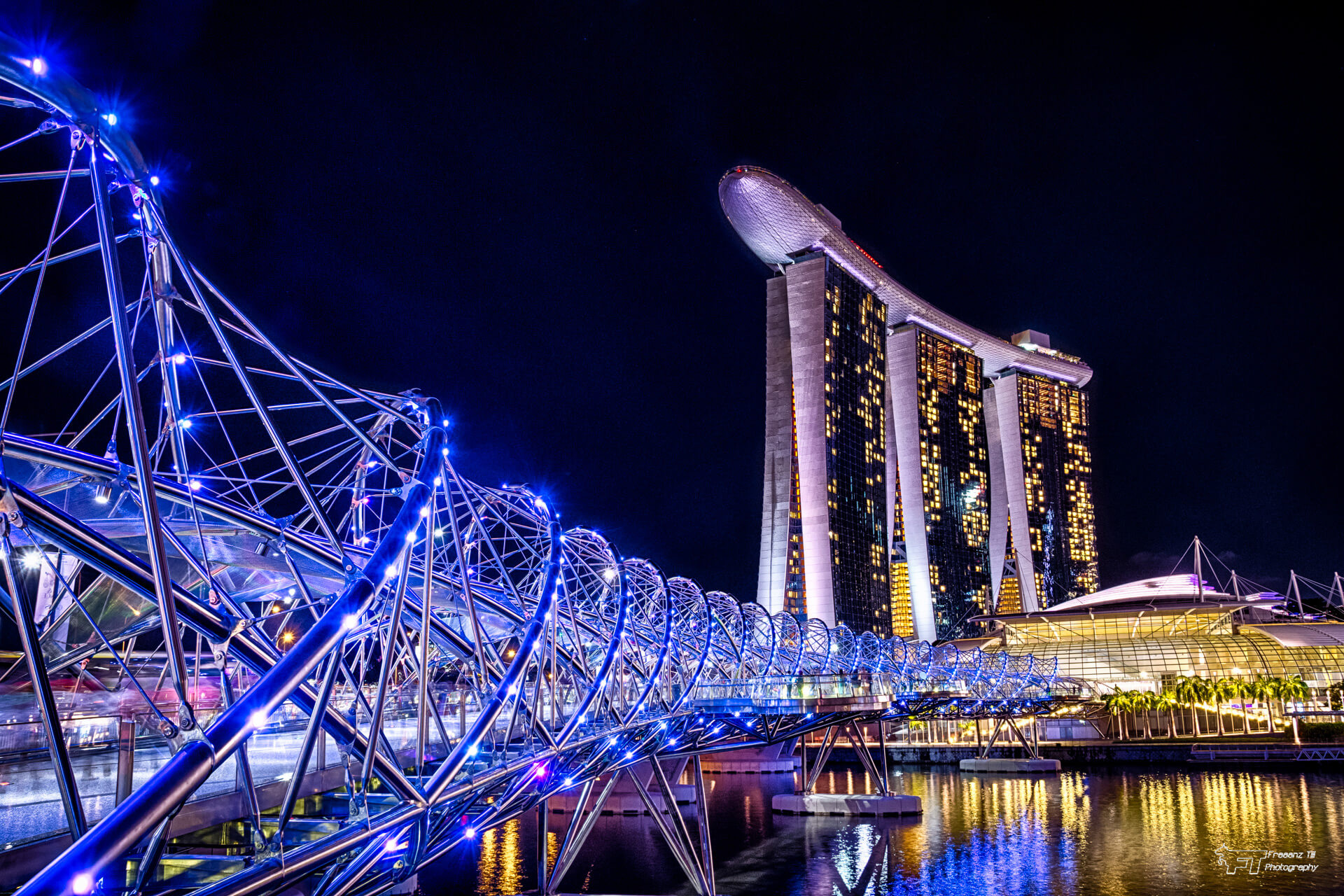 IMAGE: Also, don't miss a stroll across Singapore's famed Helix Bridge, which connects the Marina Bay Sands to the Marina Bay walking route. This structure resembles a spiral in the shape of human DNA and features four viewing platforms with a wonderful perspective of Singapore's skyline.
If the Marina Bay Sands observation deck does not thrill or excite you enough, you should opt for something different, like taking a spin on the Singapore Flyer for a breath-taking view over the city, which, by the way, is the world's largest big wheel. You can choose a package that suit your and family and be pampered and served while admiring a vista that includes not only the Singapore skyline but also Malaysia's Johor Strait and Indonesia's Spice Islands.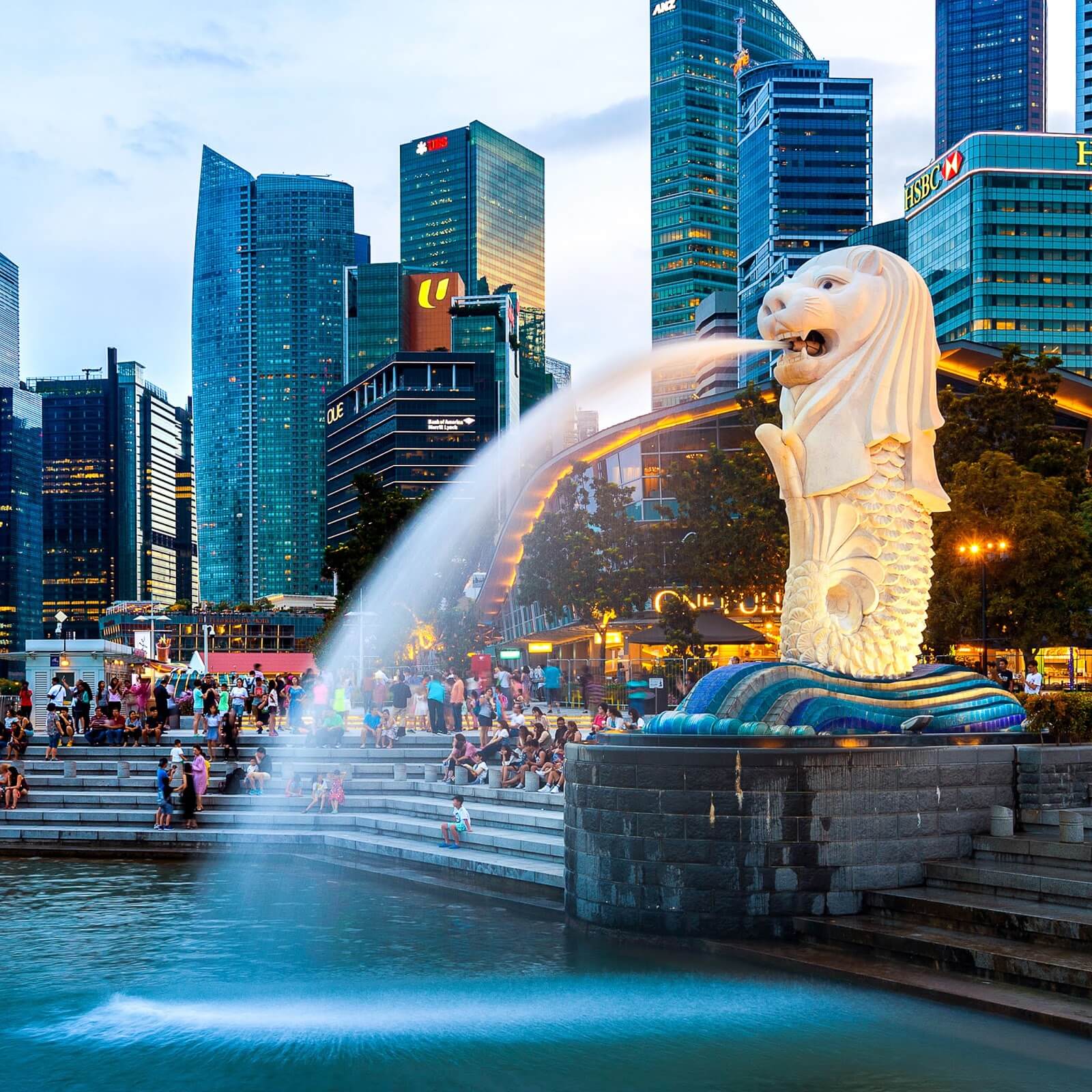 IMAGE: The Merlion commemorates Singapore's humble beginnings as a small fishing hamlet and its current status as one of Southeast Asia's most important financial and cultural centres.
Catch the sun!
Besides being Singapore's most supreme neighbourhood with world-class attractions and a flashy retail centre, Marina Bay is also a terrific place to catch a spectacular sunrise or sunset with the city skyline as your backdrop.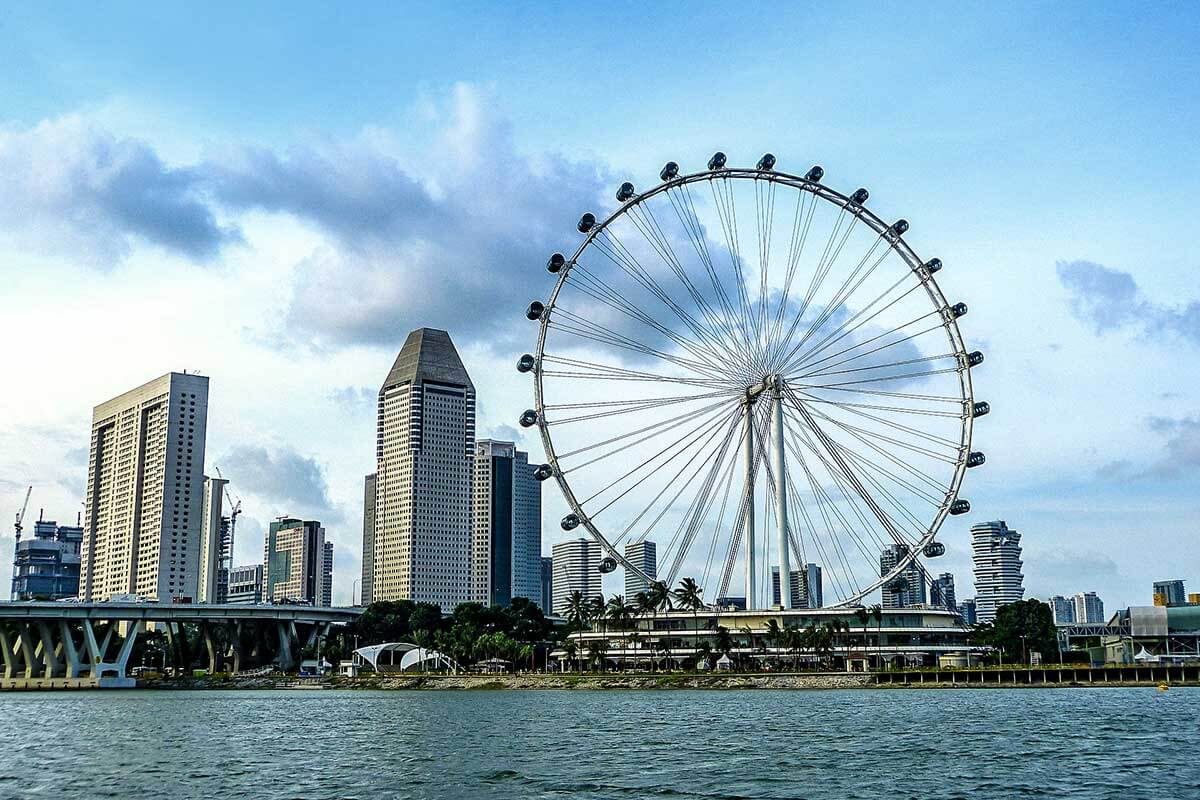 IMAGE: The Singapore Flyer, also known as the Big Wheel, stands 165 meters tall, has a diameter of 150 meters and travels at a speed of 0.21 meters per second. This is the world's tallest flyer, standing 30 meters higher than the renowned London Eye.
Adventure awaits at Sentosa Island
If you're looking for some beach time, you should head to Sentosa Island, although Singapore is not quite known as a beach destination. Siloso Beach is a great place to spend time at the beach, and tourists looking to keep their heartrate going, can go skimboarding and kayaking, or play volleyball. There are many other beach activities and attractions, and you can pop into the aquarium at Underwater World, for a close and personal encounter with dolphins.
The Merlion, Singapore's famed statue with a fish's body and lion's head is a must-see on Sentosa Island. An escalator will take you to the top of this statue, from where you can enjoy a bird's-eye view of the area. If you and your family are more of the adventurous type, you can also check out SeaBreeze Water sports At Wave House and The Flying Trapeze, where you can give your best attempt at flying, while strapped to a water-propelled jet pack.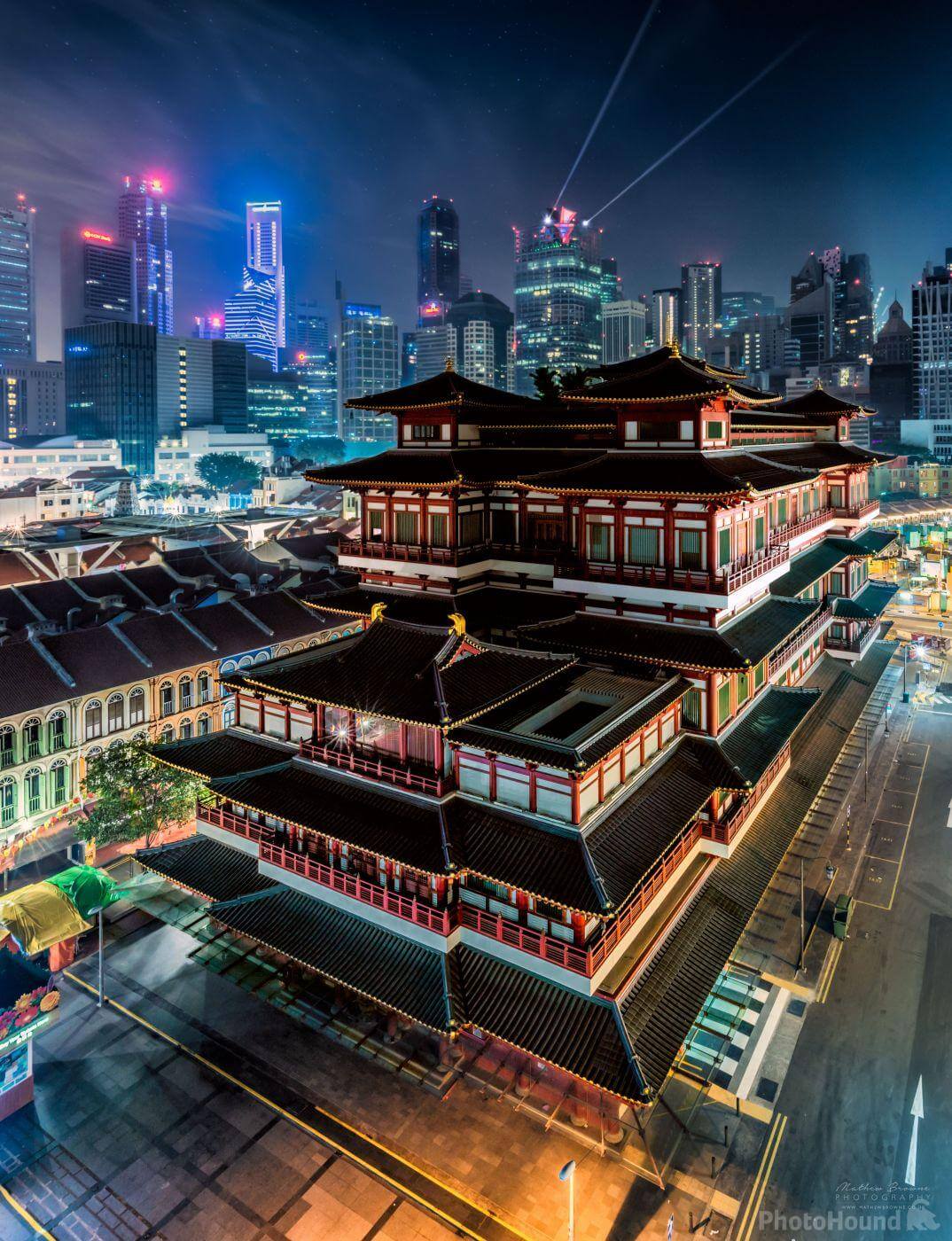 IMAGE: The Chinese are known to construct temples to gods and other deities, but the Buddha Tooth Relic Temple in Singapore, is one of the more peculiar. When a Buddhist temple was first planned for Singapore's Chinatown in the late 1980s, it was intended to be a more traditional temple.
Why choose Singapore?
Singapore, with its fusion of Asian and European cultures, is one of the greatest cities to explore. Founded as a British commercial colony in 1819, it has since become one of the world's most affluent city-states, with one of the busiest ports you have ever seen.
Singapore provides a first-world Asian experience with all of the modern conveniences we've grown accustomed to in the Western world. A family vacation to Singapore is fun and extremely safe, while also jam-packed with Asian culture and definitely a trip you and your family will remember forever!