A great guide for first-time travellers
The United Arab Emirates (UAE) is located in the Arabian Peninsula's southeast, bordering Saudi Arabia and Oman. This country is made up of seven smaller 'Emirates,' which are analogous to states, the most well-known of which is Dubai.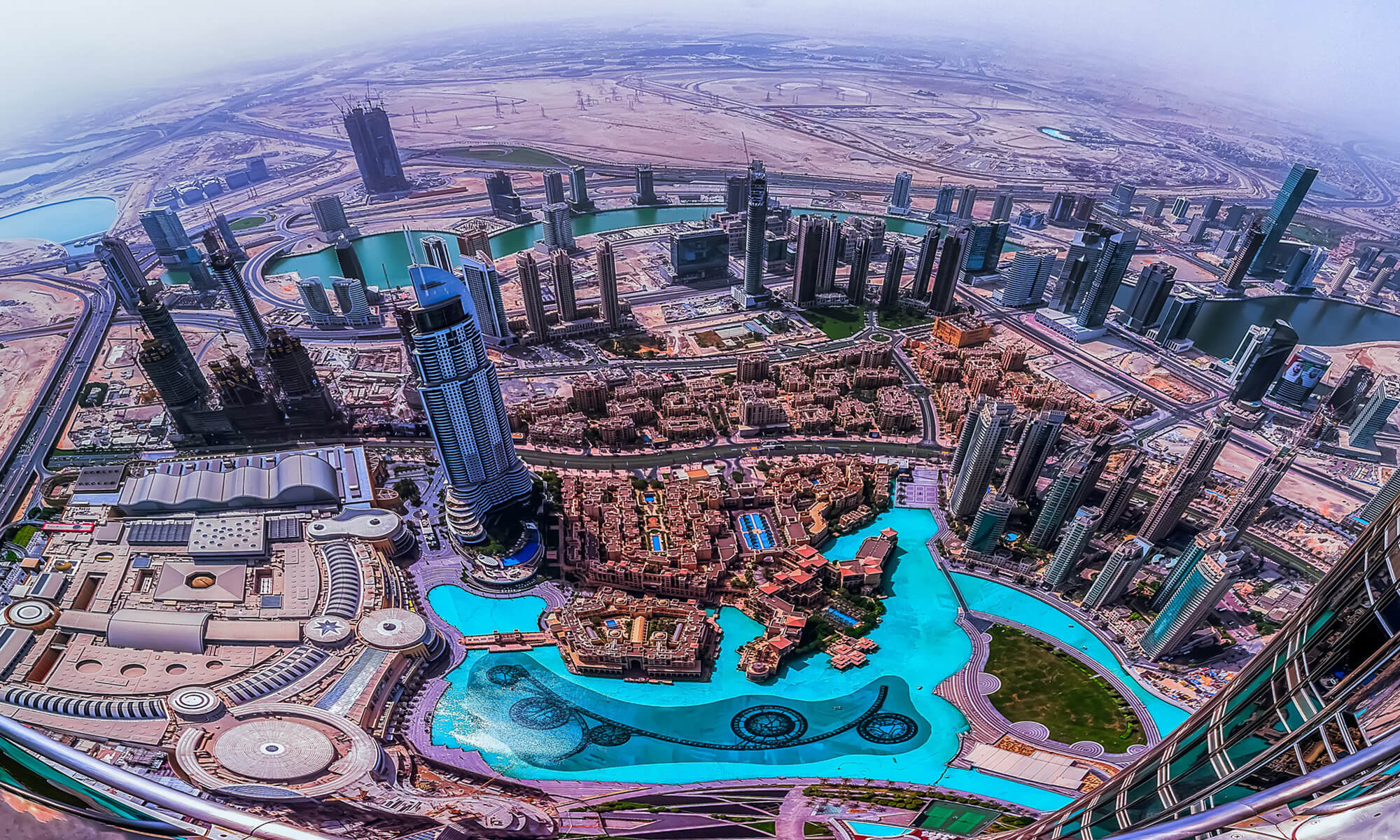 IMAGE: While Dubai is mostly recognised as a playground for the wealthy, this family-friendly city is also renowned as a playground for children and is thus highly recommended for any family trip.
Marked by its skyscrapers, important ports and beaches where important business coexists with sun-seekers, Dubai is one of the top tourist destinations of the world. It sometimes has that Middle Eastern melting pot feeling, due to its big expatriate community, although the atmosphere is generally very pleasant. Religious connections are not a big feature of city life, and while Islam is the dominant religion, Hindu temples and churches coincide with Dubai's many mosques.
Dubai's thermostat has only two settings, namely very warm and extremely hot, due to its location in the Arabian desert. During the summer, anyone brave enough to stay in the city is racing between air-conditioned spots of cool but in the winter months, when much of the Northern Hemisphere is shivering, Dubai is a terrific winter sun retreat. The best time to visit Dubai is between November and April and because of the arid temperature, most activities take place indoors, but fortunately, there is plenty of running space indoors for the young ones to burn some energy.
A trip to Dubai will undoubtedly be one for the books if you have a light schedule and involve your children in your day-to-day planning. From theme parks and playgrounds to water parks and exercise centres, there is so much to do and see with your children in Dubai. Children under the age of five years are allowed to ride public transportation for free, and most beach resorts also have entertainment in the form of kids' clubs.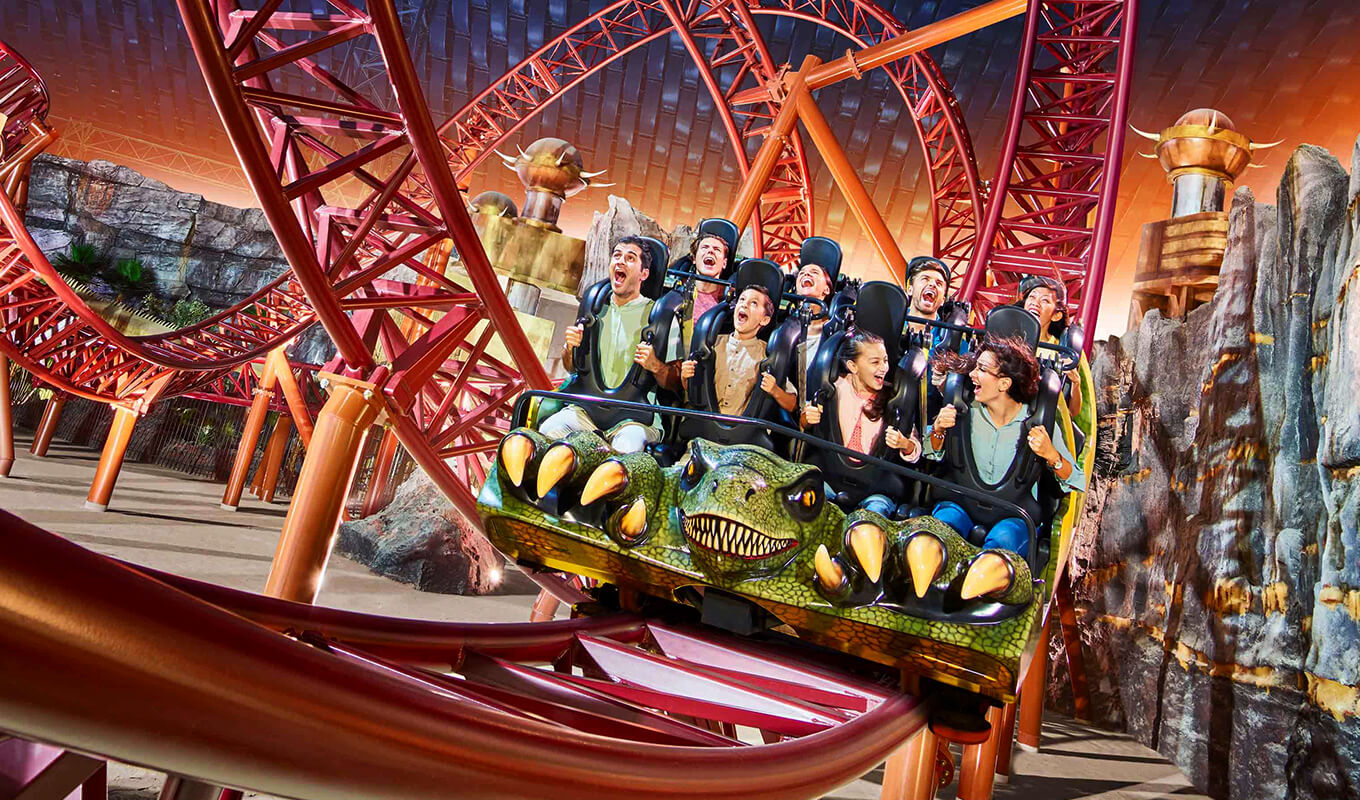 IMAGE: Visit four spectacular adventure zones as you explore the world of IMG at this massive, themed entertainment resort.
IMG Worlds of Adventure
Spanning across 28 football fields, IMG Worlds of Adventure is the world's largest indoor theme park and offers a jaw-dropping array of attractions for the young and old. There is a 12-screen cinema complex with 3D IMAX and 7-star comfort and 4 zones, including Marvel, IMG Boulevard, and Cartoon Network (ideal for very young kids), Lost World (a dinosaur-themed area with mechanical animals) inside this magnificent centre. The young ones can save Elmore from a disastrous school science experiment, fly over the Land of Ooo on Cartoon Network or help out the Powerpuff Girls rescue Townsville.
Be sure to take the kids to Bollywood Parks Dubai
Bollywood Parks Dubai consists of five distinct zones based on Mumbai's famed film industry, and it's a perfect spot to pork it up to the colourful and cheesy soundtracks of Indian blockbusters. A fun opportunity for the entire family to practice their Bollywood dance moves is 'Show Me Your Jalwa', while pint-sized choreography is provided by the "Kids Korner".
"Stars on Steps" is a live song-and-dance performance set to a backdrop image from huge LED screens that recreates the enchantment of India's temples and palaces. Not to mention the stunt shows and 4D and 3D rides offered by Bollywood Parks Dubai, but to fully enjoy the experience, make sure to attend some of the many daily live performances.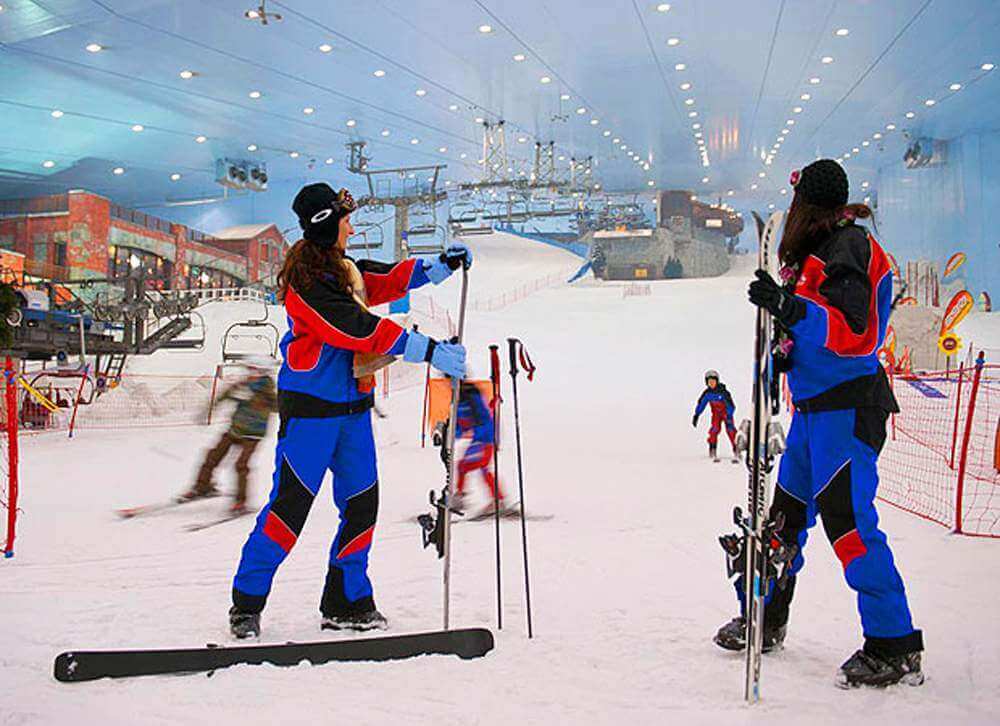 IMAGE: Ski Dubai, an indoor ski slope that opened at the Mall of the Emirates in 2005, has become a very famous tourist attraction in this part of the country.
Go skiing in Dubai – yes, skiing!
Ski Dubai - the third-largest indoor ski slope across the globe, is located inside the Dubai Mall of the Emirates. This is also the first in the Middle East. Around 6 000 tons of snow are yours to explore, complete with a T-bar and a chair lift. There are also skilled instructors that will learn you some basic steps, and they will have you slicing up the snow in no time – regardless of whether you are skilled enough to fly from a 10 ramp on your own or whether you just want to learn some basic skills. In the specialized freestyle zone, you can practice tricks, ramps and jumps.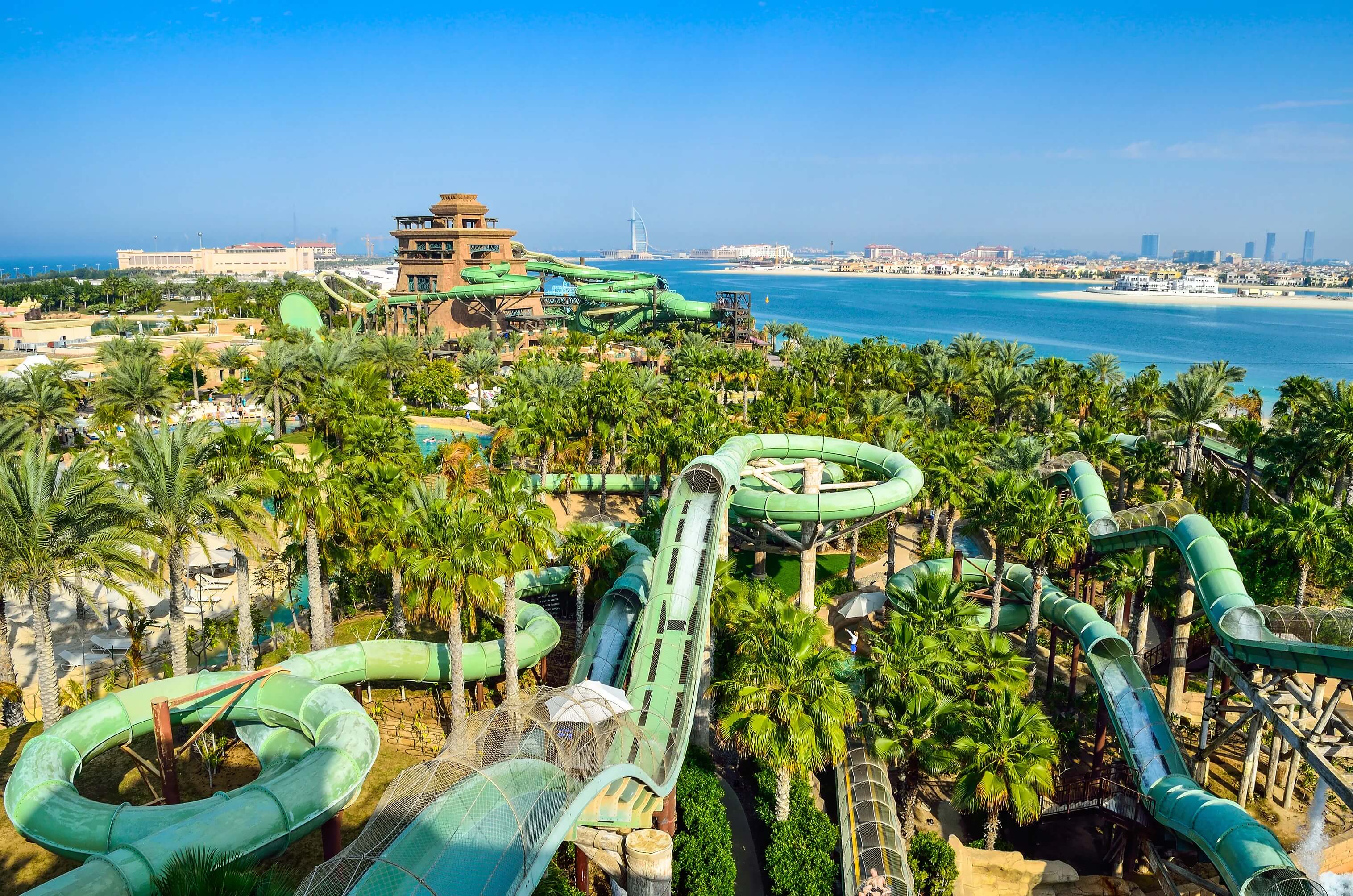 IMAGE: Dubai has begun to market itself as the world's theme park capital, and its action-packed experiences will especially interest older children. Combine that with carefully selected tourist attractions and activities at the appropriate level of education for pure, unadulterated fun for all ages.
Children of all ages will enjoy Aquaventure Waterpark, from the most daring adrenaline junkies to first-timers in the paddling pool. This park is likely to be a highlight of any child's visit to Dubai, but note that some of the rides are not suitable for very young children, so be sure to accompany your children and let them build their way up, rather than risk being terrified by some of the crazy rides.
The truth is that excellent family adventures await those who visit Dubai, and there is so much to see and enjoy that a week-long journey to this amazing country may not even be enough. Keep reading our travel blog posts for the most up-to-date information on this and other family vacation spots.