The Grand Millennium Muscat hotel Executive Club Lounge, referred to as the Executive Lounge, is a large three hundred square metre exclusive benefit lounge, offered to guests staying in Club Level rooms. The Executive Club Lounge offers a choice of food and beverage presentations, including:
Breakfast buffet from 7am to 11am
Afternoon Tea Buffet from 6pm to 6pm
Coffee, Tea, Juices and Mocktails throughout the day from 7am to 11pm
Full dinner in the evenings
Children are not welcome in the Executive Club Lounge, which is focused mostly on business travellers and adults, offering exclusive benefits and services.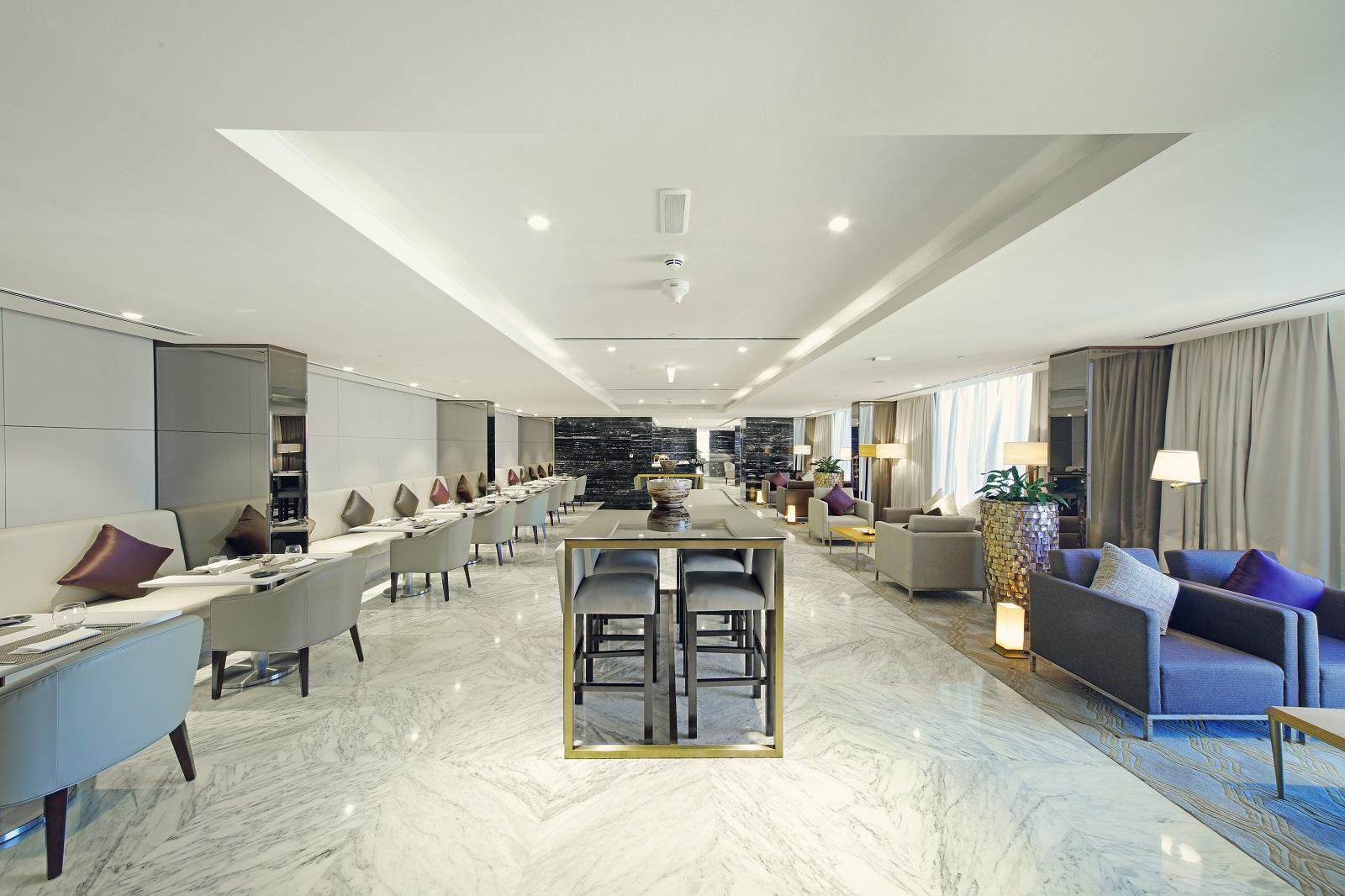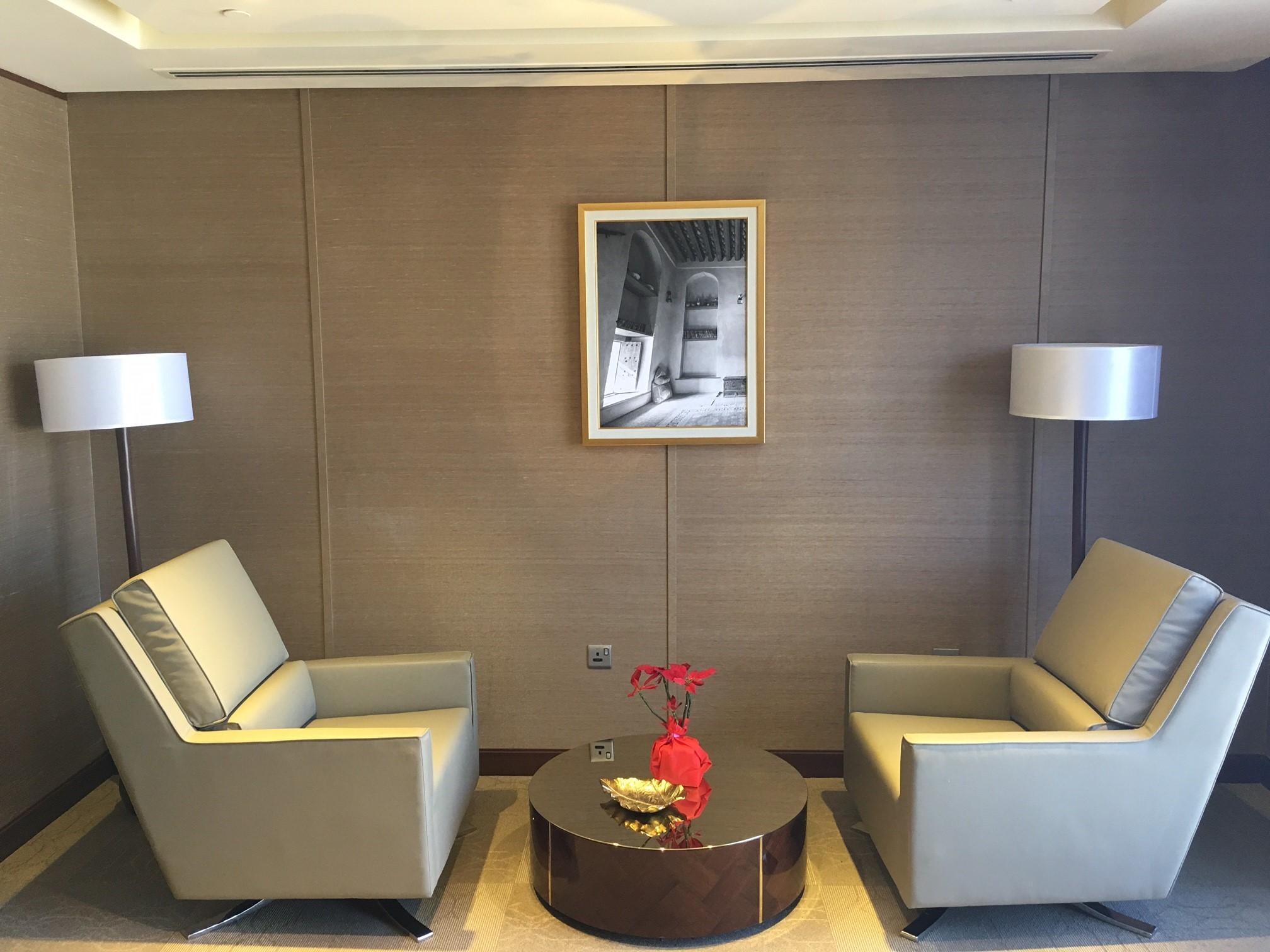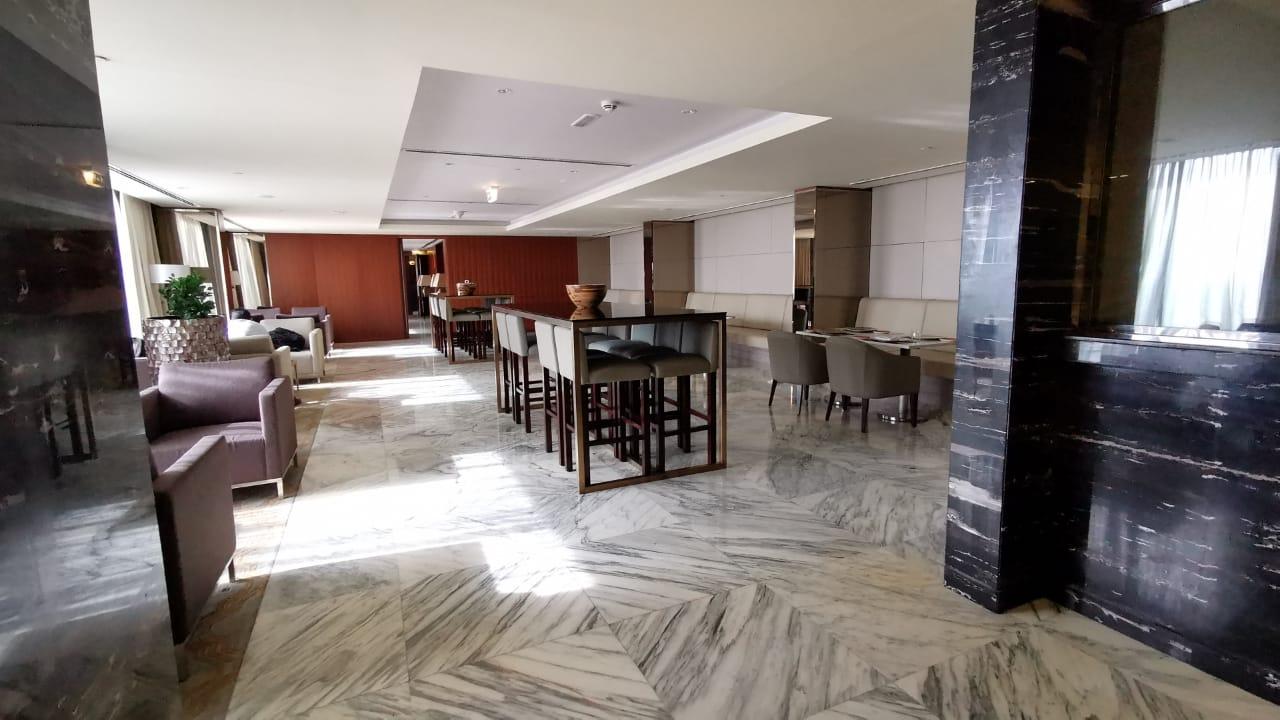 Upgrading to a Club Level room is worth every penny with a choice of food and beverage options served throughout the day on the large buffet island. Guests can help themselves to the delicious snacks, which are constantly being topped up by the experienced, professional and friendly Executive Club Lounge team.
Spacious, Airy and Light
This Executive Club Lounge is open throughout the day until 11pm at night, offering a spacious area where you can relax or catch up on some business emails. The complimentary wireless internet makes it easy to stay in touch with colleagues, arrange meetings or touch base with family and friends at home while enjoying a cup of complimentary tea or coffee.
From the white ceiling and natural coloured walls to the beautifully designer chairs and sofas, the Executive Club Lounge offers an adult space to relax and unwind. It offers ample seating with spectacular city views from anywhere you choose to sit. The seating is chairs or comfortable sofas, each carefully placed to ensure that you enjoy your privacy while checking emails, or simply relaxing with a book to escape the outdoor heat.
Great Selection of Food with Panoramic City Views
The Executive Club Lounge has been designed to be comfortable and relaxing with a fantastic selection of food preparations, which are offered throughout the day. Enjoy fruits, pastries and more when visiting the Executive Club Lounge at the Grand Millennium Muscat hotel. The views are superb and you can sit, enjoy some snacks and gaze out at the city views, which light up into a spectacular skyline as evening falls.
Being alcohol free, the Executive Club Lounge does offer complimentary teas, coffees, juices and mocktails throughout the day, enabling you to try a selection during your stay. The team are friendly and helpful and will go out of their way to ensure your stay is enjoyable. They have extensive local knowledge and are happy to share tips and recommendations with guests, along with assisting with restaurant bookings or meeting room bookings, as required.