The Hilton Dubai Al Habtoor City hotel is located in the heart of Dubai, only five minutes from the Dubai Aquarium and Underwater Zoo. This luxury five-star hotel provides a home away from home with 1004 guest rooms, all with private bathrooms. It has a luscious spa offering a range of body treatments, including massages and facials. In addition to this, the Hilton Dubai Al Habtoor City hotel has its own private beach.
Swim in one of the four swimming pools or relax on the private sandy beach. Take advantage of the complimentary wireless internet or their complimentary babysitting and childcare services. They offer a concierge service, who can assist with car hire bookings to tour bookings, also make recommendations on sights and attractions you should not miss when visiting this ultramodern city. The hotel also offers the added convenience of a complimentary shuttle to get to the beach or the shopping areas.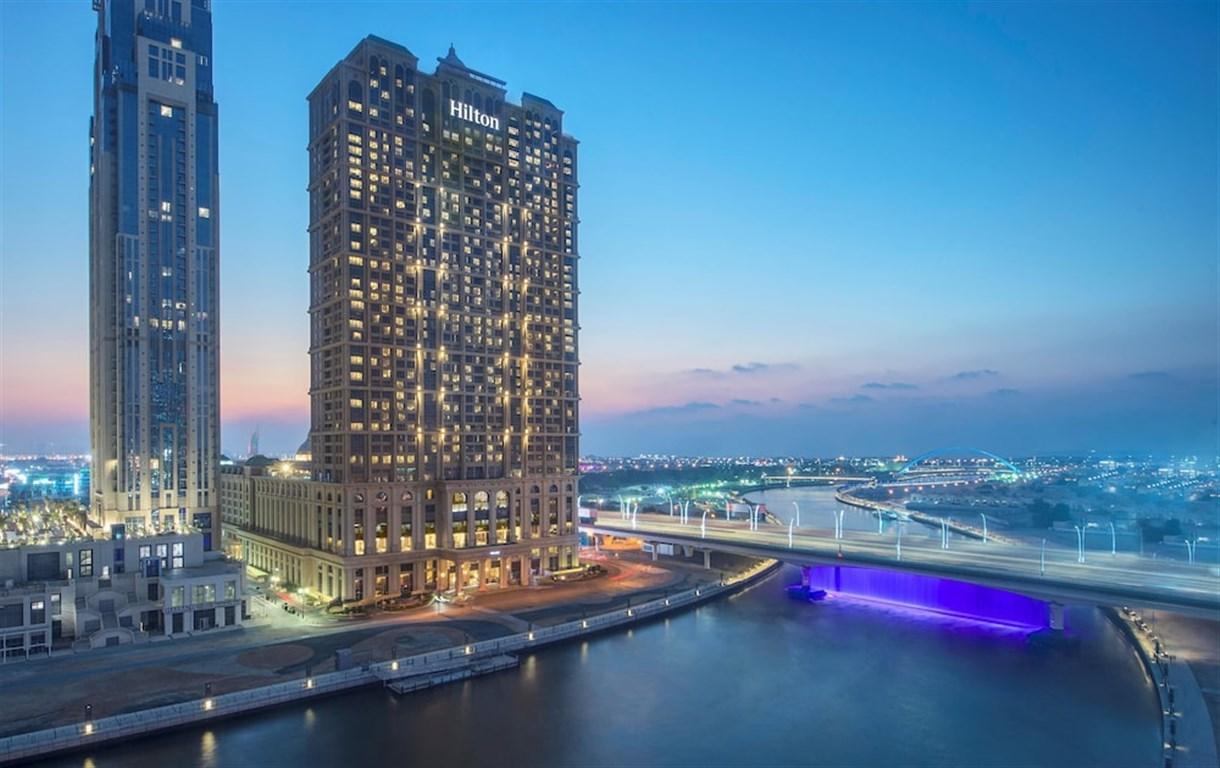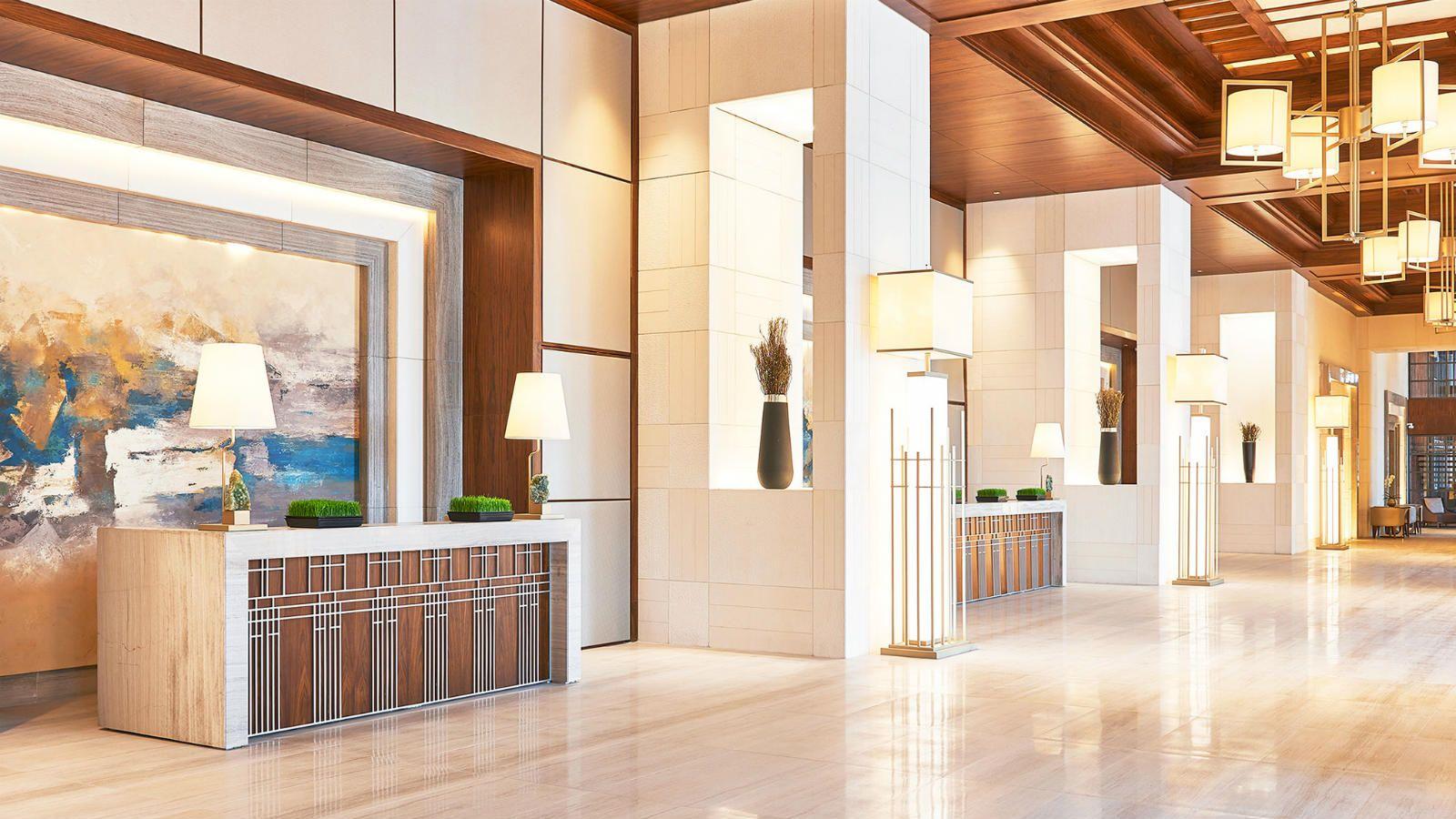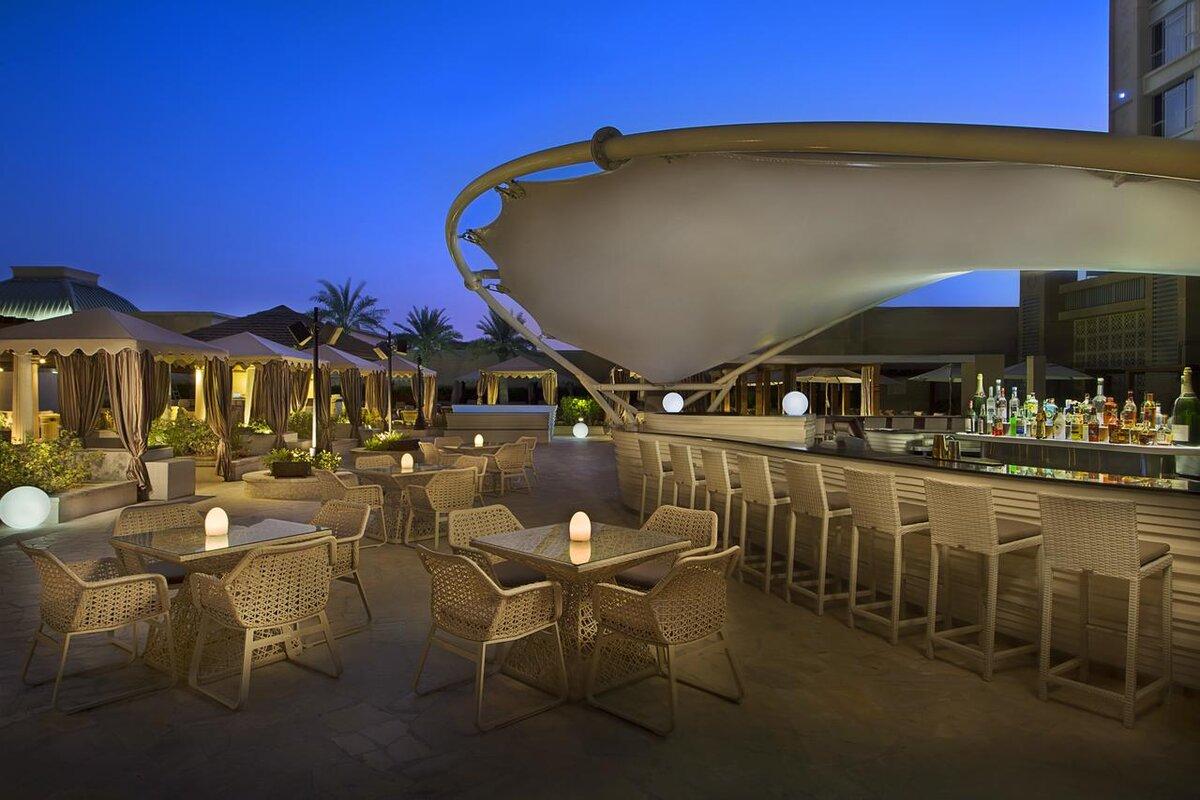 Why You Should Go There
The Hilton Dubai Al Habtoor City hotel is located on Sheikh Zayed Road, in the heart of the best shopping districts. It is located on the Dubai Water Canal and is connected to the La Perle, by Dragone water theatre, which was the cities first permanent show, which was inspired by Dubai spirit. The hotel offers five restaurants and twenty-four-hour room service, for convenience. Guests can also get snacks from the café/coffee shop. They have a comfortable bar lounge, swim up bar and three poolside bars. From the twenty-four-hour business centre to the complimentary newspapers in the lobby and their laundry and dry-cleaning services. They also offer free valet parking on site.
This five-star luxury hotel has a twenty-four-hour front desk, hairdresser, wellness centre, bar and sauna. Its ideal location provides easy access to Dubai Fountain, Al Farooz Omar bin Al Khattab Mosque and Dubai International airport with a free shuttle bus to Dubai mall and various beaches. They offer a tennis court, ATM machines and the convenience of contactless check out.
Accommodation
Guests can choose from one thousand and four individually decorated guest rooms, suites and executive rooms, which offer complimentary WiFi, espresso machines and high definition televisions. Upgrading to an executive room provides access to the Executive Club Lounge, which its own range of benefits.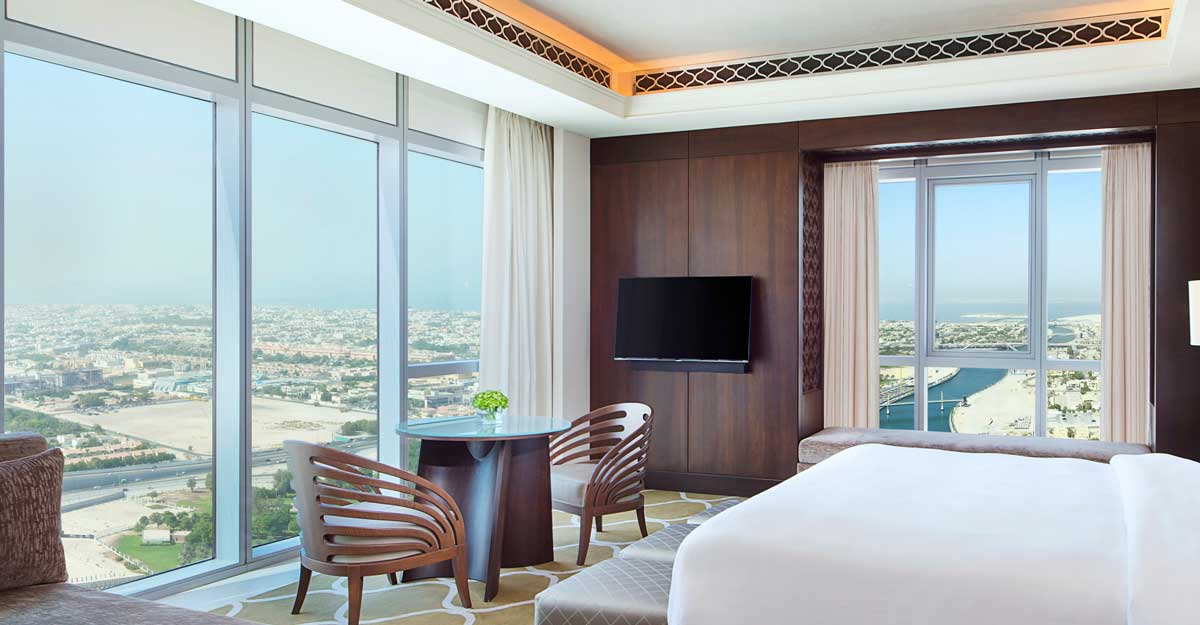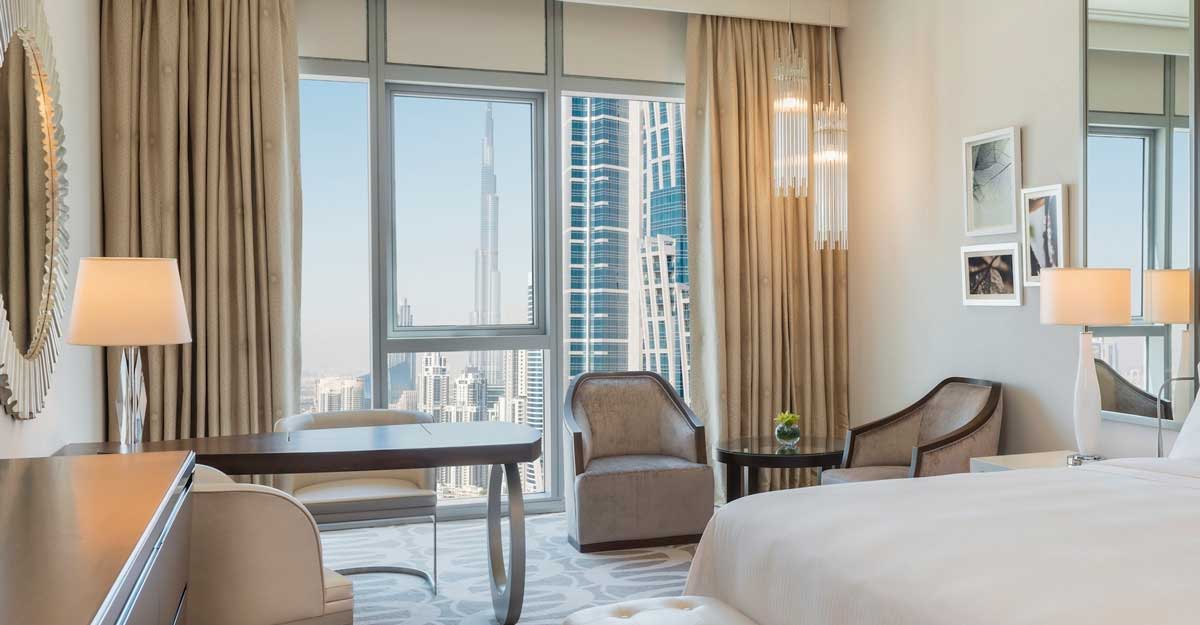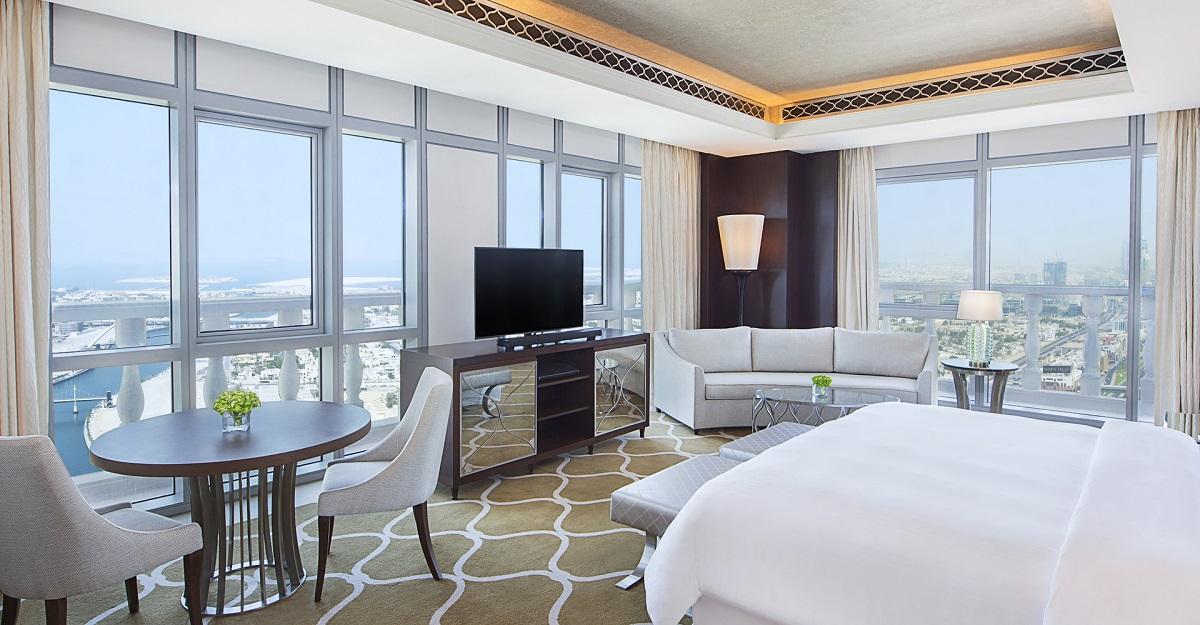 Each of the guest rooms and suites have a private and elegant bathroom with walk in shower and free-standing bathtub. All guest accommodation offers a mini refrigerator and a safe. Guests can choose connecting rooms, if preferred. The rooms are spacious and comfortable, complete with radio alarm clock, blackout curtains and air conditioning. They also offer twenty-four-hour housekeeping, bathrobes, slippers and a complimentary beverage.
Executive Club Lounge and Kids Club
The Hilton Dubai Al Habtoor City hotel does not have an Executive Club Lounge in its own hotel, but it has an Executive Club Lounge in its sister hotel, V Hotel Dubai. This is right next to the hotel. The Executive Club Lounge at the V Hotel Dubai is on the seventh floor with excellent skyline views. The Hilton Dubai Al Habtoor City has a Kids Club on-site and is open from 8am to 8pm daily and is free of charge to all guests.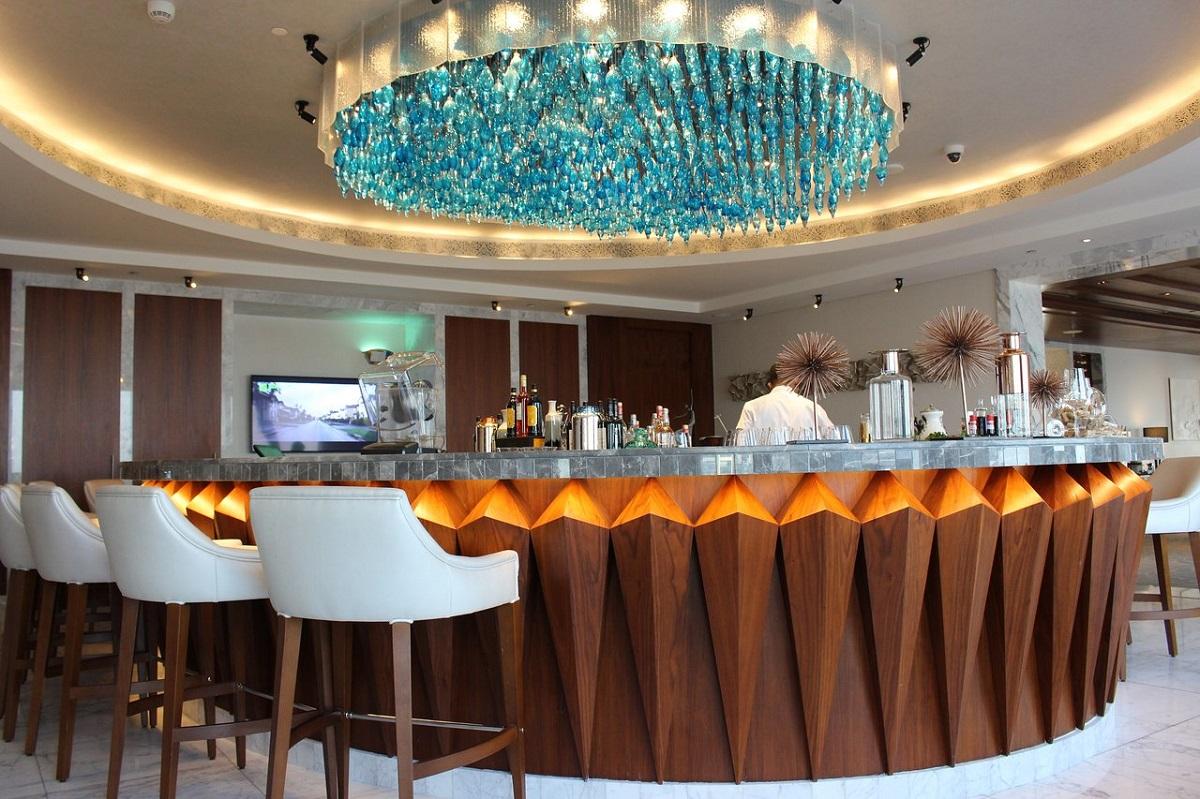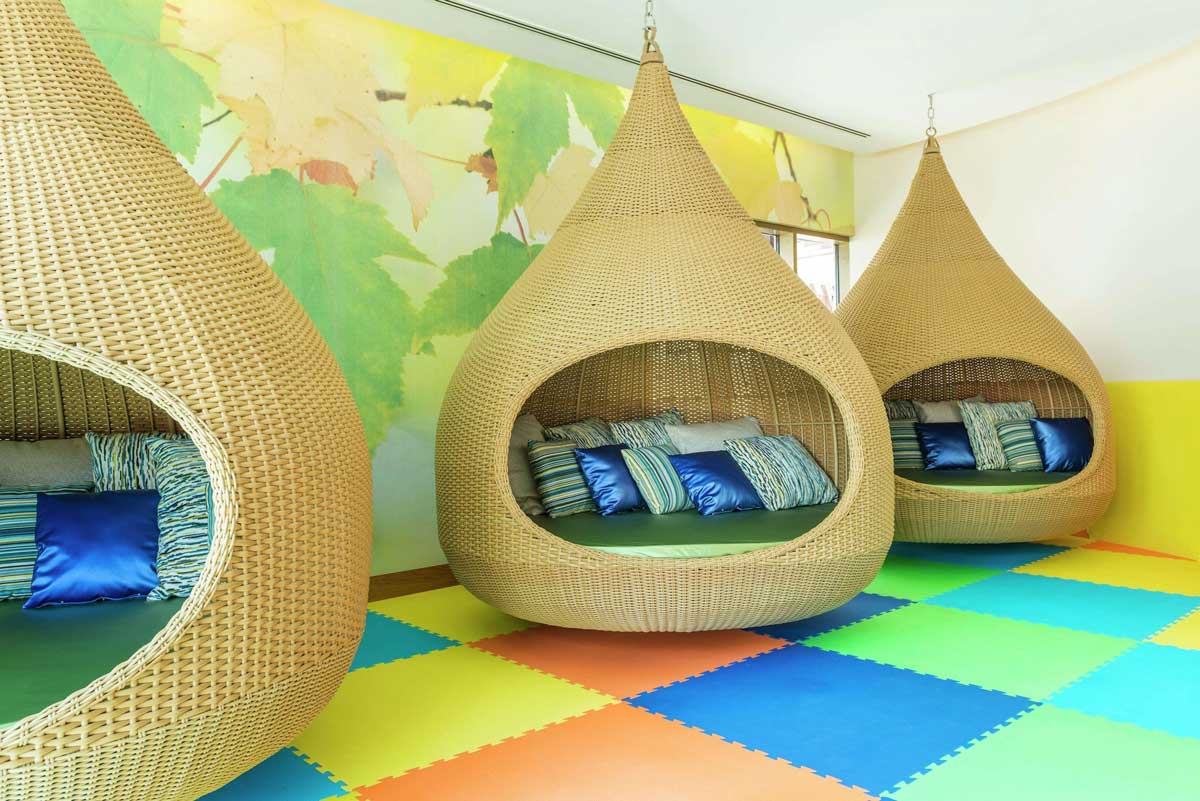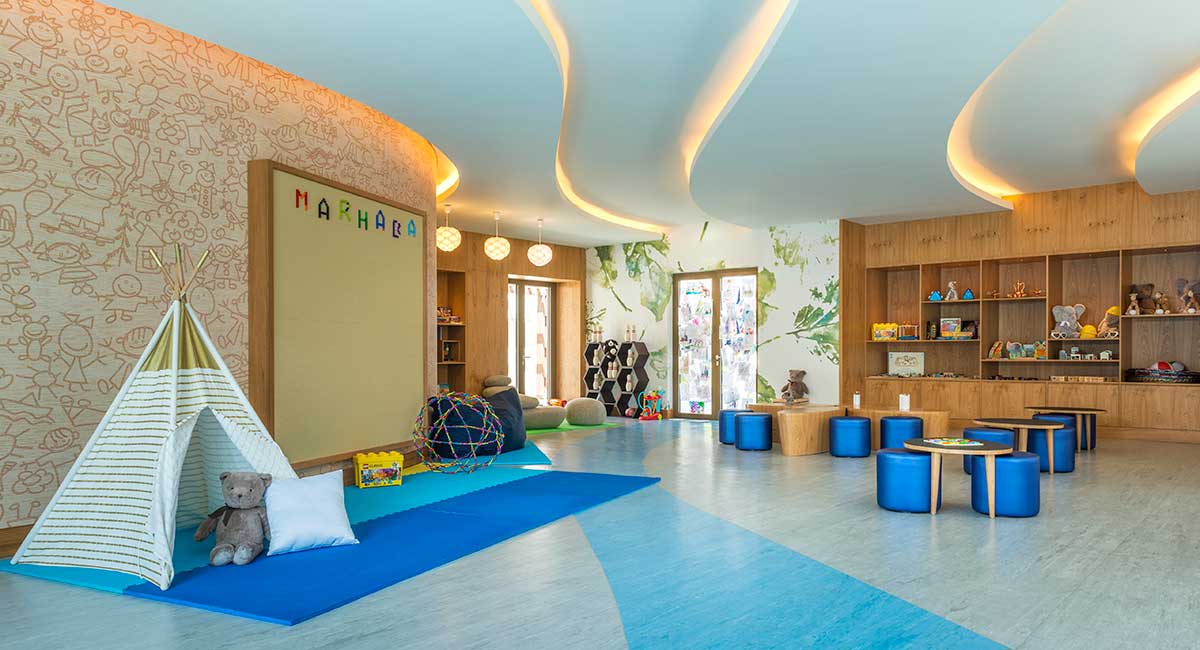 The Executive Club Lounge at the V Hotel Dubai, located on the seventh floor, offers a range of speciality blend teas and freshly brewed coffees. The music is turned up later in the day, where there is a choice of delicious hors d'oeuvres, as you gaze at the panoramic sunset. The Executive Club Lounge is offered to Diamond Guests and those booked in Executive Rooms and Suites only. You can read about the V Hotel Dubai Executive Club Lounge by clicking on the button below:
V Hotel Dubai Executive Club Lounge
The Kids Club is open from 8am to 8pm with two dedicated staff members on site to ensure the children remain safe and entertained. The Kids Club caters to children aged three years and older and is complimentary to guests staying at Hilton Dubai Al Habtoor City. You can also read about their Kids Club by clicking on the button below:
Hilton Dubai Al Habtoor City Kids Club