The Raffles Dubai Executive Club Lounge is located on the tenth and eleventh floors of this unique pyramid shaped hotel, an exclusive lounge for Club Room and Suite guests only, offering a touch of elegance and luxury.
The Executive Club Lounge is open daily from midday to 10pm, offering three delicious food presentations each day, these include:
Breakfast in Azur Restaurant, located on the third floor from 7am to 10.30am. Breakfast is served until 11am on Saturdays and Sundays.
Afternoon tea served between 1.30pm to 4.30pm and features a selection of scones, cookies and cakes.
Afternoon Tea is served from 2pm to 4pm.
Evening canapés and cocktails are served from 6pm to 8pm.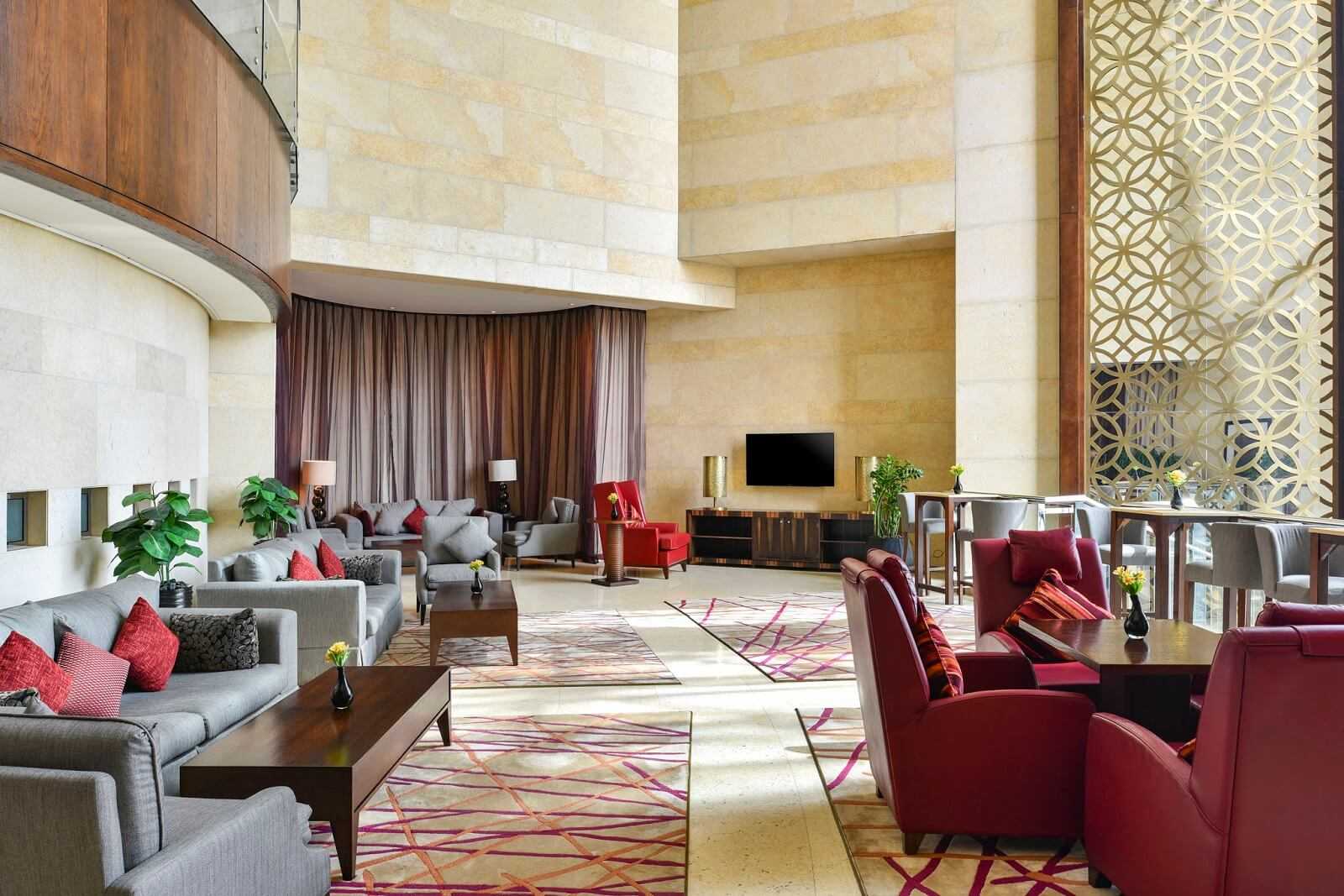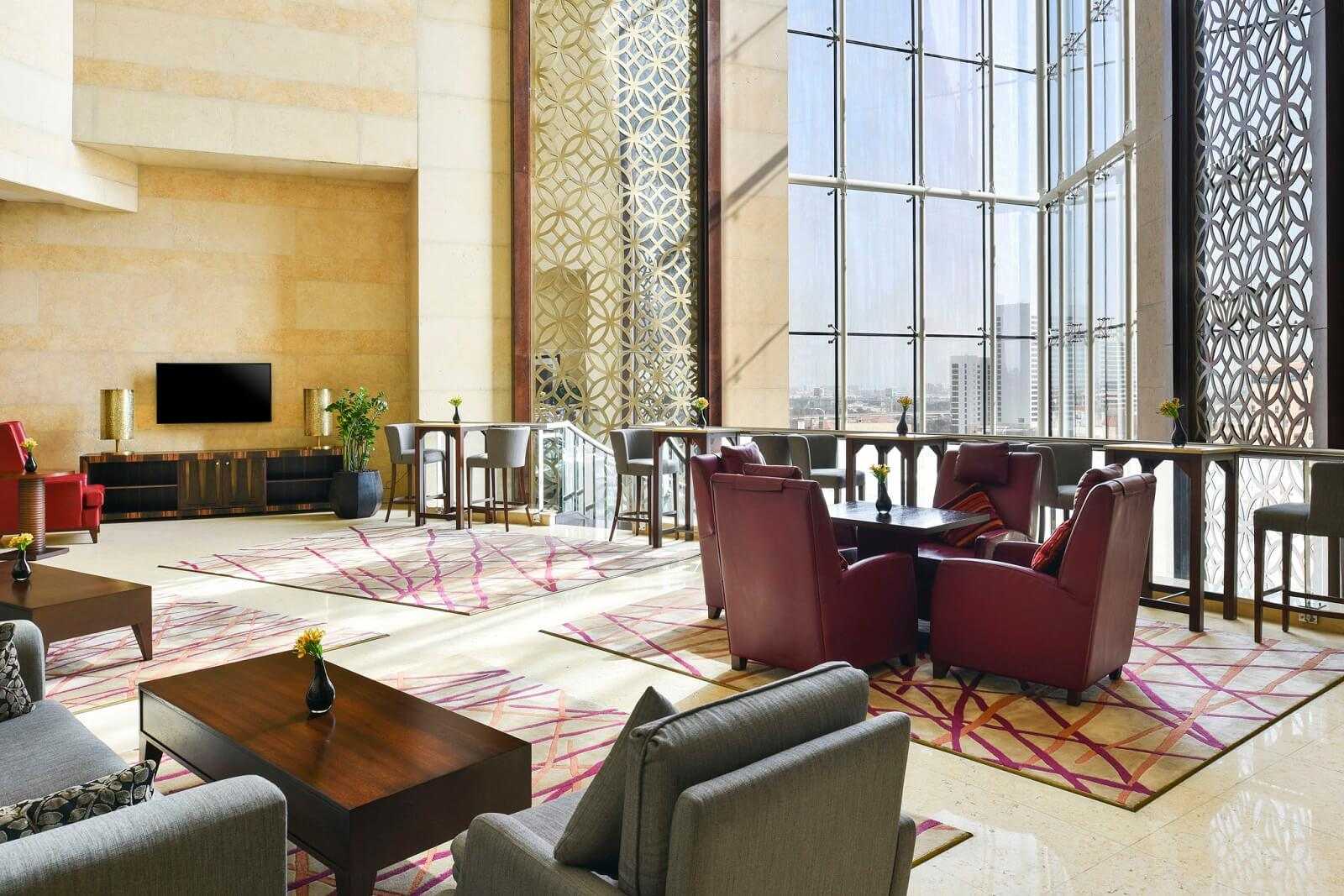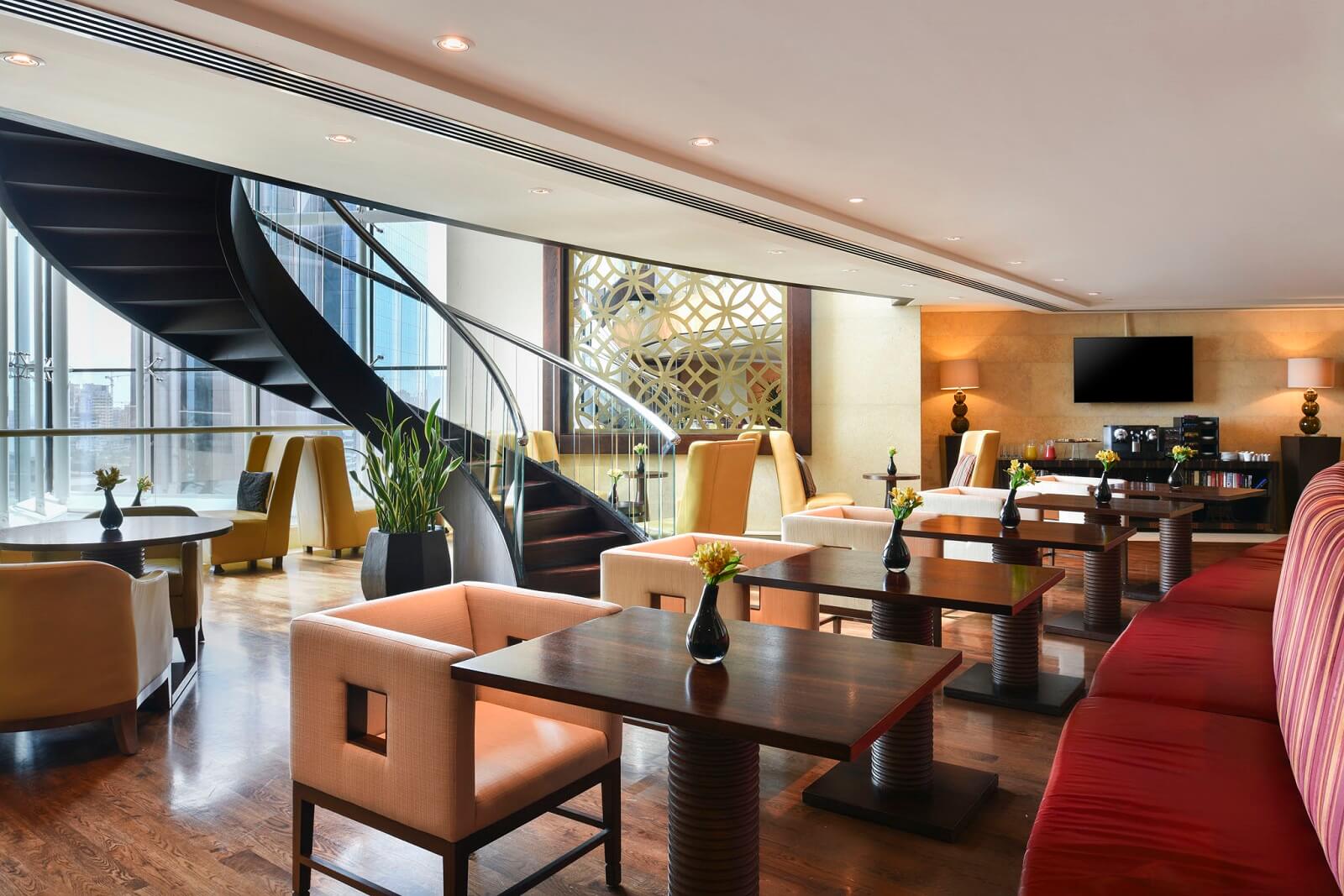 Exclusive Executive Club Lounge Offering Spectacular Views
The Raffles Dubai Executive Club Lounge offers a comfortable and welcoming space that is exclusive to Club Room and Suite guests only. The furniture is covered in the most luxurious fabrics, which stand out in this bright and airy space with dark wood floors with plenty of tables and chairs to accommodate all their Club guests. You can use the Executive Club Lounge to finish off a project for work, sit and read the newspaper or just enjoy an evening cocktail before dinner.
Being high up in this pyramid shaped hotel, offers some of the most spectacular Dubai views. You can watch the sun set over the Dubai skyline as you drink your coffee or glass of wine. It is impeccably designed, comfortable and stylish with complimentary WiFi, enabling you to stay in touch with family, friends and for work.
Friendly and Welcoming
The team in the Executive Club Lounge remember every guests name, they are accommodating and friendly at all times, always with a smile on their faces. They are able to provide information and recommendations on things to do and see, where the best places are to do some retail therapy and where the best sights are.
As a Club Room or Suite guest, you can invite an additional visitor to the lounge while you are staying at the hotel. There is an additional charge for this at 200AED per day. The dress code in the Executive Club Lounge is smart casual, no gowns, shorts or slippers are allowed during the evening canapés.
The Raffles Dubai Executive Club Lounge is family friendly with children under twelve allowed on the eleventh floor. The food and beverages provided in the Raffles Dubai Executive Club Lounge is to be consumed in the lounge and is not allowed to be taken to your guest room.
In addition to this, Club Level guests enjoy VIP check in and check out, which eliminates the need to stand in a queue at the reception desk. They also offer complimentary ironing of two items during your stay, which is ideal if you have a business meeting to attend and your clothing got crumpled in your suitcase.
The Raffles Dubai Executive Club Lounge is able to cater to all dietary requirements with an accommodating team of professionals, who are on hand to provide you with what you need, whether its connecting to the internet or ordering a cup of coffee.
ALLSAFE Certified
The Raffles Dubai hotel and Executive Club Lounge are passionate in ensuring their guests receive the finest quality service, providing them with a safe and hygienic area to relax and rejuvenate. The hotel is ALLSAFE certified, which means that they operate to government guidelines. The Executive Club Lounge is spotless, thanks to the team following the strictest cleaning standards and procedures.