An iconic 5-star destination, the well-known Hyatt Regency Dubai, located in Deira, is surrounded by history and the city's rich traditions, while embracing modern influences to offer their guests from all over the world the best in terms of which contemporary expectations are met. The hotel is modern, and it is located in a stunning position with fantastic views of the city, the ocean and the Corniche, as well as the magical waterfront area. It spells class and style, comfort and exemplary service. Walking to some of Dubai's markets such as the Gold Souk and Heritage Village, as well as various places of interest, takes no more than a few minutes. Or you may want to take the metro and access the business district and  innumerable shopping centres, the Dubai Museum and a whole lot more.
The 421 spacious rooms and suites are well appointed and offer comfort as the guests surround themselves with luxury and style. Great dining options and access to a spa and fitness centre offer the guests something to look forward to. Modern meeting facilities and various complimentary services help make the guest's stay at Hyatt Regency Dubai an experience to remember for all the right reasons.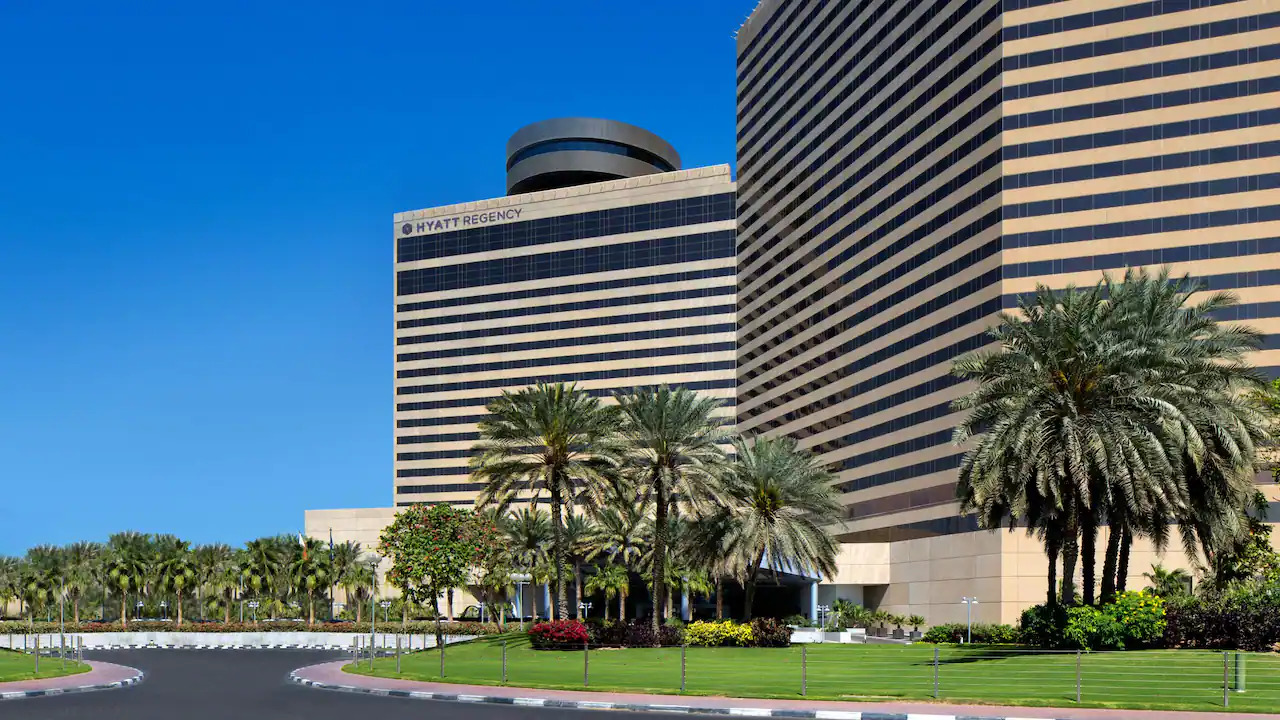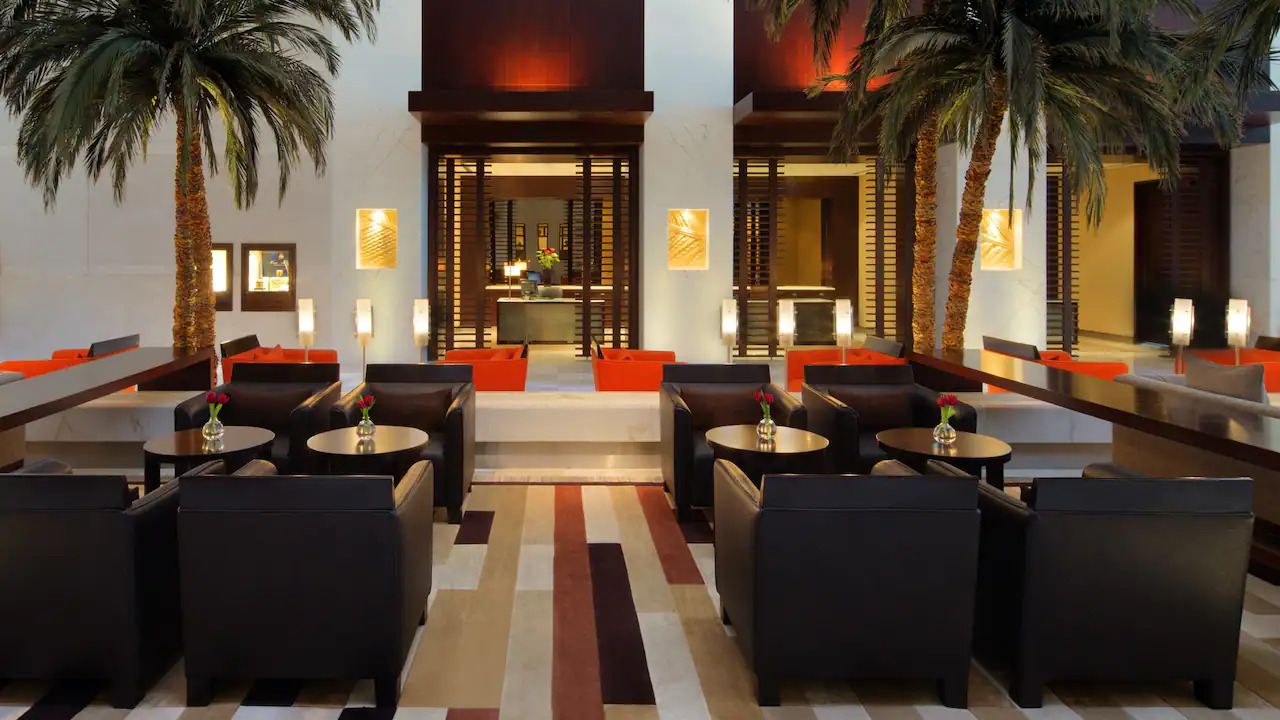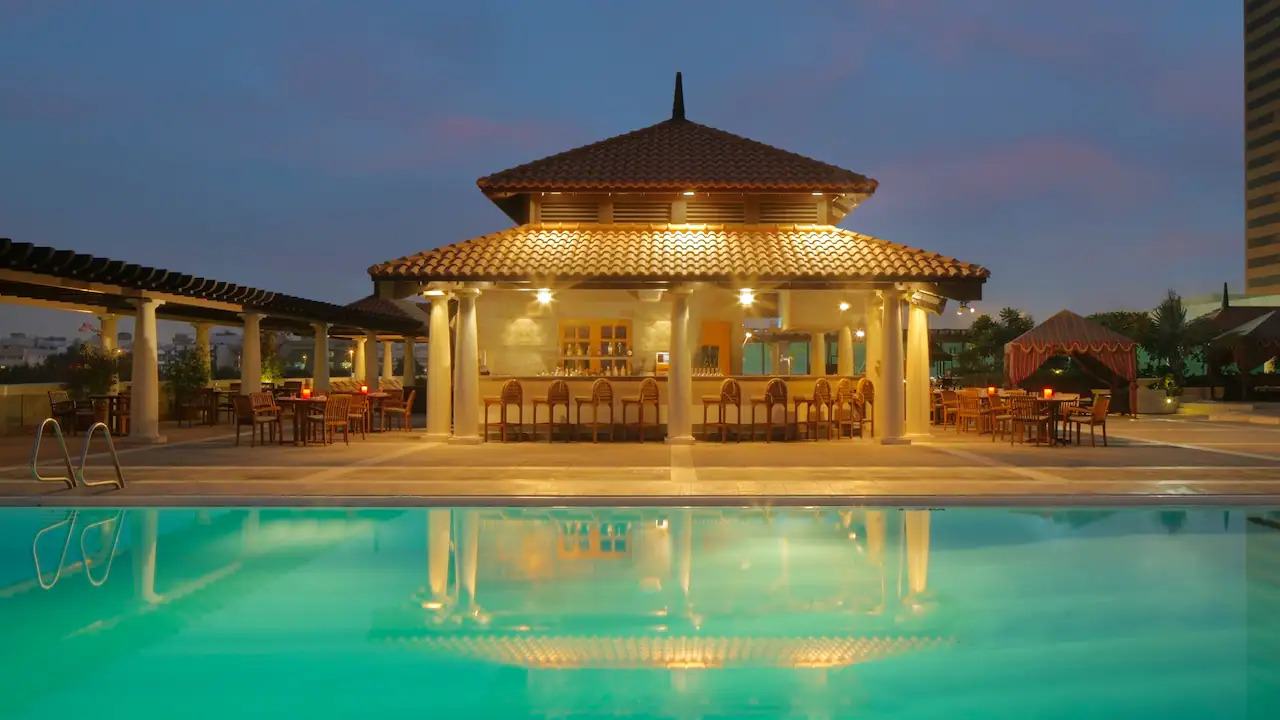 Why You Should Go There
Accommodations are smart, and some are truly lavish. Choices are between rooms and upscale suites, all complete with good work areas and modern bathrooms. Some have sensational views. All accommodations are spotless, with bedlinen crisp and clean. There is free Wi-Fi everywhere so that you can stay in touch with your office or family elsewhere.
Hyatt Regency Dubai is luxurious and offers outstanding leisure opportunities for guests,  such as being able to spend hours on the sun terraces or in the garden. Guests are offered more relaxation on the tennis court, as well as being able to enjoy one of several relaxing treatments at the Club Olympus Spa. Treatments include options right from head and body to foot and back massages, and even couples massages. The gym is well equipped and modern, with fitness and yoga classes great options. Fitness instructors are on hand to assist and advise about the best cardio and strength exercise for your profile. Hyatt Regency Dubai is close to amenities such as Deira Fish Market and Deira Spice Souk, which are only 0.4 km and 1.1 km away respectively, where the visitor can see what the locals buy and enjoy. The Twin Towers Shopping Centre is 1.2 km away from Hyatt Regency Dubai, where some amazing choices are available. City Walk Mall and Dubai Mall are approximately 9 km away. Guests can book shuttles or taxi services to take them there.
Dining options are great and varied, with dishes and choices to delight every palate. Their Al Dawaar revolving restaurant is the only one of its kind in Dubai and features cuisine from different parts of the world. Further choices include Miyako for authentic Japanese cuisine and Helios rooftop lounge & bar for Greek food that guests can sit down to as they enjoy stunning views and dreamy sunsets. The Kitchen is a restaurant with different international dishes on the menu, right from Middle Eastern, Western and Asian food, to offer everybody a great many choices. Two swimming pools and free parking are further features to help you enjoy a wonderful time at Hyatt Regency Dubai.
Accommodation
Guest rooms and suites are luxurious, and furnishings and finishes elegant. There are fantastic views of the immediate region and the city. Rooms are smart in every sense, with abundant natural light pouring in through large windows that almost bring the sky right into your room. Suites are upscale and offer true 5-star quality. Room service, packed lunches, daily housekeeping and so much more help to elevate the guest's stay to a memorable visit to Hyatt Regency Dubai.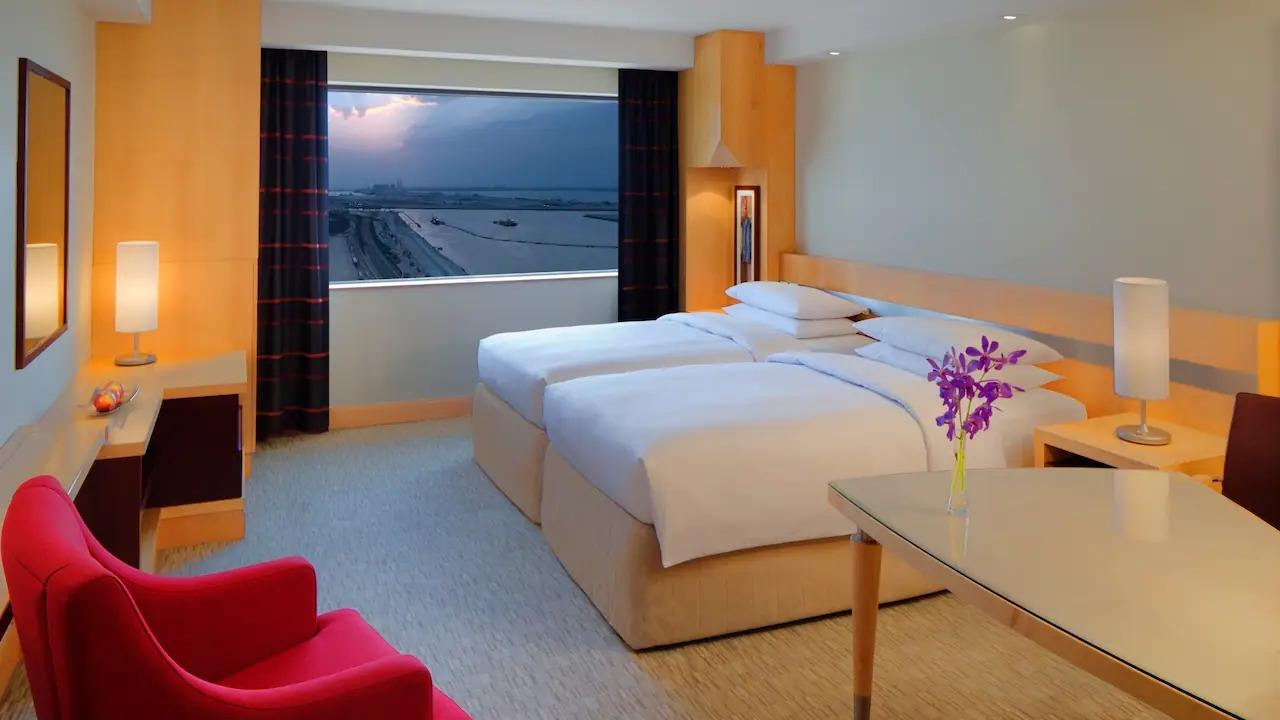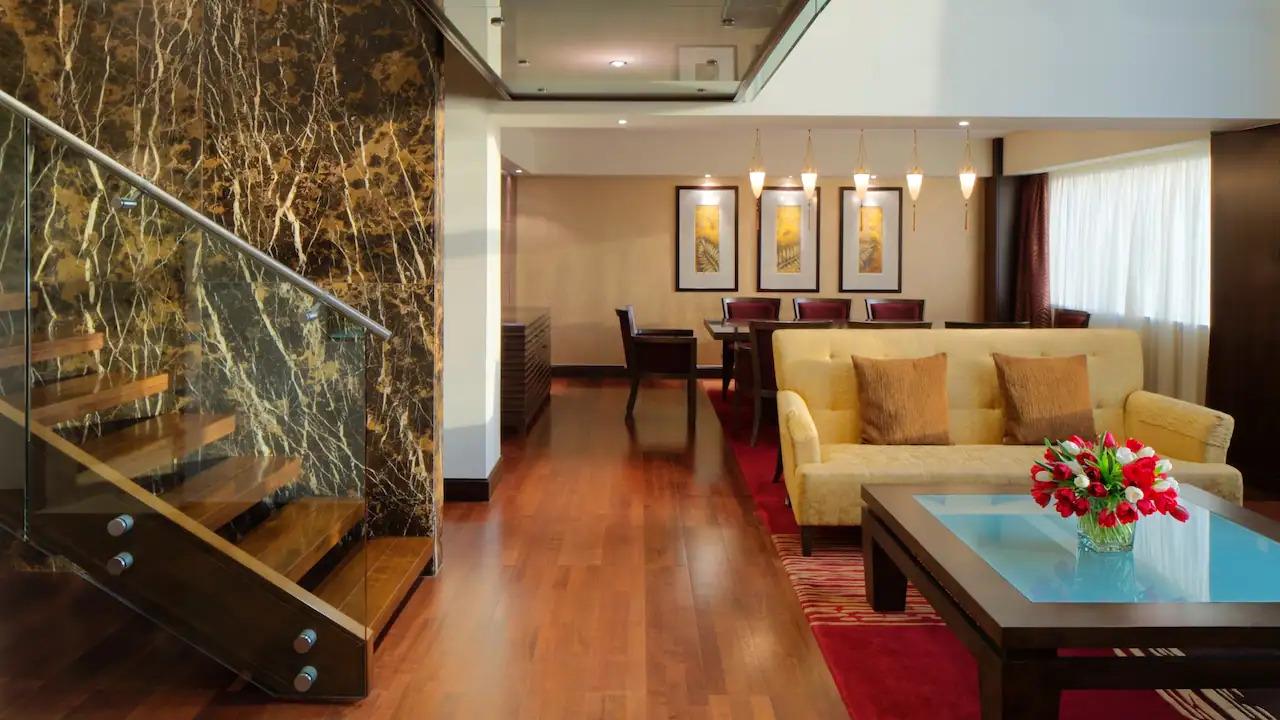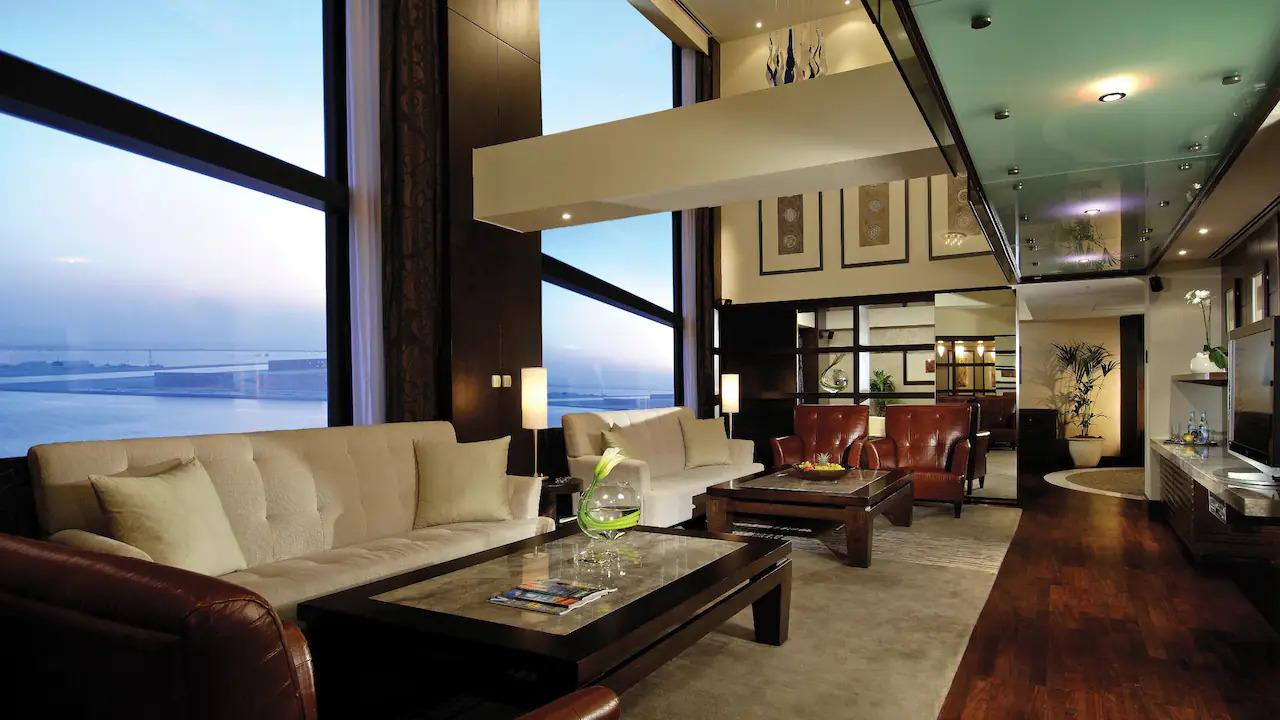 Guests can choose from different options to meet their unique requirements. Options include King/Twin Rooms with Sea View and King/Twin Rooms with Club Access, to Regency Suites and Regency Executive Suites. There is also a Superior Room with free tickets to Laguna Water Park included.
Executive Club Lounge and Kids Club
Hyatt Regency Dubai has a modern Executive Club Lounge but unfortunately no Kids Club facility.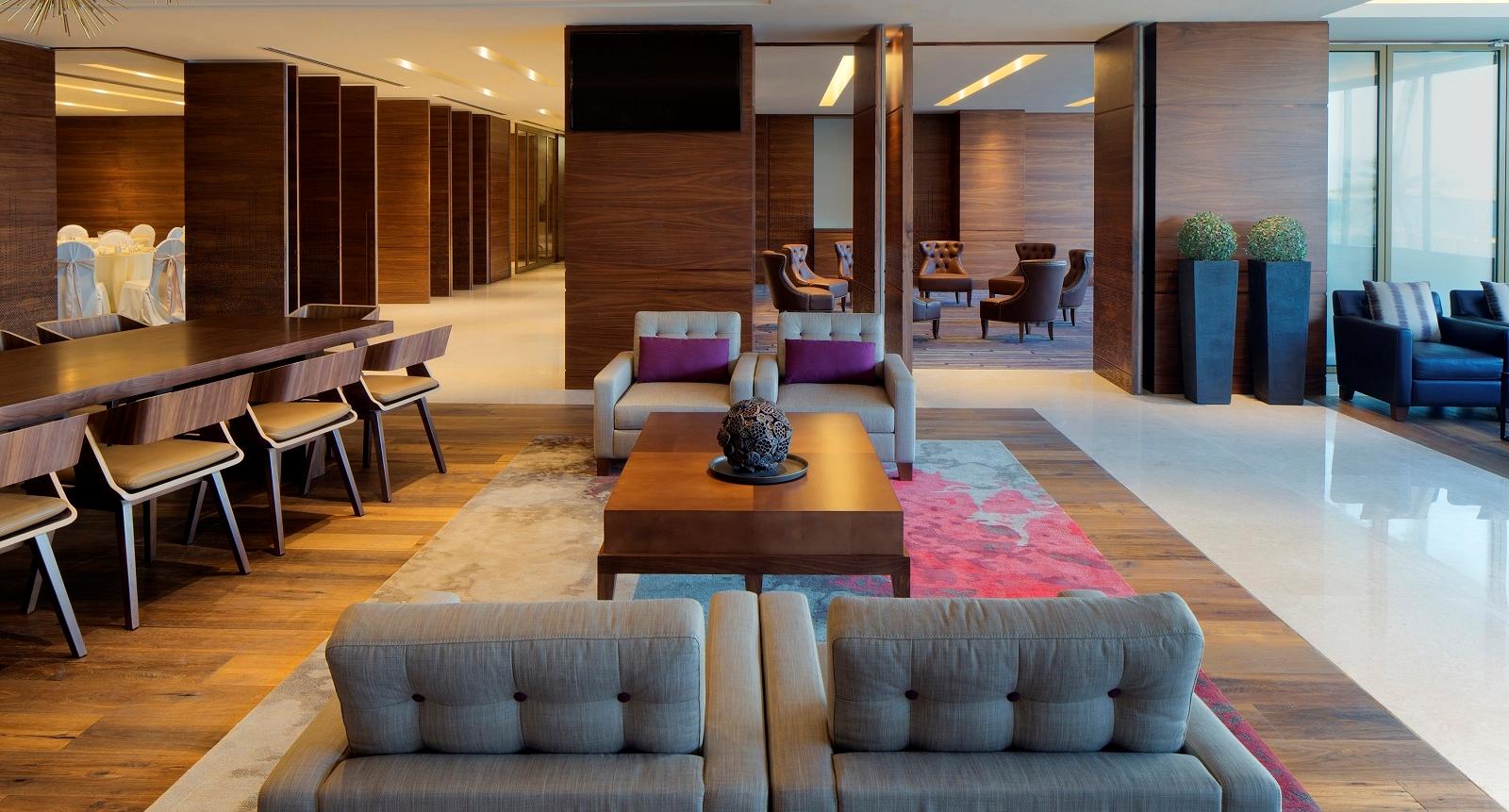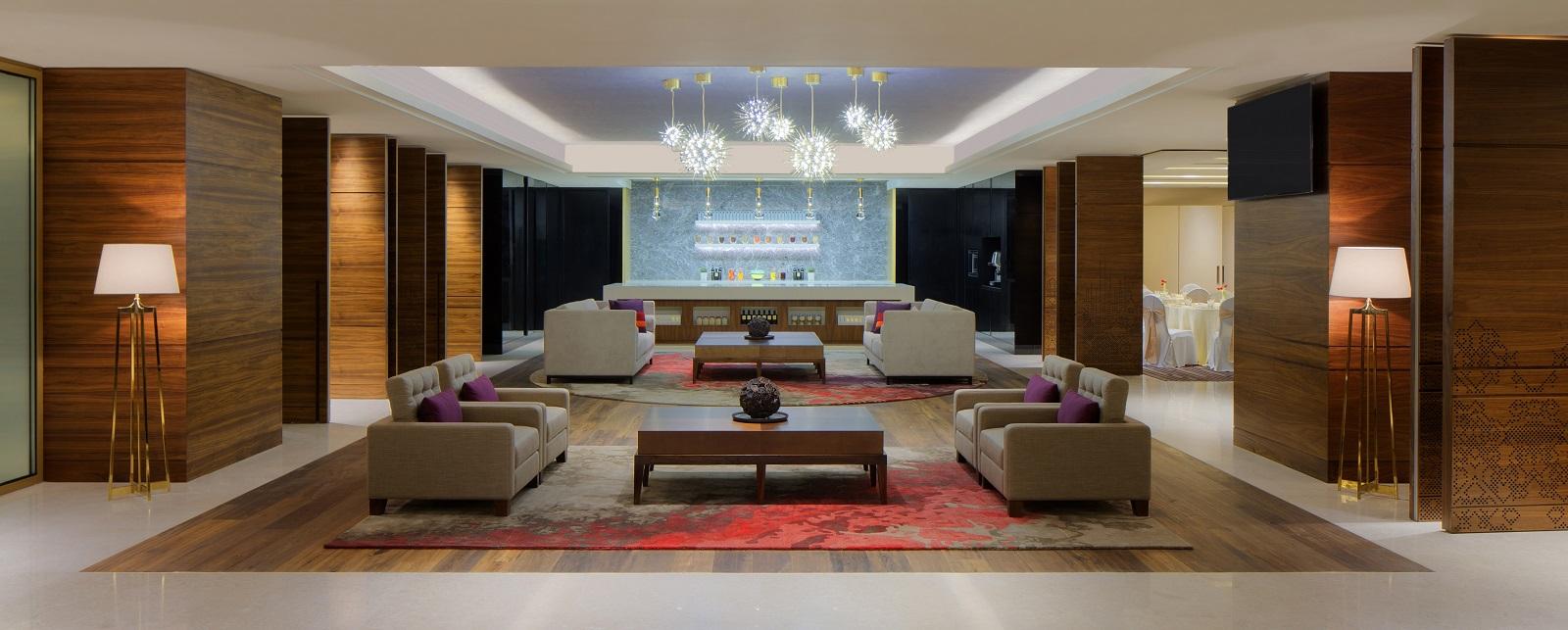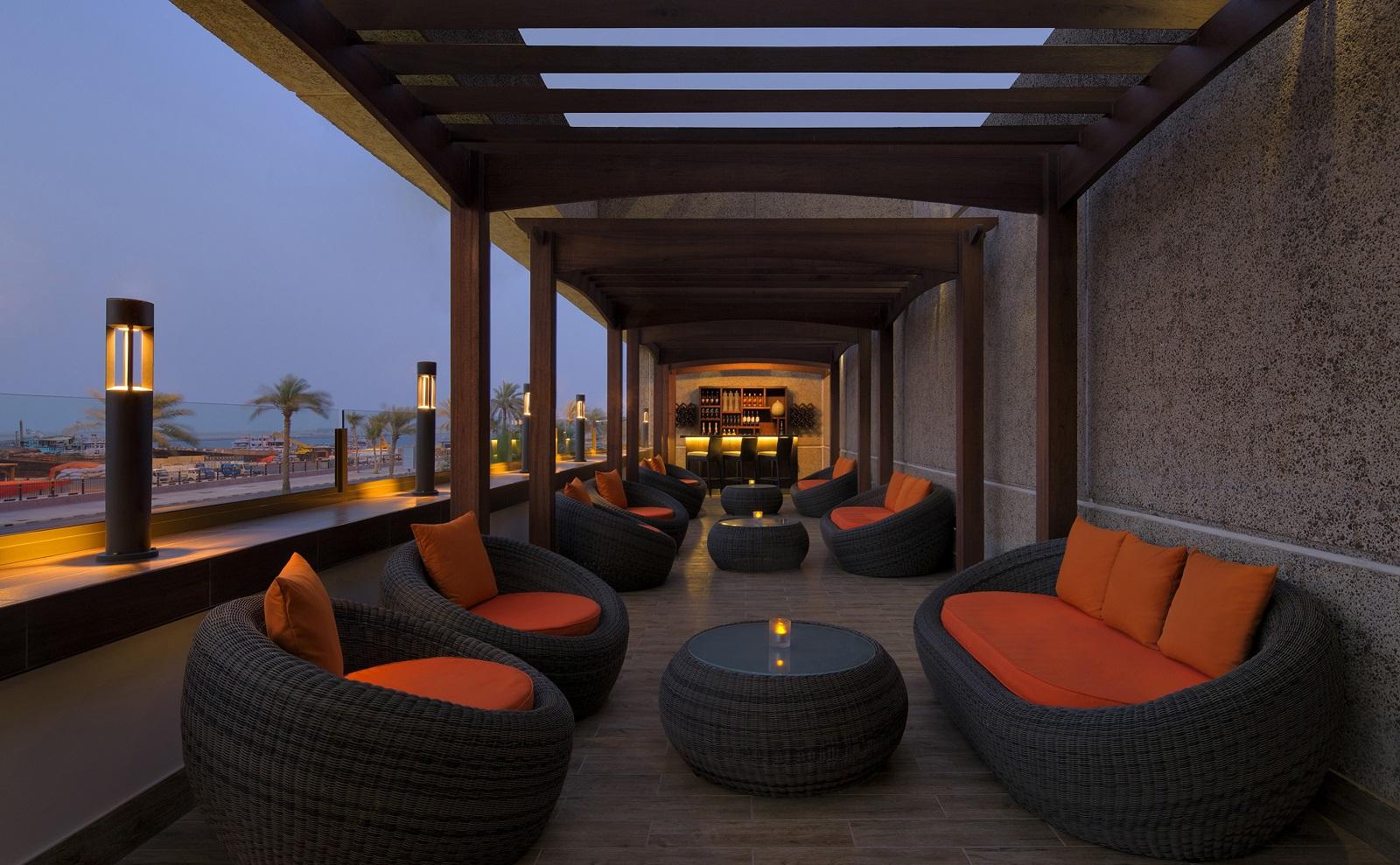 The Executive Club Lounge at Hyatt Regency Dubai is located at Al Markaz on the 1st floor. It is open for Executive Club Lounge guests' convenience between 6:30 am and 9  pm. You can read about the Executive Club Lounge by clicking on the button below:
Hyatt Regency Dubai Executive Club Lounge