Children staying at the Jumeirah Beach Hotel have complimentary access to the KiDS Club, which is next to the kids swimming pool. This fun and spacious Kids Club caters to children aged two to twelve years of age with professional supervision, giving parents time to take full advantage of the fantastic facilities offered at this five star luxurious hotel and spa.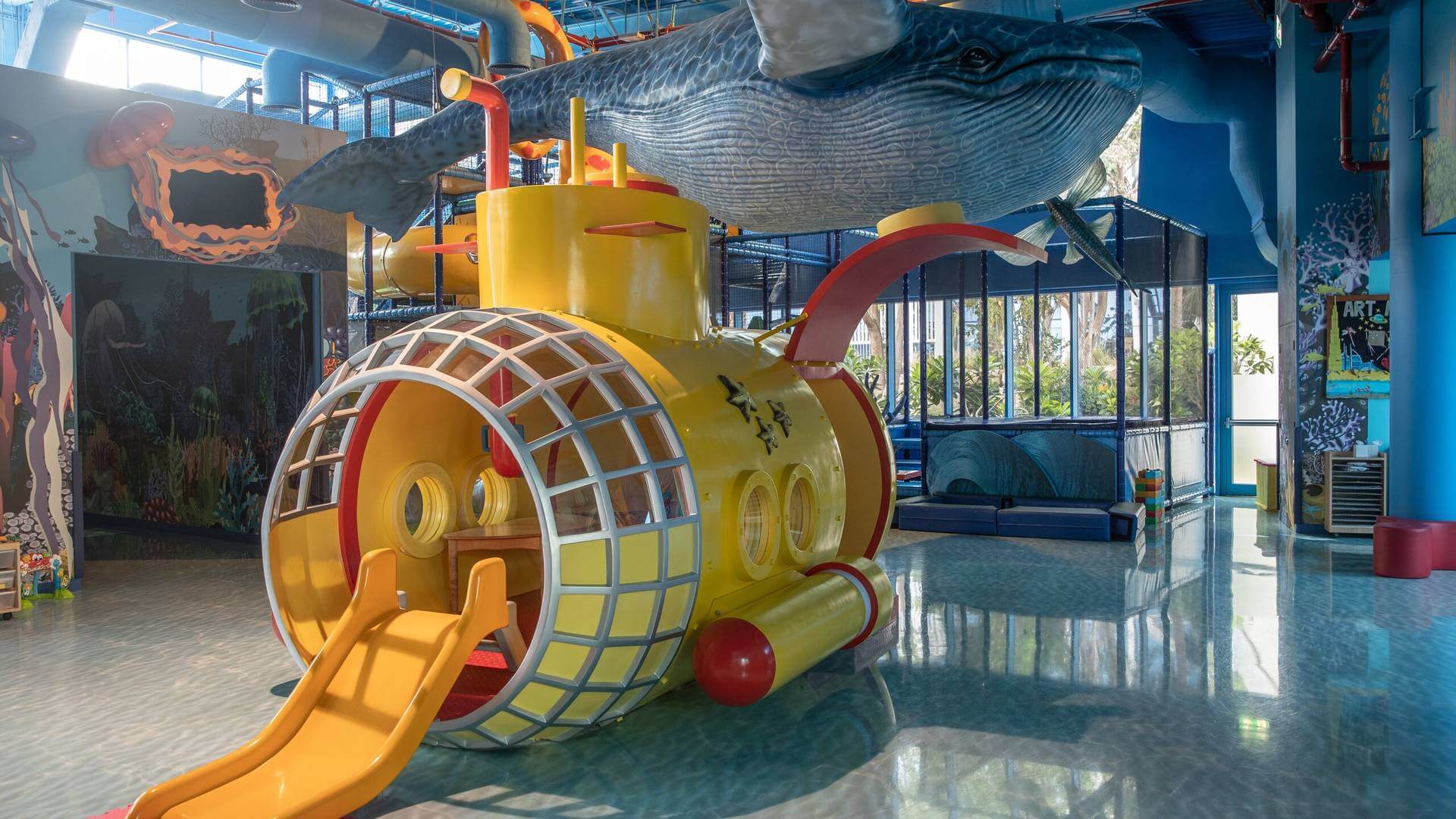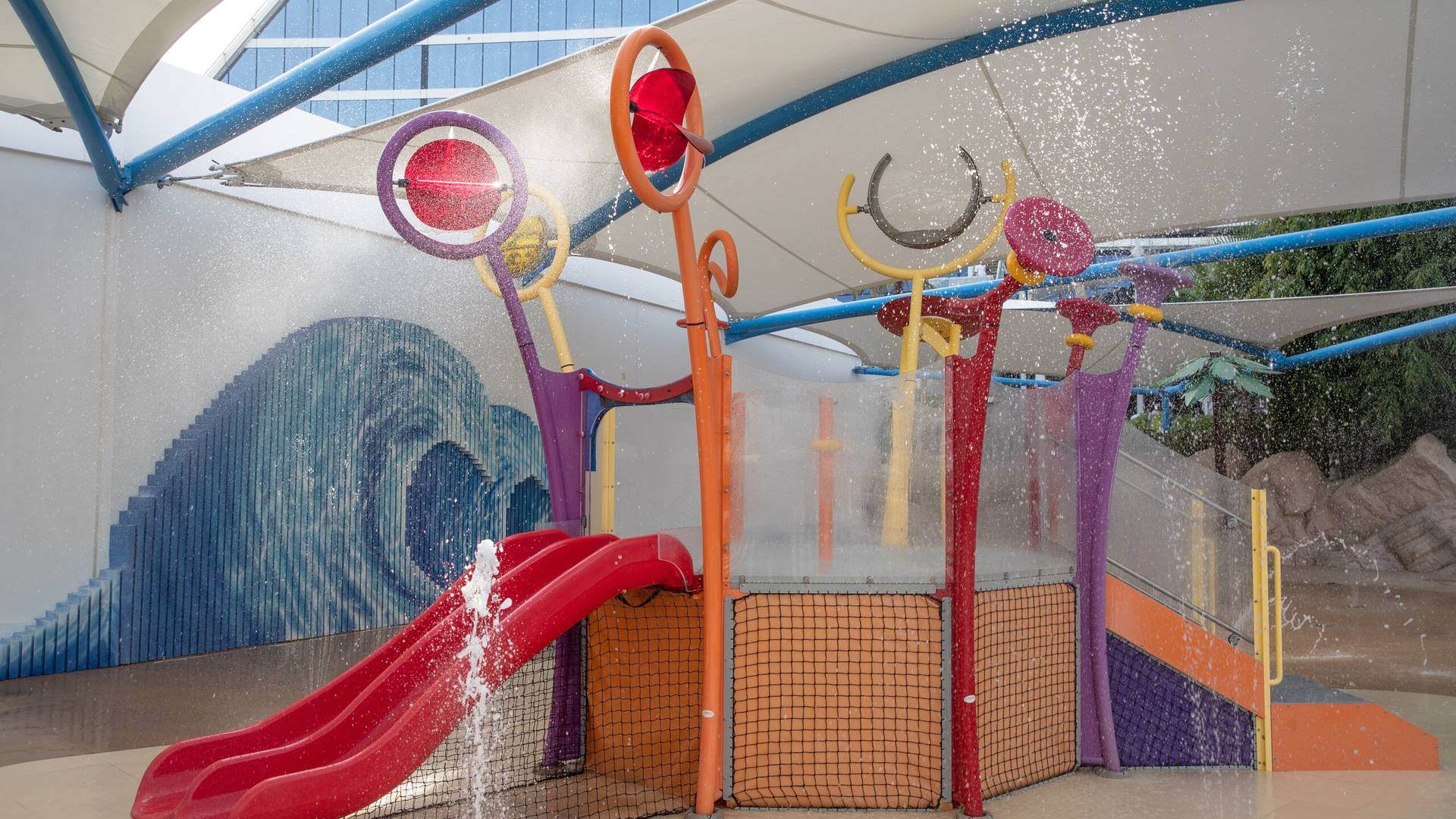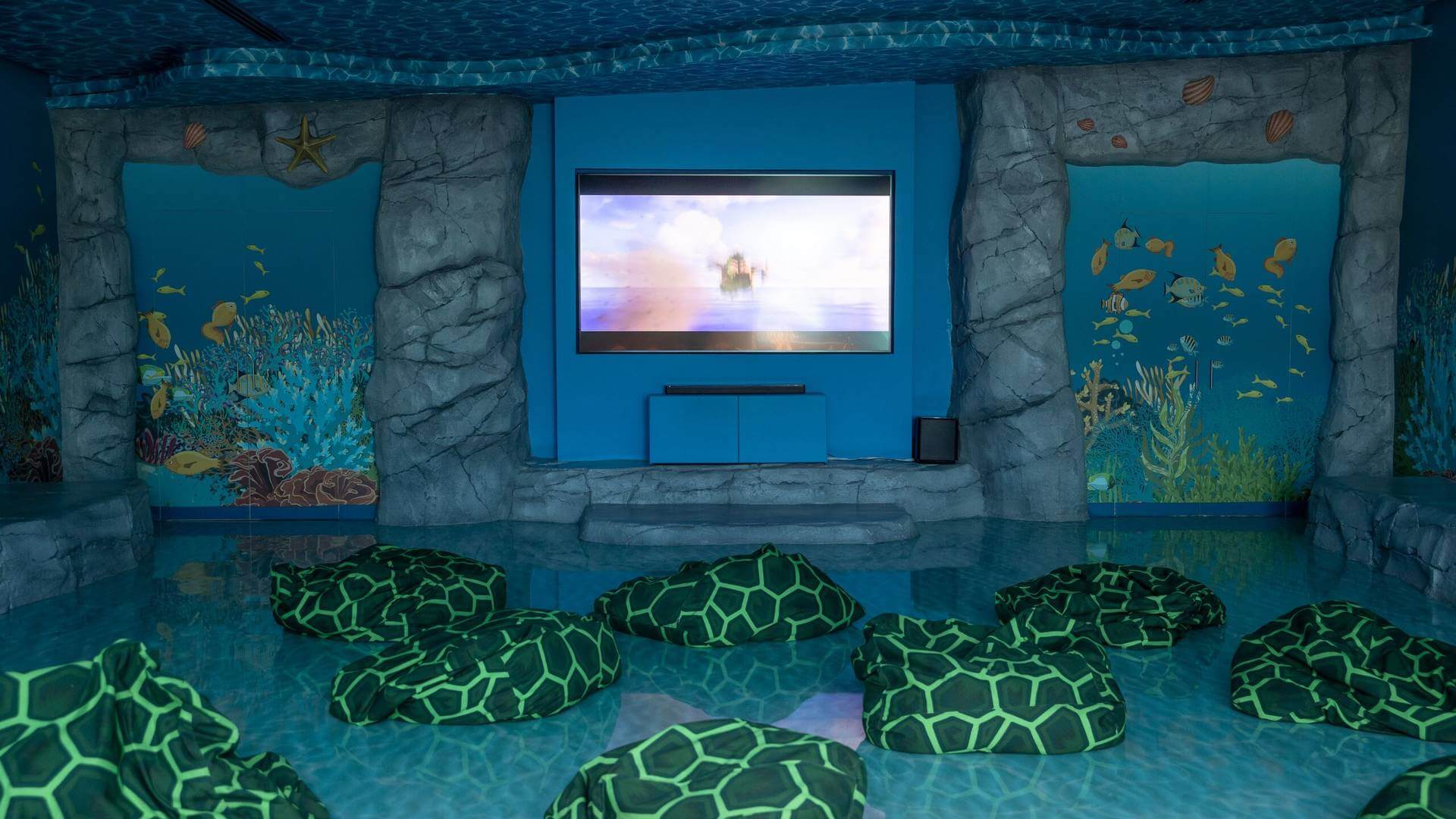 The KiDS Club is exclusive to children staying at the Jumeirah Beach Hotel and The J Club lifestyle members only, offering a fun and exciting area with a full range of activities for all ages. The scheduled activities are available from 10am to 7pm with bookings made in advance to avoid disappointment.
Some of the activities children can enjoy when visiting the KiDS Club includes arts and crafts, kite building, balloon building, board games, video games and virtual dance. There is a large indoor jungle gym and trampolines and plenty of space for free play.
Swimming Lessons for All Ages
The KiDS Club at the Jumeirah Beach Hotel offers fun swimming lessons with a HUNA Aquatics swimming coach. Whether it's their first swimming lesson or they want to improve their swimming, the coaches are on hand to help. Complimentary assessments are offered for childrens swimming lessons in the kids swimming pool, offering the best in safety and security.
The Jumeirah Beach Hotel KiDS Club is a place for children, with activities scheduled throughout the day. For parents looking for a romantic dinner or sunset drinks, babysitting services are offered at an additional cost. The qualified team of babysitters are on hand, with twenty four hour notice, to look after your little ones while you enjoy a night out at one of the ten on site restaurants. Bookings can be made at the KiDS Club.
The large indoor play area offers a soft play area with underwater theme, a sandpit area and kids swimming pool, with a lifeguard on duty, giving parents complete peace of mind when leaving their children at this fun and engaging KiDS Club.
Scheduled Activities Based On Age
The KiDS Club at the Jumeirah Beach Hotel offers plenty of free play with trampolines, books, board games, soft play area and more. They also offer a complete range of scheduled activities based on age group, including arts and crafts, book readings, zombie laser tag, sandcastle competitions, movie time and outdoor team games.
From 10am to 6.45pm, children aged two to four years can take part in paper plate decorating, farm yard fun, sea life shapes, face painting, story time and movie night.
You can see an example timetable for the 2-4 year olds below: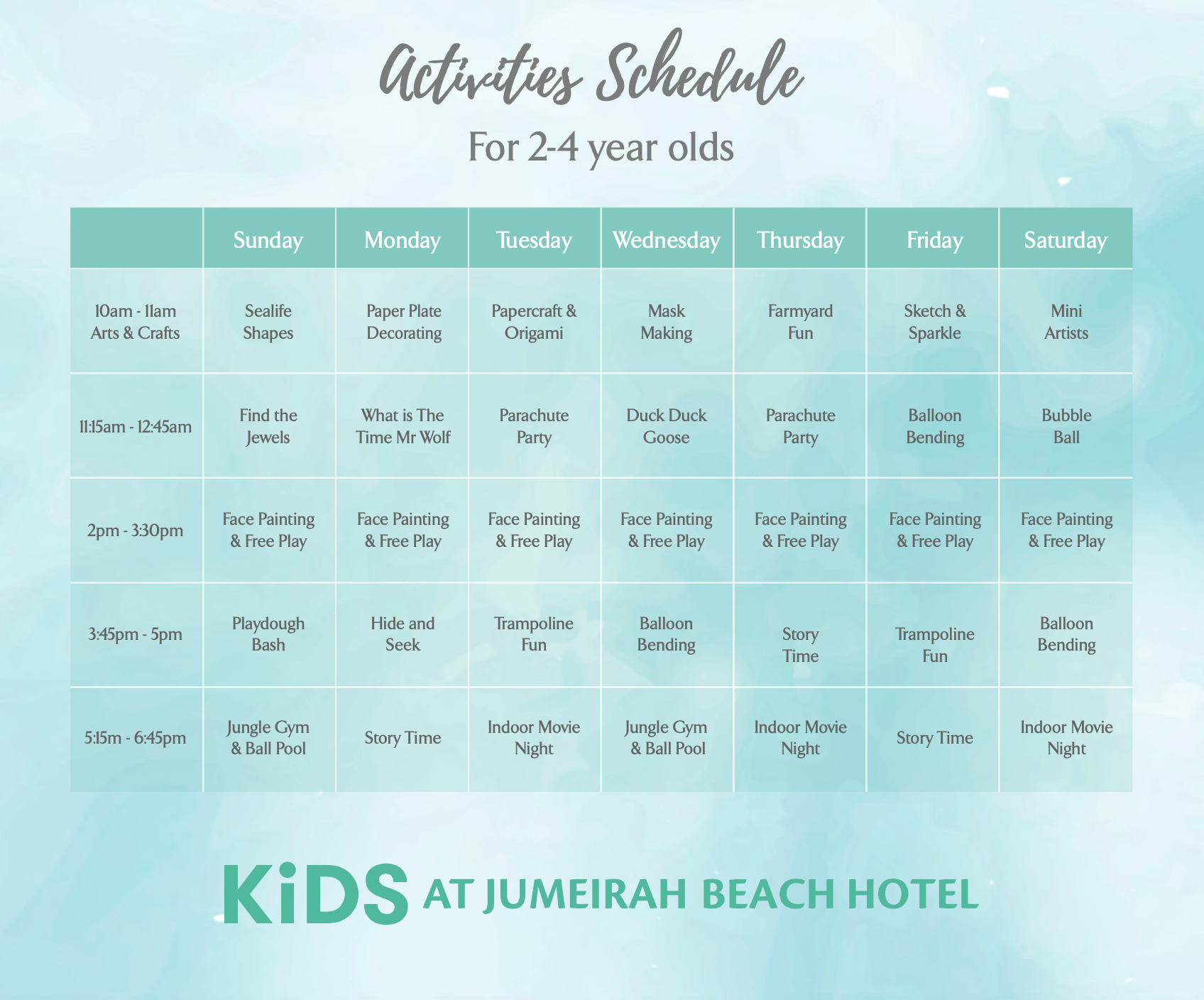 Those aged five to twelve can take part in paper art, mask making, mini artist, memory games, brick building and dancing, along with movie night.
You can see an example timetable for the 5-12 year olds below: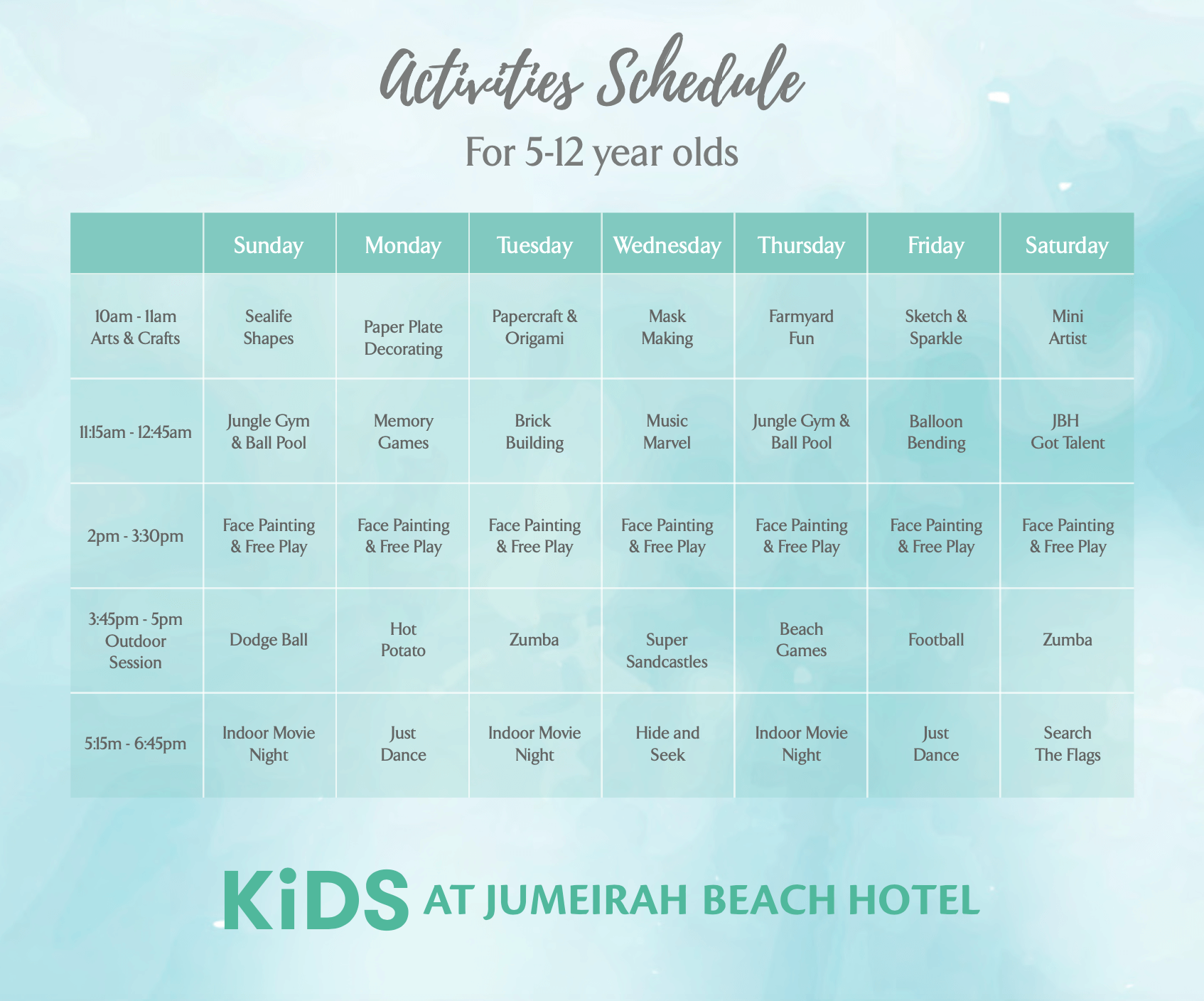 It is recommended to pre-book any sessions, this will avoid any disappointment. Parents are not allowed in the KiDS Club, though children are well cared for by the experienced team. This luxury hotel has gone out of their way to ensure their younger guests also have a fabulous holiday when visiting Dubai.