Address Fountain Views' Kids Club is known as the QIX Club and offers the young ones many hours of mixing with others their own or similar age and to get exposed to the wonders of storytelling and similar activities in a safe space conducive to playing and learning. The QIX Club is open from 10am until 7pm with sanitisation carried out between noon and 1pm during which hour it remains closed. The  QIX Club is located in P12, Tower 1 and welcomes children of all ages between the ages of four and twelve. Those younger than four are not excluded, provided they are accompanied by an adult.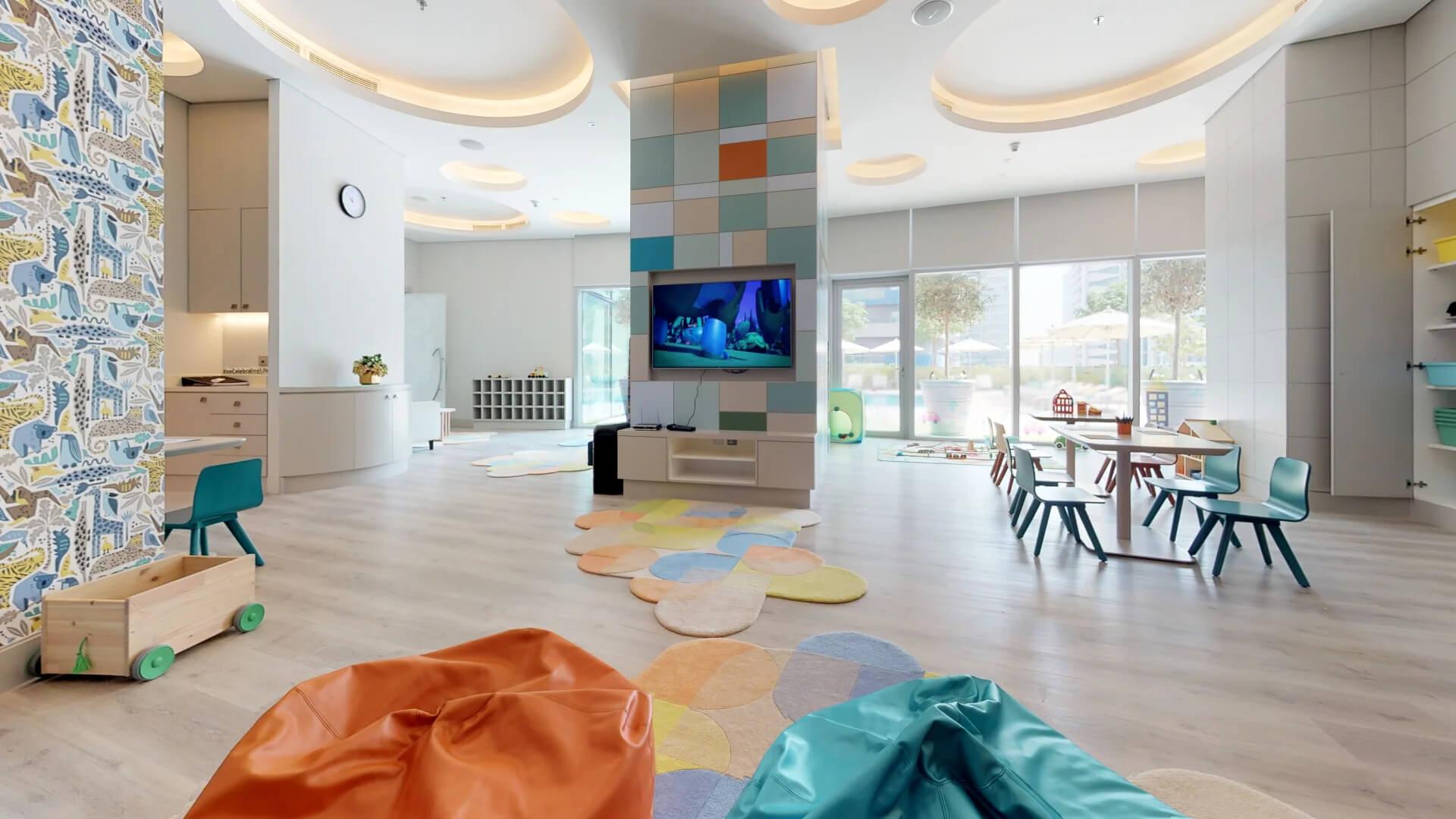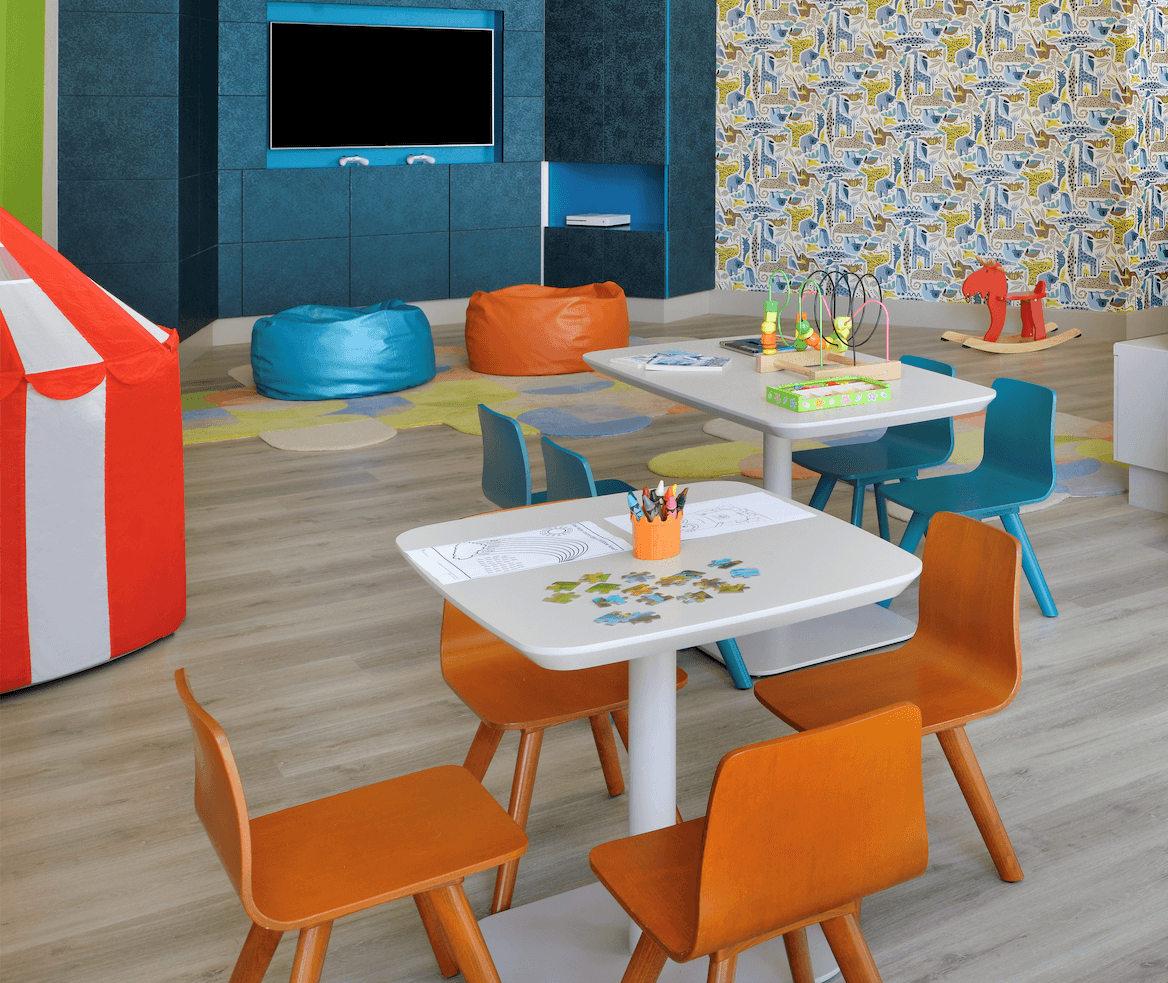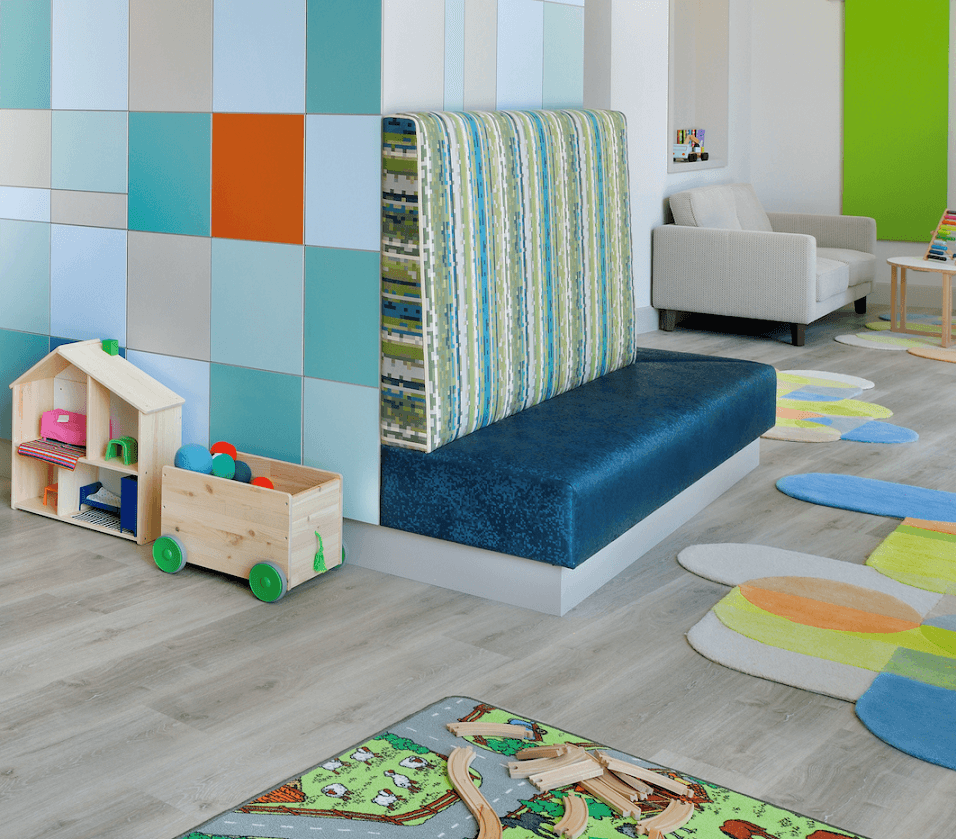 The space is safe and designed to offer all children the best time when parents are needed elsewhere, attend meetings or go shopping. Trained, experienced staff with a true love for children are always in attendance to ensure your child's safety and his/her well-being. In-house guests' children are offered a free complimentary hour in the QIX Club, with an added fee of AED 60 for every subsequent hour.
Various Activities to Keep the Young Ones Busy and Entertained
During their visits to the QIX Club children are entertained by the staff member telling them stories, helping them to discover books and pencils, games such as PlayStation as well as arts and crafts to keep the young minds entertained, inspired and wanting more.
Scheduled times for play and fun, movie time, storytelling, dance and song, mini yoga, talent shows, fun quizzes, arts and crafts to include origami and bracelet making are mere examples of how your child will be entertained while at the QIX Club. Add to that painting and drawing, exercise and free games and you have a happy child that loves the time they spend with their peers and the staff at the Club that encourage play and development of skills among their young guests.
You can see an example timetable below: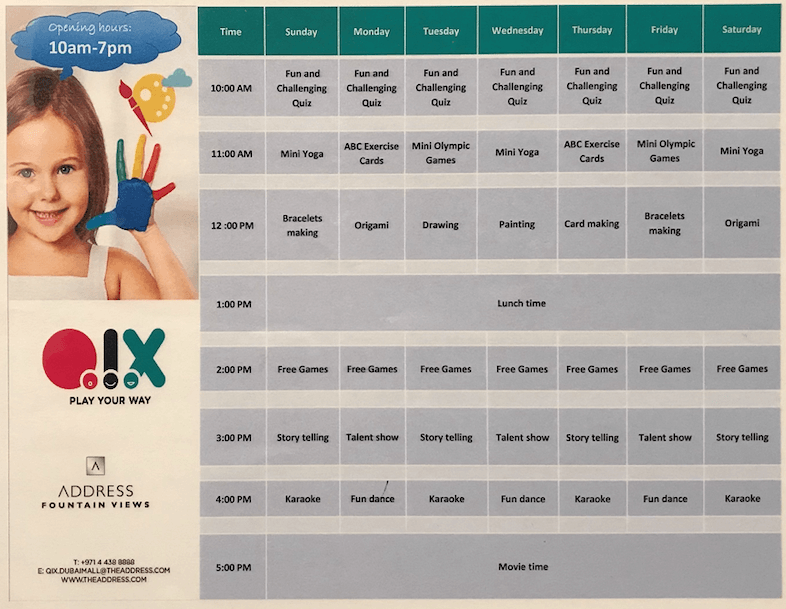 An Inviting Space to Stimulate Learning and Self-Discovery
The QIX Club is an inviting space that makes use of light and bright colours that appeal to the senses of the young, developing child that is keen to discover the world and other kids such as themselves around them, the shape of objects, patterns on walls, floors and other surfaces. Therefore the room was created to meet the children's natural curiosity, and to also accommodate the shy ones that may need more personal attention and more time on their own.
Tables and chairs are provided and scattered cushions and soft toys to keep them busy all the while. Ample opportunity to interact with other children and the dedicated staff members ensures that the hotel's young guests never get bored and that they are assured of a time well spent before they are fetched again.