The executive club lounge at New York Marriott Downtown is located high on the thirty eighth floor with spectacular views. This executive club lounge is open Monday to Friday from 6.30am to 12pm and Sundays from 5pm to 10pm.  The hotel offers four food presentations daily, including:
Breakfast is served from 6.30am to 9.30am
Enjoy a variety of non alcoholic beverages and snacks throughout the day
Hors d'oeuvres are available from 5.30pm to 7.30pm
Indulge in a dessert from 7.30pm
The executive club lounge is accessible for two adults and two children per room.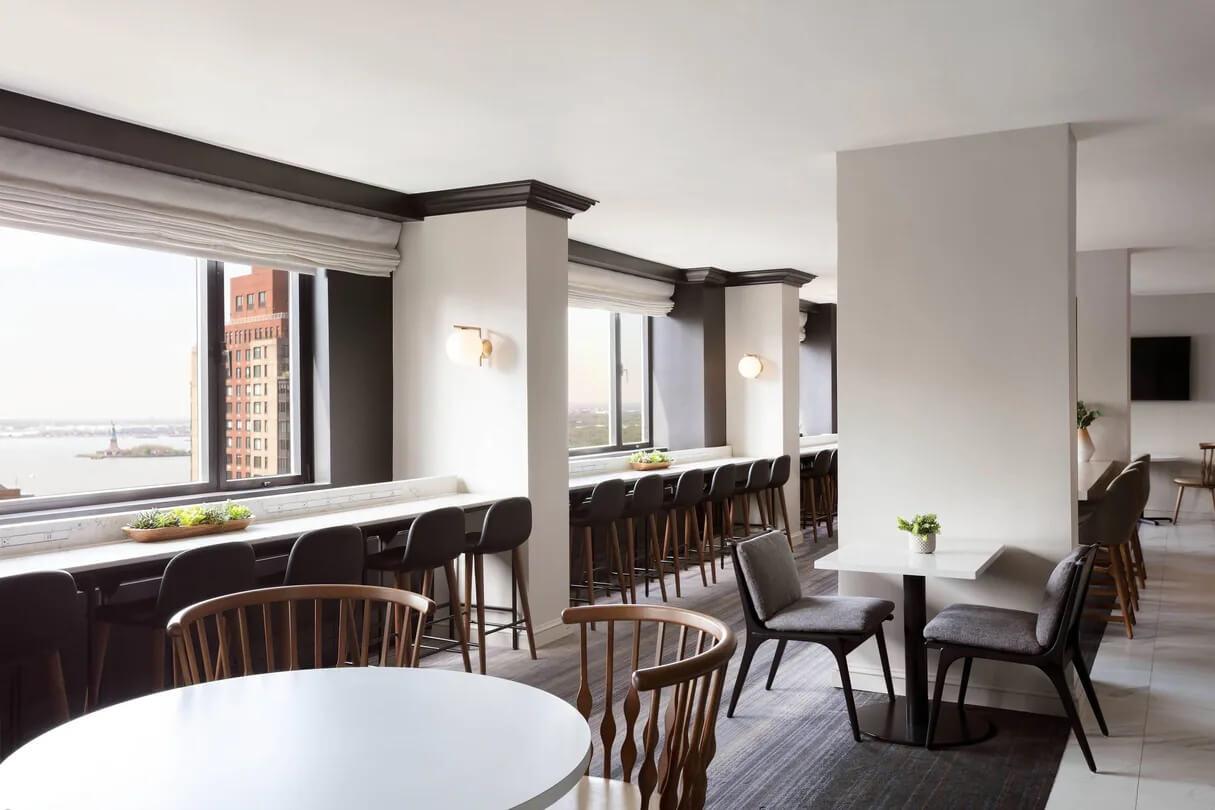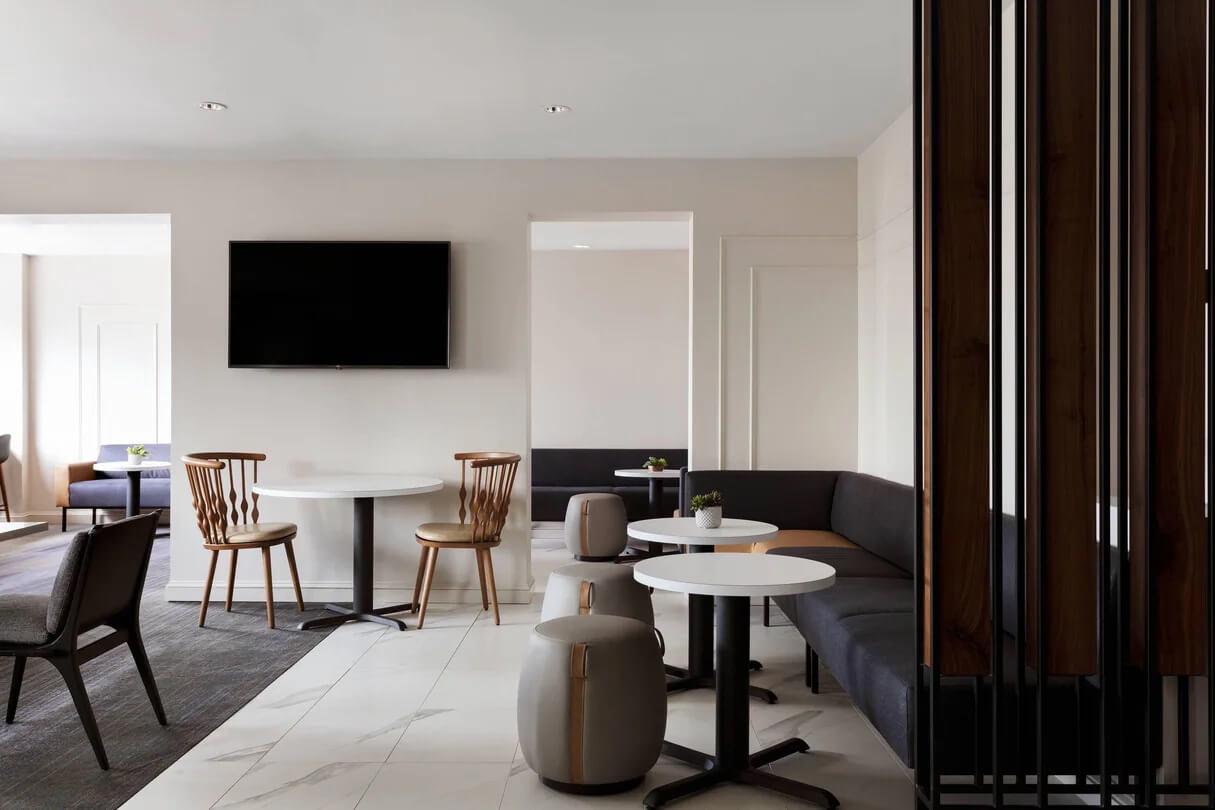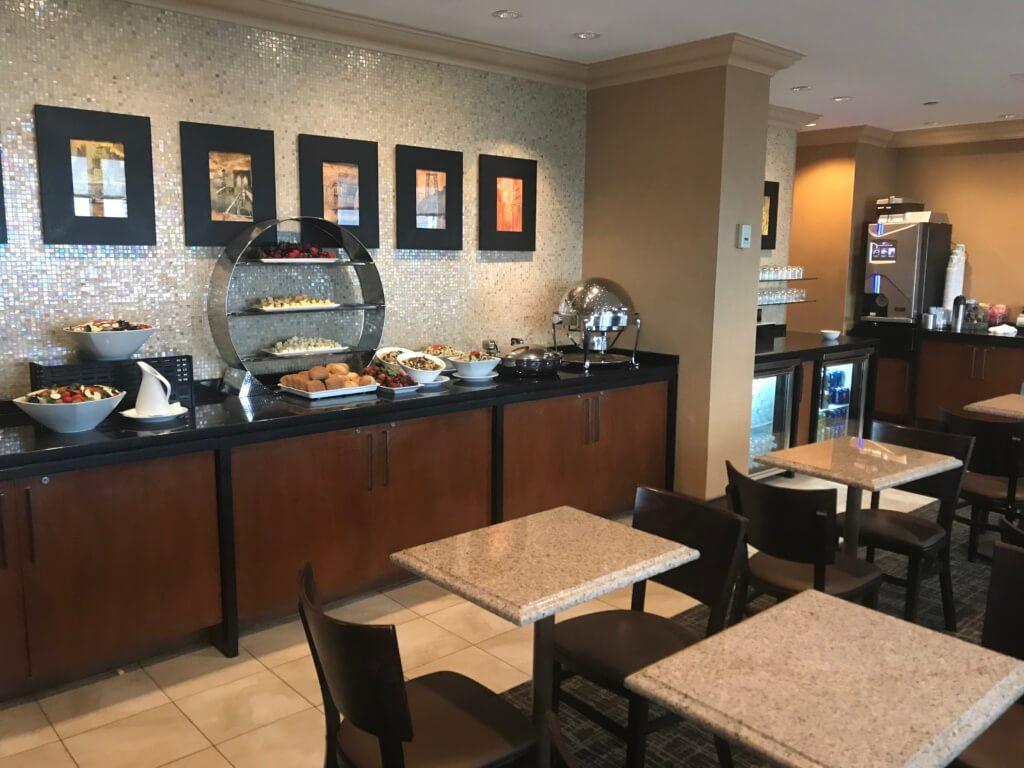 The New York Marriott Downtown executive club lounge offers a place where you can work, relax or recharge when staying in New York. It offers a convenient and sophisticated space within a luxury hotel with modern designs and spectacular New York harbour views.
Premium Service with a Dedicated Team
The executive club lounge at New York Marriott Downtown has a dedicated team that can assist with dietary requirements, restaurant bookings and sights and attractions recommendations. There is premium wireless internet available, along with business services for business travellers. Take advantage of the coffee and tea station which is available throughout the day.
The executive club lounge offers complimentary access for Marriott Bonvoy™ members that hold Platinum Elite, Titanium Elite and Ambassador Elite Status, along with a guest. Access is also complimentary to guests staying in the hotels Concierge Lounge rooms for two people per room. Any additional guests need to purchase access at the front desk. The executive club lounge offers the convenience of two computers, newspapers, magazines and a number of large plasma televisions.
Spectacular Views and First Class Service
Exclusive access to the executive club lounge offers you first class service within a luxurious hotel. It offers that additional touch of luxury with ample seating, a large dining area and large windows that capture the spectacular views. It is a place where you can work, relax, unwind and rejuvenate. The perfect place to start your day, whether you are heading to explore the New York sights or attend business meetings.
It's a popular choice for business travellers to hold intimate business meetings with clients and colleagues. Leisure travellers love the executive club lounge for the host of exclusive privileges and great food presentations, along with the relaxing atmosphere, whether reading a book, posting your experiences on social media or simply enjoying a cocktail as the sun sets.