Expect five-star quality when you book your stay at the luxury Radisson Blu Hotel, Dubai Waterfront next to the Dubai Canal, Business Bay where no effort is spared to ensure that visitors' stay meet their highest expectations and demands.
Views of the Business Bay district in Dubai's Downtown from all 432 rooms and suites which are mentioned for having been designed, finished and furnished with taste and style, are an important feature. Balconies from many of the rooms offer sweeping views across the city's famed skyline with the impressive, much-admired Burj Khalifa and Dubai Canal often mentioned.
The connoisseur will not be disappointed as dining choices offer variety to meet the demands of various palates and preferences. Accommodation ensures that different needs are considered, the professional has access to a business centre that offers different services, meeting rooms and banquet facilities, and the shopper is offered different opportunities nearby.
Radisson Blu Hotel, Dubai Waterfront is situated 200m from Marasi Promenade, with Bay Avenue 500m away, Dubai Opera 1km, Burj Khalifa 1.3km, Dubai Mall 1.6km and various other destinations all within walking distance. With airports not far and free private parking on site, guests are assured of easy access to the hotel and nearby spots that often interest the typical visitor and traveller that choose to stay at Radisson Blu Hotel, Dubai Waterfront.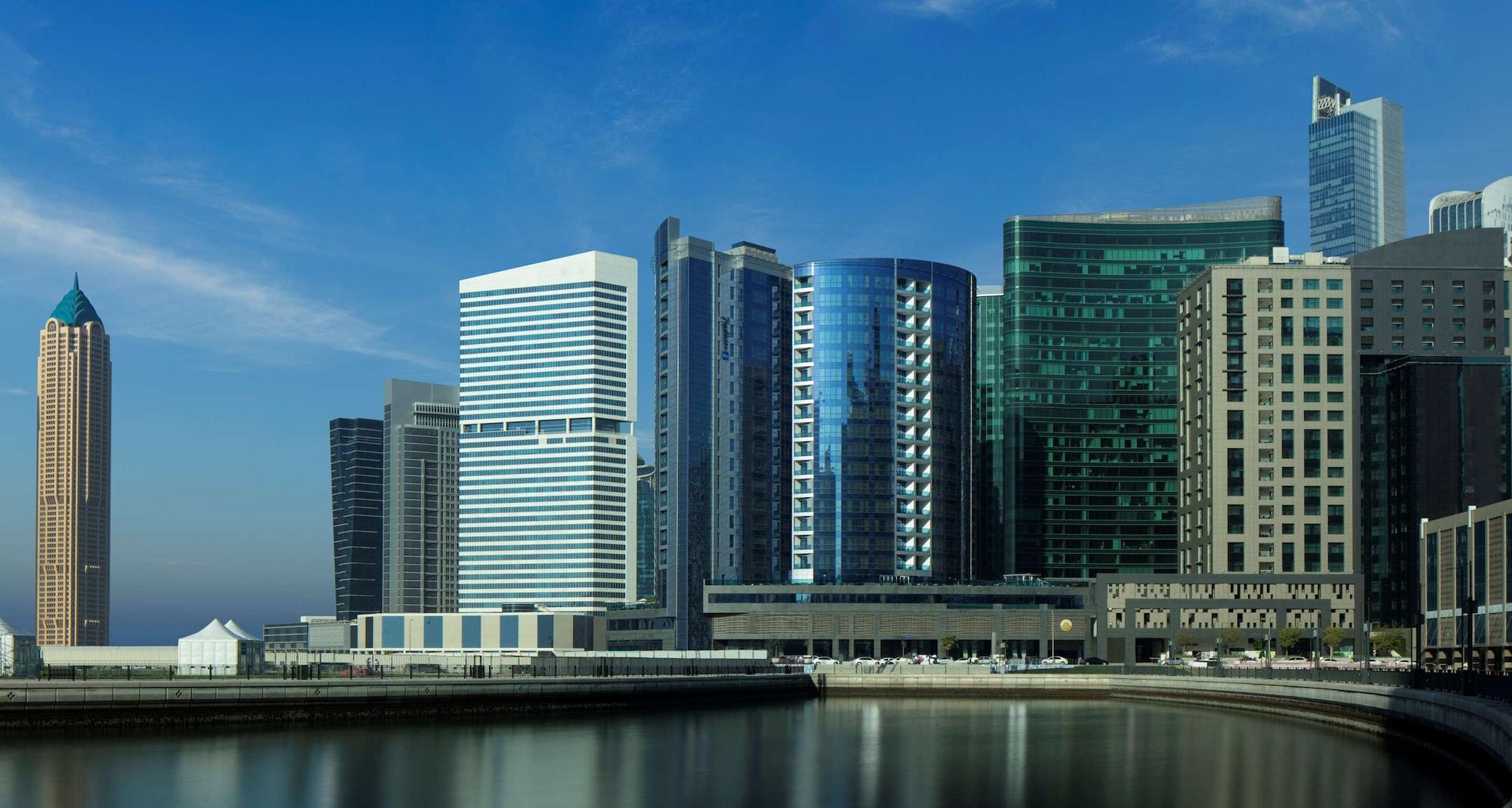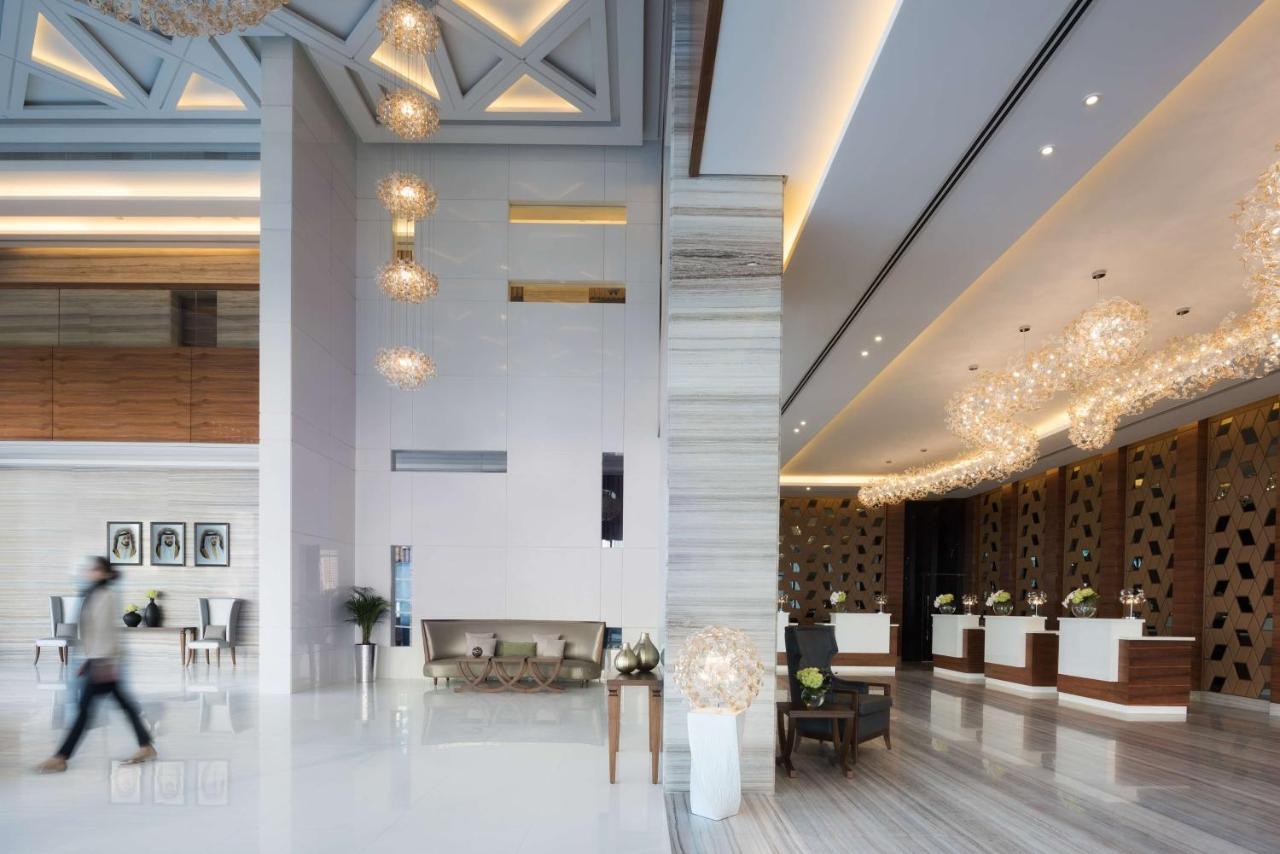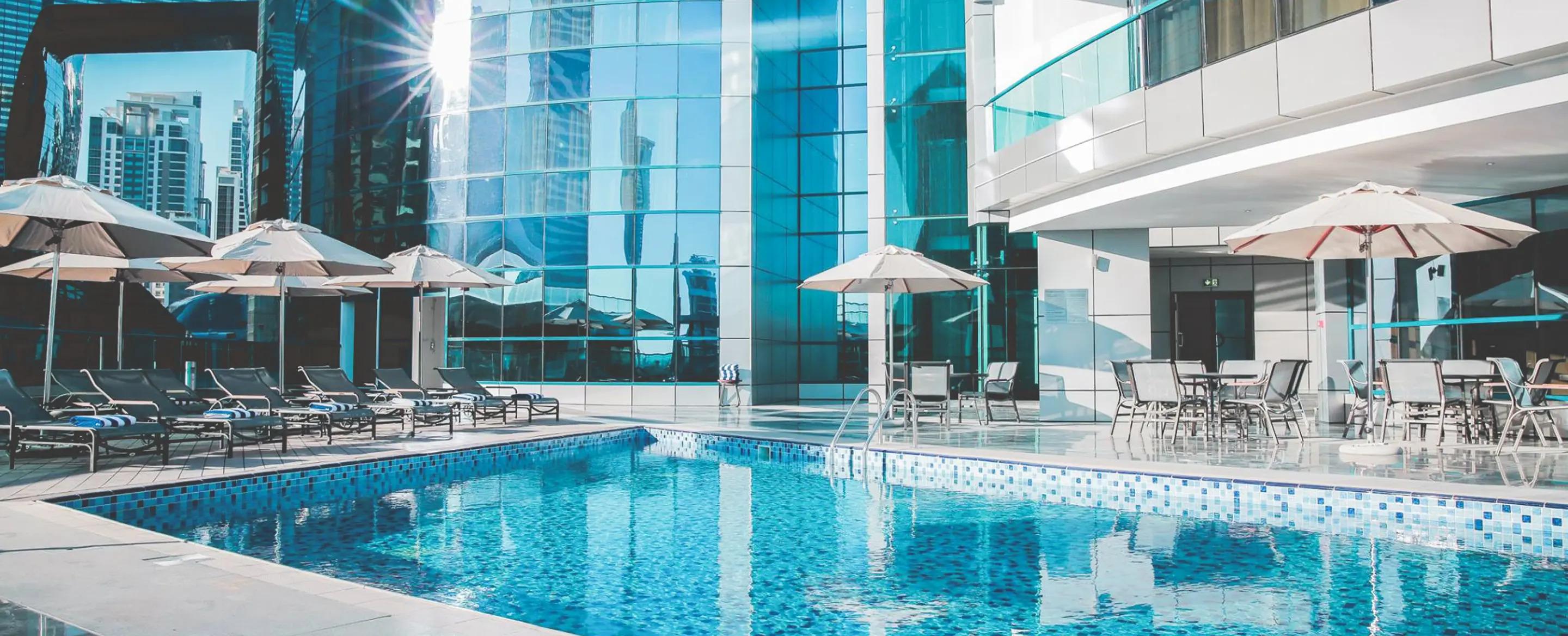 Why You Should Go There
Guests are treated to high levels of luxury and personal attention. Being treated to fine dining is often a real treat for guests, and in this instance it has to be said that different options ensure that all are offered great options and choices, right form FireLake Grill House & Cocktail Bar for slow-roasted rib and lamb roasted over the coals reminiscent of Midwest traditions and style, to Abraj for café choices of healthy smoothies and superfood options, Makar for cocktails, and The Larder for a great many choices of breakfasts, lunchtime meals and dinner options.
Travellers and guests are treated to great amenities to ensure they can exercise and relax in a good quality fitness and wellness facility, which is offered at Radisson Blu Hotel, Dubai Waterfront in their fully equipped gym, with the outdoor pool nearby, and the Dreamworks Spa for a great, relaxing time with treatments that employ different techniques from all over the world. Equipment in the gym is modern and state-of-the-art, and spa treatments offered by expert hands.
For those guests that need a good space for staging an event or a meeting with colleagues and other professionals, Radisson Blu Hotel, Dubai Waterfront offers flexible opportunities both indoor and outdoor. There are 11 meeting rooms, access to modern AV equipment, flip charts and boardrooms so that you do not have to go looking around elsewhere for these facilities when you book a business trip to Dubai. Otherwise Dubai International Financial Centre and Dubai World Trade Centre are in close proximity. Shopping inside the hotel offers choices for parents and their kids, and swimming pools and a kid's pool ensure that families can enjoy a relaxing time, always with attentive staff close by to assist.
Radisson Blu Hotel, Dubai Waterfront ensures that guests are offered every reasonable service to ensure a memorable stay to include different luxurious type accommodations, airport shuttles which can be arranged with management at an additional fee, time to relax on outdoor terraces, free Wi-Fi everywhere, barber and beauty shops, attentive concierge and 24-hour front desk that goes out of their way to assist. Radisson Blu Hotel, Dubai Waterfront is as much known for its top-quality service as it is mentioned for their stylish accommodation and access to great facilities and nearby attractions.
Accommodation
Different categories of accommodation to choose from ensure that all guests are offered a room or suite to suit. Choices range from Standard Rooms and Superior Rooms with Balcony to Suites with Lounge Access, Family Rooms, and Premium Rooms with Balcony and Burj Khalifa Views.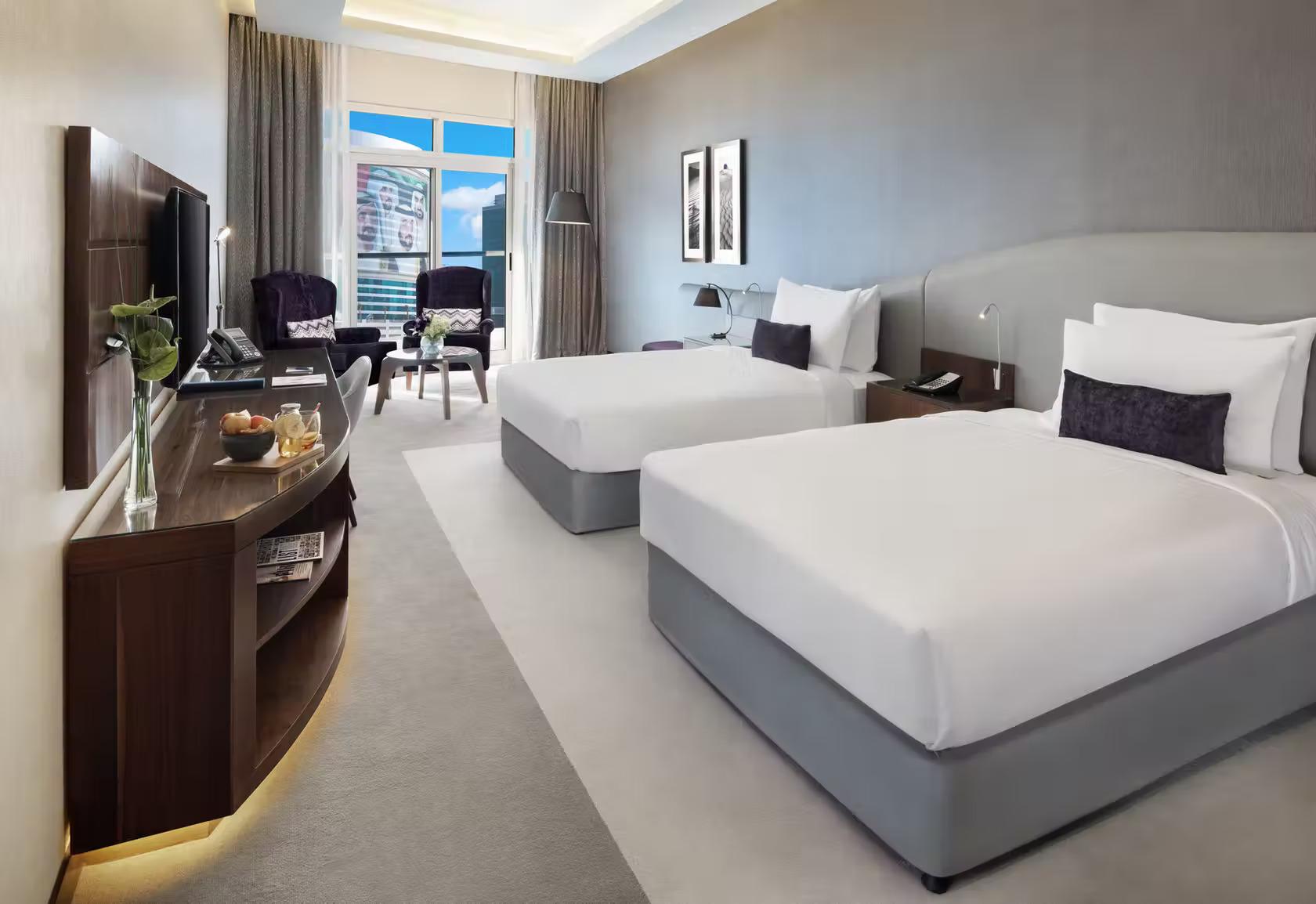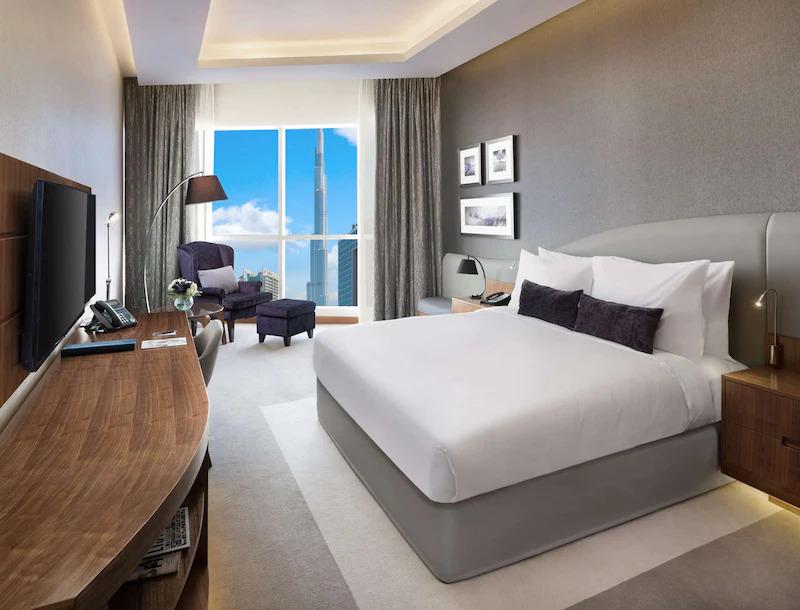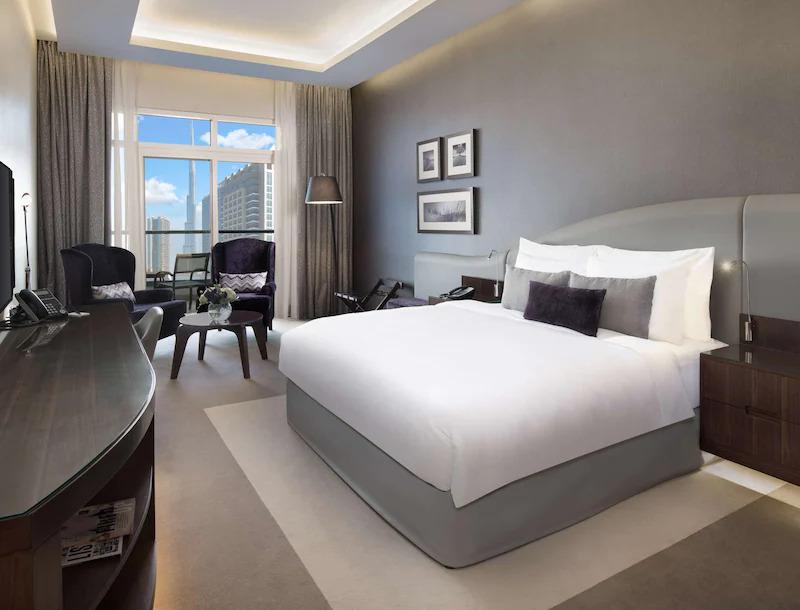 Free Wi-Fi everywhere in Radisson Blu Hotel, Dubai Waterfront ensures guests are always connected to their families and colleagues elsewhere, have flat-screen TVs to entertain them in private, coffee and tea making facilities in the rooms, and luxurious bathrooms to relax in. Air conditioning, heating, packed lunches, daily housekeeping and excellent 24-hour front desk, concierge services and currency exchange facilities help to ensure a remarkable stay in this fine hotel.
Executive Club Lounge and Kids Club
Radisson Blu Hotel, Dubai Waterfront offers a great Executive Club Lounge for the discerning guest, but unfortunately no Kids Club.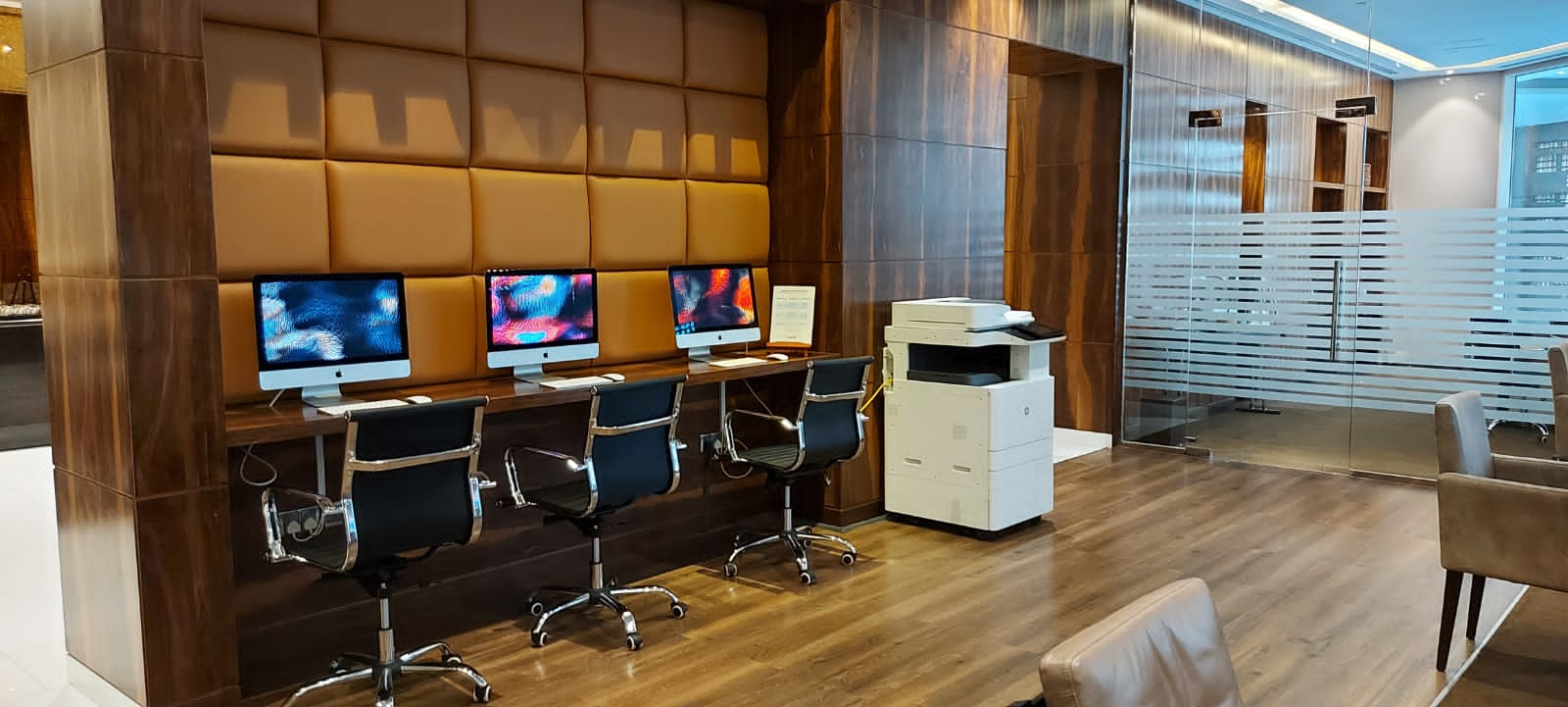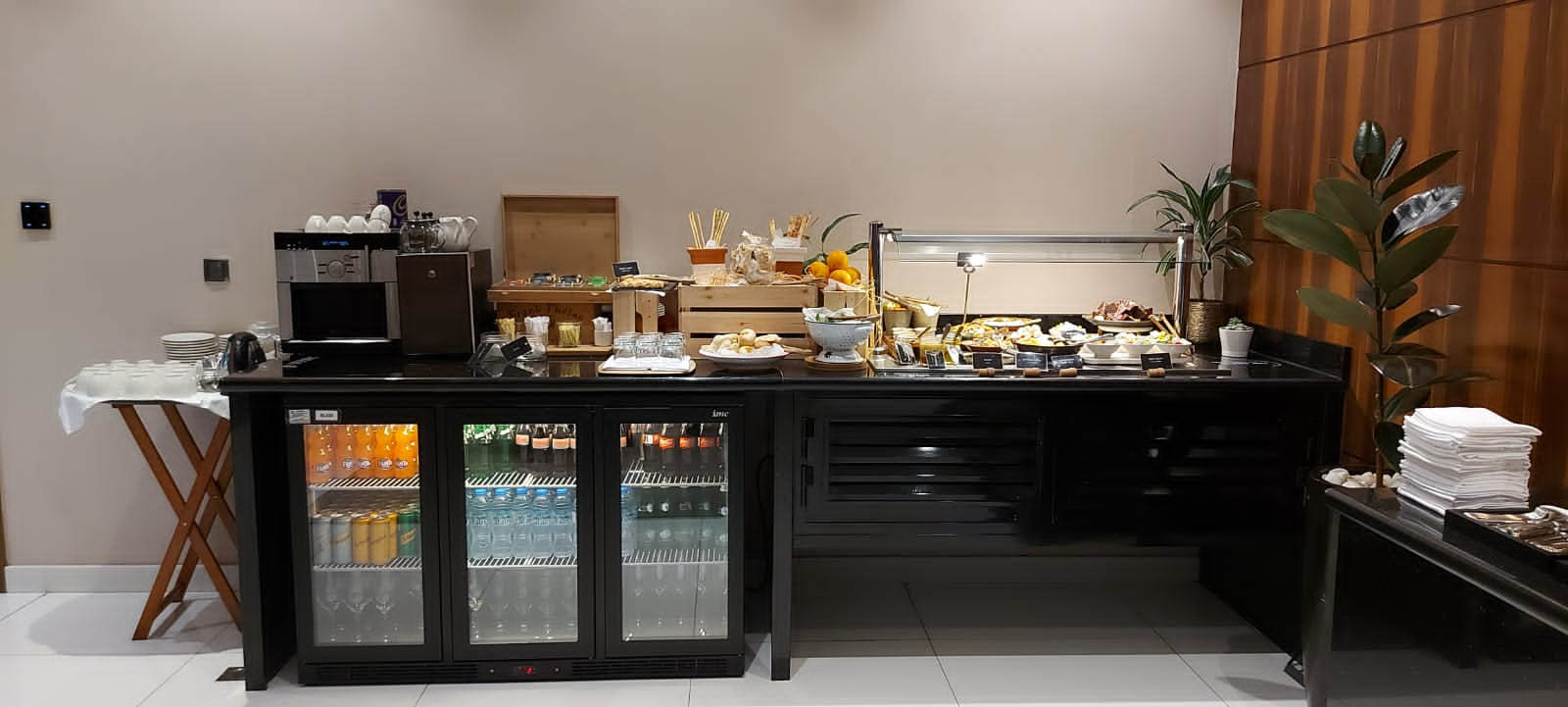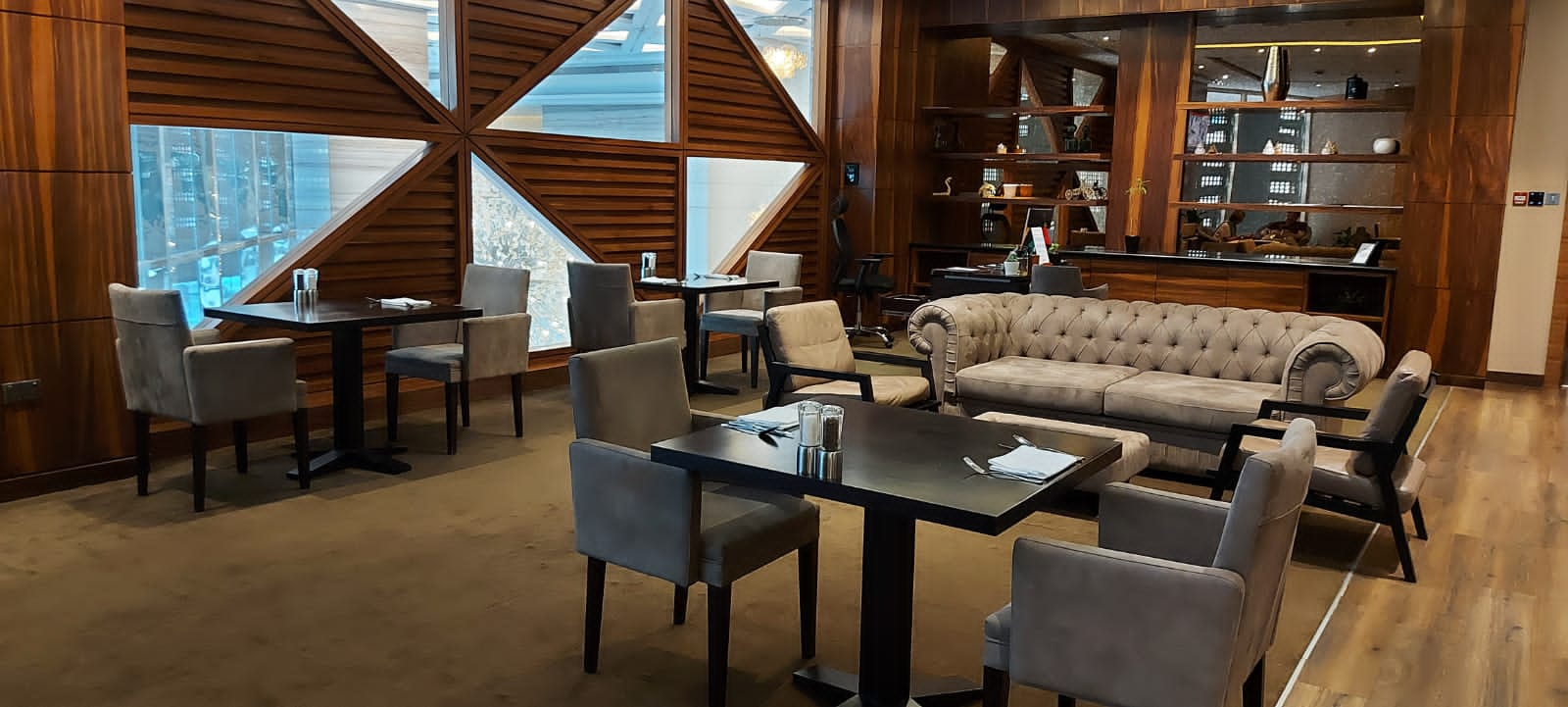 Guests are made to feel welcome and treated to certain services which are available to the Executive Club Lounge guest only. You can read about their Executive Club Lounge by clicking on the button below:
Radisson Blu Hotel Dubai Waterfront Executive Club Lounge