The Kids Club at The Raffles The Palm Dubai hotel is known as The Young Voyager Kids Club, open from 10am to 9pm daily. Children visiting the hotel can enjoy a range of indoor and outdoor activities, from video games and arts and grafts to jungle gyms and a golf putting area.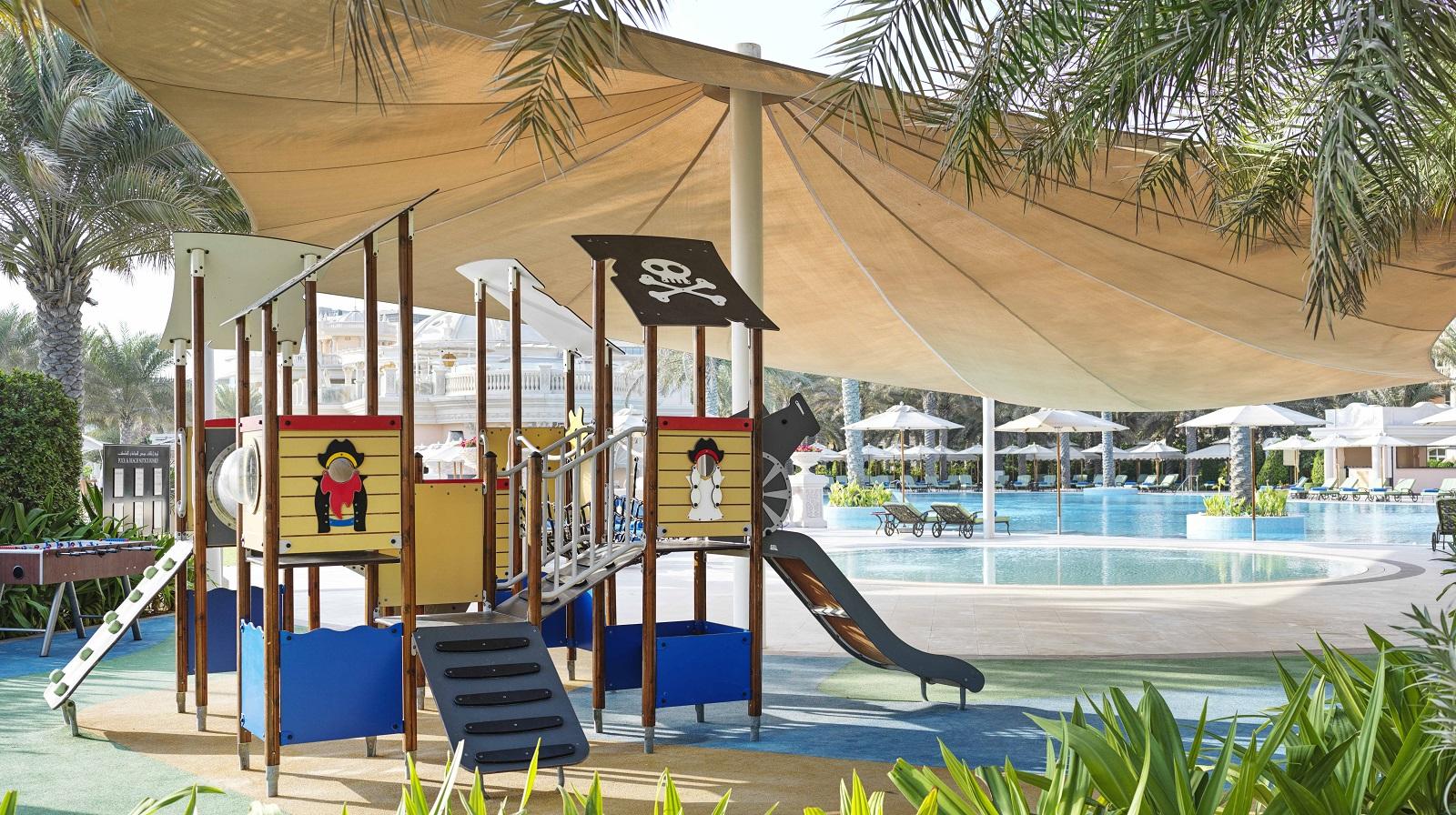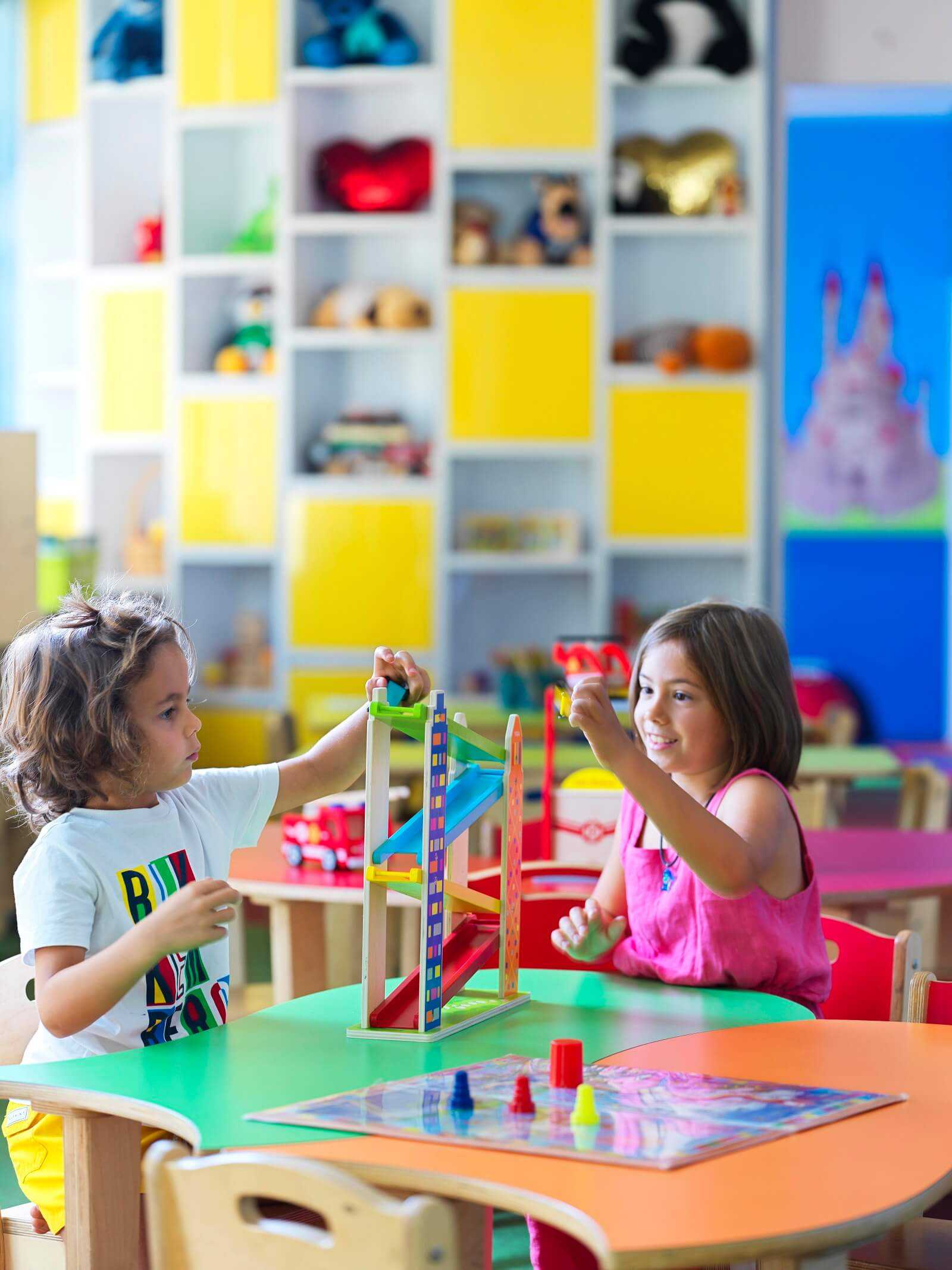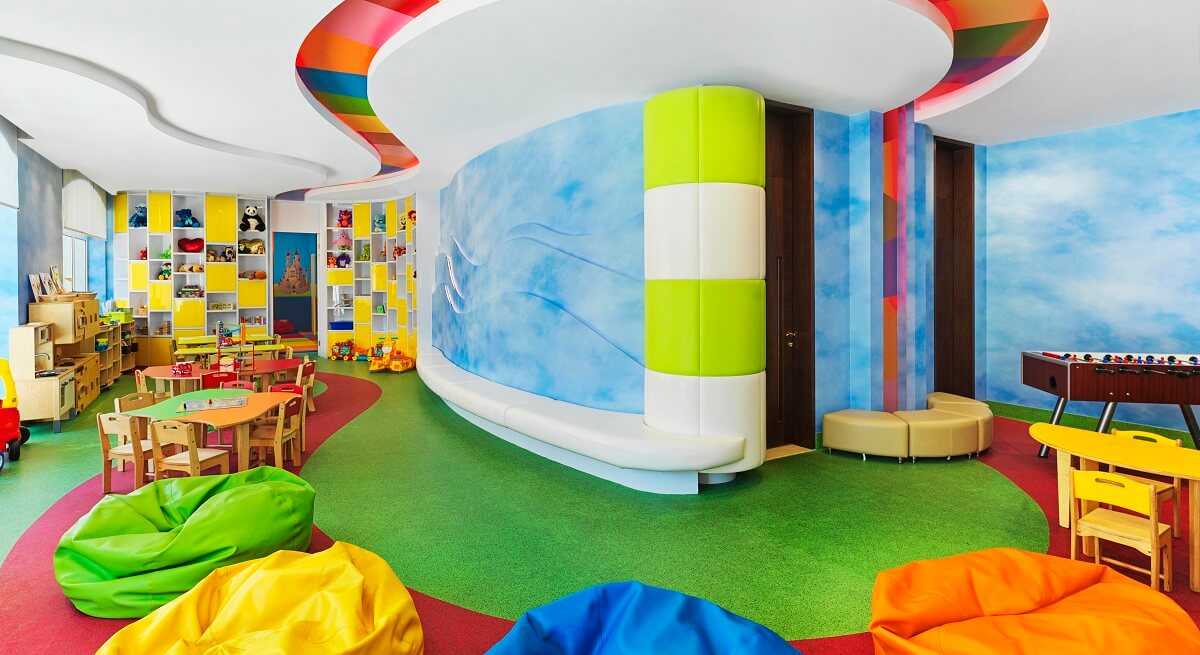 The Kids Club accommodates twelve children at a time, from three to eight years of age. Booking is required with two-hour play sessions available. The Kids Club offers construction toys, puzzles, soft play areas and much more with scheduled activities, enabling your children to decide what they want to take part in. The trained staff are available to keep an eye on the children at all times, parent and nannies cannot stay in the Kids Club, for the safety of other children and staff.
The scheduled activities range from shell collecting and scavenger hunts to Frisbee, shell painting, princess crown and pirate hat making, friendship bracelets, boat making and memory games. They also offer pass the parcel, free dance, kids yoga and sing like a star, along with slime making and paint with nature. Children can also enjoy movies, PlayStation games, Xbox games and Nintendo games while visiting the Kids Club.
You can see an example timetable below: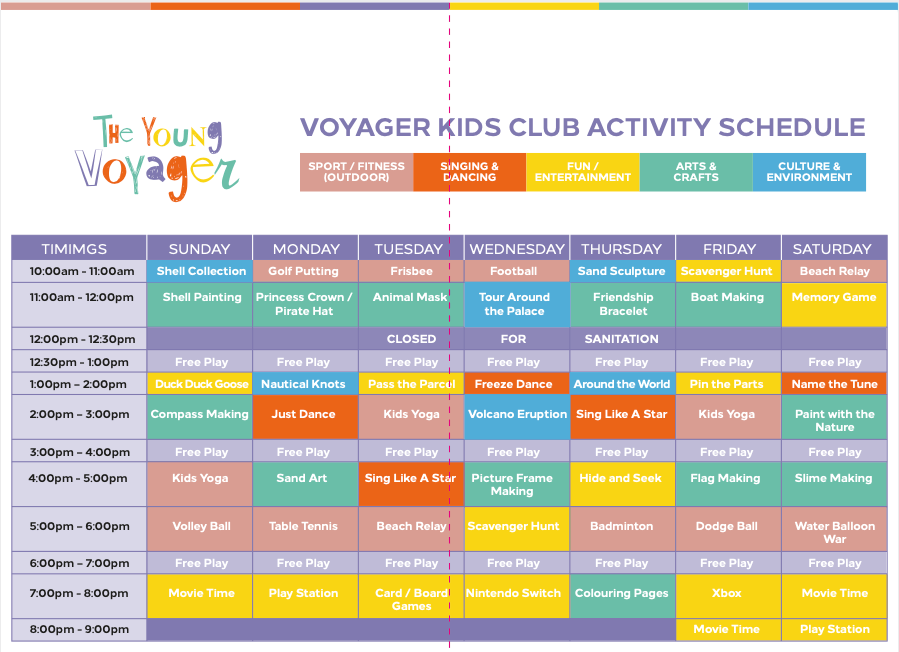 Child Friendly Space with Attentive Staff
The Kids Club at the Raffles The Palm Dubai hotel offers outdoor play equipment, a games room and more. The hotel is child-friendly and offer kids meals and a kid friendly buffet, ensuring the whole family has an enjoyable stay.
Children aged three to eight will have a fun experience when making use of the club, they can explore nature, art and culture and there is a team on hand to ensure their needs are met, watching them for safety and ensuring they are involved in the games and having a good time.
Bright Decor, An Abundance of Natural Light and a Host of Activities
Whether you need to attend a business meeting while staying in Dubai or you want to indulge in some of the spa treatments at the hotel, being able to leave your children under supervision, gives parent that opportunity to take a break. The hotel understands how stressful it can be to travel with children and the Kids Club ensures that the children are entertained and well taken care of, so parents can relax or go out and see the sights.
When you walk into the Kids Club at The Raffles The Palm Dubai hotel, you walk into a kid's paradise. Unlike the elegance and luxurious décor throughout the hotel, the Kids Club is light, bright and brimming with colour. Brightly coloured tables and bean bag chairs are scattered throughout the space, which has large full-sized windows to ensure there is plenty of natural light. There are easels for drawing to brightly coloured shelves with games and toys the children can play with during their time in the club.
Daily Activities That Children Can Take Part In
This hotel is truly family friendly and offer a full range of fun activities for all their guest and children are welcome to join in. This includes beach relay, golf putting, sandcastle building, beach volleyball, table tennis, tug of war and foosball to name a few.  In addition to the Kids Club, the hotel offers an outdoor shaded paddling pool for children.