Raffles The Palm Dubai hotel is situated on the man-made island, Palm Jumeirah, with its own five hundred metre private beach, views of the city and six restaurants. The hotel offers a wide range of culinary delights from Mediterranean to Japanese and international buffets, with a buffet breakfast served each day in the Le Jardin restaurant. The three thousand square metre spa has twenty-three treatment rooms, offering an opportunity to relax and rejuvenate, along with a modern state of the art gym and large outdoor swimming pool.
Guests enjoy the convenience of free wireless internet in all the public areas and the concierge is on hand to assist with tour bookings, car rental and any special requests. The accommodation is palatial, crafted by European artisans and decorated beautifully. The rooms are spacious with antique furniture, offering sheer luxury. There is a twenty-four-hour butler service, equipped spa, cinema and a team of master chefs.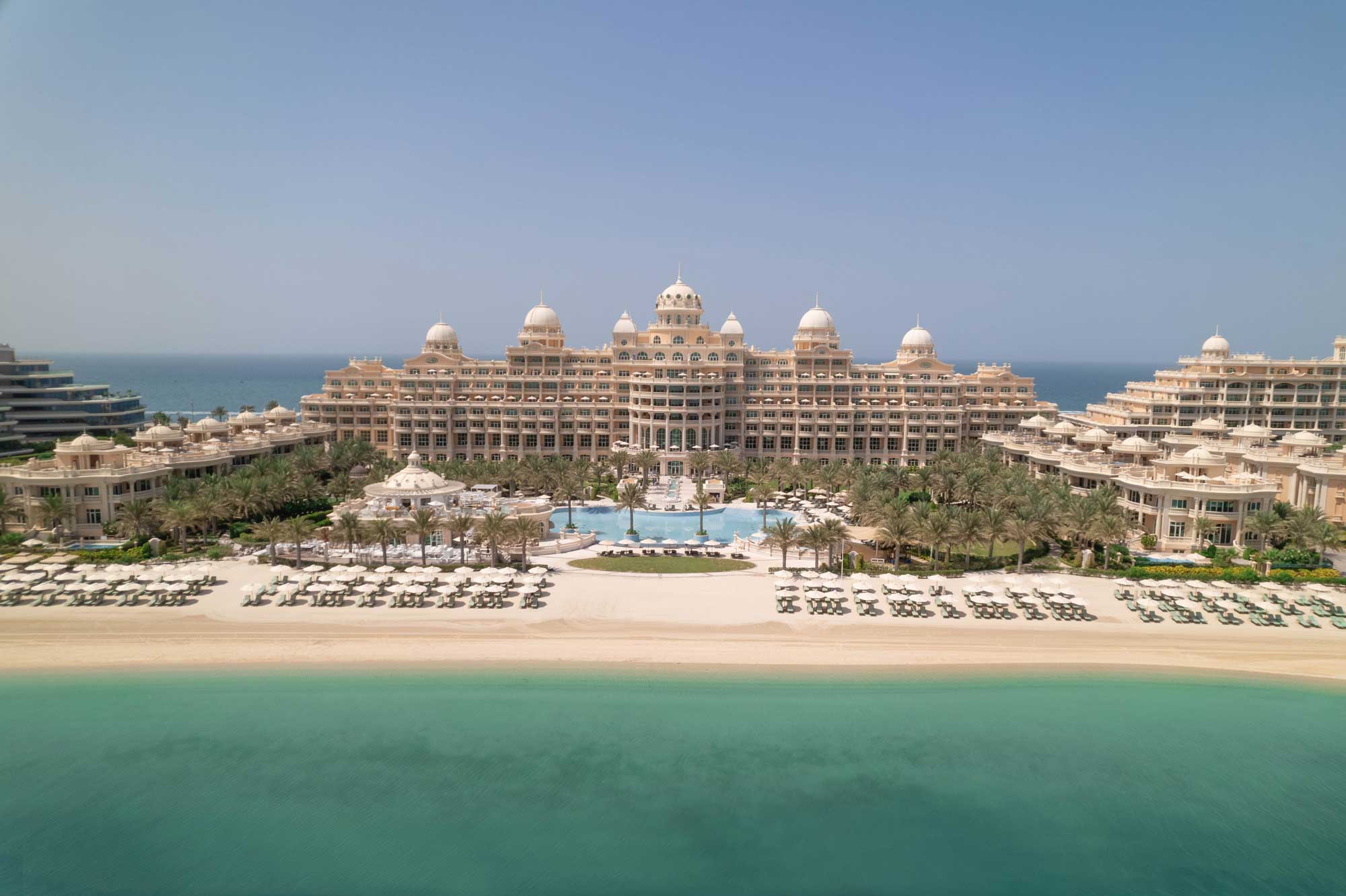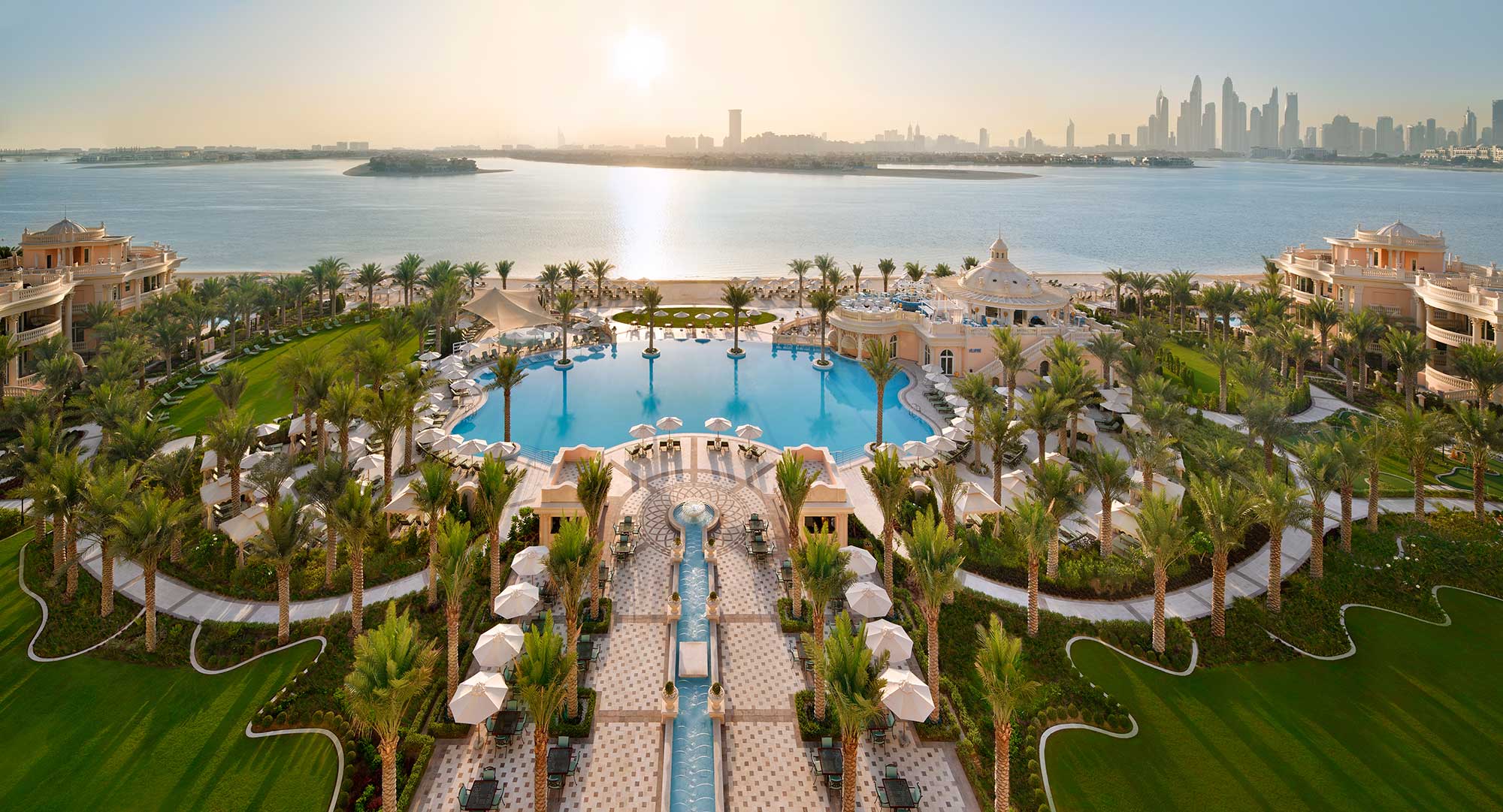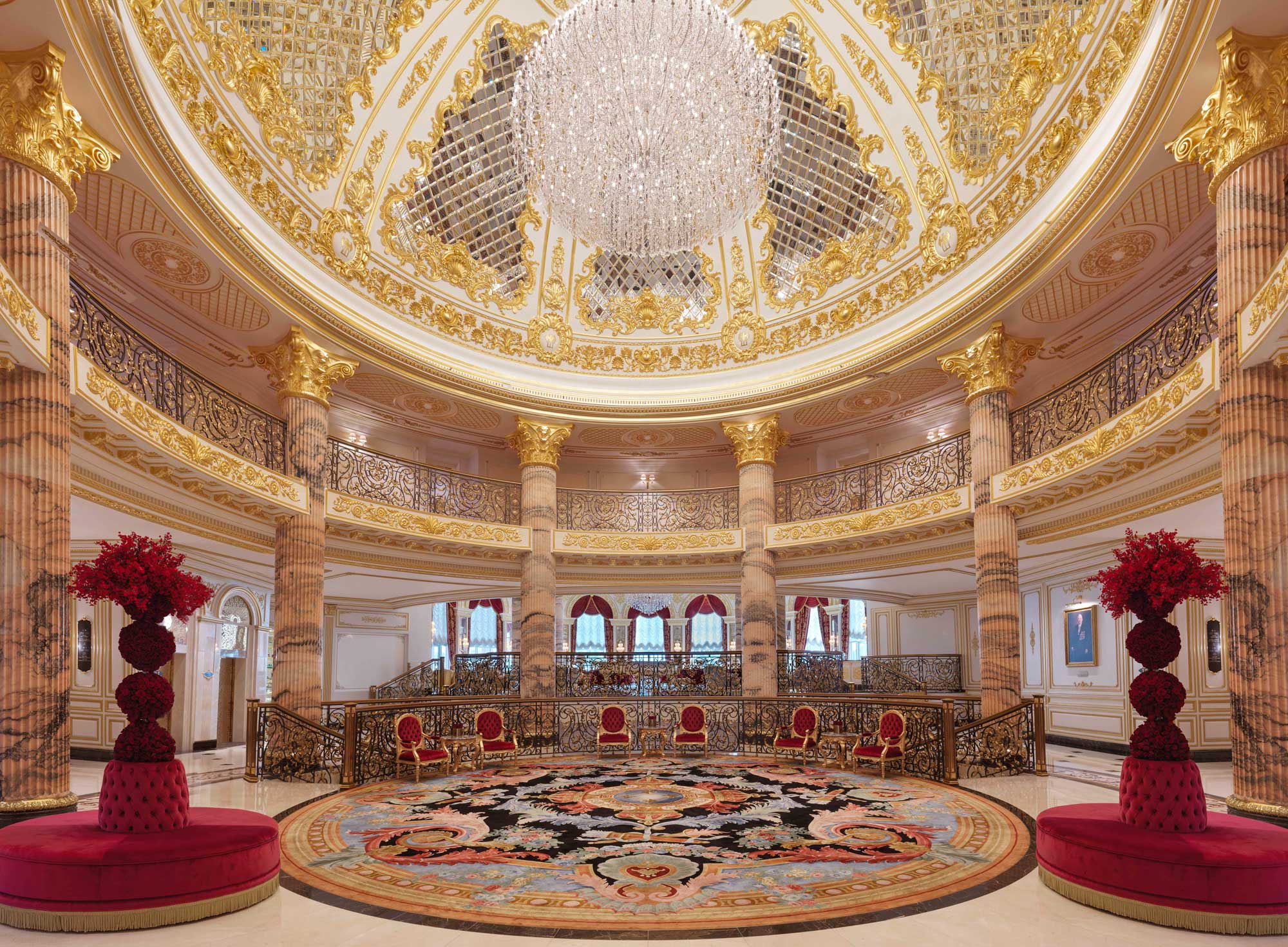 Why You Should Go There
The Raffles The Palm Dubai hotel is located on one of the many The Palms beaches with a classic shape and contemporary design. It has been constructed using the finest quality materials, offering a luxurious and special experience with the finest chefs and on-stage performers. It offers the ultimate in twenty first century luxury, located only four kilometres from the Aquaventure Waterpark and forty kilometres from Dubai International Airport.
This five-star hotel is a beach palace, where guest enjoy personal service, vibrant culture, a choice of restaurants, free internet and three swimming pools. There are picnic areas, BBQ facilities, terraces, gardens, live music and performances, and water sport facilities on site. There is also games rooms and mini golf, with a golf course less than three kilometres away. The Raffles The Palm Dubai hotel offers free and secure parking, private check in and check out facilities, an ATM machine, luggage storage, currency exchange and the convenience of a twenty-four-hour reception desk.
Accommodation
This resort is home to three hundred and eighty-nine rooms, suites and villas, with the Deluxe and Premier Ocean rooms, Premier Club Terrace rooms and Premier Club Palm rooms ranging anywhere from 657 square feet to 2,185 square feet in size, providing every guest with spacious accommodation. The suites range in size from 1,076 square feet to 8.073 square feet. All the rooms and suites offer panoramic views of the Dubai Skyline and Arabian Gulf.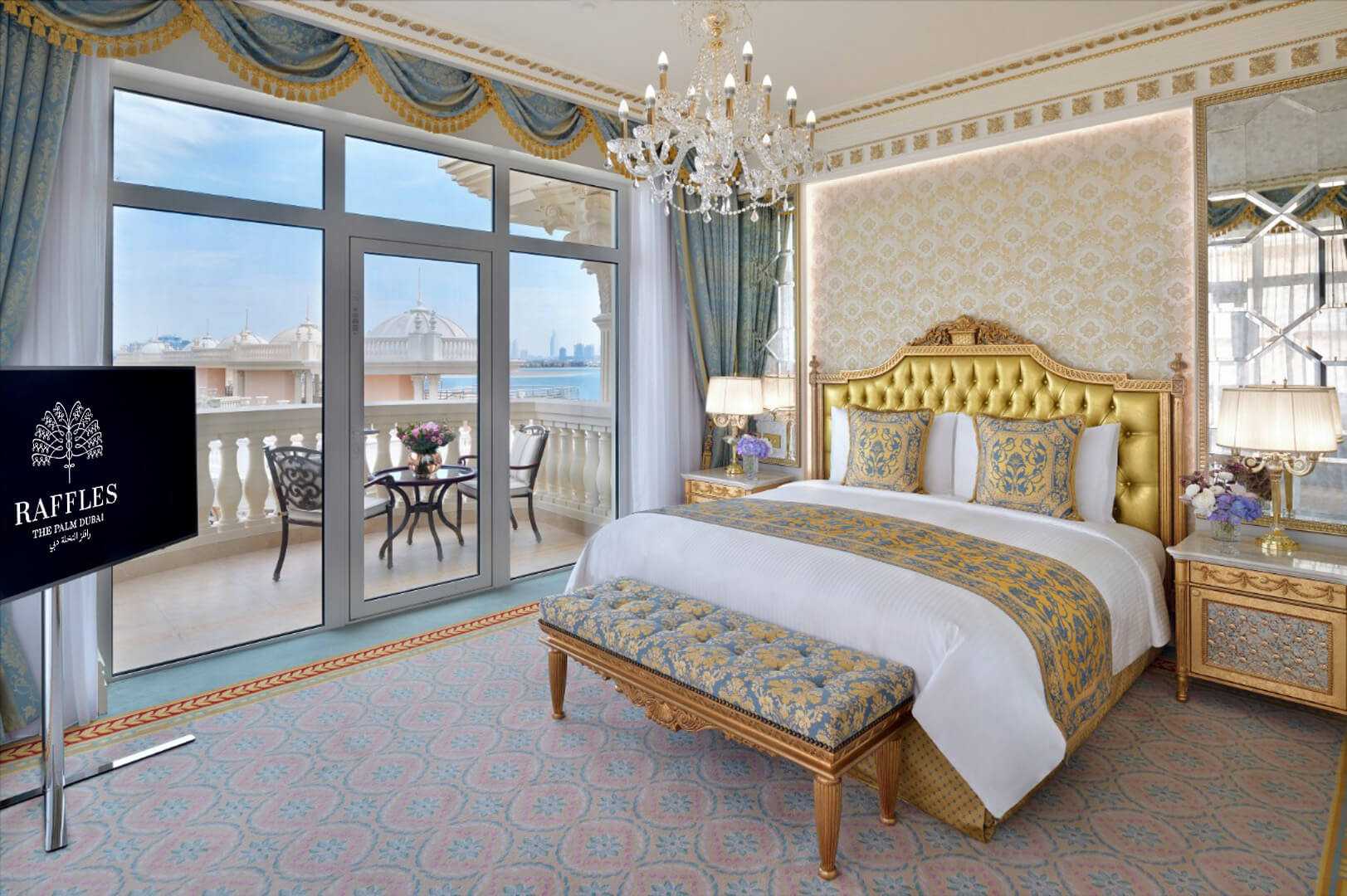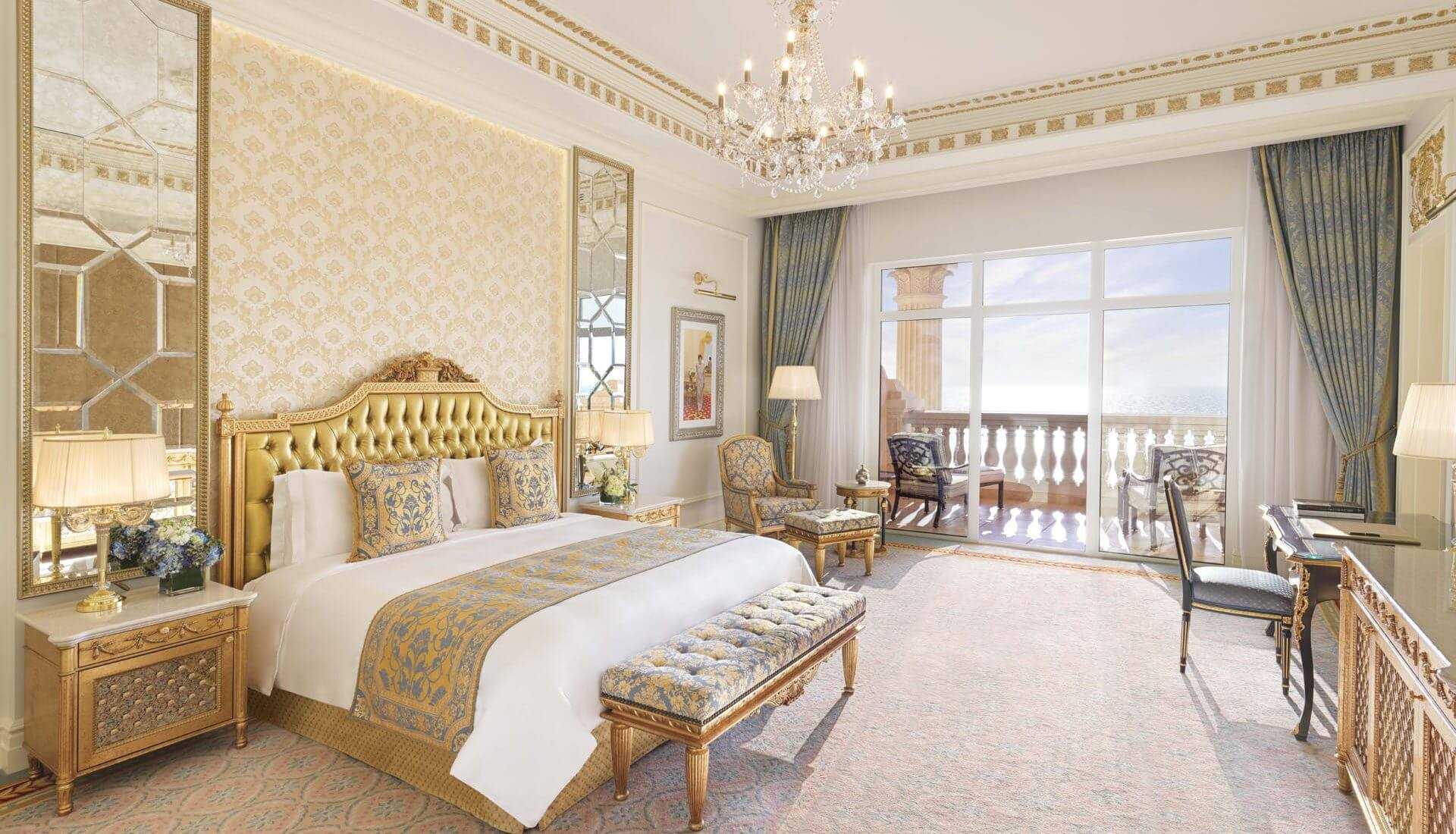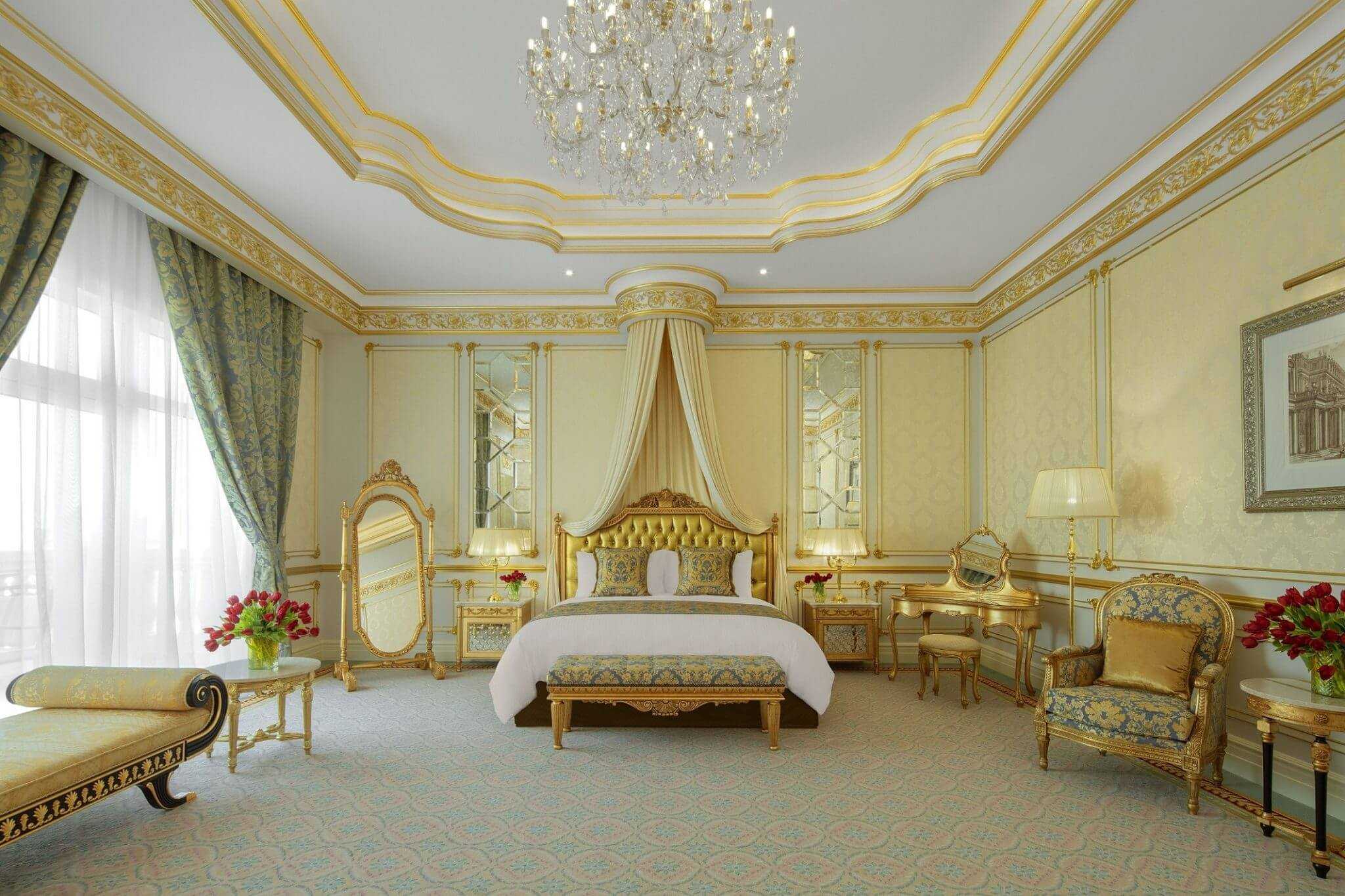 The Raffles The Palm Dubai hotel also offers a choice of villas, for those looking for private and intimate experience, offering outstanding accommodation and ranging in size from 10,225 square feet to 11,302 square feet. The villas offer discreet indulgence, located on the shoreline with easy access to the lush gardens and white sandy beach. The villas offer guests the luxury of a build in spa and private swimming pool
Each room, suite and villa showcases classic furniture. There are more than six thousand Swarovski Crystal Chandeliers in the hotel with each room having touches of real gold and silver leaf décor, along with Portuguese marble. The housekeeping team ensure that every item is polished and shining, making every detail of this palatial resort perfect.
Executive Club Lounge and Kids Club
The Raffles The Palm Dubai Executive Club Lounge is a quiet and elegant with a delightful selection of prepared food offerings, there is also a great Kids Club, offering both indoor and outdoor activities.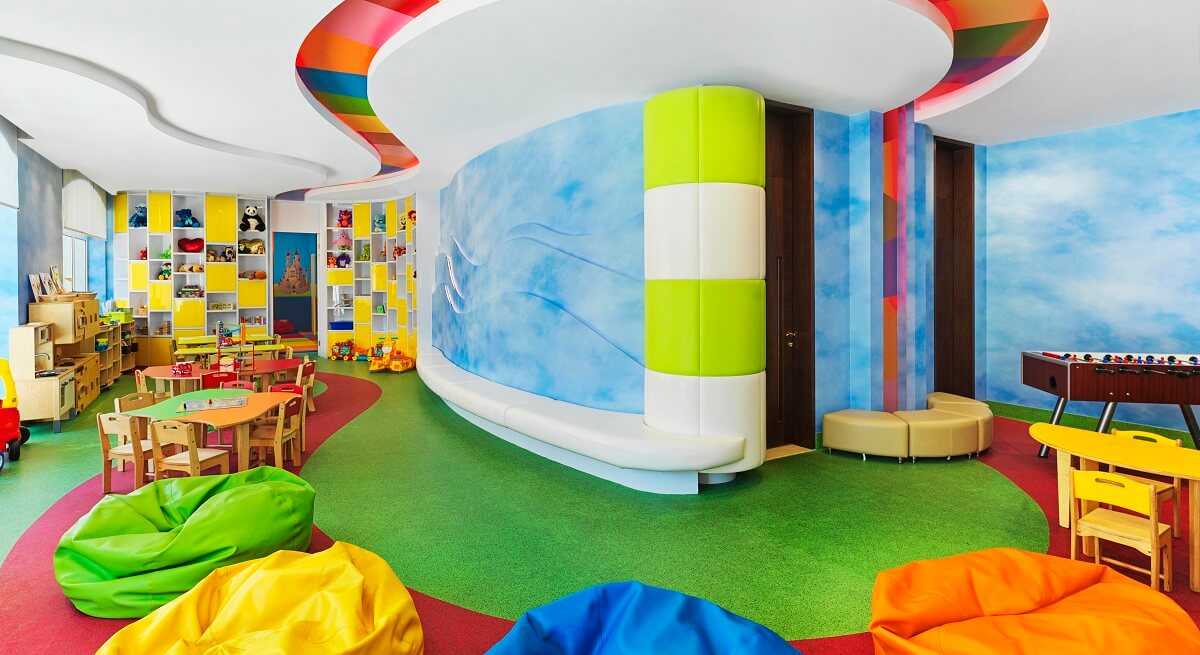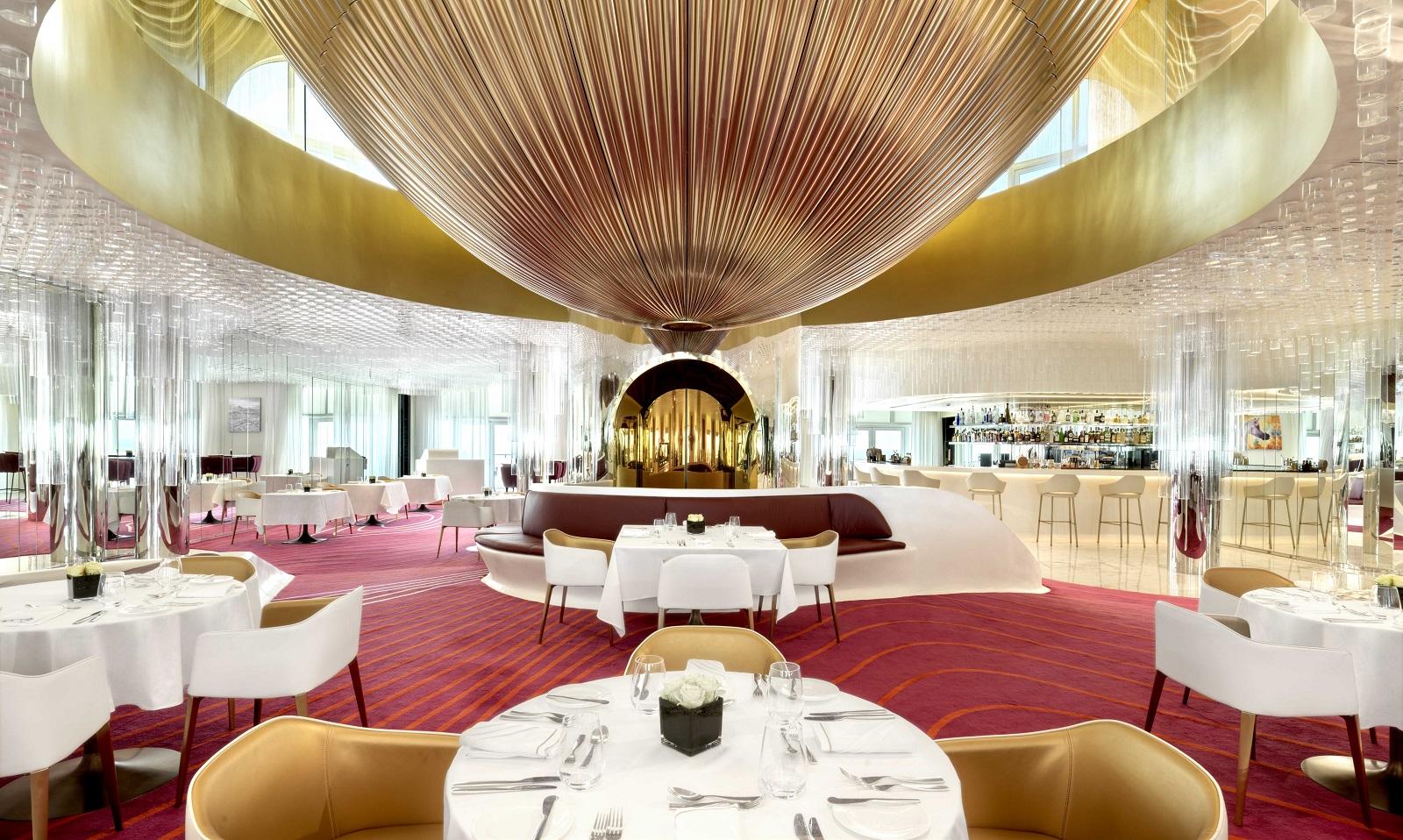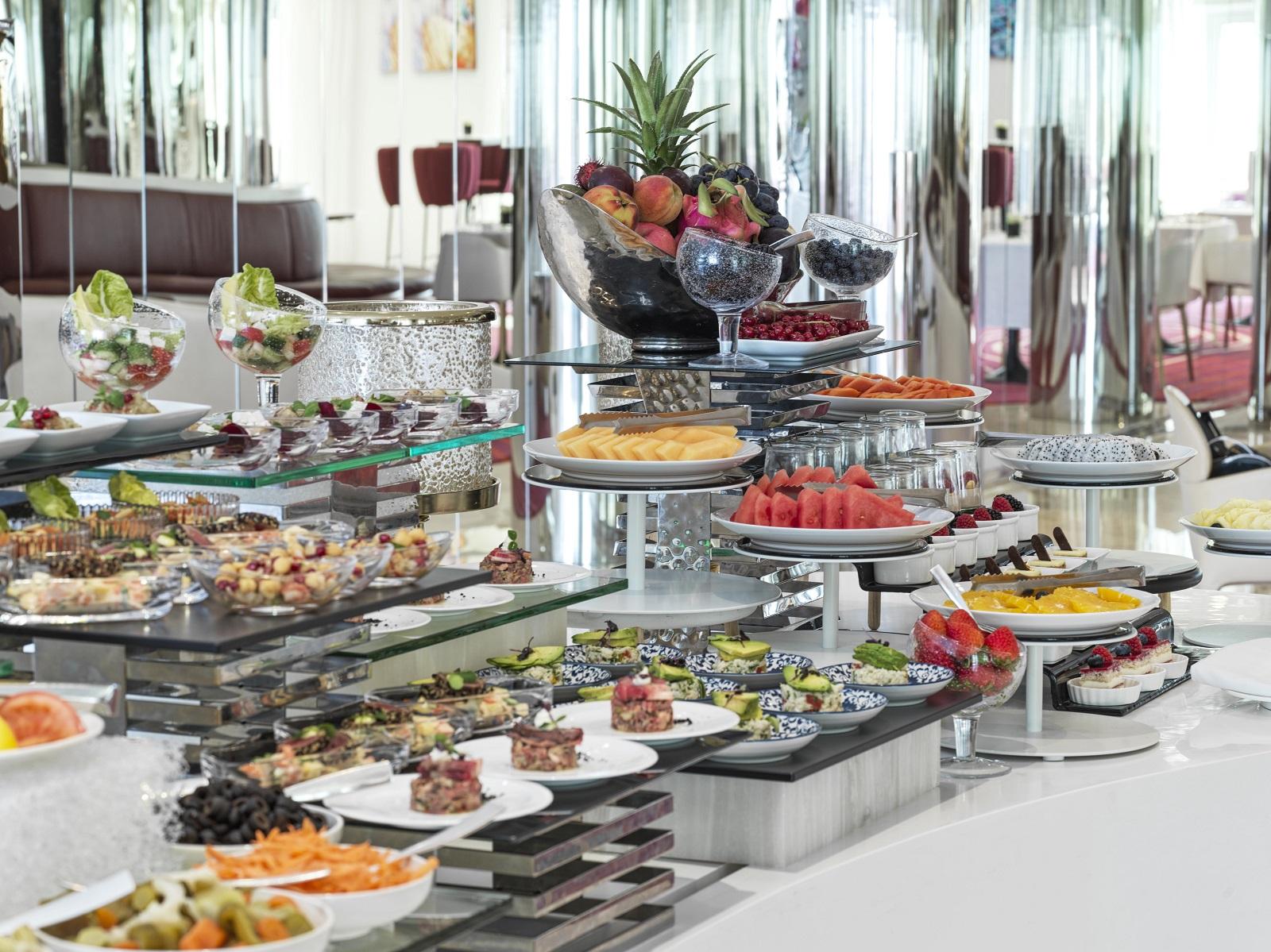 The Raffles The Palm Executive Club Lounge is a place to relax, unwind and enjoy some amazing culinary delights with refreshments throughout the day. Soft drinks, juices, tea and coffee are complimentary to Executive Club Lounge guests. Four culinary delights are offered each day including breakfast, lunch, afternoon tea and evening Hors D'oeuvres and complimentary evening drinks. You can read about their Executive Club Lounge by clicking on the button below:
Raffles The Palm Dubai Executive Club Lounge
The Raffles The Palm Kids Club offers indoor and outdoor activities, accommodating up to twelve children. Children aged three to eight years of age are welcome to join the daily activities. You can also read about their Kids Club by clicking on the button below:
Raffles The Palm Dubai Kids Club