The Sheraton Mall of the Emirates Hotel Dubai Executive Club Lounge is located high on the twenty second floor. The Executive Club Lounge offers exclusive access to Club Room and Suite guests, opening from 6am to 11pm daily, and 10.30am to 11pm during Ramadan, offering three food presentations daily, including:
A continental breakfast in Besh Restaurant from 6am to 10.30am
Afternoon tea is served from 3pm to 5pm in the Executive Club Lounge
Happy Hour is from 6pm to 8pm, also served in the Executive Club Lounge
Tea, coffee, juices and soft drinks are offered throughout the day
Children are welcome in the Executive Club Lounge, when accompanied by a parent.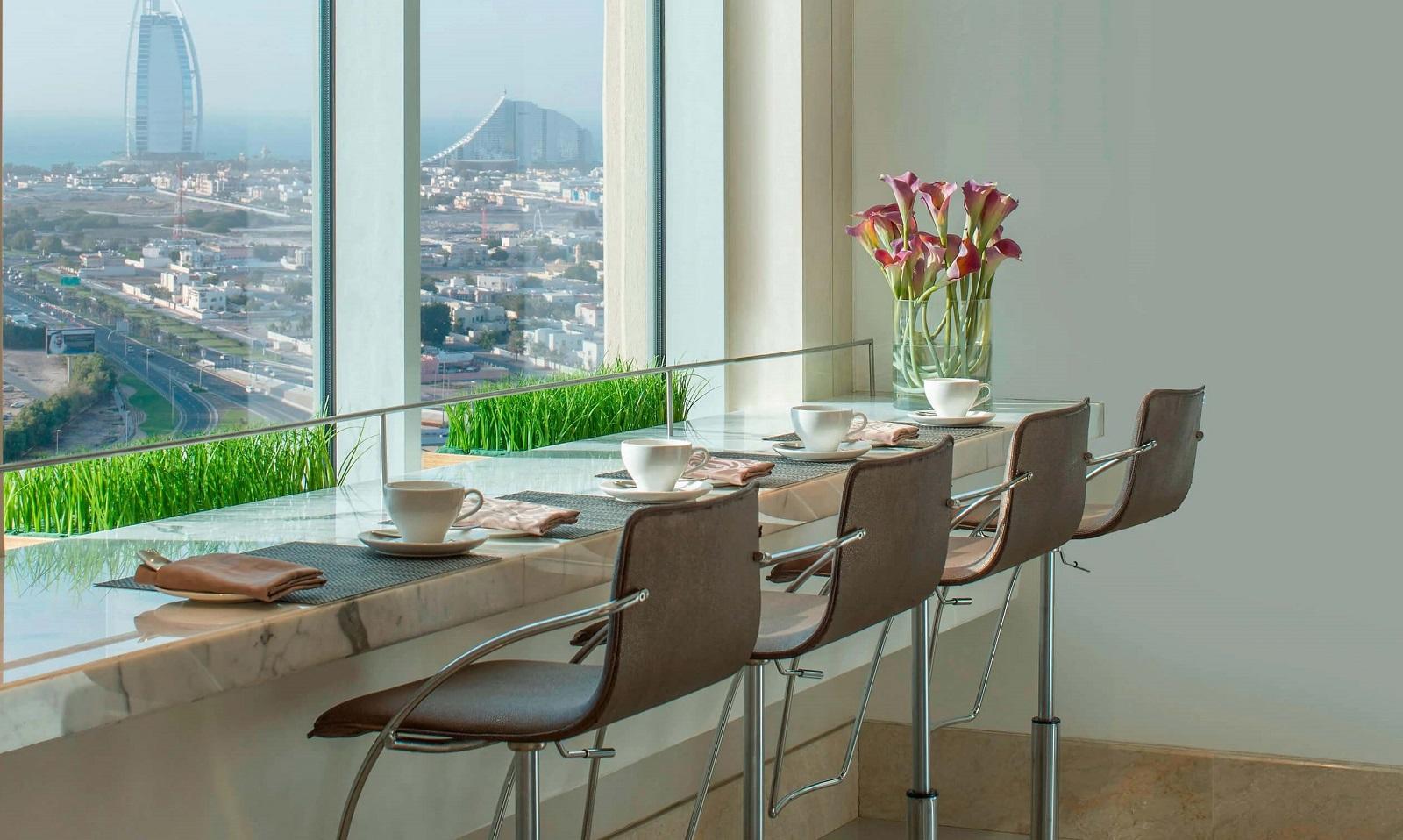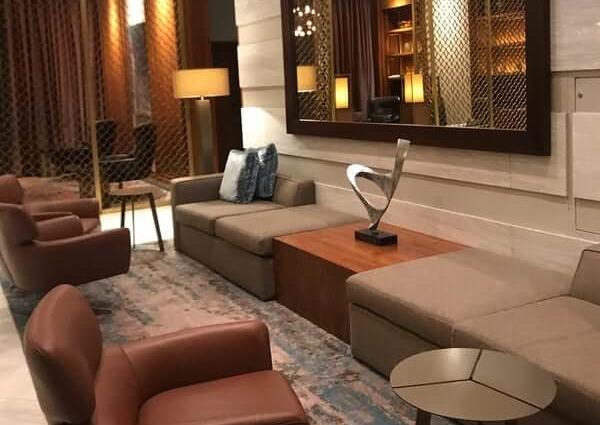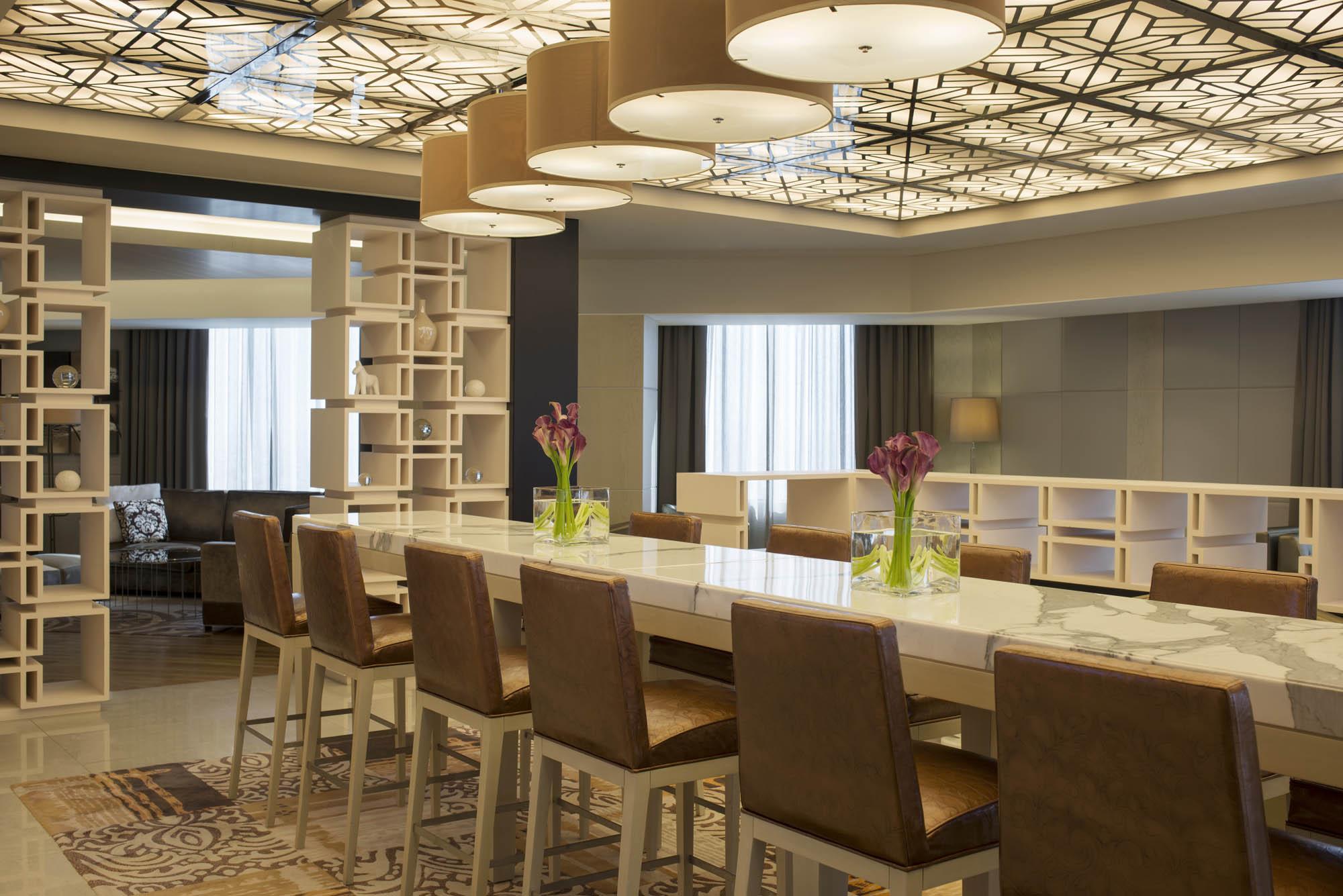 Fabulous Guest Service
The Executive Club Lounge team are exceptional. They provide the ultimate in service from the seamless check in procedures to the way they interact with their guests. The team are professional, friendly and attentive. They go out of their way to ensure their guests are comfortable.
The food island is always being topped up during afternoon tea and happy hour. Afternoon tea has a choice of sandwiches, fruits and sweets, while happy hour offers hot canapés, salads and unlimited alcoholic beverages including white wine, red wine, sparkling wine and in house spirits.
As an Executive Club Lounge guest, you enjoy complimentary wireless internet, along with the complimentary ironing of three items during your stay and shoe shine on request. The chefs are more than happy to accommodate dietary requirements, just let the experienced team know if you are vegan, vegetarian, lactose or gluten intolerant and they will accommodate your needs.
Modern and Spacious with Spectacular Views
From the minute you walk into the Executive Club Lounge at the Sheraton Mall of the Emirates Hotel Dubai, you know you have walked into a special space. Its comfortable, luxurious and private. It is only accessible to Club Room and Club Suite guests, giving you the quiet and peaceful space you can enjoy, whether you simply want to relax after a long day of sightseeing or you want to get out of the heat for a light snack during Afternoon Tea.
The afternoon tea is a welcome break from the Dubai heat, where you can relax on a comfortable sofa or sit at one of the marble counters, which spans across the windows, offering panoramic views, as you sip on your complimentary coffee.
There is complimentary wireless internet in the Executive Club Lounge, which offers the opportunity to check your emails, upload some photographs or simply look for some fun things to do during your stay. The team are always happy to make some recommendations on what to see or make your restaurant bookings on your behalf.