The complimentary Kids Club at the Six Senses Laamu resort in the Maldives is known as the Den. It is a managed club for younger guests aged three to twelve years of age. Ideally located next to the main pool, it is open daily from 9am to 6pm and closed from 1pm to 2pm for lunch. Children under the age of three are welcome at the Den when supervised by a parent or when using the resorts babysitting service, which is an additional charge.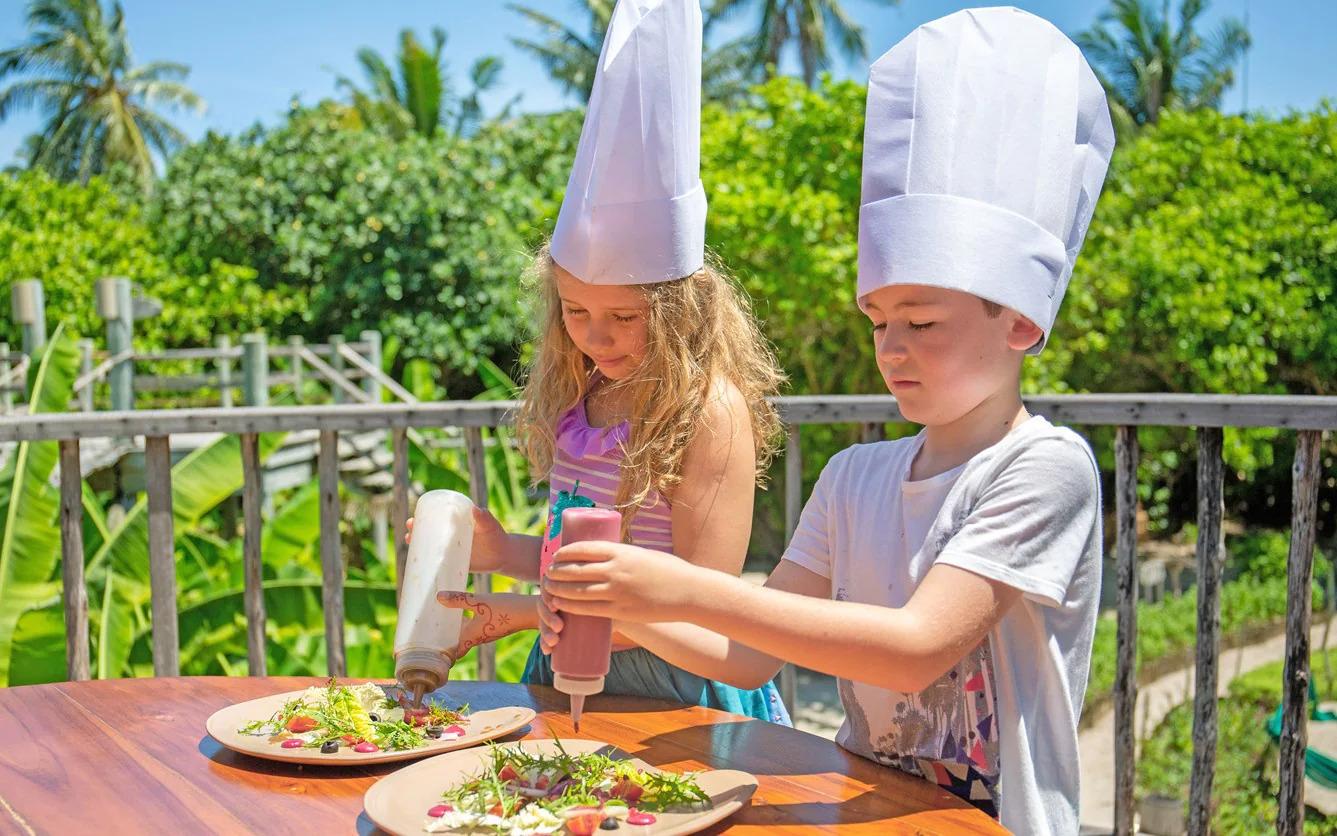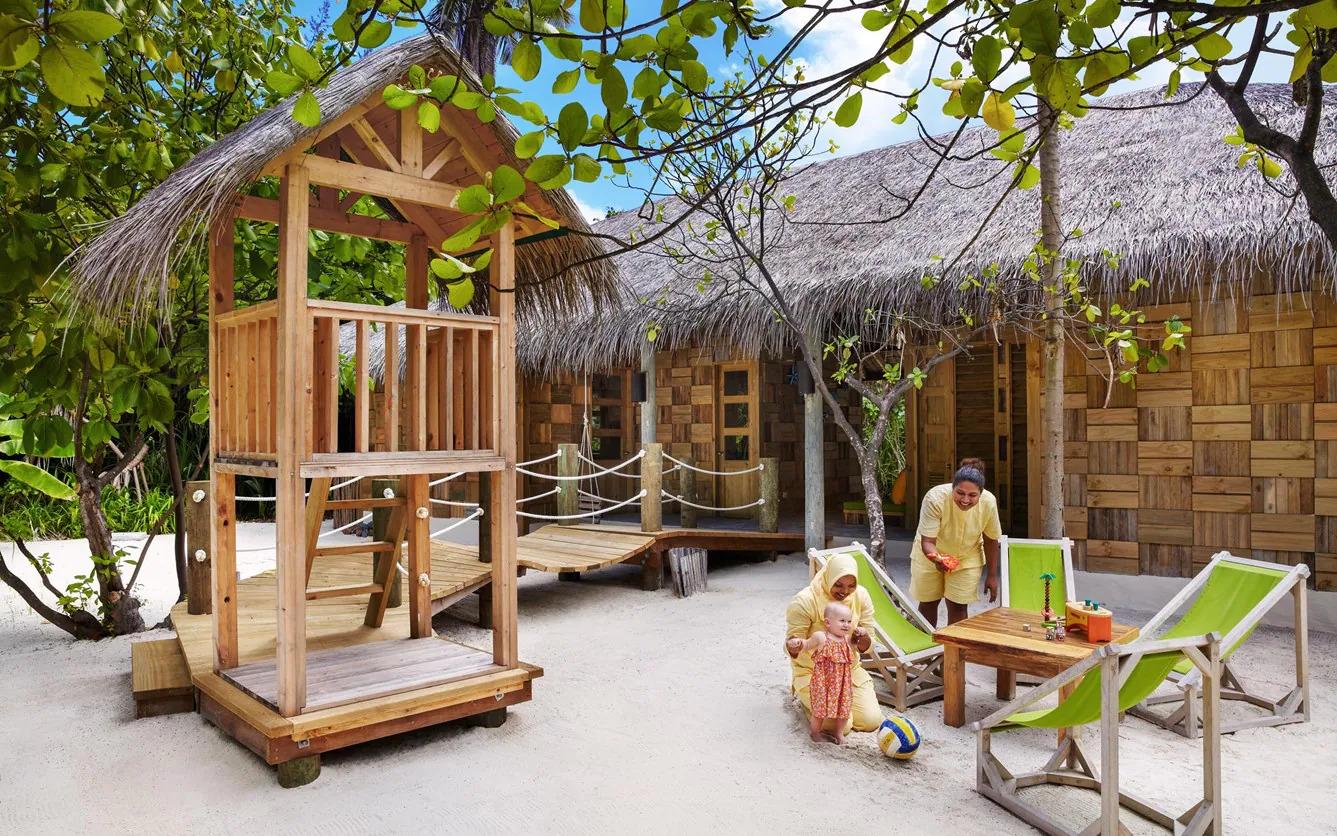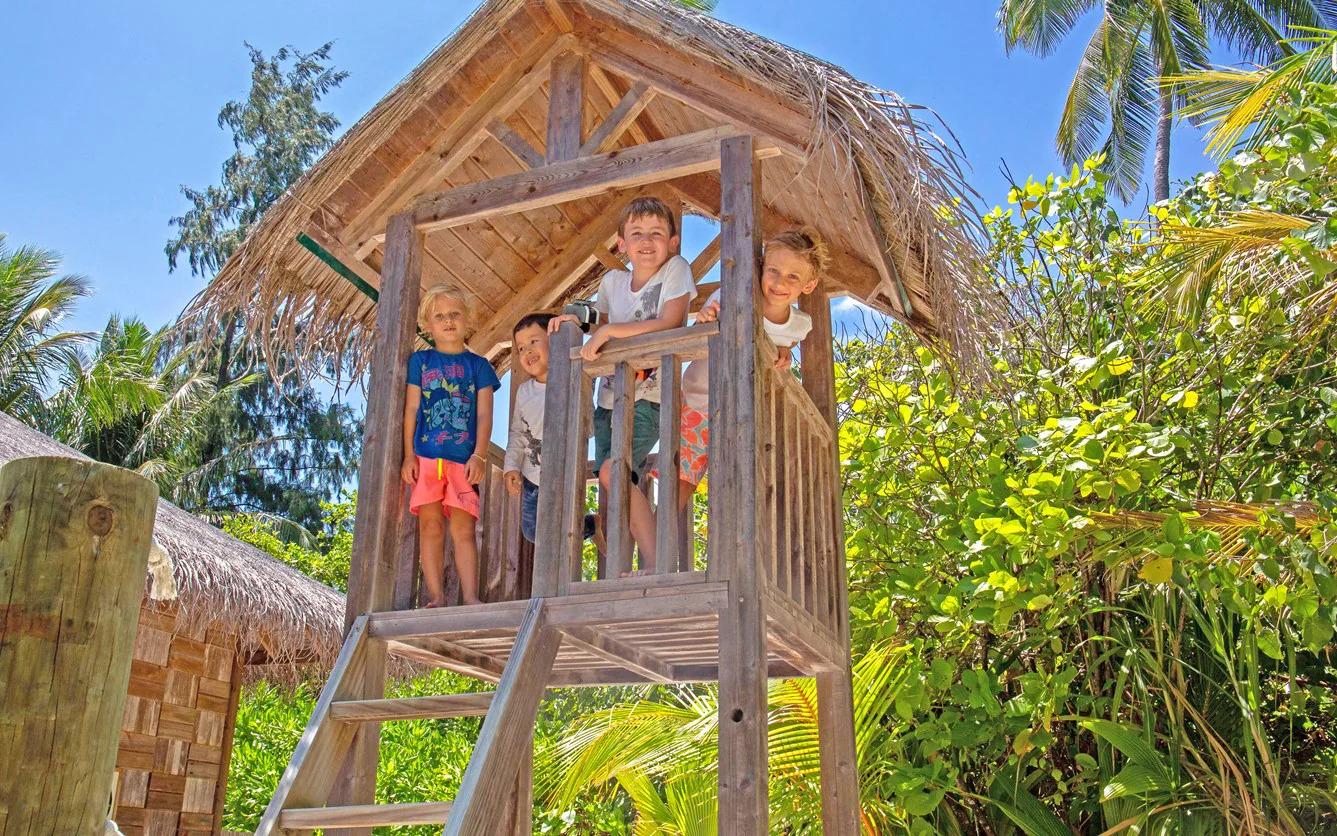 Supervised Kids Club with Host of Toys and Games
This Kids Club is supervised by a team of three experienced and professional child minders offering a variety of activities, both indoors and outdoors. They accommodate children under the age of three when accompanied by a parent or when using their babysitting services at US$25 per  child per hour and US$5 per hour for an additional child. This Kids Club provides children with hours of entertainment from arts and crafts to kids yoga. It is also an opportunity for them to spend time with other children their age and make new friends.
This Kids Club is passionate in providing children with amazing experiences, giving them a stamp in their Grow With Six Senses Passport when they do activities. There is also a mini kitchen, beach toys, books, games and Lego to enjoy when visiting the Kids Club. Children can take part in the scheduled activities or enjoy hours of free play, all under the watchful eye of the experienced team of childminders.
You can see the timetable below: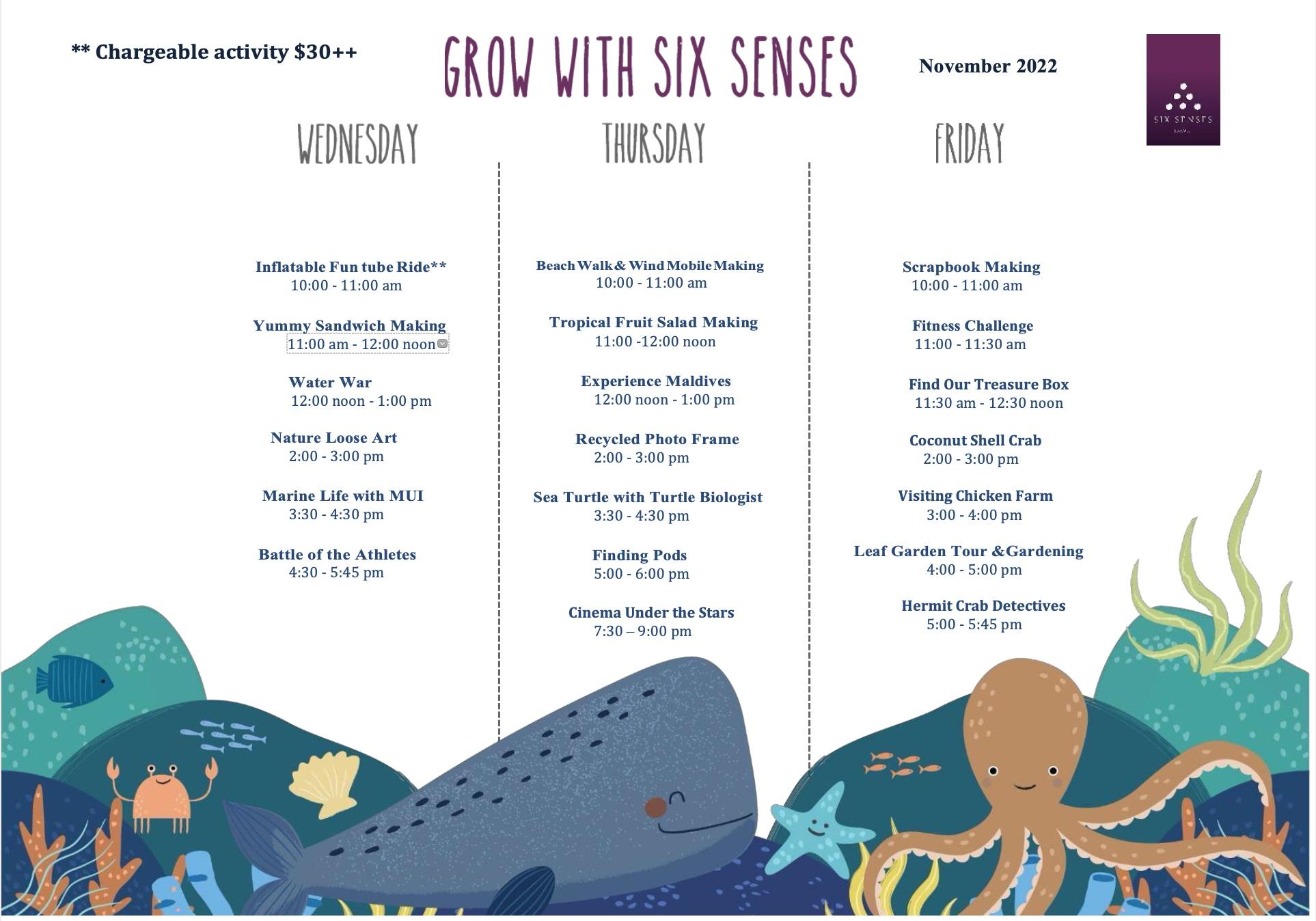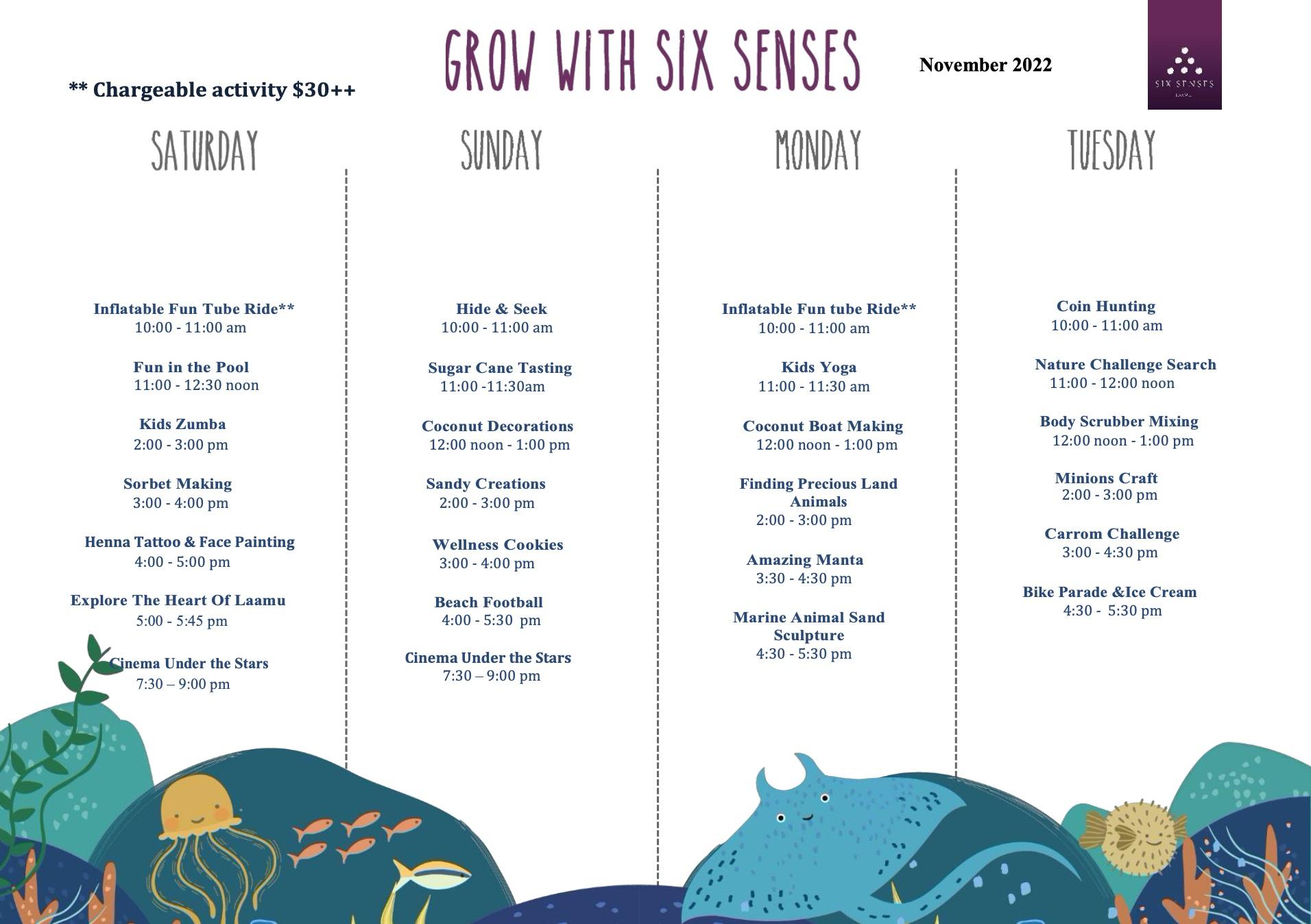 Host of Indoor and Outdoor Activities for Younger Resort Guests
This Kids Club is passionate when it comes to entertaining their young resort guests with cycling, water activities, table games, treasure hunts and more. The Club is complimentary to all guests staying at the resort aged three to twelve years of age with baking, crafts, indoor and outdoor games and age-appropriate movies. For parents who want to enjoy some adult time and their children are under the age of three, there is babysitting services offered throughout the day at US$25 per hour.
The Kids Club also offers a sustainability camp, which takes place over three days with two ninety minute sessions daily. Teenage guests and family members are welcome to take part, which covers home grown, nature conservation and zero waste. Scheduled activities offered by the Kids Club includes beach walks, scrapbook making, tropical fruit salad making and fitness challenges. They also have athletic challenges, recycled photo frame making, finding pods, visiting the children's farm and the chance to be hermit crab detectives for an hour. The outdoor play area is a sandy play area with wooden bridges and a wooden lookout point / tree house. This Kids Club will keep children entertained for hours, giving them a chance to learn, explore and let off some steam.