Sixsenses Zighy Bay has gone out of their way to make younger guests feel welcome with two Kids Clubs; Chaica's Club, which caters to children aged four to twelve years of age and Al Feetean's Club, which caters to guests aged twelve to eighteen. The Kids Clubs are complimentary to young guests staying at this luxurious beach front resort.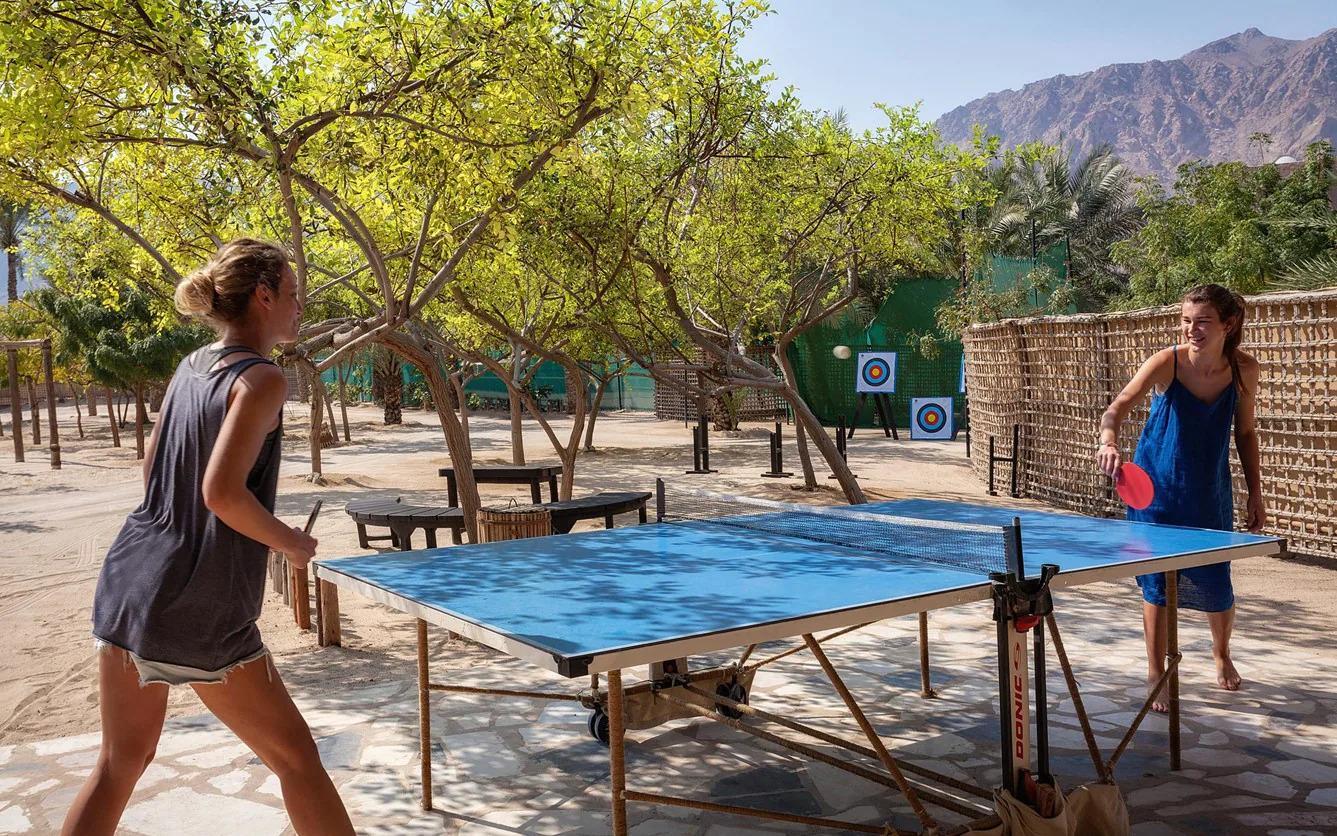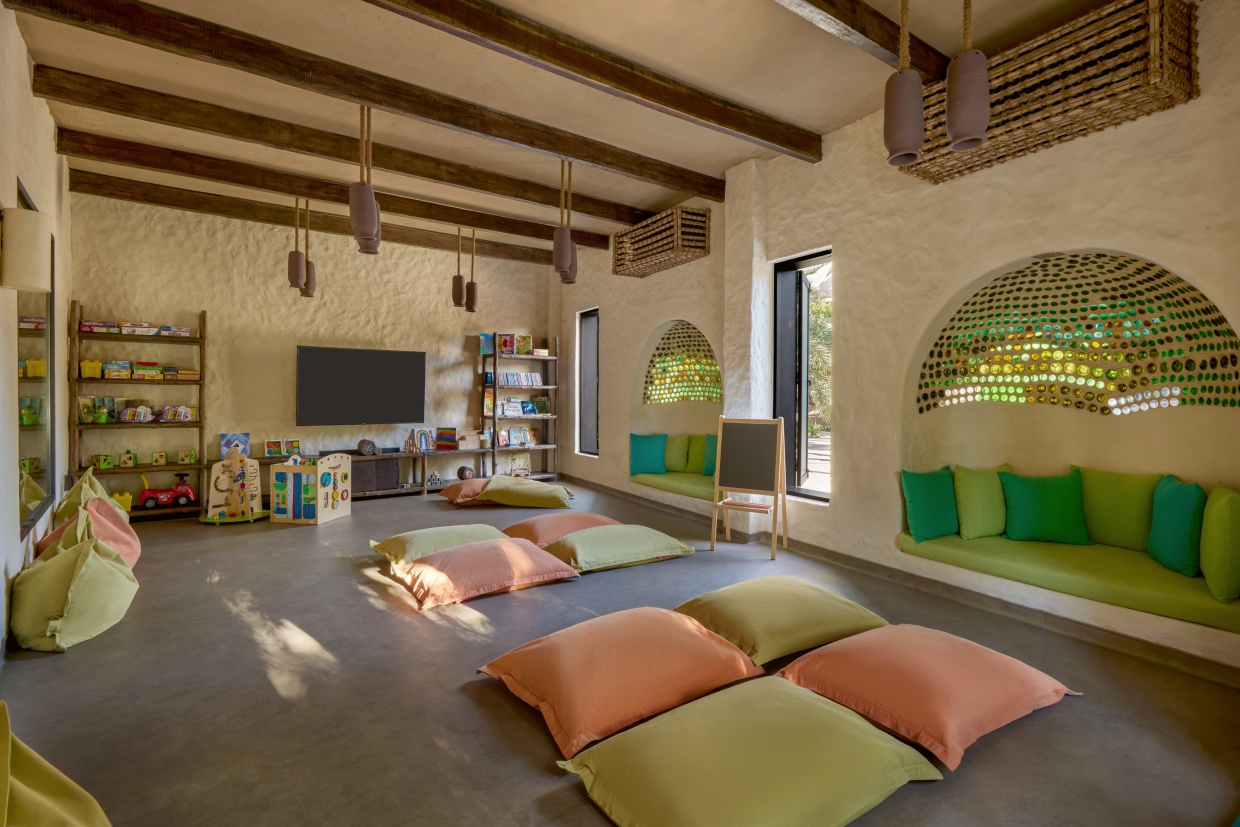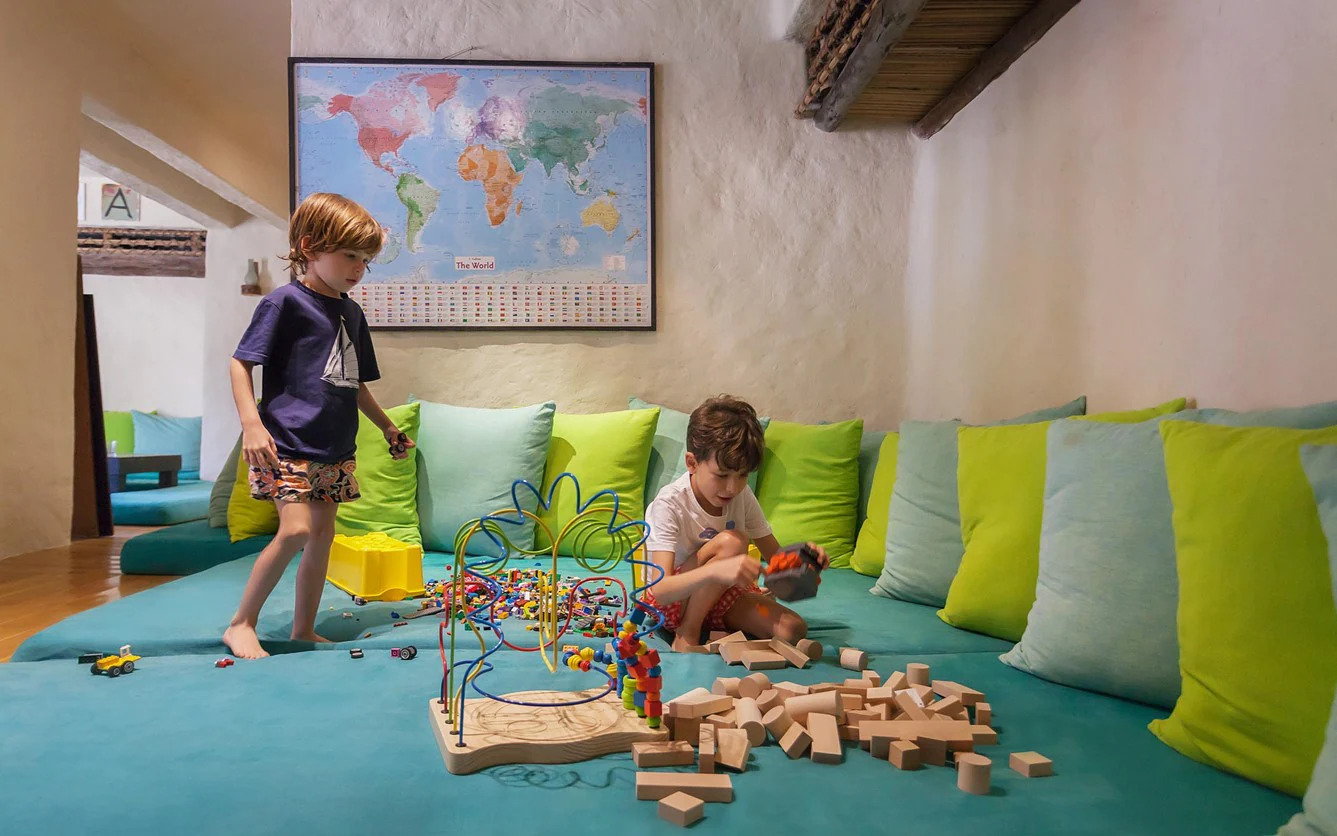 The Chaica's Club at Sixsenses Zighy Bay is a dedicated Kids Club area, which provides a place for children to engage, learn and be entertained. A spacious club area that is brimming with toys and games, soft flooring, cushions and everything children need to stay occupied for hours. Fully supervised by professional child minders, the Kids Club is a place parents can leave their children with confidence, enabling parents to also enjoy some of the great scheduled activities on offer.
The club house carries the same Oman theme as the villas and accommodation with wooden beams on the ceilings and white washed walls. Kids tables and chairs are dotted about, a place where children can enjoy arts and crafts and other scheduled activities. The large television has soft cushions on the floor, a place where children can lie back and enjoy kids movies.
A Host of Scheduled Activities for Children of All Ages
The Chaica's Club at Sixsenses Zighy Bay has put a full schedule of activities together for younger guests aged four and above. Children are welcome to take part in any of the activities, which are offered daily from 9am to 6pm, or they can enjoy free play if they prefer.  Some of the fun and engaging activities children can enjoy at this Kids Club includes goat feeding, colourful bracelet making, clay pendant making, movie matinees, learning about sustainability at the Earth Lab, fashion shows, watercolour painting, salt dough art and bookmark making, to name a few.
You can see an example timetable below for the Chaica's Club: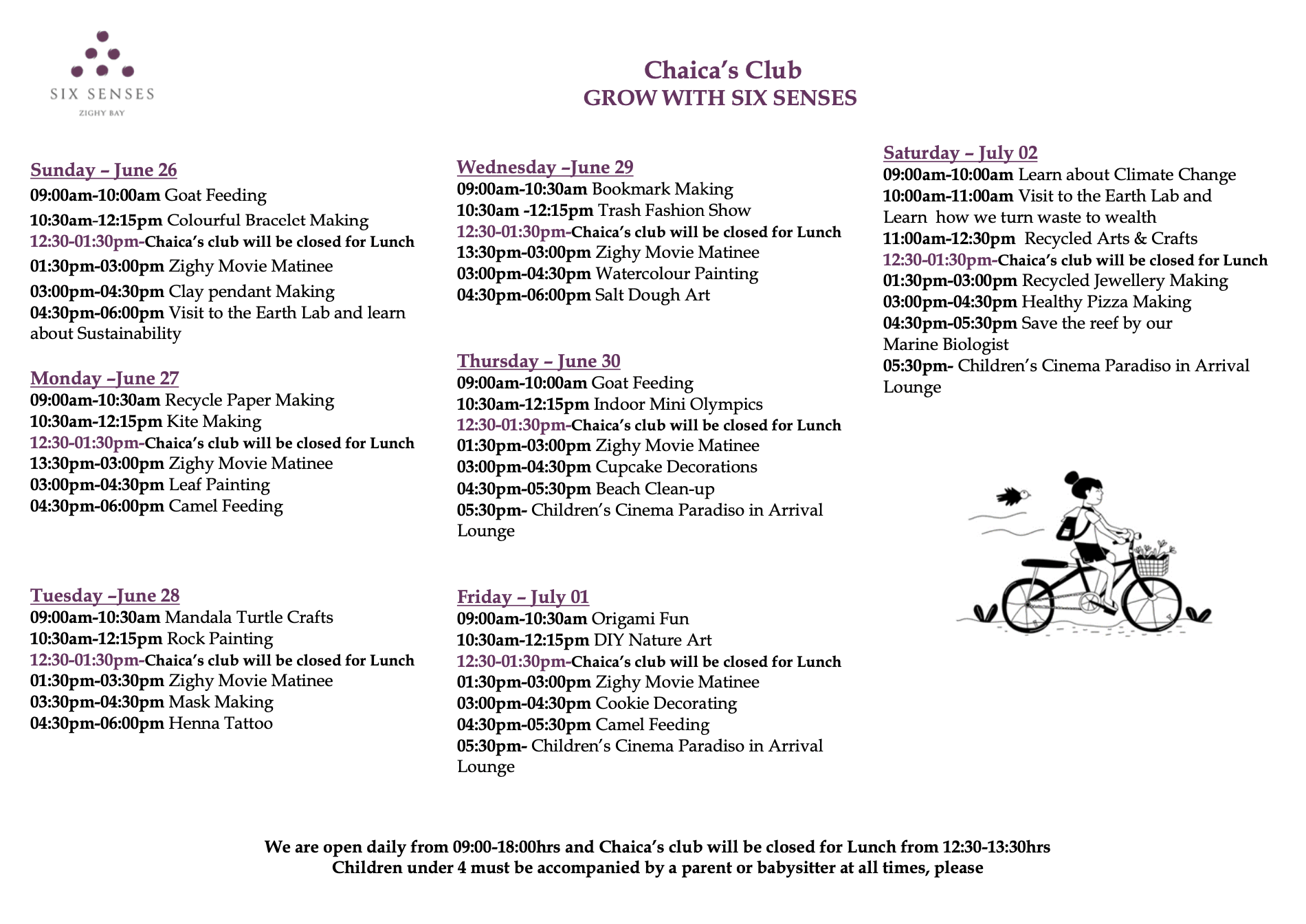 In addition to the younger children's activities, the hotel also has the Al Feetean's Teens Club which have also put a full and busy schedule together for their teen guests, which includes body boarding, dominoes, volleyball, archery, ping pong, stand up paddle boarding, badminton and pool competitions. There is also a choice of indoor games, giving teens a chance to escape the outdoor heat and enjoy some air-conditioned entertainment, while making new friends with other teens staying at the resort.
You can see an example timetable below for the Al Feetean's Club: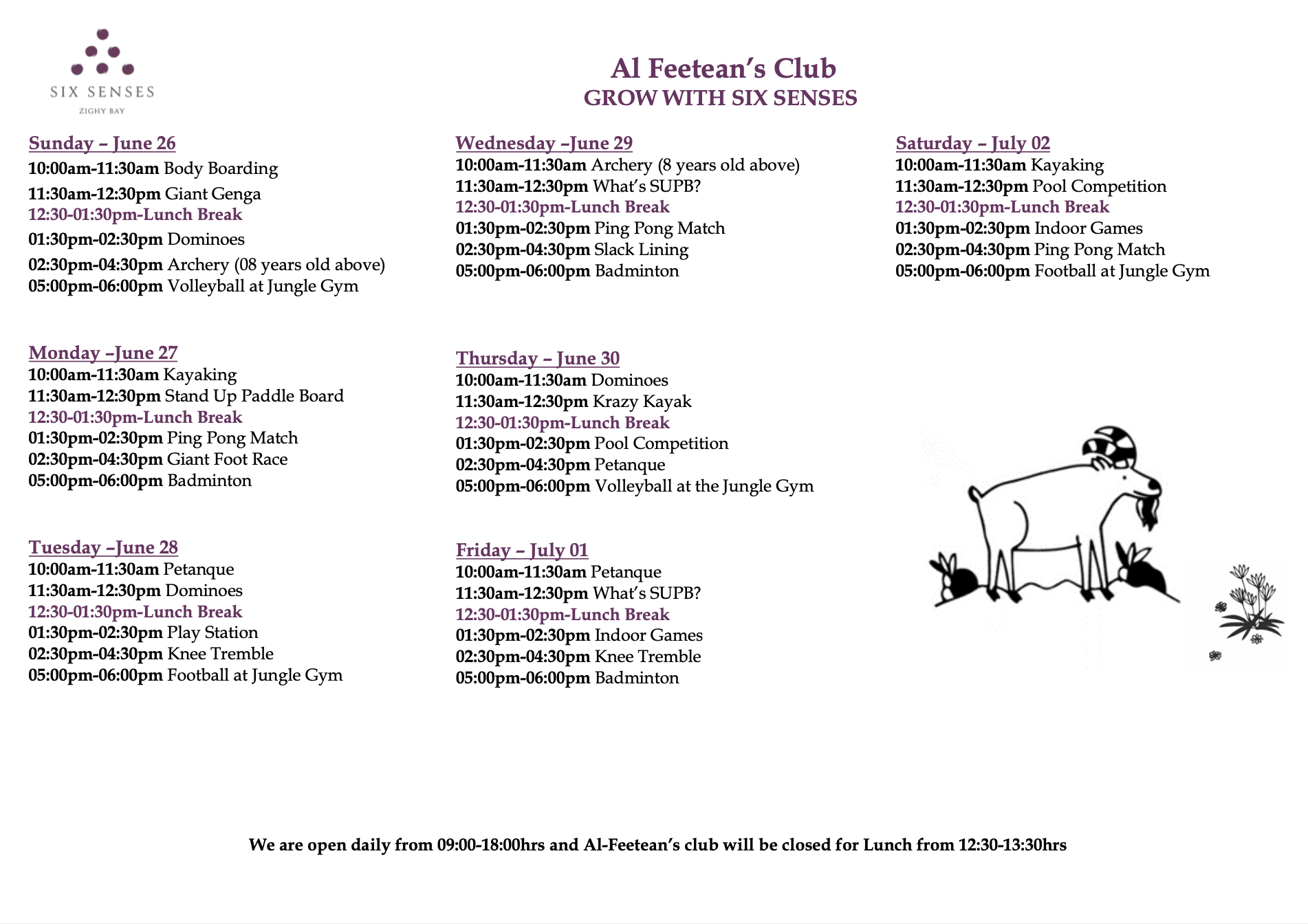 Fully Supervised, Engaging, Entertaining and Fun
The Kids Club at Sixsenses Zighy Bay resort is fully supervised by an experienced team who engage with the children, encouraging them to take part in the range of fun activities on offer. The Kids Club is engaging, fun and entertaining, while offering children a chance to make new friends with other children staying at the resort. It also offers parents a chance to enjoy some of the adult activities, knowing their children are safe.
The Kids Club is a designated space that has been specifically designed with kids in mind, ensuring their safety at all times. Open daily from 9am to 6pm with complimentary access, children can visit at any time for free play or to take advantage of any of the activities on offer, which are regularly changing. The Kids Clubs at Sixsenses Zighy Bay resort ensures fun for all ages.