Top 5 Leading Family Friendly Hotels in Thailand
Exploring Thailand on holiday with your family is an unforgettable experience! Everyone will enjoy the time together, the sights, the scenery, and the activities you choose to put on your agenda. They will always remember their accommodations too, so make sure the hotel you pick is ideal for everyone. We evaluated the best family-friendly hotels in Thailand, and these are the top 5 we discovered!
The Okura Prestige Bangkok
This large hotel features 240 rooms, many of them suites. The fabulous décor is inviting and the rooms are quiet. It is located in the centre of the city, making it convenient to get around and explore. There are plenty of shopping malls, places to dine, entertainment, and popular sights to visit all within walking distance of The Okura Prestige Bangkok. The rooms offer a lovely view of the skyline thanks to the panoramic windows.
Childcare services are offered at this hotel. That offers a way for adults to go enjoy a nice dinner or live entertainment on their own. They provide a variety of games, books, and movies for children to enjoy. The hotel features two swimming pools, a spa, and a restraint with many delicious food choices.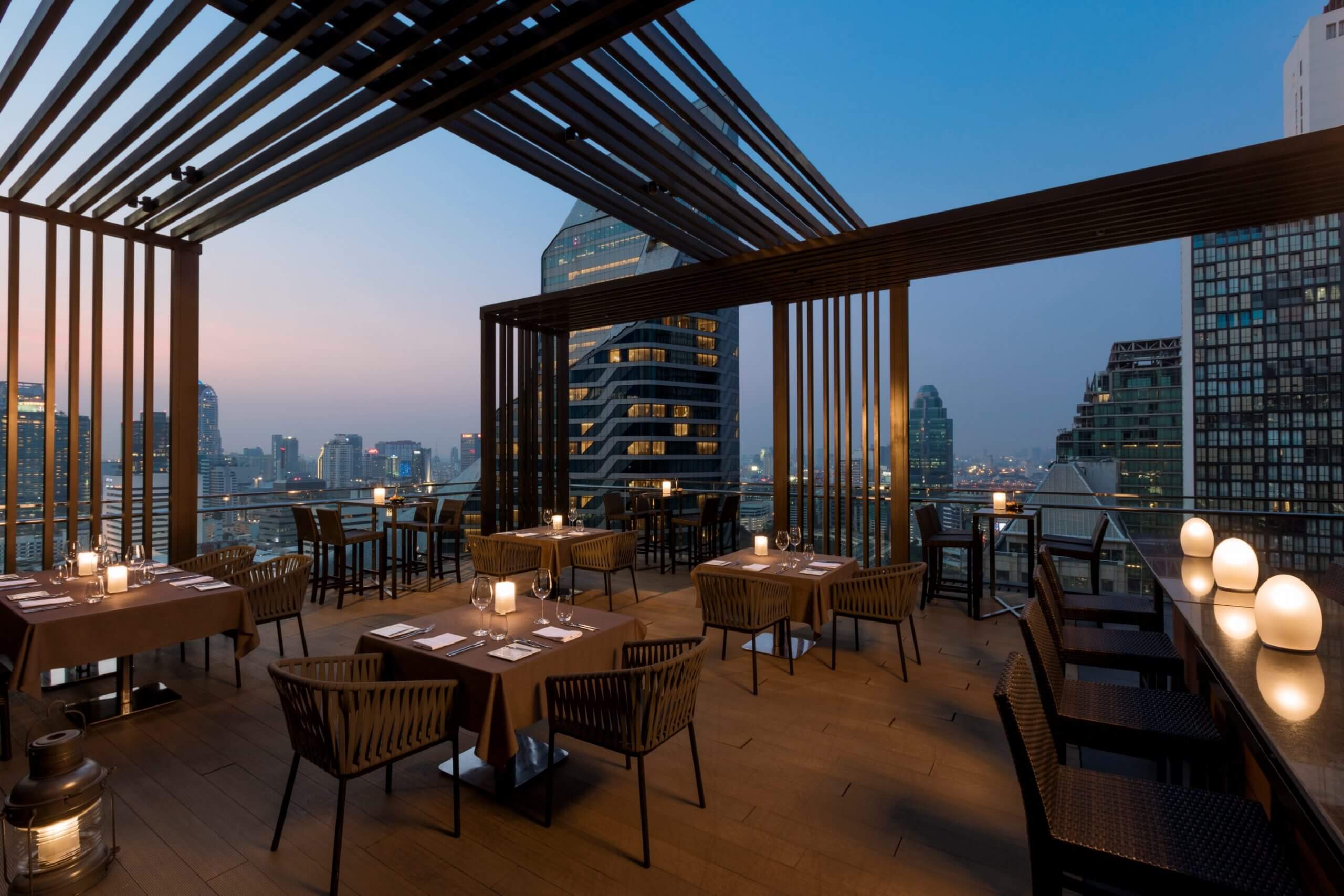 Image: Everything about The Okura Prestige Bangkok is amazing, including the location and the view.
Melia Koh Samui
One of the most amazing swimming pool designs is found at the Melia Koh Samui. It includes several small swimming pools and a lazy river that flows around them in a pattern. It offers a fun place for the family to relax and enjoy the water. There is a waterslide that is a huge hit and plenty of toys/floaters to use at the pools.
A private beach is right outside of the hotel entrance, giving you access without it being overcrowded. Your view from your room will be the Gulf of Thailand. The water offers a variety of activities including boating, canoeing, and diving. There are both indoor and outdoor play areas for children and a kid's club. Babysitting services are offered at the hotel, giving you some adult time alone.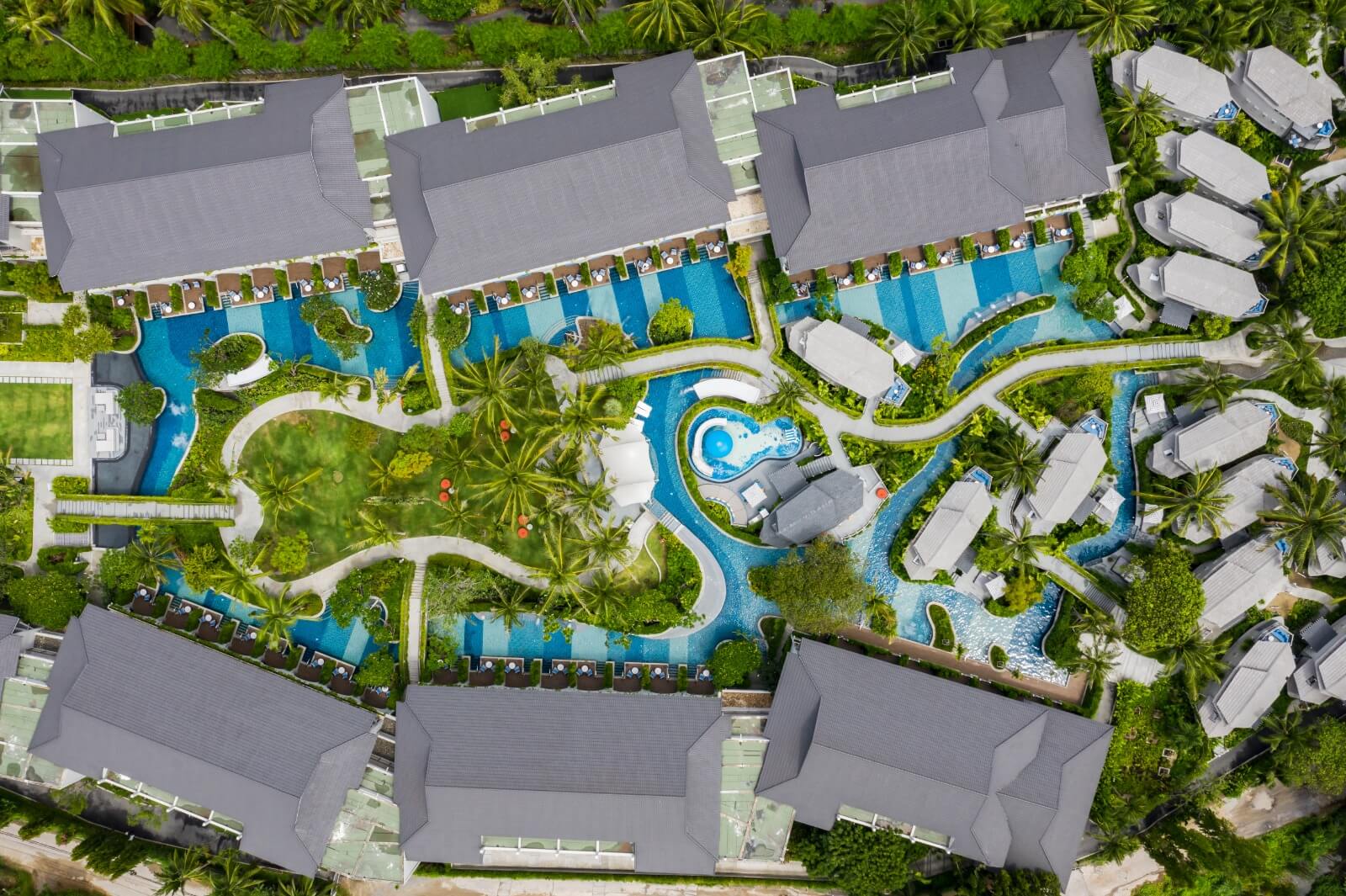 Imagine: The Melia Koh Samui offers a magical place to replace and explore with your family. If you love the water, the amazing swimming pool and the beach access are perfect.
Banyan Tree Bangkok
There is so much to enjoy and explore close to Banyan Tree Bangkok. Many people come to this area to explore the various castles. Since many of them are in this location, it makes sense to secure accommodations nearby. Some of the best restaurants are within walking distance including Vertigo Grill. It is best to have a reservation to dine there.
There are plenty of activities offered for children and the entire family to be involved with. There is also a kid's club with fun things to do. Each night there is live entertainment featured at the hotel. Childcare services are available, giving adults a chance to have some of the holiday without children. This can give them a wider range of activities to enjoy while in Thailand.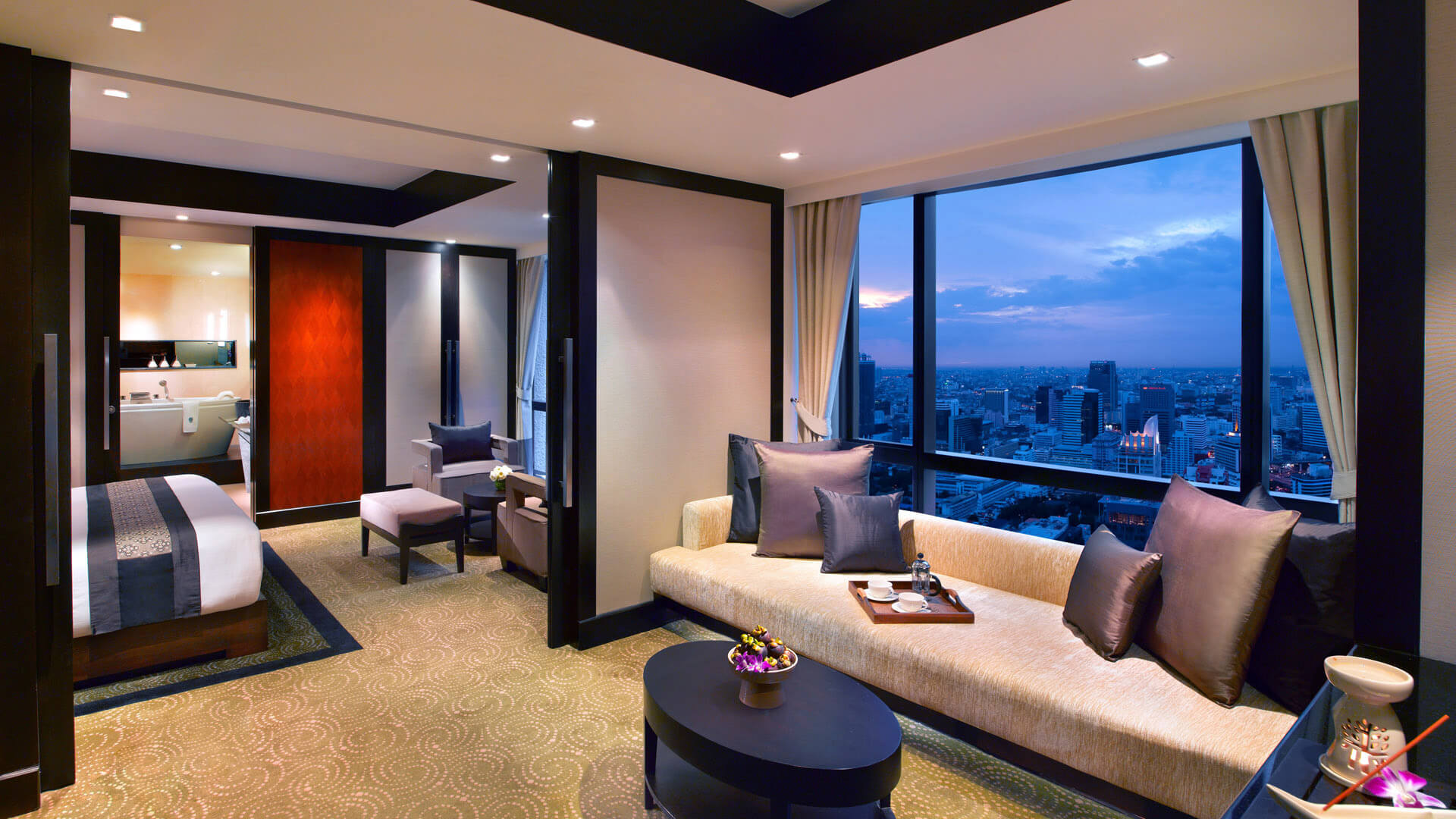 Image: The large rooms at Banyan Tree Bangkok offer plenty of space and a lovely view of the city.
Grand Mercure Phuket Patong
The Grand Mercure Phuket Patong is a popular hotel, featuring more than 300 rooms. The location is amazing, offering a delightful view of the city. It is very close to places to dine, live entertainment, and shopping. At the same time, it is within walking distance of the beach. The hotel has a great restaurant, and you can choose from indoor or outdoor seating.
There are activities for children each day and a kid's club. There is also babysitting available if you want to take part in activities your children are too young for. The water offers a variety of options including boating, snorkeling, diving, and canoeing. The hotel features two swimming pools where you will often find families having a great time.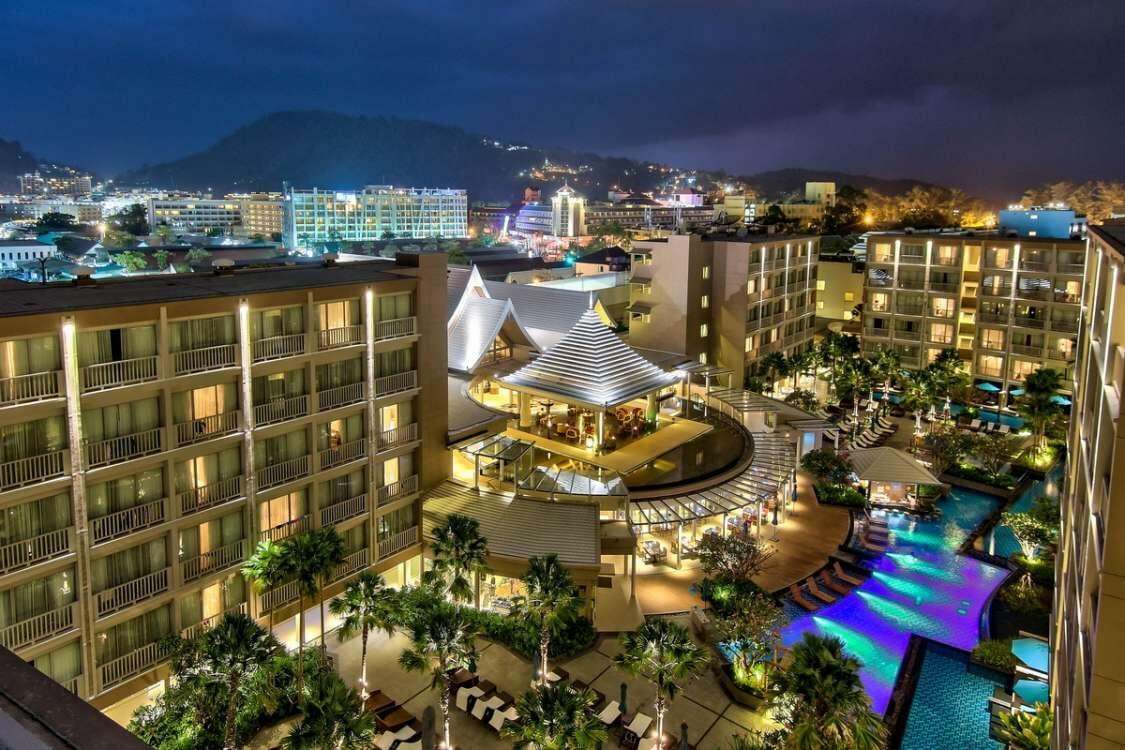 Image: Guests love Grand Mercure Phuket Patong due to the location, the beauty of it, and all that is offered there and in the surrounding areas.
Avista Grande Phuket Karon – MGallery Hotel Collection
The view from Avista Grande Phuket Karon – MGallery Hotel Collection is jaw dropping! You have the beach on one side and the lovely mountains on the other! This hotel is well-known for its upscale accommodations and the wonderful food offered at the restaurant. There is a kid's club with plenty of great activities. The hotel has an indoor and outdoor play area for them to enjoy. The game room features plenty of options. There are video games, billiards, and table tennis for older children.
The beach is a popular place for families staying in this hotel to spend their time. They also enjoy the several pools featured at the hotel. One of them is specifically for younger children as it is very shallow. A variety of toys to take into the pools are available.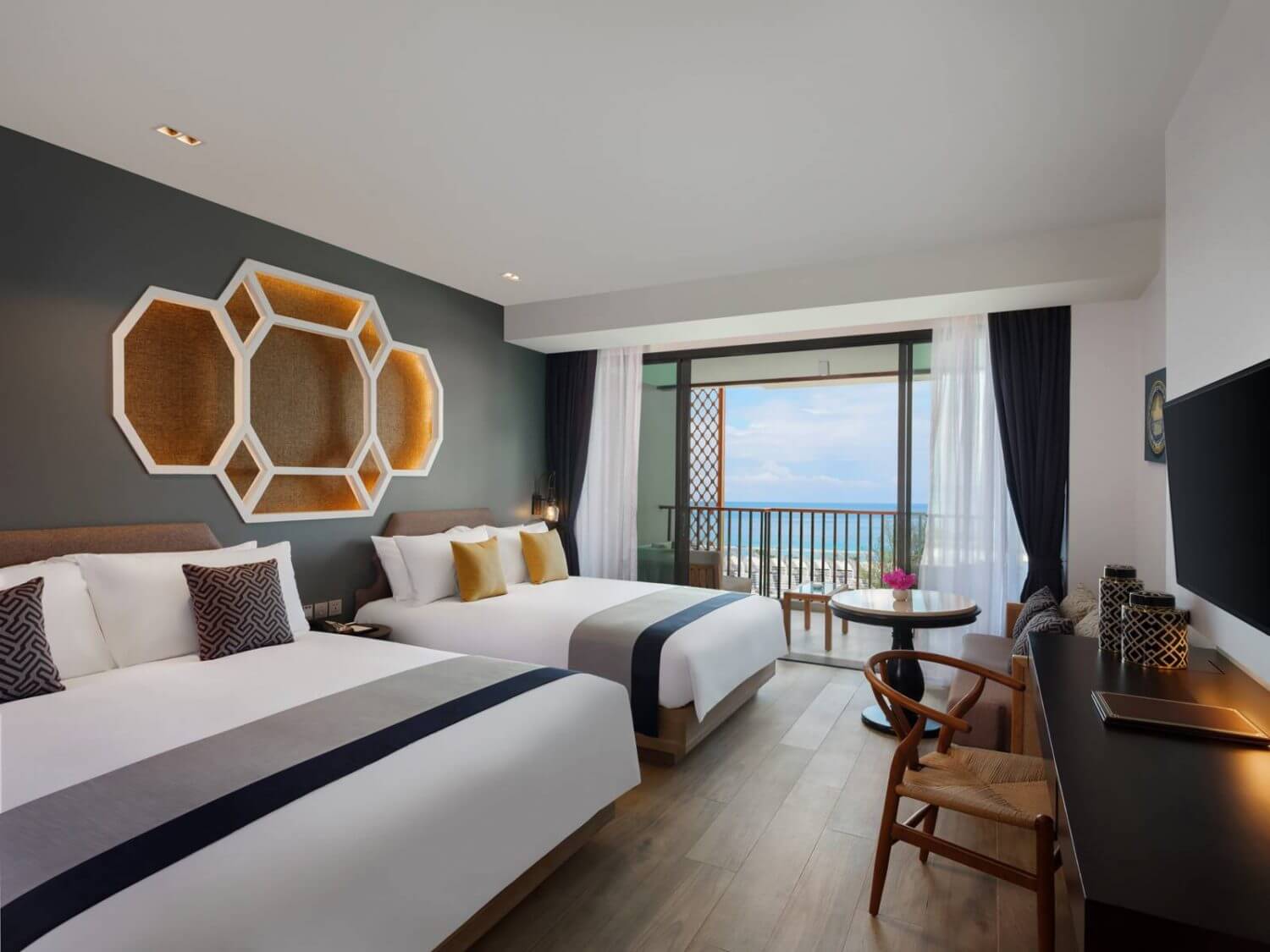 Image: The Avista Grande Phuket Karon – MGallery Hotel Collection is a great place for a relaxing family vacation.