Top 5 Rated Best Value Family Friendly Hotels in Amman
Jordan is a great family friendly holiday destination and Amman, the country's capital does not disappoint. It offers some of the most wonderful sights and attractions, and the people are welcoming and friendly, especially when it comes to children. They offer natural landscapes for children to explore and the weather is not unbearably hot, making it easier when travelling with your family.
InterContinental Jordan, an IHG Hotel
The InterContinental Jordan is ideally located in the Diplomatic Area of Amman, offering stylish accommodation, palm fringed swimming pool and indoor pool, along with an excellent spa offering relaxing massage treatments. The guest accommodation is spacious and functional with spacious seating area, television and en-suite bathrooms. The on-site café offers breakfast, lunch and dinner daily. There is a twenty four hour reception desk, who also can assist with any concierge services you need.
The Amman Citadel is only two kilometres away, while the Al Mukhtar Mall is a dive minute drive from the hotel. This hotel boasts two swimming pools, non smoking guest rooms, state of the art fitness centre, complimentary wireless internet, an an airport shuttle service. They also provide a tea and coffee maker in all their rooms, room service, an ATM and currency exchange services.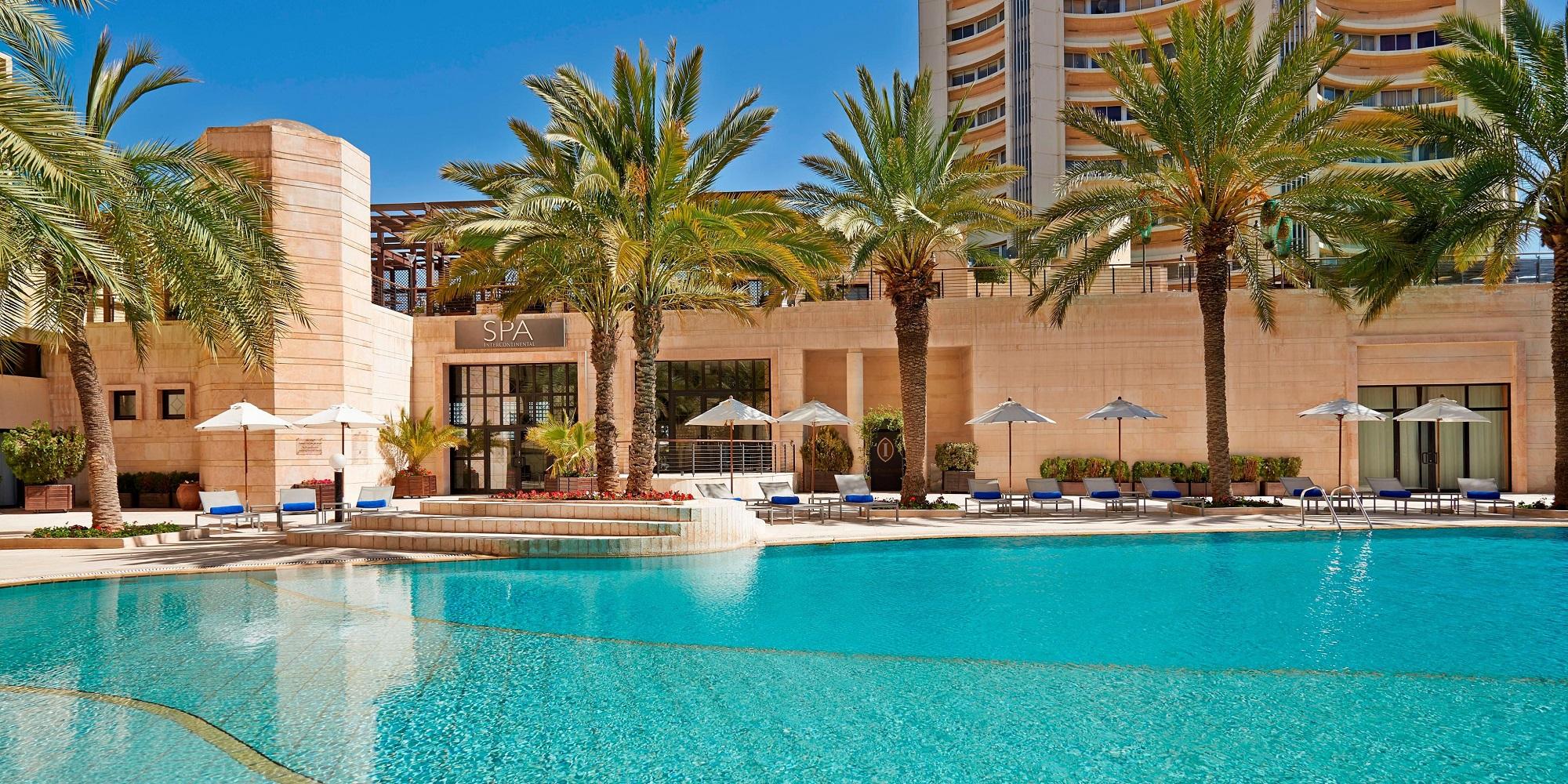 Image: Five star luxury family friendly hotel in the heart of Amman, offering stylish accommodation and an indoor and outdoor swimming pool.
W Amman Hotel
The W Amman Hotel is set in the heart of the up and coming down town area of Amman and offers stunning city views, complete with complimentary wireless internet. This luxurious family friendly hotel offers a choice of guest rooms or suites with floor to ceiling windows and modern amenities. The all day dining restaurant offers authentic dishes, Asian inspired flavours and more. The gym offers state of the art equipment, along with yoga offered on the sun terrace. The spa offers the ultimate in relaxation with spa treatments.
This hotel is ideally located less than thirty minutes from the airport. They offer you the convenience of a swimming pool, airport shuttle, fitness centre, room service, spa and an ATM and currency exchange. For families, the rooms are non smoking, there is complimentary wireless internet, and they provide an excellent breakfast, the best way to start your sightseeing day.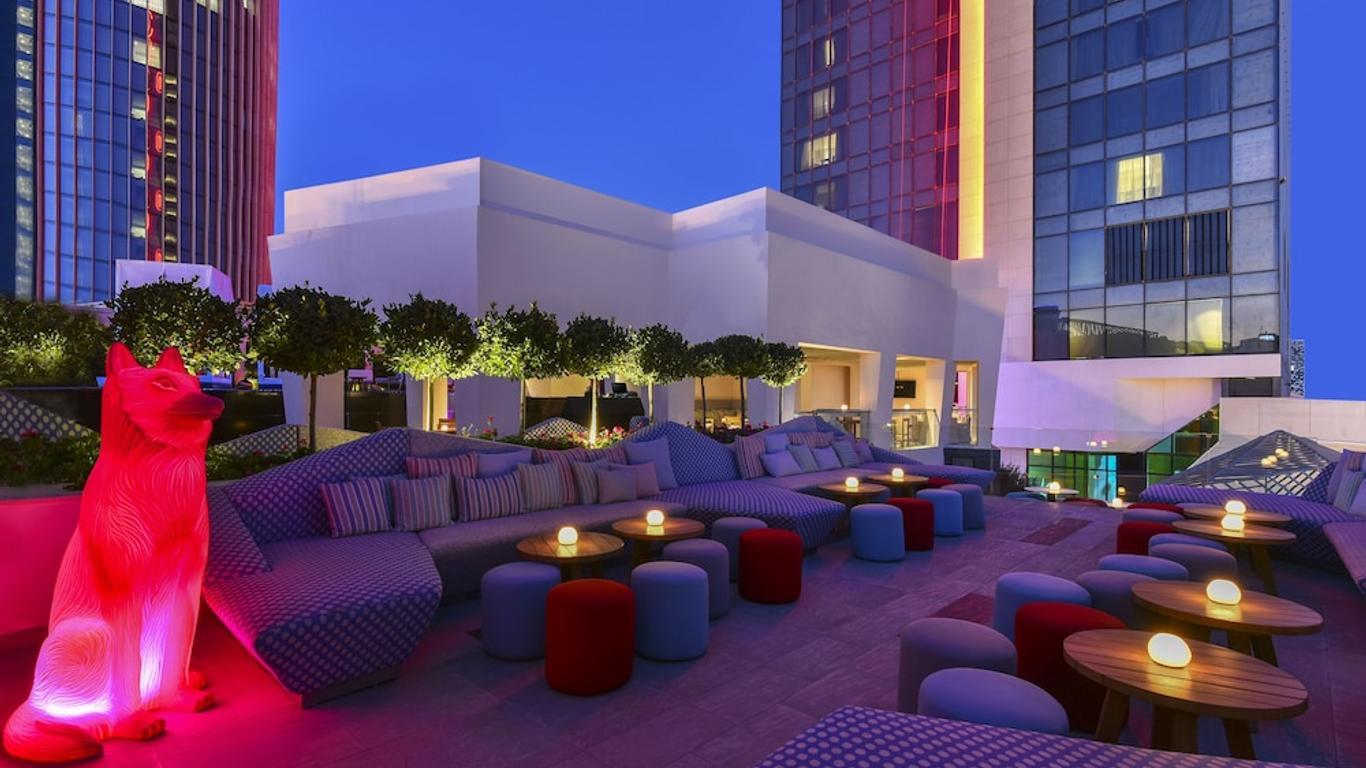 Image: Luxurious hotel in the Amman downtown area with stunning city views.
Amman Rotana
Amman Rotana is ideally located in the heart of the business, social and residential district of Al Abdali. This hotel offers four hundred and twelve luxurious guest rooms and suites and spans fifty stories with a spa, sauna and on-site bar. Your guest room will offer you a television, coffee machine and en-suite bathroom.  They offer a diverse range of culinary experiences with a fitness and wellness club, which is available for you use during your stay.
The hotel offers the convenience of an airport shuttle on request, to the Queen Alia International Airport, which is a forty five minute drive from the hotel. They do provide parking on-site along with an ATM machine, currency exchange, non smoking rooms and excellent breakfasts.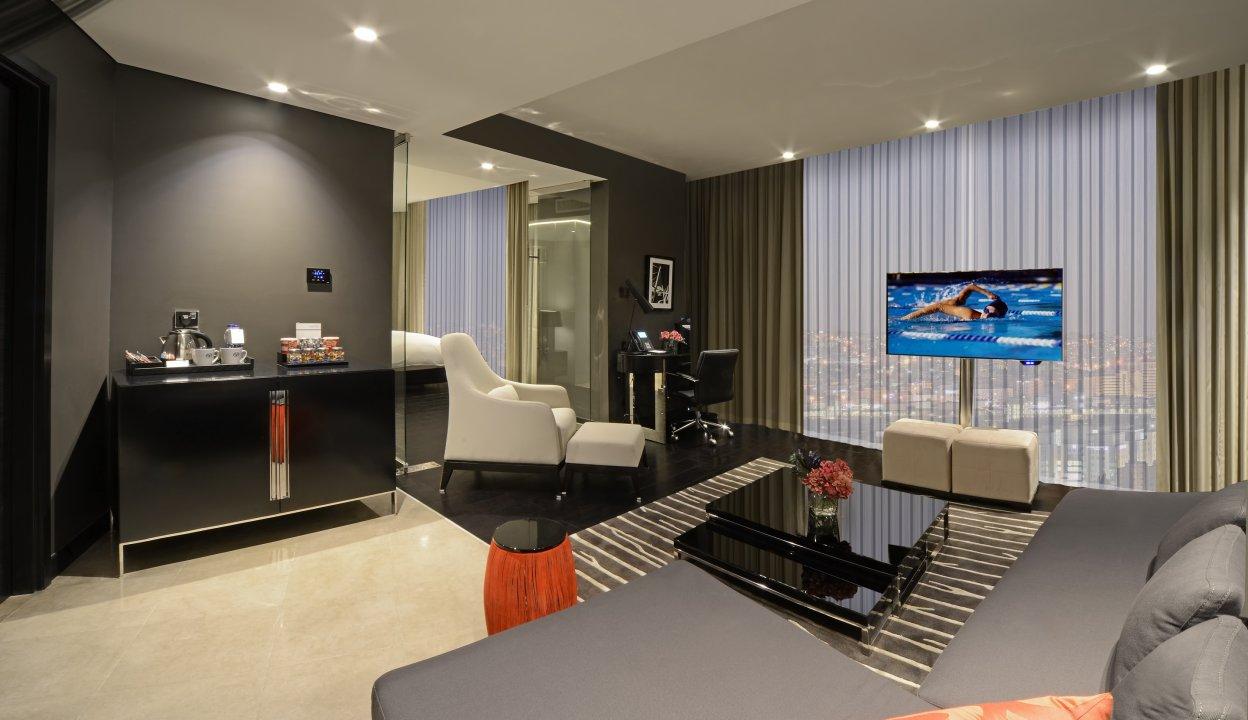 Image: Luxurious family friendly hotel offering a fitness and wellness club, the best in culinary experiences and more to make your Amman stay enjoyable.
Kempinski Hotel Amman
The Kempinski Hotel Amman is located in the central business district offering a spa, three restaurants and a twenty four hour gym. It also offers spectacular city views. The modern guest accommodation includes seating area, marble bathrooms and televisions. The on-site restaurant offers the best in Italian cuisine, while the sports bar has a video game area and the café lounge and terrace offers live music. The spa offers relaxing massages and beauty treatments, making your stay in Amman complete.
This hotel caters to children with  billiards, bowling alley and a playground. There is an outdoor pool which opens during the summer months. The hotel is only two kilometres from As Saqrah's centre and nine kilometres from the international airport. They provide complimentary parking on-site, along with an airport shuttle on request. You can take advantage of the room service, ATM, currency exchange services and complimentary wireless internet during your stay.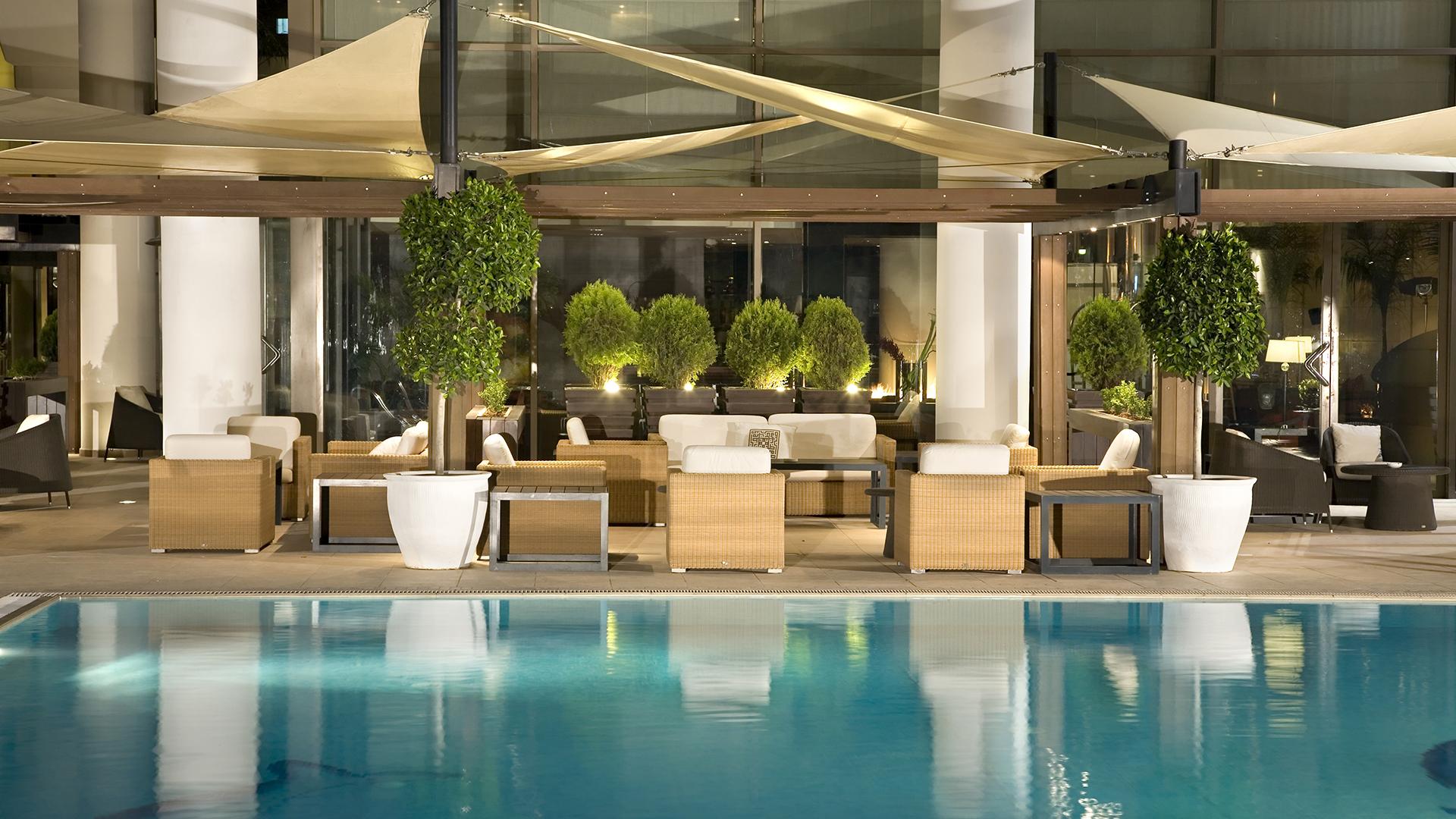 Image: Luxurious hotel in the heart of the Amman business district with spa, 24 hour gym and three restaurants.
The House Boutique Suites
The House Boutique Suites are ideally located opposite the Amman Chamber of Industry. They offer air conditioned rooms with complimentary wireless internet, an outdoor swimming pool, restaurant and fitness centre. This luxurious hotel also offers private parking on-site for convenience. This luxurious property offers guest accommodation with televisions, kettle and private bathroom. Some rooms also have a seating area. There is also the added benefit of a twenty four hour front desk.
They are ideally located only 1.1km from the Jordan Museum and five hundred metres from the popular Rainbow Street. The airport is only twenty six kilometres from the hotel. They offer an airport shuttle on request, swimming pool, non smoking rooms, room service, disabled access, and tea and coffee making facilities in all their rooms. You can also enjoy an excellent breakfast before spending your day exploring the sights, along with the use of complimentary wireless internet and currency exchange.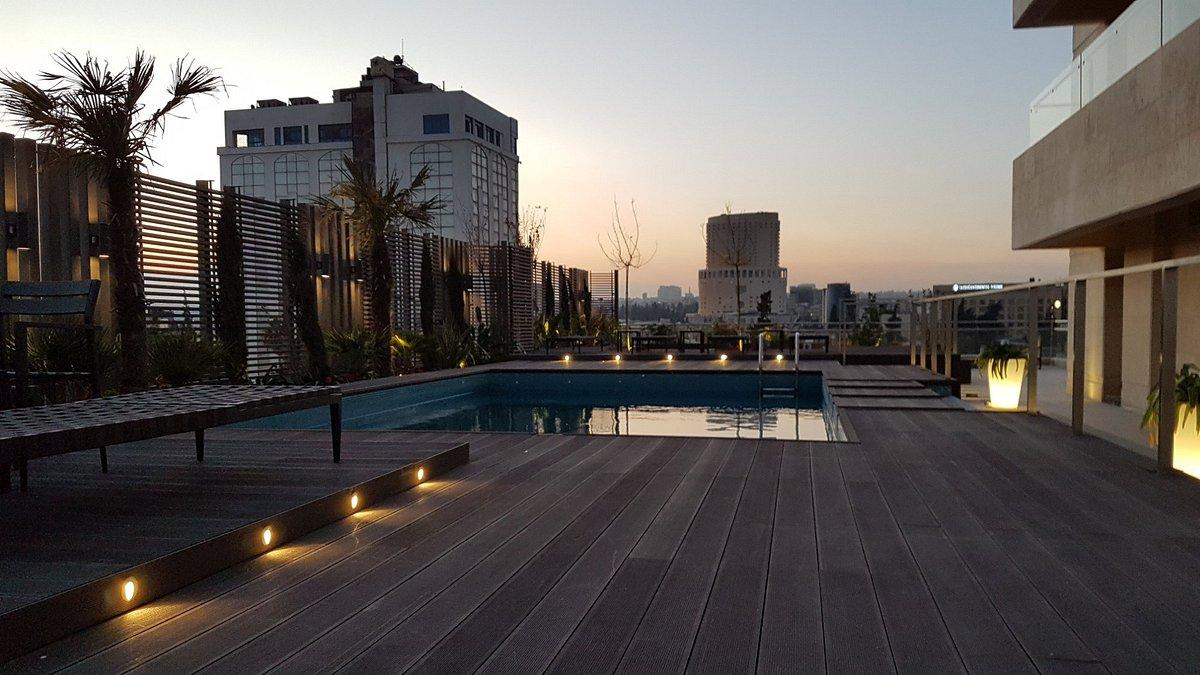 Image: Family friendly hotel offering top quality family luxuries in Amman.