Top 5 Rated Luxury Family Friendly Hotels in Washington DC
Washington DC, the capital of the United States is a family friendly destination, offering the best for a family holiday. This capital city offers a full selection of sights and attractions to keep children entertained from toddlers to teenagers. The Smithsonian Museum to the choice of kid play areas, you will find this destination a top choice when travelling as a family. Take advantage of our top five rated luxury family friendly hotels in Washington DC to ensure your family holiday is comfortable, memorable and luxurious.
Waldorf Astoria Washington DC
The Waldorf Astoria Washington DC is our top rated luxury family friendly hotel, located in downtown Washington DC, within easy walking distance of the White House, Capital One Arena, Smithsonian Museum and the National Mall. This luxurious hotel offers air conditioned guest rooms with en-suite bathrooms and a city view. All the rooms are spacious and well-appointed and can accommodate two to three children.
This five star luxury hotel offers an on-site restaurant, spa and fitness centre, complimentary parking and free wireless internet. They offer family rooms with tea and coffee making facilities in all the rooms. This hotel is ideally located to explore The National Mall, the White House, National Gallery of Art, US Holocaust Memorial Museum, Smithsonian National Air and Space Museum and the National Museum of the American Indian. The hotel does offer the convenience of babysitting services or childcare services, which gives you a chance to take advantage of the fitness centre, spa or a romantic meal out at the on-site restaurant.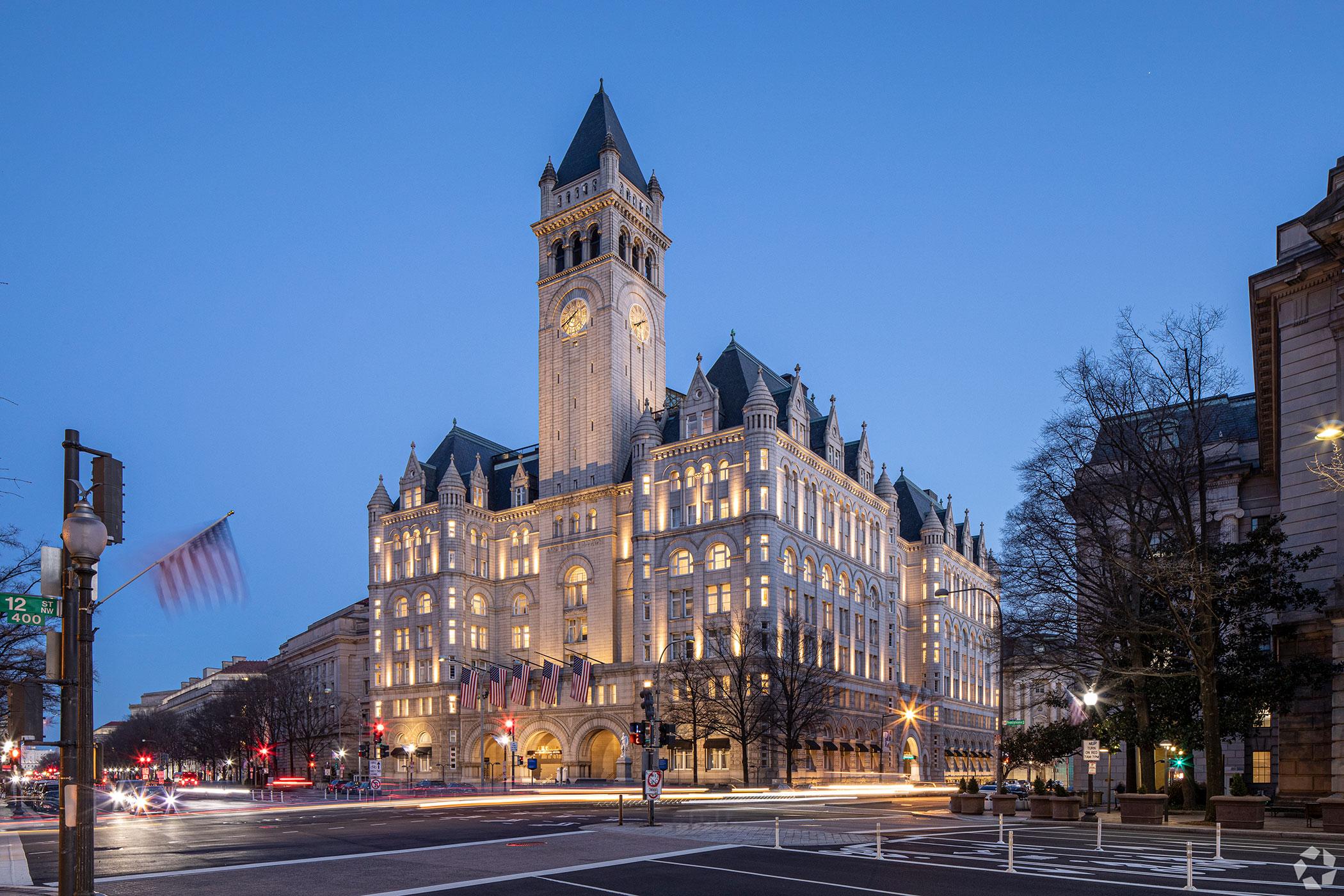 Image: Waldorf Astoria Washington DC is ideally located for families exploring the capital city, close to top attractions with a host of five star luxury amenities.
The Hay-Adams
The Hay-Adams is in the perfect location to explore Washington DC, overlooking the White House. This historic hotel offers on-site dining, complimentary wireless internet and free daily newspapers. This family friendly five star hotel is in the ideal location to visit the Washington Monument, The Smithsonian, the National Mall and the Capitol Building.  This hotel offers complimentary parking, a fitness centre and currency exchange.
Choose from a choice of guest rooms or suites, all housed in an Italian Renaissance style mansion, offering luxury, comfort and space. Visiting as a family you can take advantage of the twenty four hour room service and the children's programmes on offer. This family friendly hotel can make your stay more comfortable when travelling with children. They offer children's in-dining menus, puzzles, toys, backpacks and baseball caps, scavenger hunt caps, board games, boots and umbrellas, treats from the pastry chef, robes, cribs and nanny services.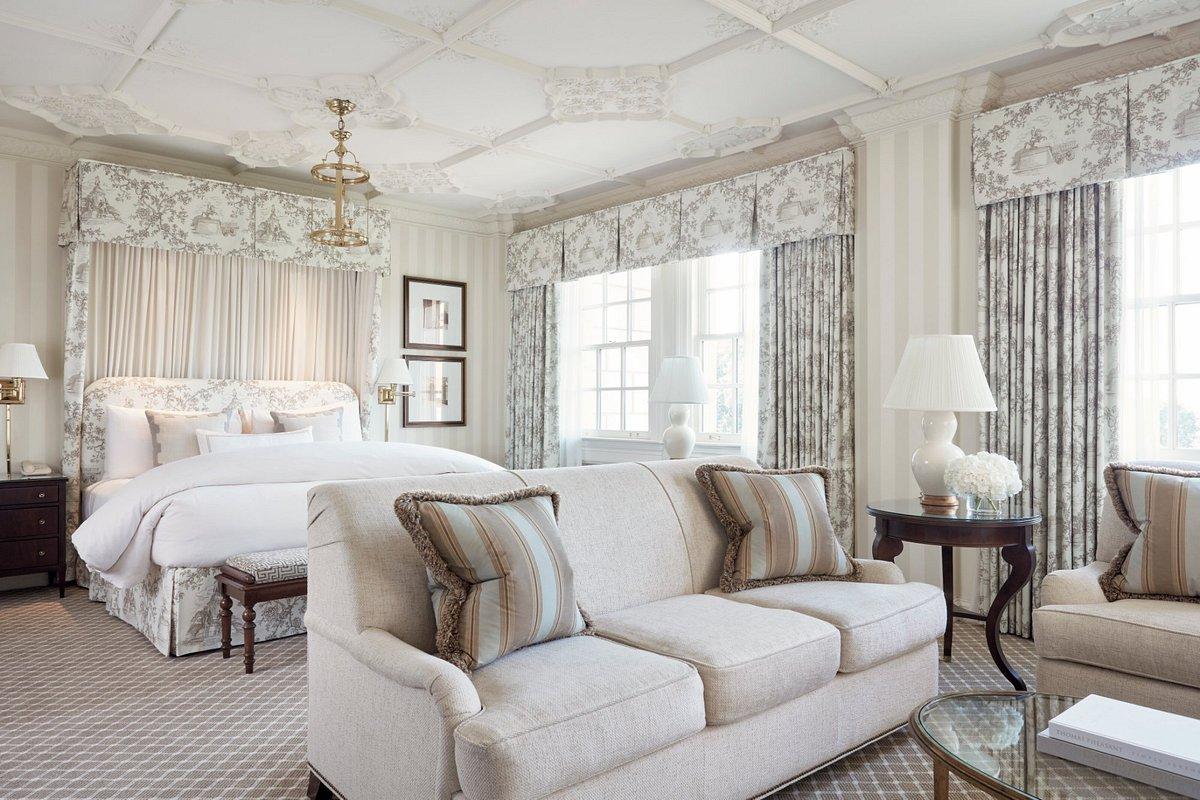 Image: Hay-Adams, Washington DC offers a selection of children friendly options to make your family holiday more enjoyable and fun.
Four Seasons Hotel Washington DC
The Four Seasons Hotel in Washington DC is located only two kilometres from the White House and eight hundred metres from the Metro Station. The hotel offers complimentary pastries and coffee in the lobby each morning, along with free wireless internet. There is a twenty four hour fitness centre, indoor heated pool, sauna, full service spa and whirlpool to take advantage of during your stay. There is also the convenience of twenty four hour room service, ideal when travelling with younger children.
This hotel is a popular family friendly hotel offers non-smoking rooms, bottle warmers, strollers, nappies, swim nappies, children's organic bath amenities, baby monitors, children menus, high chairs and booster seats, along with a children's concierge service, which provides information on things to do and see in the local area. They also provide family sporting equipment, such as board games, basket balls and tennis balls.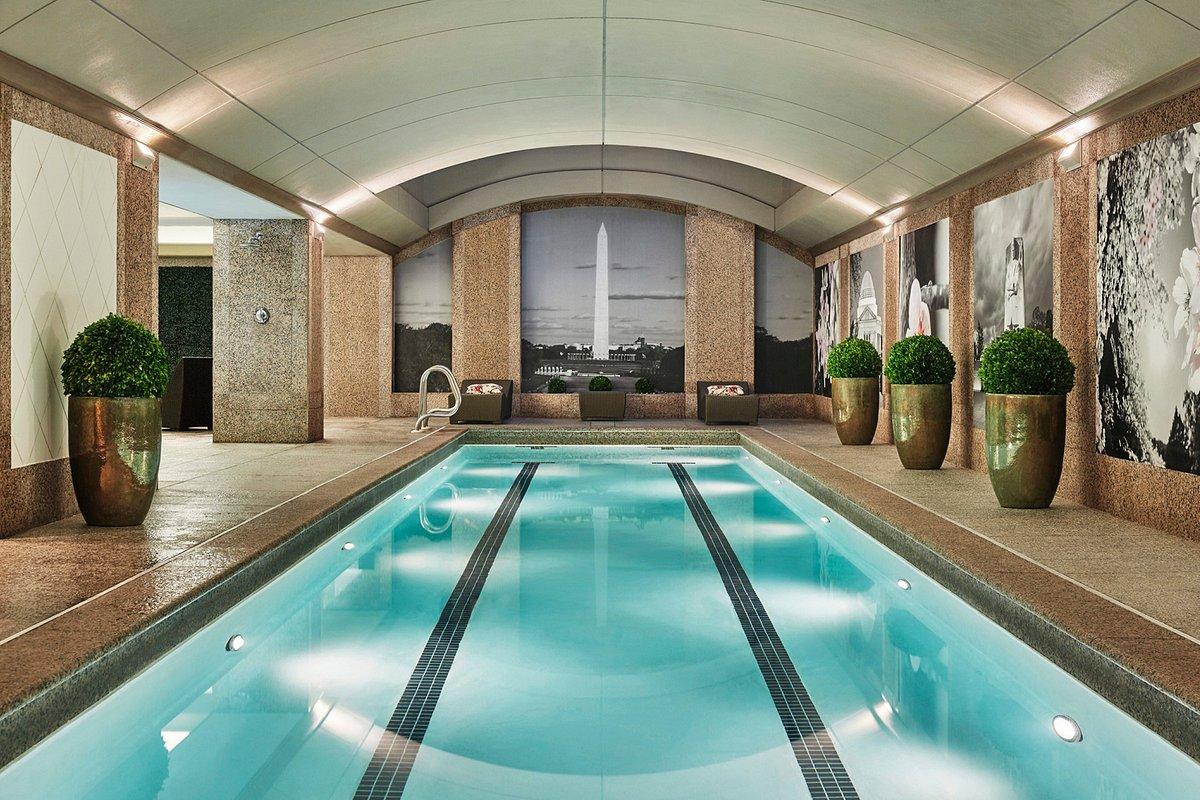 Image: Four Seasons Washington DC offers everything families need to enjoy their holiday, while staying in five star luxury with top amenities.
InterContinental the Willard Washington D.C., an IHG Hotel
InterContinental the Willard, Washington DC, an IHG Hotel is a five star, luxury family friendly hotel, located only a few metres from the White House in the capital city. This luxury hotel offers shops and a private limo service with televisions and a mini bar in each guest room. The rooms are spacious, elegant and comfortable, along with their spacious and well equipped family rooms. The on-site restaurant offers delicious French meals, pastries and more.
Staying at this hotel, you can make use of the twenty four hour fitness centre and sauna, ATM and currency exchange services. This family friendly hotel has introduced a Kids Concierge service, to make family travel to the capital city hassle free. The Kids Concierge is on hand to enhance your family holiday experience, catering to children eleven years and younger. They do offer a pre-teen service. The concierge offers a choice of activities and amenities to ensure that younger guests also have a luxurious five star holiday experience.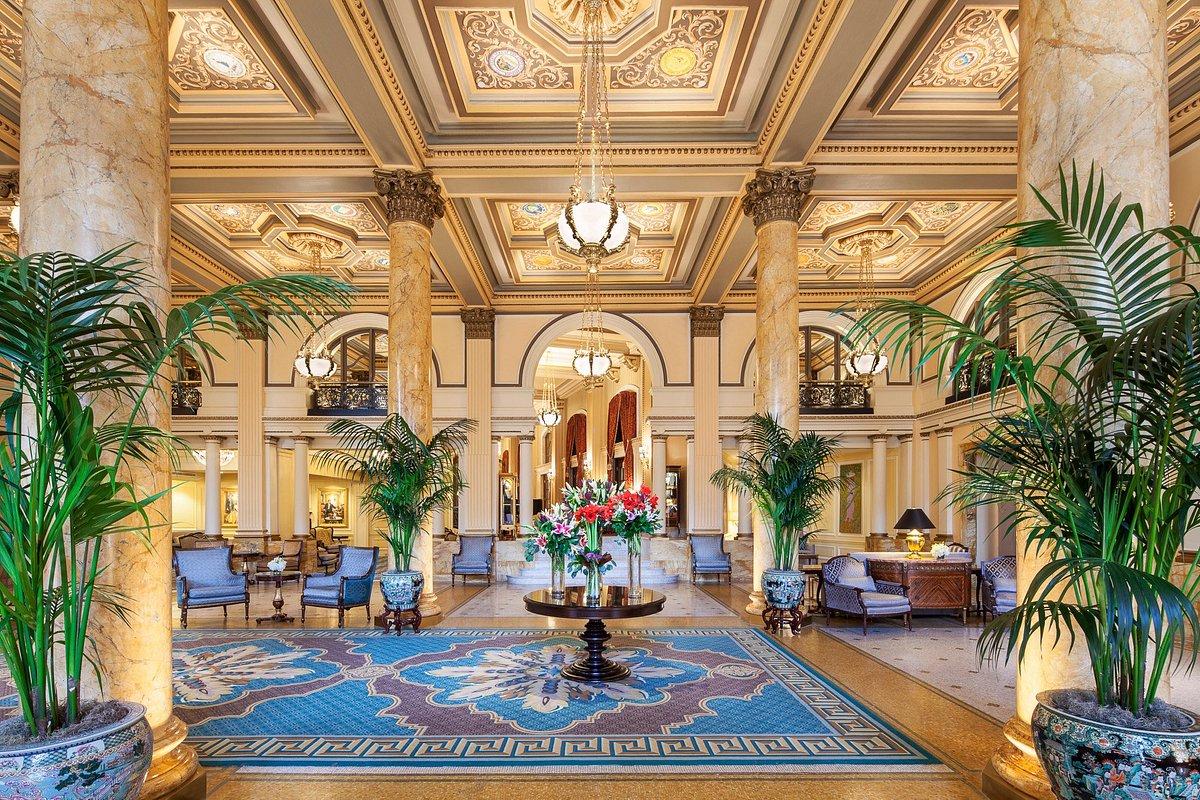 Image: The InterContinental The Willard Hotel offers a Kids Concierge to make your Washington DC say comfortable, memorable and luxurious.
Conrad Washington DC
The Conrad Washington DC hotel is a great choice for families wanting to explore the capital city, located close to the metro station, offering luxury accommodation and amenities. The guest rooms include a large television, mini bar and private bathroom. The on-site restaurant serves the finest fresh seafood and the rooftop bar offers spectacular DC monument views. There is a twenty four hour front desk and complimentary wireless internet for your convenience.
This hotel is walking distance to the White House offering a fitness centre, disabled access, concierge service and free babysitting services, which enables you to take advantage of some of the adult luxury amenities on offer.  They also offer parking and an ATM machine, making your stay easy and hassle free. Madam Tussauds is less than five hundred metres from the hotel, while the White House, National Gallery of Art, The National Mall, Smithsonian National Air and Space Museum, National Museum of the American Indian and the US Holocaust Memorial Museum is all less than 1.6km from the door.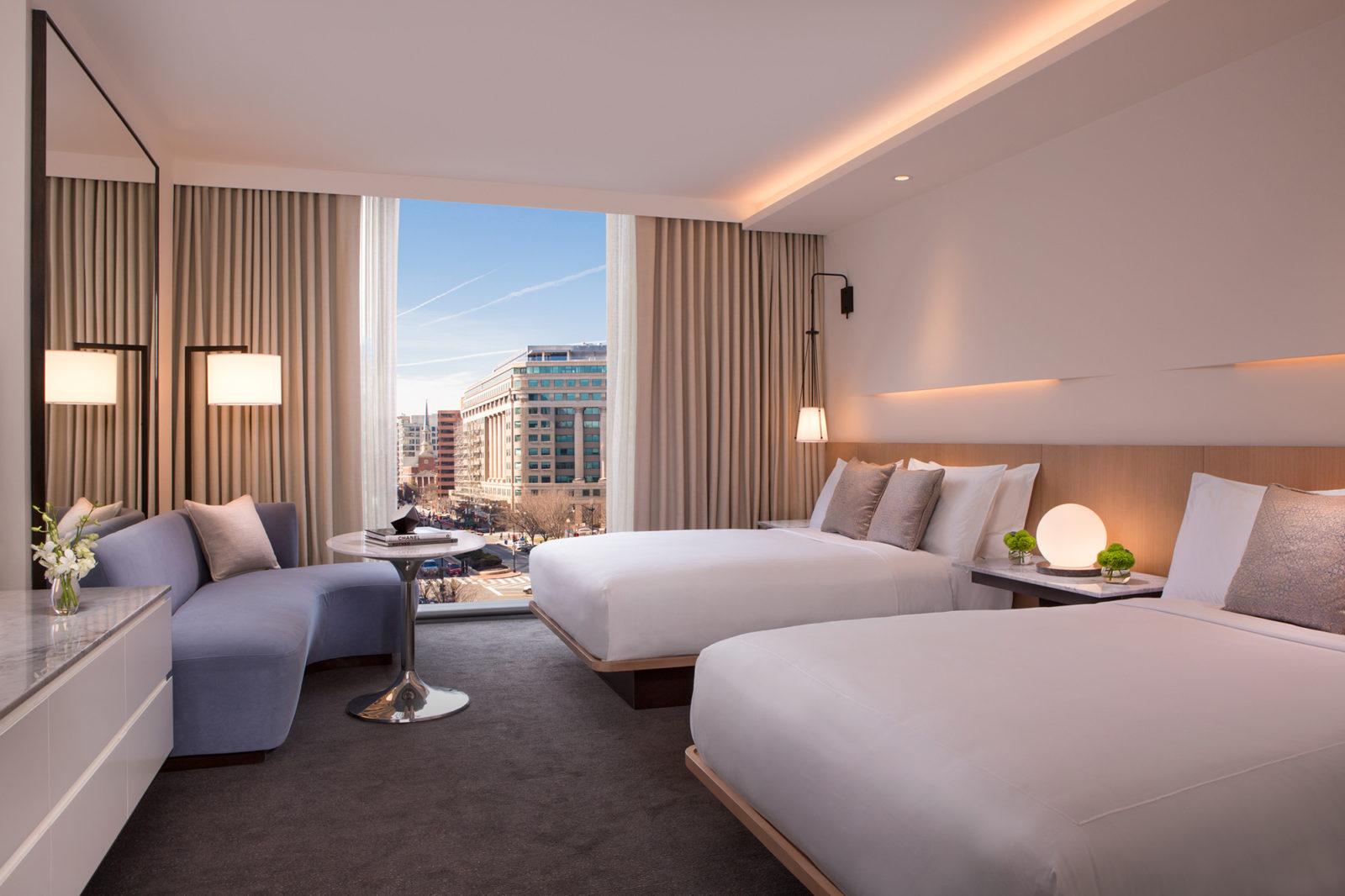 Image: Conrad Washington DC, the perfect location for family friendly holidays in the capital city.