Executive Club Lounge Guests are advised that as of April 2022 the hotel's normal Executive Club Lounge on the 4th floor is closed due to the Covid pandemic. This arrangement is in place until further notice. However, the hotel has another package in place for their Executive Club Lounge guests to avail themselves of until such time that the previous arrangements are in place once more. Meals and drinks will therefore be served at the following times with the restaurants indicated every time:
Buffet breakfast between 6:30 am and 11:00 am in The Restaurant on the Lobby Level.
For lunch the same arrangement as for breakfast applies. It is served daily from noon until 3:00 pm in The Restaurant.
Dinner is served between 6:00 pm and 9:00 pm in Kambaa on the Lobby Level.
For Tea and Coffee, guests can visit Kambaa.
Happy Hour is enjoyed between 7:00 pm and 9:00 pm at Nezesaussi Grill on the 4th
Children are welcome to accompany their parents to the Executive Club Lounge offerings, except to Nezesaussi Grill due to alcoholic beverages being served in the popular bar area where guests can watch sporting events from around the world on big-screen TV.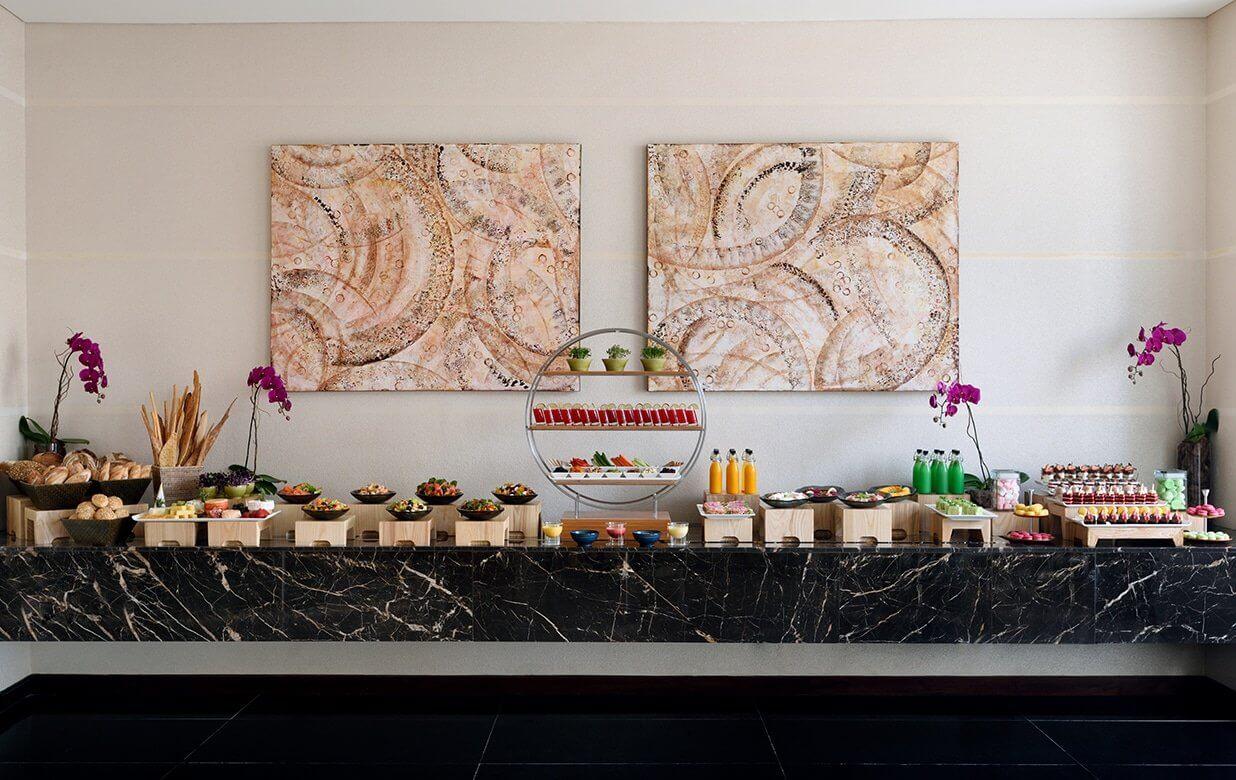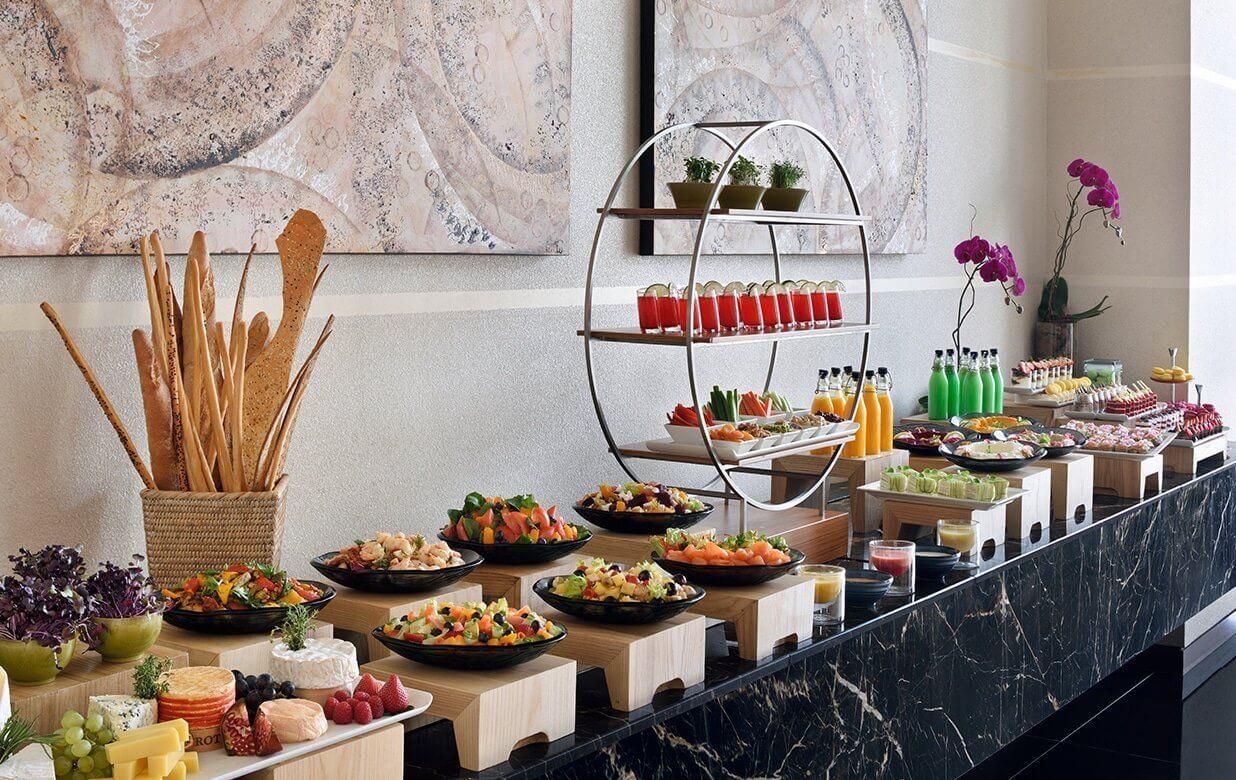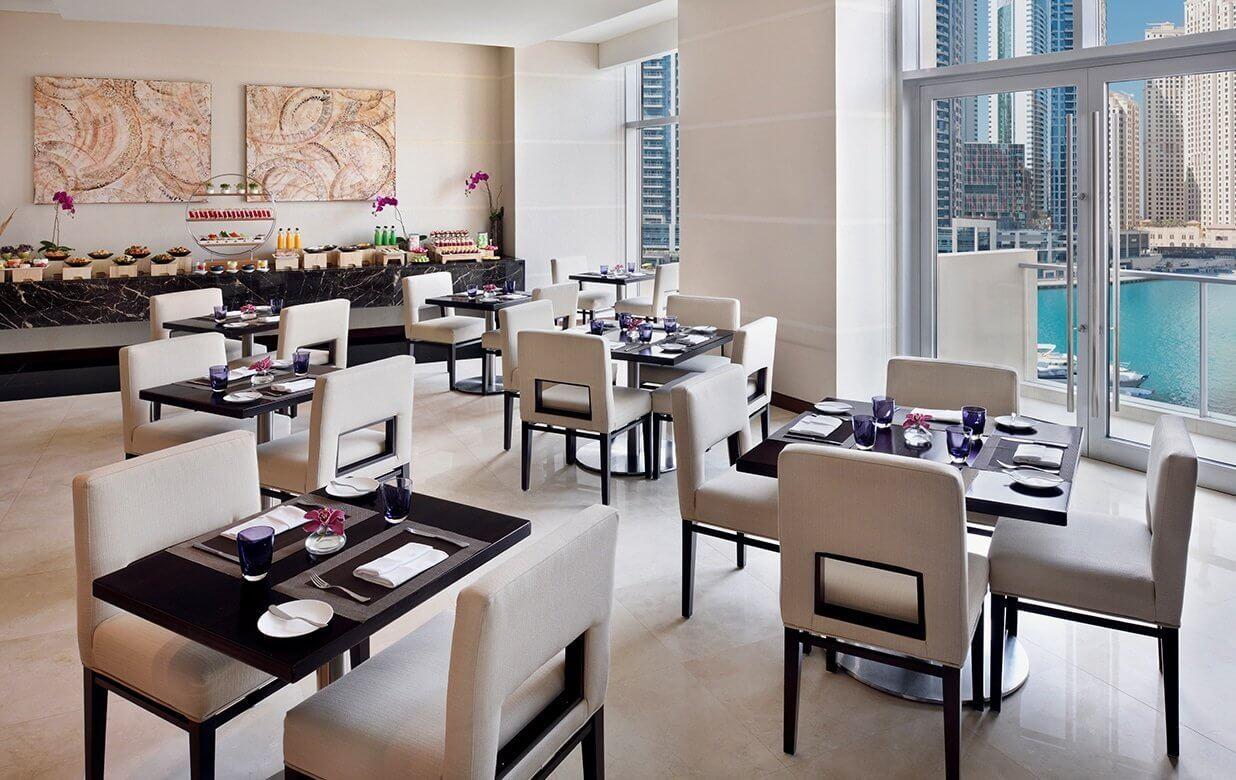 Attentive Service by Friendly Staff
Address Dubai Marina Executive Club Lounge guests are assured that their comfort and satisfaction remain important to management. Therefore staff is attentive, and the normal club lounge area, when it reopens once more, remains an example of what guests can expect when they upgrade to this level. Seating arrangements are beautiful, and the décor is carefully chosen to help create an ambience that offers the guest a great dining experience. Views from the floor-to-ceiling windows across the marina are lovely.
Since Executive Club Lounge guests are offered their exclusive benefits in The Restaurant and Kambaa to enjoy sumptuous meals, coffee and tea, it is mentioned that these spaces are well appointed and inviting. This ensures that guests enjoy great food and lovely atmospheres, with staff always ready to attend and to serve. The Restaurant is an example of a fine choice for all guests that want to immerse themselves in an atmosphere accentuated by soft, subdued colours and modern seating arrangements. The space is stylish, and the food is delightful.
Personalised Service to Make the Executive Club Lounge Guest Feel Special
Those guests that choose the Executive Club Lounge option will not be disappointed as the hotel ensures that they are offered outstanding service. They are offered the best in terms of lunch and dining options, as well as complimentary tea, coffee and light bites at Kambaa when they need to simply relax and allow themselves to be spoilt by attentive staff. In addition to being offered outstanding treatment, the Executive Club Lounge guest is assured that their comfort and expectations remain high priority for the hotel.