Best hotels in the world with waterparks
Waterparks have a great sense of community and happiness that is special and difficult to replicate with anything else, regardless of whether you like to slide at top speed from the highest heights, surf big artificial waves, or unwind on a tube on a manmade tidal river that snakes for kilometres through a leafy area. It is also a place where the entire family can enjoy some quality time together.
There are literally thousands of waterparks across the world, many of which are private establishments suited for day visitors. However, there are also many hotels around the world that have waterparks, and that is the focus of this article. We have provided a list of some of the top hotels with waterparks around the globe to help you properly plan your next family holiday.
Atlantis The Palm in Dubai, UAE
Dubai should without doubt be at the top of your list if you are looking for a popular holiday destination that provides everything from gastronomic to historical experiences, as well as a fun, thrilling family vacation hotel with a waterpark.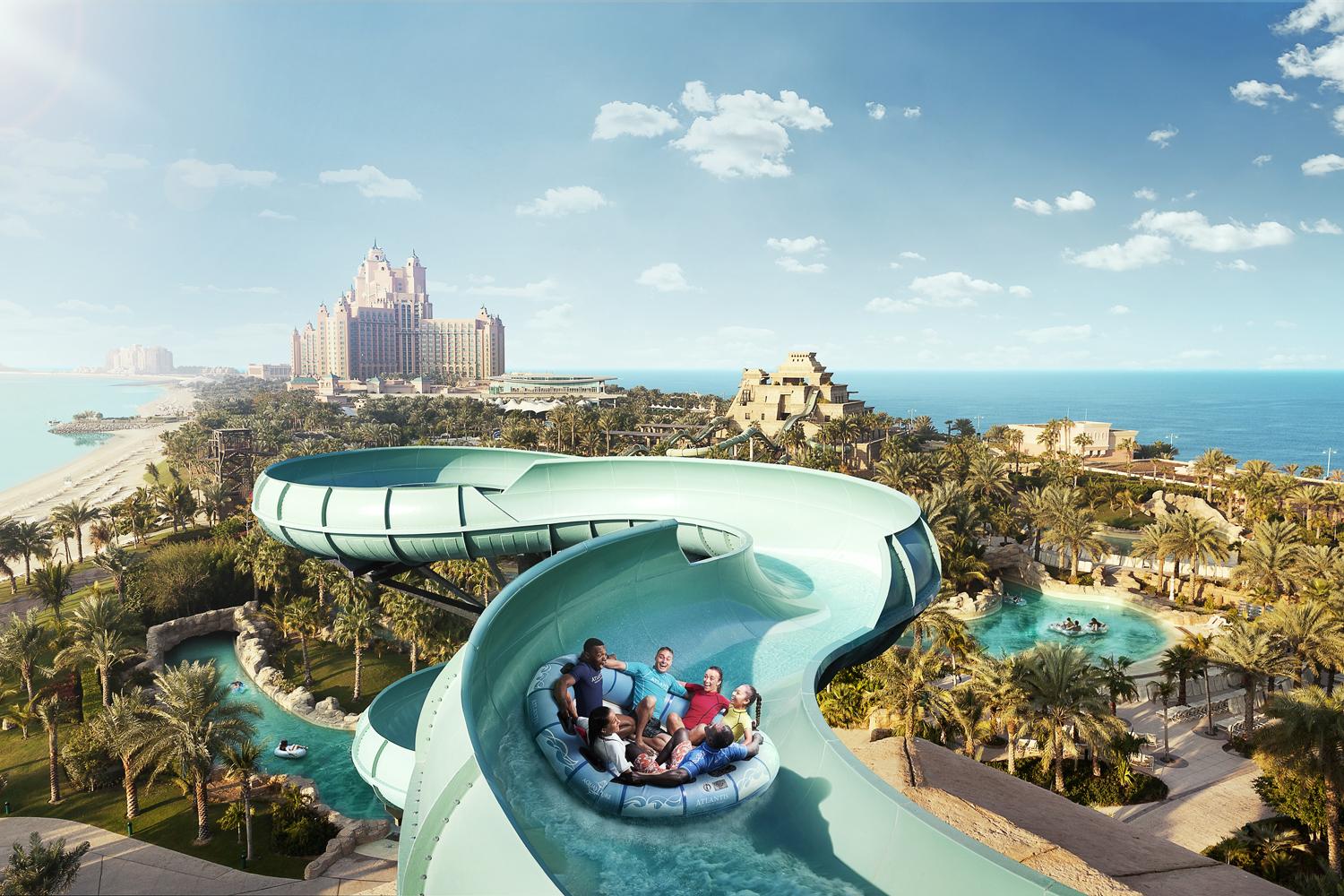 Image: The spectacular waterpark at Atlantis The Palm in Dubai, UAE. Here, both children and their parents can enjoy endless hours of fun, without the need to leave the hotel property.
Atlantis The Palm is the sibling resort of the Atlantis in the Bahamas, and this opulent and prestigious family amusement park is also Dubai's biggest waterpark. There are numerous tidal rivers and water slides and the thrilling Torrent River and Rapids, as well as the slides "The Plunge" and "Shark Attack" and just some of the waterpark experiences you can expect here. Furthermore, you can go scuba diving with sharks, rays, and guitarfish in the Ambassador Lagoon, or get up close and personal with dolphins at Dolphin Bay and feed some stingrays.
Atlantis, Paradise Island in the Bahamas
Atlantis Paradise Island's Aquaventure is a 141-acre water wonderland and certainly a one-of-a-kind attraction. Twenty million gallons of water is the driving force behind Aquaventure, and 20 different swimming areas, a mile-long river ride with rolling rapids, a number of adrenaline-pumping, high-speed water slides, and so much more can all be found in this amazing waterpark.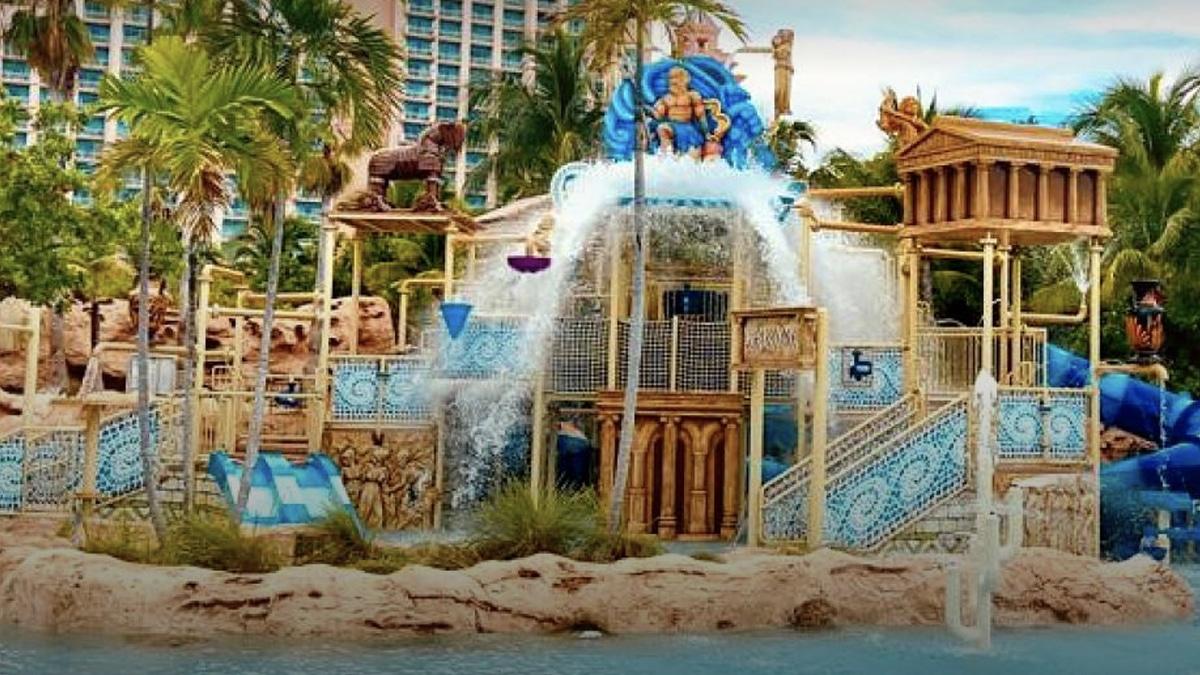 Image: Atlantis, Paradise Island in the Bahamas in a water wonderland with an array of water adventures that await guests. For example, you can spend a few hours of your day just floating on the man-made tidal river.
Aqua World Resort in Budapest, Hungary
Summer is a terrific time to bring the family to Budapest because there will be lots to do and see. Besides, what could be better to escape the grip of an icy cold winter, than travelling to a completely different world where there is plenty of sun and aqua adventures waiting? This country is a tropical sanctuary during the hot summer months and Aqua World offers a ton of water slides, a wave pool plus indoor and outdoor swimming pools, and Bongo's Wave Club is where young kids especially will have a great time. The centre of Budapest is also easily accessible thanks to the free shuttle service that runs between Heroes' Square and Aqua World.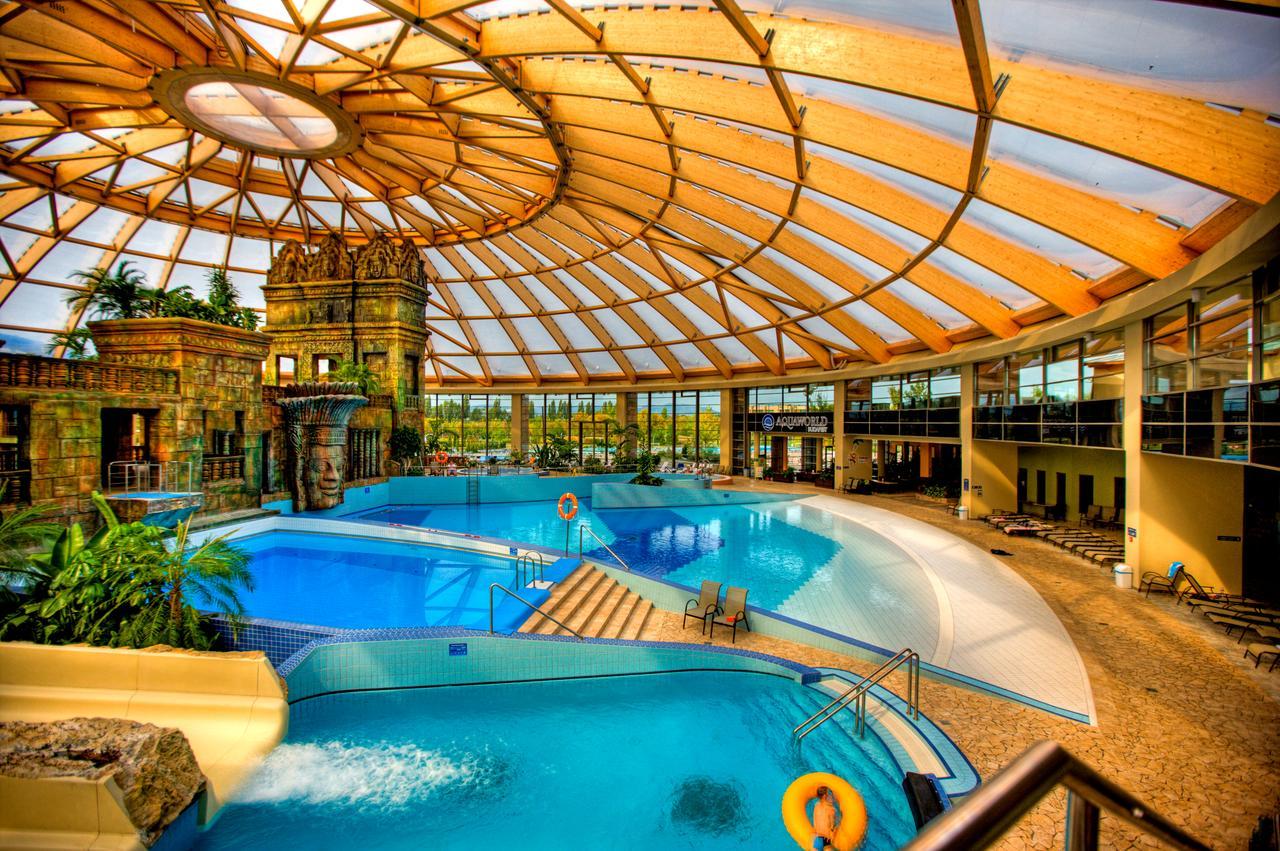 Image: Aqua World Resort in Budapest, is a tropical sanctuary and a ton of water slides, a wave pool plus indoor and outdoor swimming pools for the entire family to enjoy.
Orlando World Center Marriott at Lake Buena Vista in Florida
There is something for everyone at the luxurious Orlando World Center Marriott, which also offers daily shuttle service to one of the most popular child-friendly parks - Walt Disney World. The Orlando World Center includes Falls Pool Oasis, which is part of the hotel complex, that consists of two 100-foot waterslides, a 90-foot high-speed waterslide, a children's splash park, and an opulent outdoor pool with a laser display at night.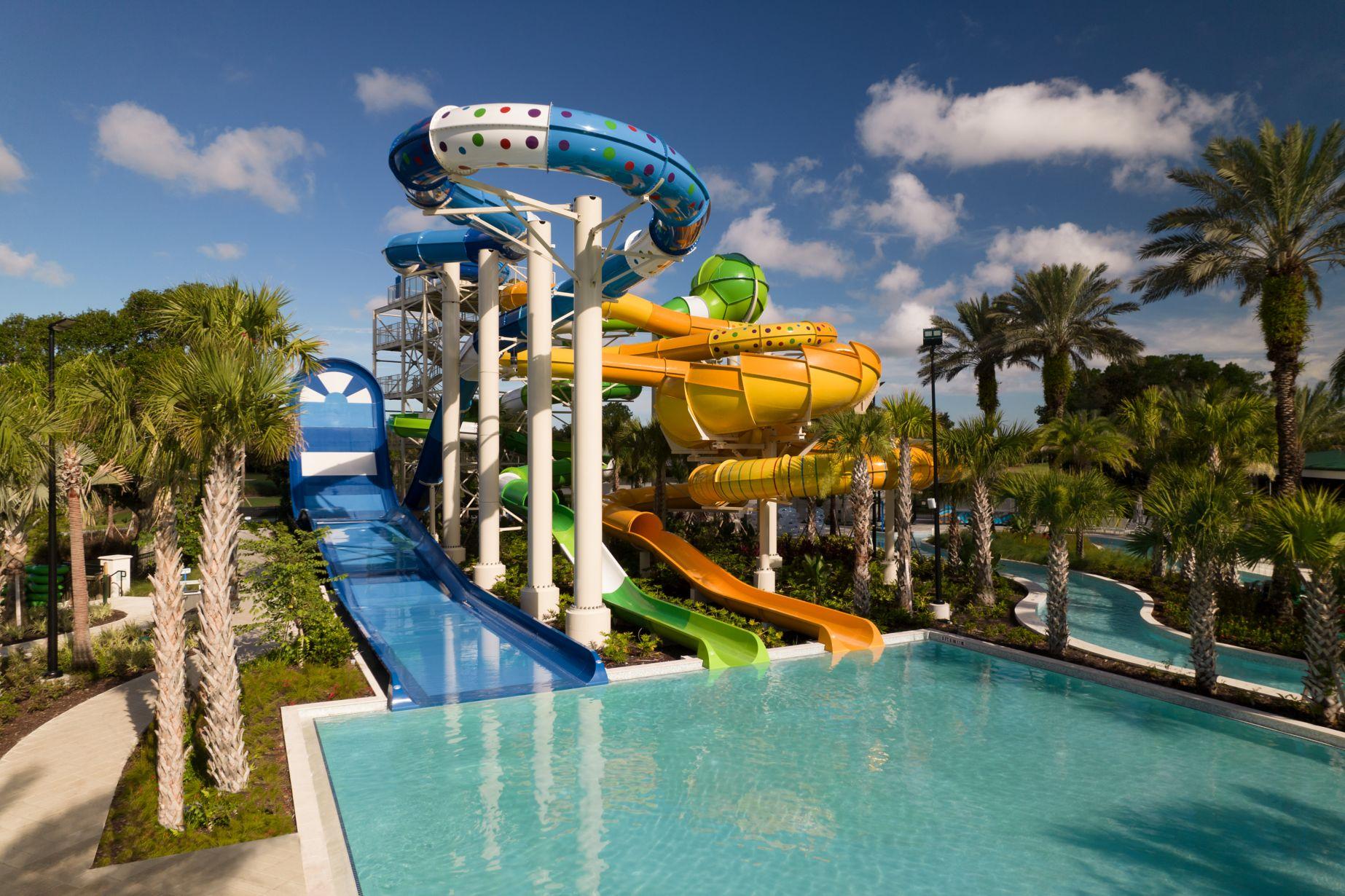 Image: An aerial view of Orlando World Center Marriott at Lake Buena Vista in Florida, where you can spend an entire day with your family having fun, without the need to leave the property.
Tropical Islands in Krausnick, Germany
Our final choice is Tropical Islands, which is a former Soviet hangar that has been brilliantly transformed into a thrilling waterpark that spans a staggering 66,000 square meters inside a climate-controlled environment, that maintains a constant 26 degrees all year long. The area includes a lagoon, the tallest water slide in Germany, the largest indoor rainforest in the world, and a tropical sea that is three times the size of an Olympic swimming pool. Furthermore, there is an outdoor water park area with a 250-meter jet stream.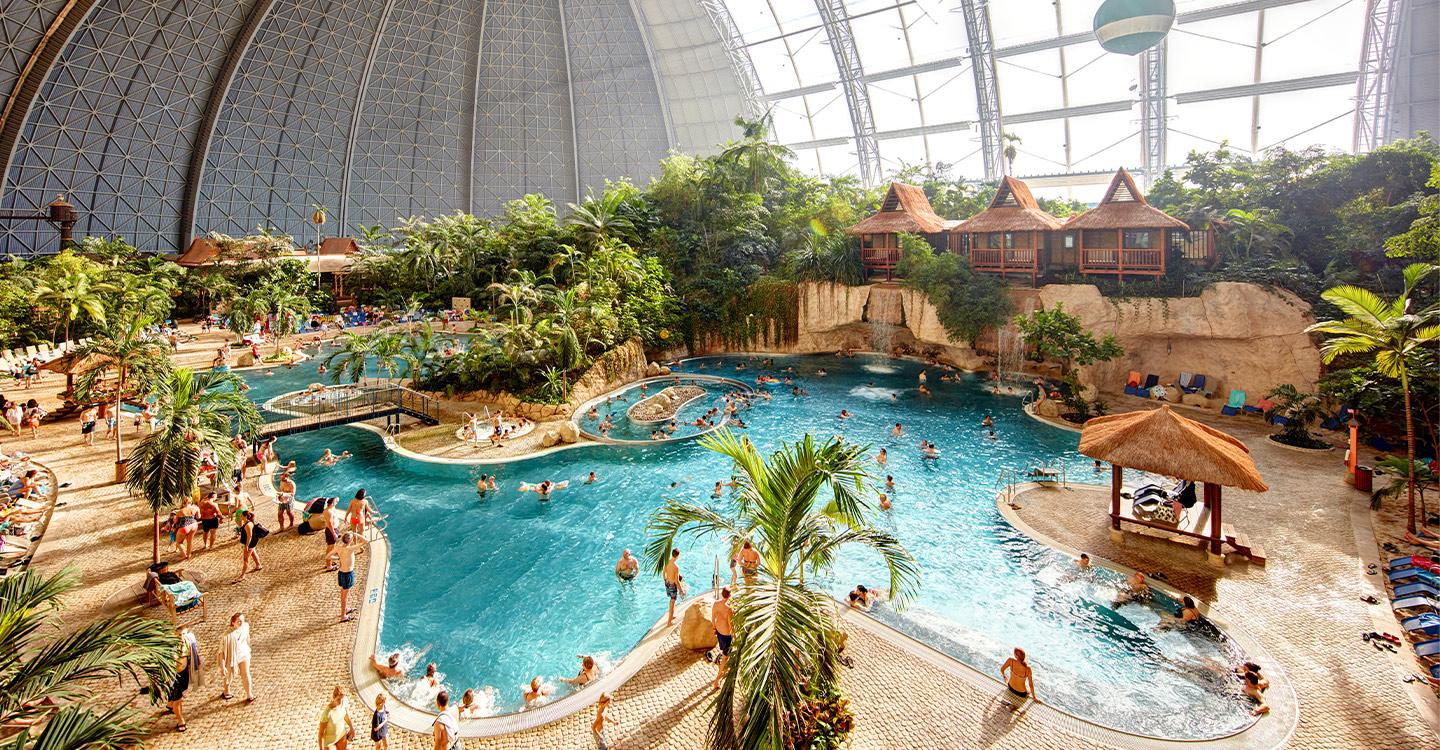 Image: Our final choice is Tropical Islands, which is a former Soviet hangar that has been brilliantly transformed into a thrilling waterpark