The Kids Club at Constance Halaveli Maldives is located in the heart of the resort and opens daily from 9am to 9pm. The kids club caters to children aged four to eleven years of age, offering a fun and exciting experience. Children under the age of four are welcome when accompanied by a parent or babysitter. The Kids Club is located near the tennis courts, a short walk from the water villas.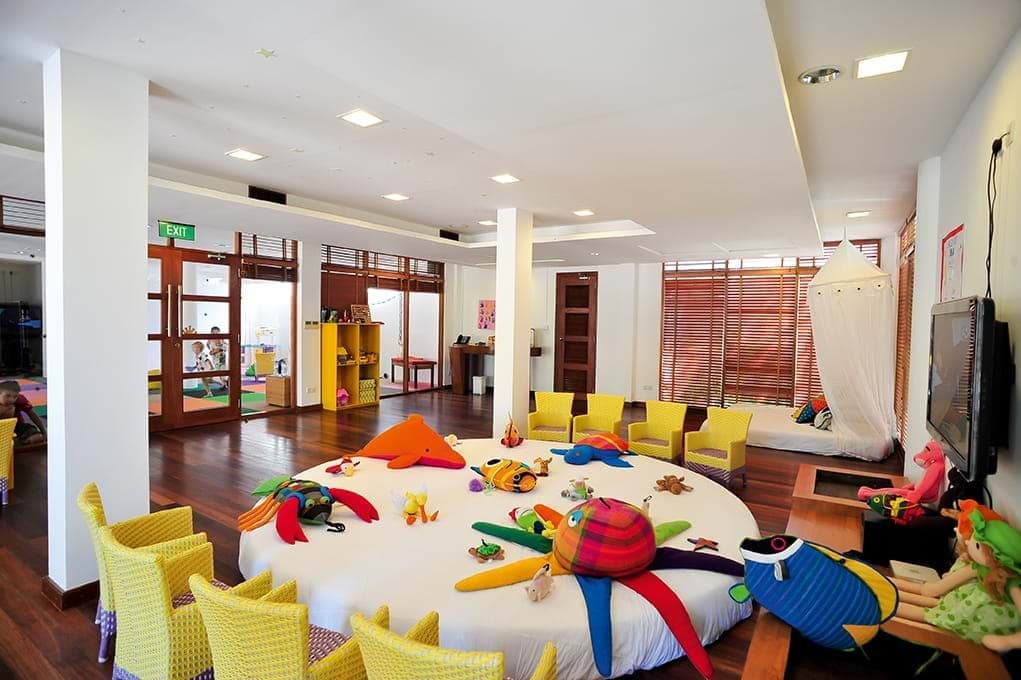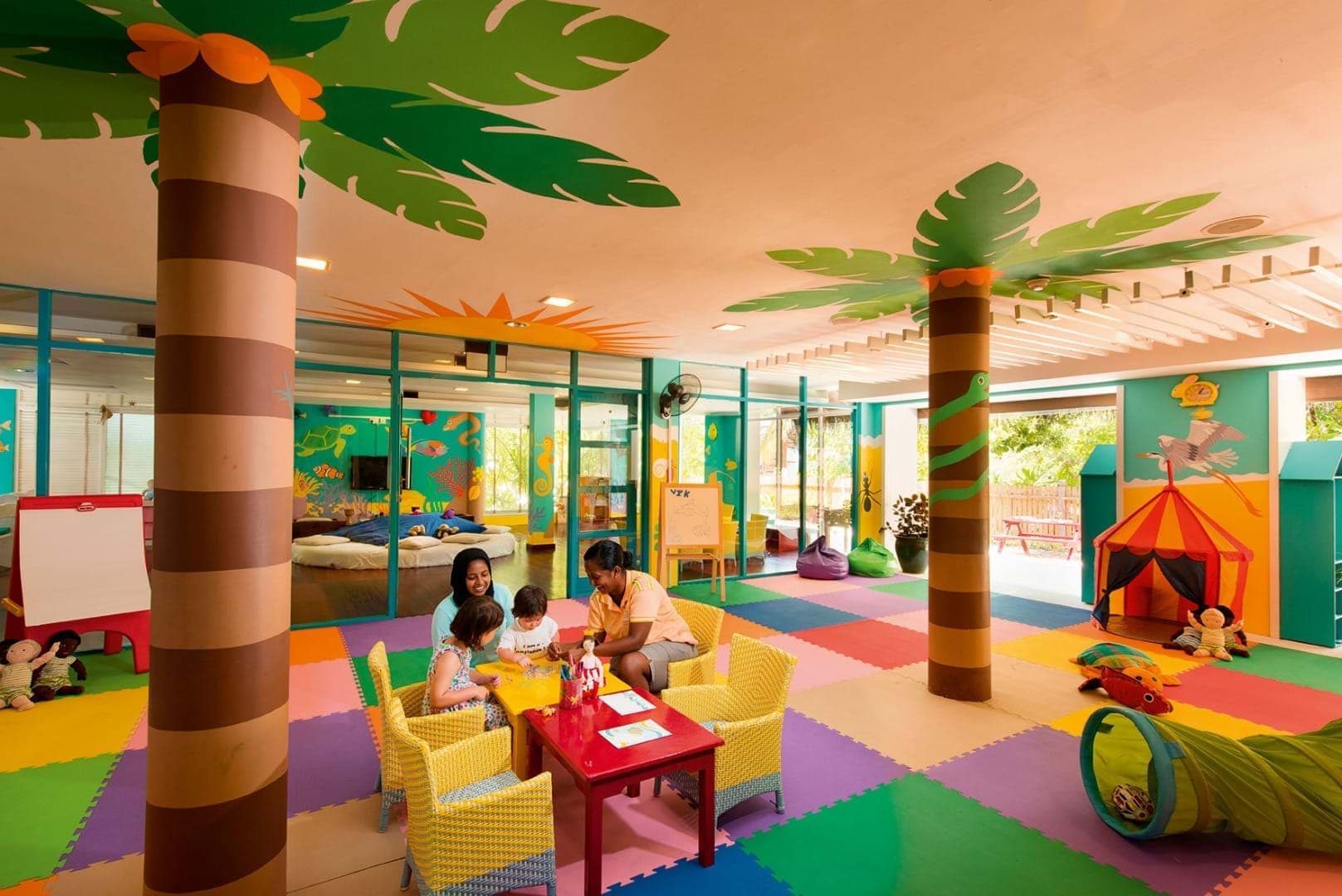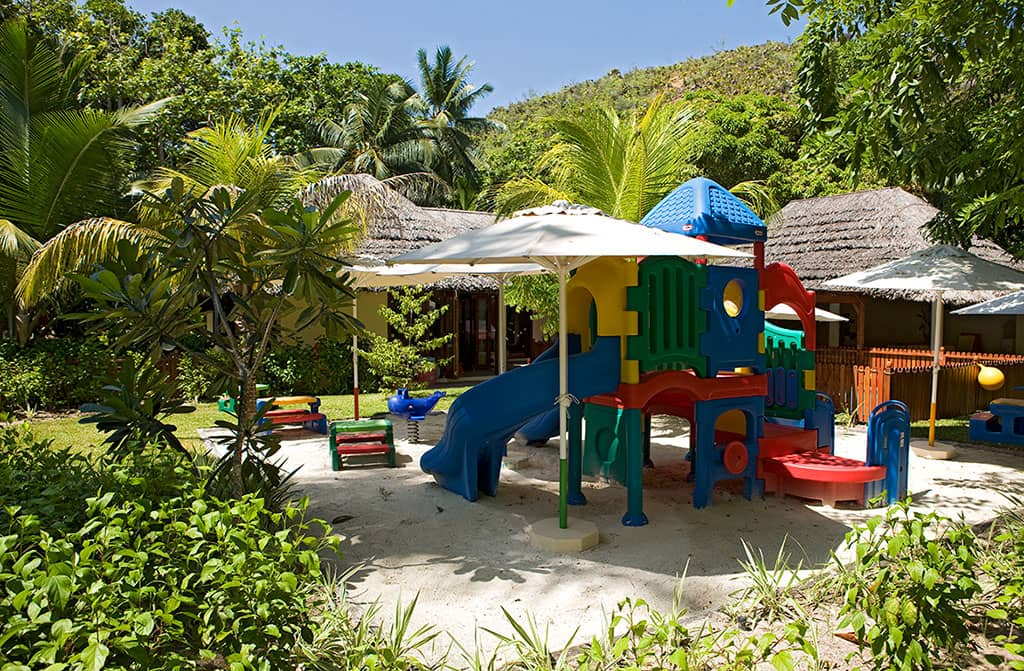 A Fun Play Area for Younger Guests
The Kids Club offers a host of fun activities and games for younger guests staying at the resort. The fully qualified team supervise the children, enabling parents to enjoy some adult time and take advantage of some of the activities at the resort they cannot enjoy with children, such as a pampering at the on-site spa. The Kids Club offers themed programmes, cooking classes and a large outdoor space for running and playing. There is a brightly coloured indoor area, where children can escape the hot sun and play gaming consoles, do arts and crafts or learn how to make ice cream or pizza.
If it's raining, the team have a schedule of activities, perfect for wet days at the resort. They also offer mini discos, movie nights, crab hunting, treasure hunts, sand mosaic and more. For children under the age of four, a babysitting service can be arranged at an additional fee. The Kids Club team do ask that parents book the babysitting service twenty four hours in advance.
A Host of Scheduled Activities That All Children Will Enjoy
The experienced Kids Club team change the schedule of activities regularly, offering some fun entertainment for the children staying at the resort. They can enjoy sports of all sorts, nature exercises, I Spy, learn about recycling, young chefs, mini athletic championships, indigenous weaving and plant a coconut. They can also enjoy a scavenger beach hunt, relay races and play giant sand Tic Tac Toe.
You can see two timetables below, from week 1 to week 2.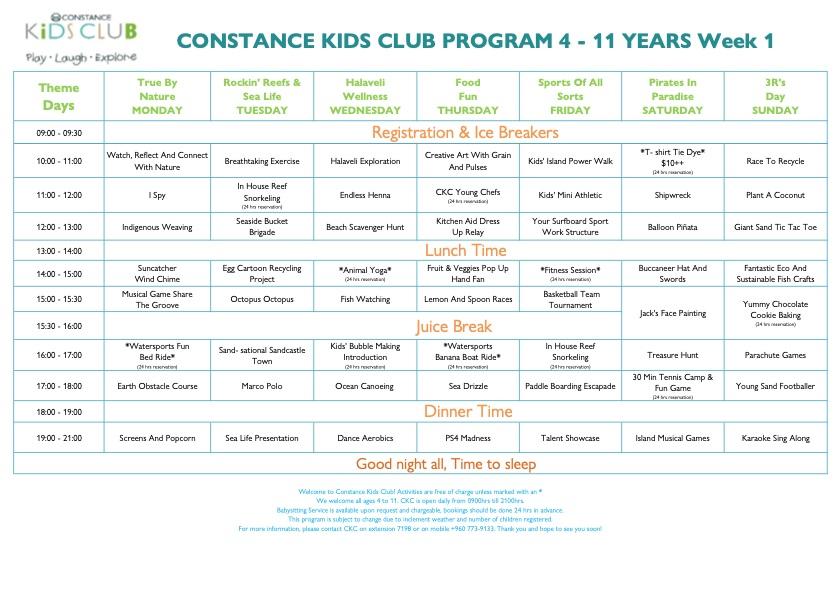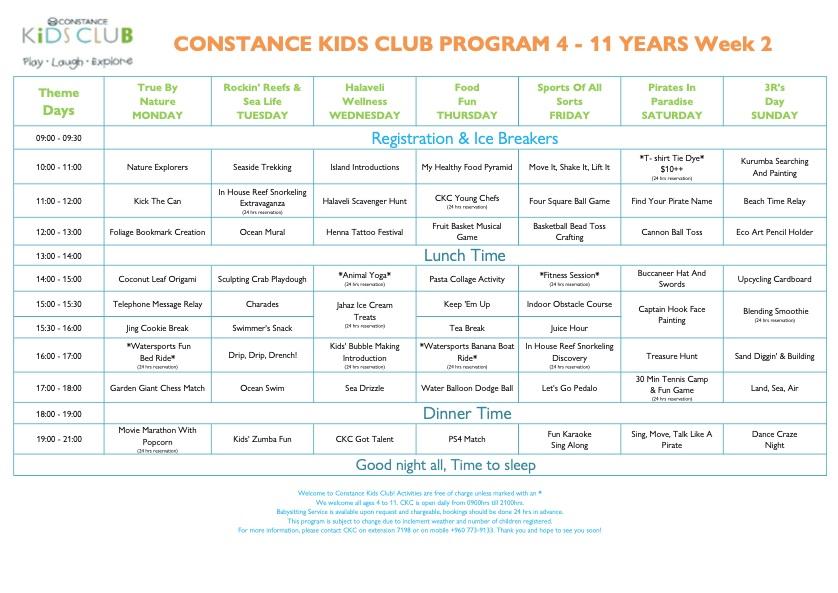 Children can also take part in sustainable fish crafts, face painting and chocolate cookie baking. Some other activities often on offer include wind chime making, egg carton recycling and fitness sessions. There are lemon and spoon races, basketball tournaments, waterspouts fun, bubble making, Marco Polo, paddle boarding, sand football and karaoke. They also offer island power walks, grain creative arts and Halaveli exploration. Food and juices are available, when agreed by parents. It's recommended that you check with the Kids Club on their range of activities that are on offer during your stay, as some activities do require registration with twenty four hours notice.