The Downtown Rotana Executive Club Lounge is placed conveniently on the twenty fourth floor of the luxury hotel. The Executive Club Lounge is open daily from 7am to 11pm and they have a wide variety of complimentary culinary offerings to choose from throughout the day:
Breakfast Buffet served from 6:30am to 10:30am
Afternoon Tea served from 3pm to 5pm
Evening Canapés served from 7pm to 9pm.
Guests need to note that the Breakfast Buffet will be served from the Flavours on 2 Restaurant on the second floor. Alcoholic beverages will only be served to guests through cocktail hour, which is 7pm to 9pm. All alcoholic beverages that are served through the cocktail hour are complimentary to Club members.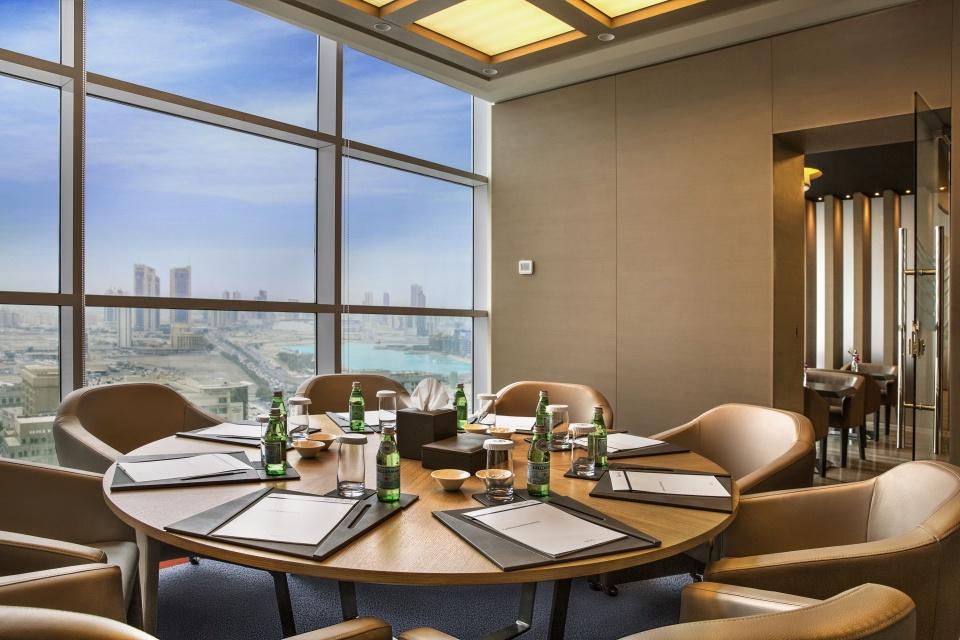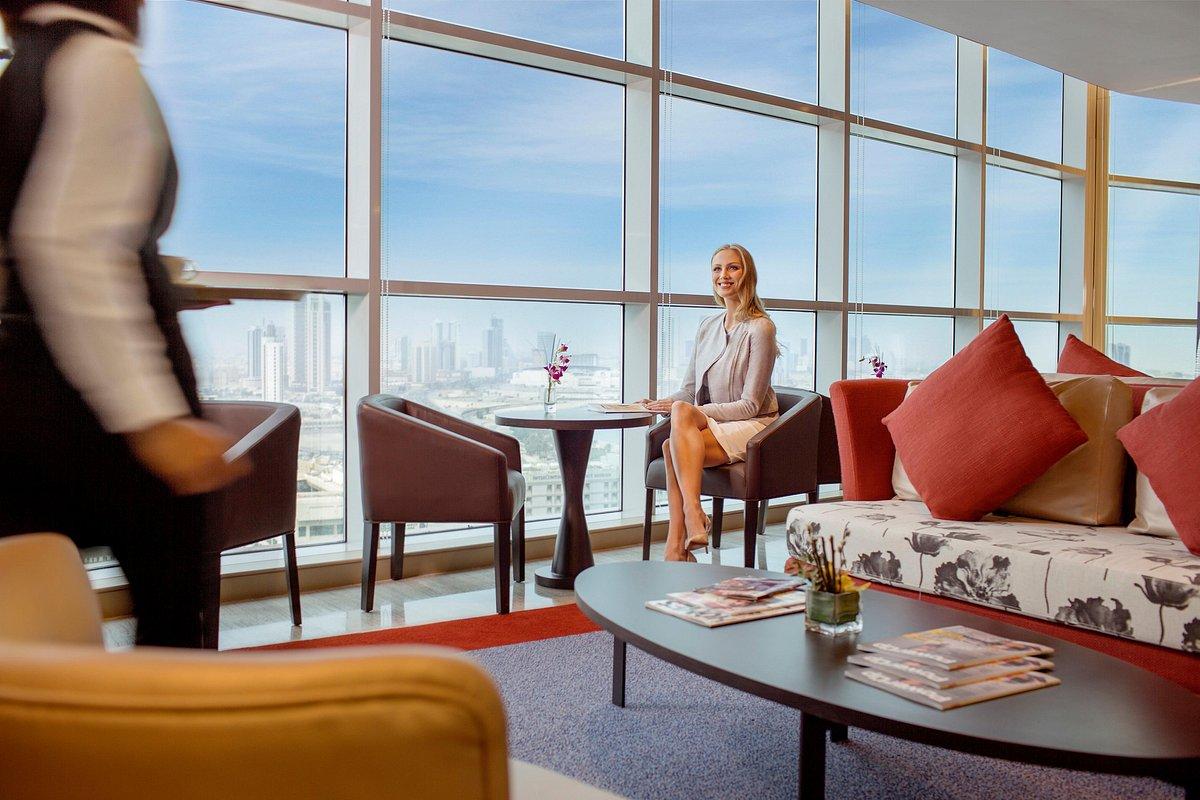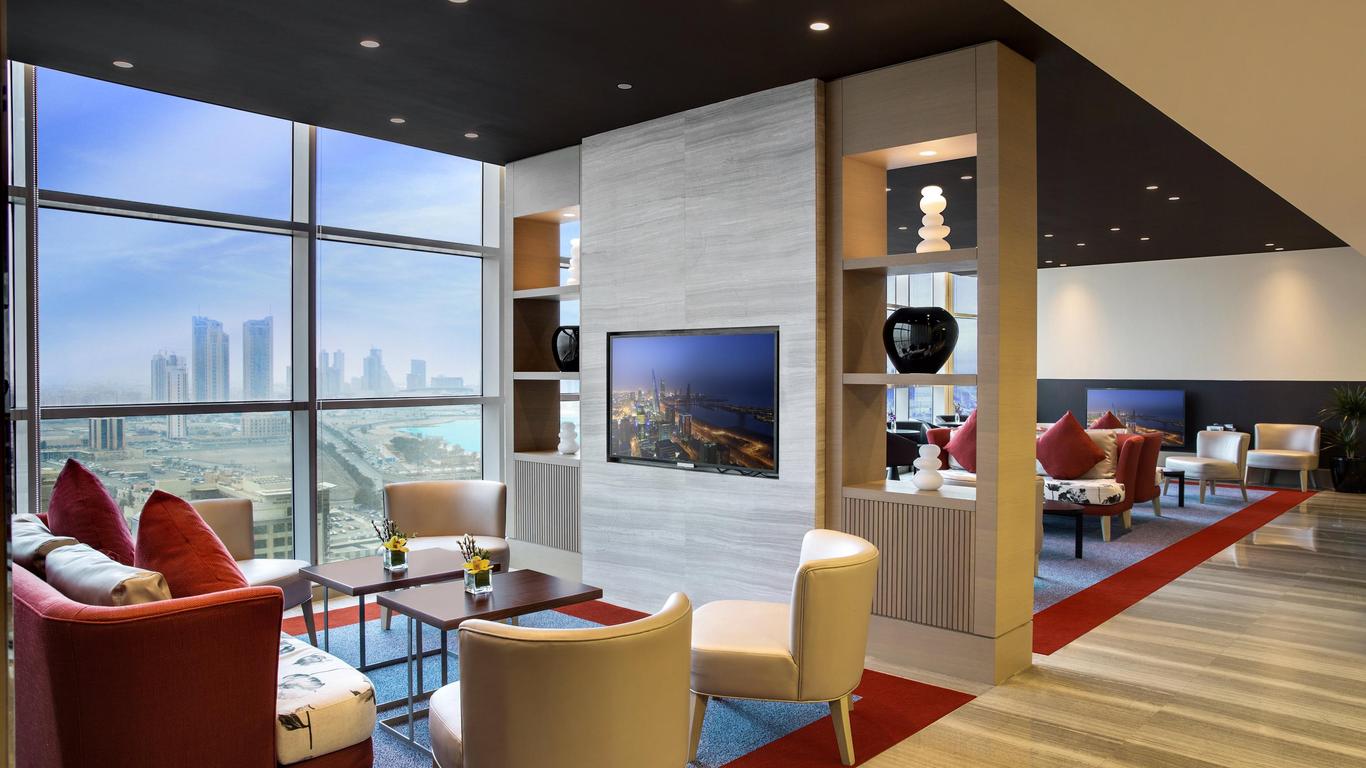 Perfect for a Rejuvenating Relax or Business Meetings
As guests visit the Downtown Rotana Executive Club Lounge, they can expect to see an Executive Club Lounge that has been decorated with a modern feel. This is created with the red, beige and brown furnishings. Whether guests are on business or holiday there is a space for them. If guests are on business they have the luxury of using the exclusive meeting room or one of the two private booths that have internet access. Guests will be able to wow their clients or team members with the views of the city while doing business.
While not all guests are on business trips, the setting of the Executive Club Lounge is absolutely perfect for people just needing a relax. The Executive Club Lounge is furnished in a way that guests will feel comfortable enough to spend long periods of time there. While relaxing in the comfortably furnished Executive Club Lounge, guests can look forward to the stunning views of Bahrain. As the Executive Club Lounge would like to maintain the relaxing and tranquil setting, unfortunately guests that are under the age of twelve years old will only be allowed to make use of the Executive Club Lounge facilities from 9am to 5pm.
Only the Best Cuisine for Club Guests
The Downtown Rotana Executive Club Lounge has a variety of food that is served at different times of the day for Club Member guests to enjoy. Whether they are being served a continental breakfast or afternoon tea treats, there are so many options to choose from. As a Club member, guests will be able to experience a variety of privileges that range from complimentary wireless internet and access to local and international newspapers. Guests can either enjoy spending time with their friends and family in the Executive Club Lounge or just enjoy some time to their selves.
While in the Downtown Rotana Executive Club Lounge, the hotel would like to note that dress code is a very important tradition. The Executive Club Lounge encourages guests to wear appropriate clothing and footwear at all times while in the Executive Club Lounge. They ask guests to not wear any bathrobes, swimwear, slippers or shorts above the knee. Upgrading your accommodation package to include a Club Membership has always been worth it for guests and it is highly recommended, especially at the Downtown Rotana Executive Club Lounge. This exclusive Executive Club Lounge experience is appreciated by all and it is always a memorable experience.