The island that inspires love songs
One simply cannot help but feel happy on any of the Greek islands. The pleasant vibe of Greece and its fairy-tale-like islands go hand in hand, as do the iconic whitewashed houses with their colourful doors and window frames. Nobody understands why, but it simply works and thousands of tourists flock to Greece every year for a blissful family vacation.
Greece is known for its islands, and there are plenty of floating islands in the Aegean and Ionian Oceans. There are easily 6000 Greek islands to choose from, and many of them are nothing more than a rock in the sea, which in fact qualifies as an island. There are 227 inhabited islands in Greece.
The islands are grouped into five groups, namely the Cyclades, the Dodecanese, the Sporades, the Aegean, and the Lonian and Saronic islands. Each island has its own personality and charm, although some are more popular as family vacation spots than others.
Mykonos
Mykonos is one of the most popular islands to visit. Most of this island is made up of whitewashed cottages with colourful doors and window frames, slate flooring, and old-fashioned thatched-roof windmills. As a family, exploring the island's narrow streets and interesting, small restaurants is an unforgettable experience.
Mykonos is renowned as the "Ibiza of Greece" because of its lively and cosy vibe. Although travellers flock to this small island in droves, it never feels overcrowded, unless one explores the more commercialized districts in quest of Greek clothes and jewellery, for example.
Explore this unique village on a quad bike or scooter, stopping at the medieval fort's wall, the windmill, Little Venice (the scenic area of Chora), or any of the town's gorgeous churches. You also have no reason to feel bad if you want to make yourself at home in one of the many street cafes, or if you want to partake in Mykonos' bustling nightlife.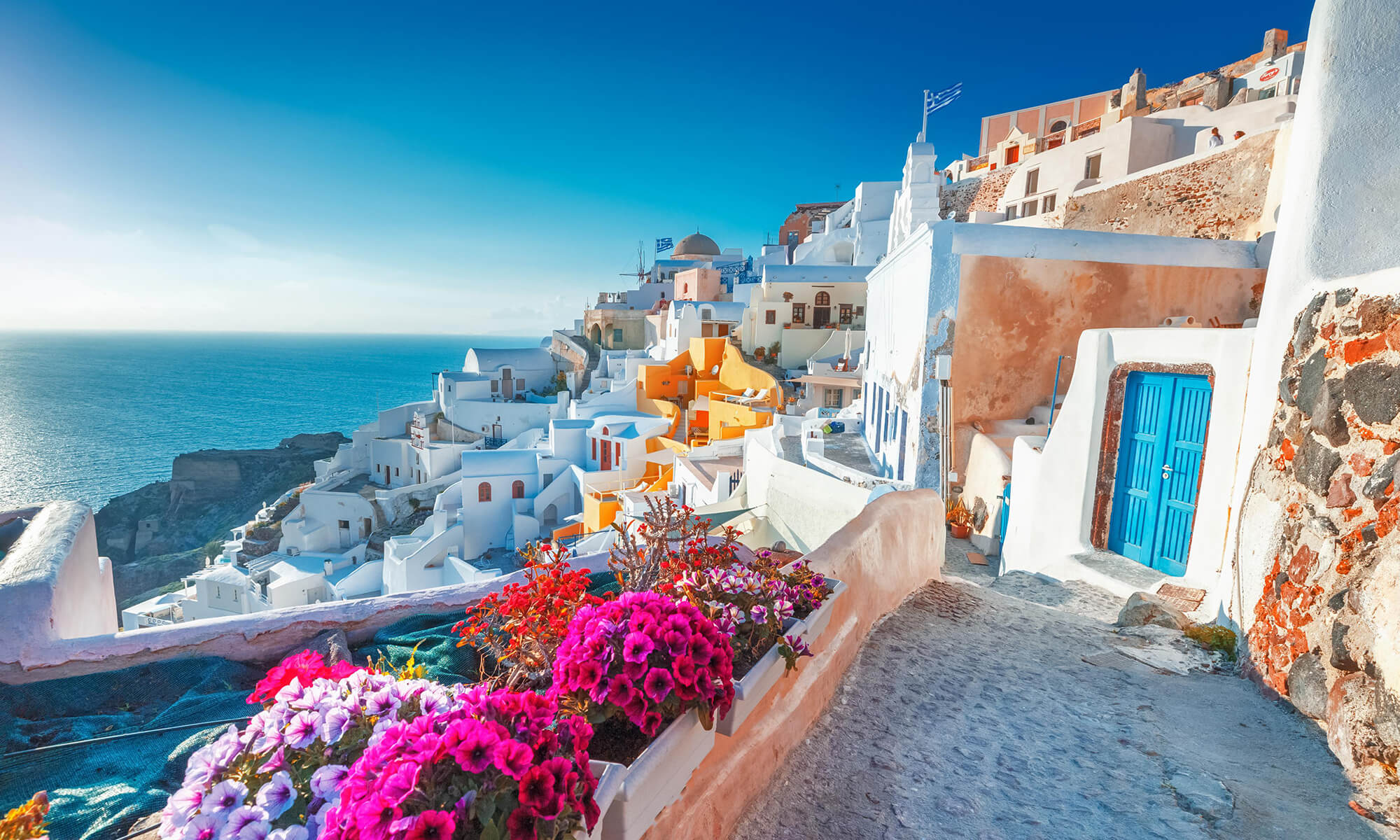 IMAGE: Santorini is Greece's most popular tourist destination. On your next family holiday, be sure to visit this romantic resort known for its spectacular sunsets, wild landscape and caldera.
Santorini
Santorini is truly picturesque - as if a photograph were taking shape. The island's settlements, with their whitewashed walls, blue-painted arched roofs and domes with the iconic white cross mounted on them, gaze across the blue ocean. What has made this island even more popular in recent years is the famous movie Mama-Mia, which was filmed there.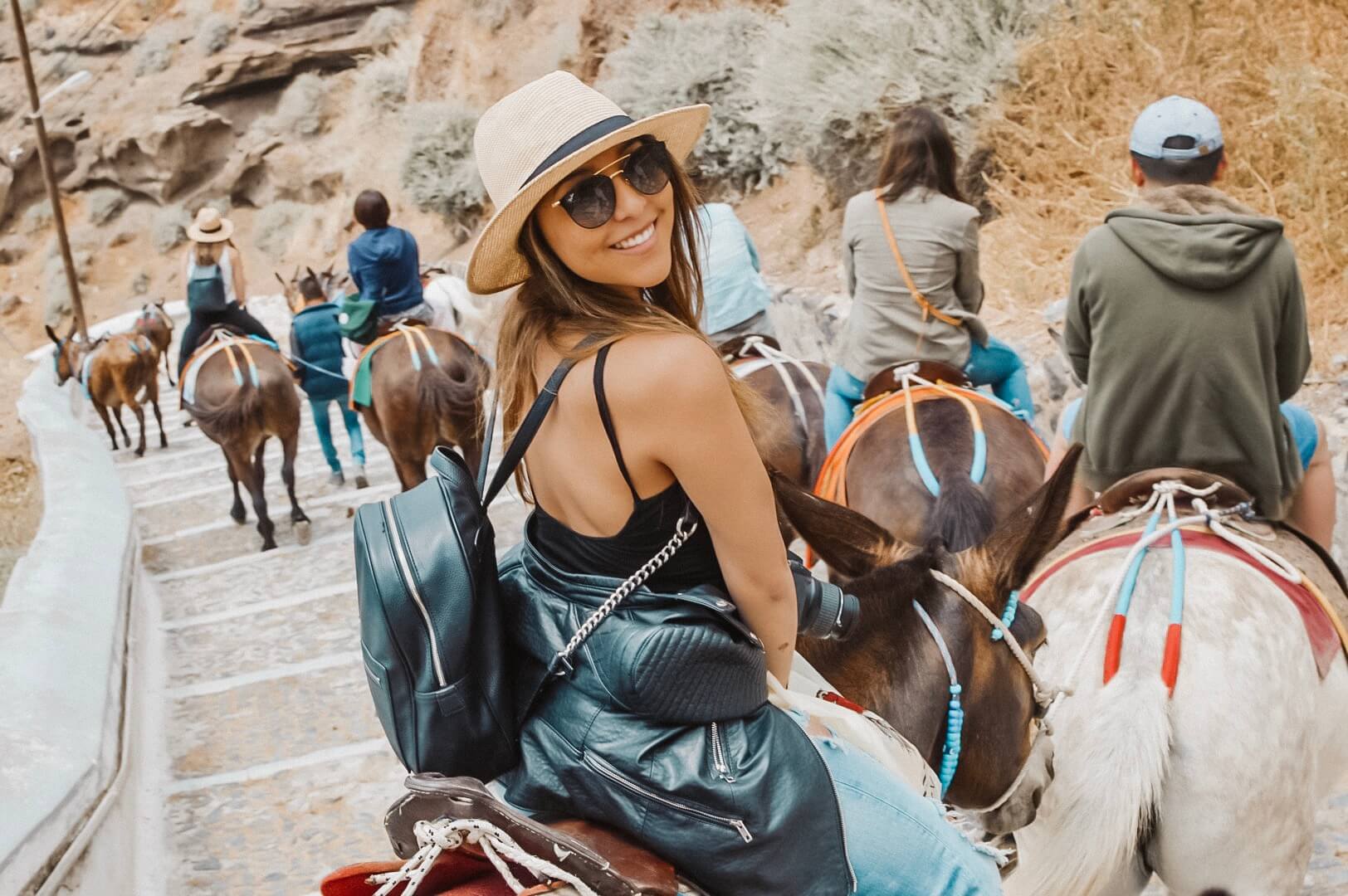 IMAGE: A Santorini classic, these steps that stretch around one kilometre, attracts daring visitors ready to trek the 586 steps up and down just to be a part of its unique feel, but you can alternatively ride a donkey or mule to the summit.
However, don't be fooled - Santorini is the island and not the town! There are a number of small towns on this island, including Oia and Firo, which are the most famous. The famed kilometre-long steps of Santorini, which can be walked, can also be ridden on a donkey or mule, and are accessible via the port of Fira. However, if this means of transportation is not for you, there is also a six-cabin cable car that can be used to reach the top, especially if the trampled and crooked steps are not your cup of tea. The two-minute journey costs roughly € 5 (euros).
Once upstairs, you and your family can explore the island to your heart's content and browse the small shops. Most visitors prefer to explore the island on a scooter or quad bike. The indescribable free feeling one gets when the wind blows through your hair is complemented by the beautiful views of the ocean, and the patchwork of farmlands in the distance. It's an experience not to be missed!
Oia is also one of the settlements on Santorini that attracts a huge number of tourists, and it is the best location for the perfect Greek island photo. This could explain why a perfectly placed 'Kodak moment' is created around every bend. Santorini is unquestionably a jewel, and there is no better way to immerse yourself in Greek culture than by visiting this island.