The warm colours and luxurious feel of Hilton Abu Dhabi Yas Island Resort flows into the Kids Club with warm mustard carpeting and walls, complete with white honeycomb shelving adorned with stuffed animals and games. Open from 9am to 7pm, this Kids Club is a delight for children under the age of twelve.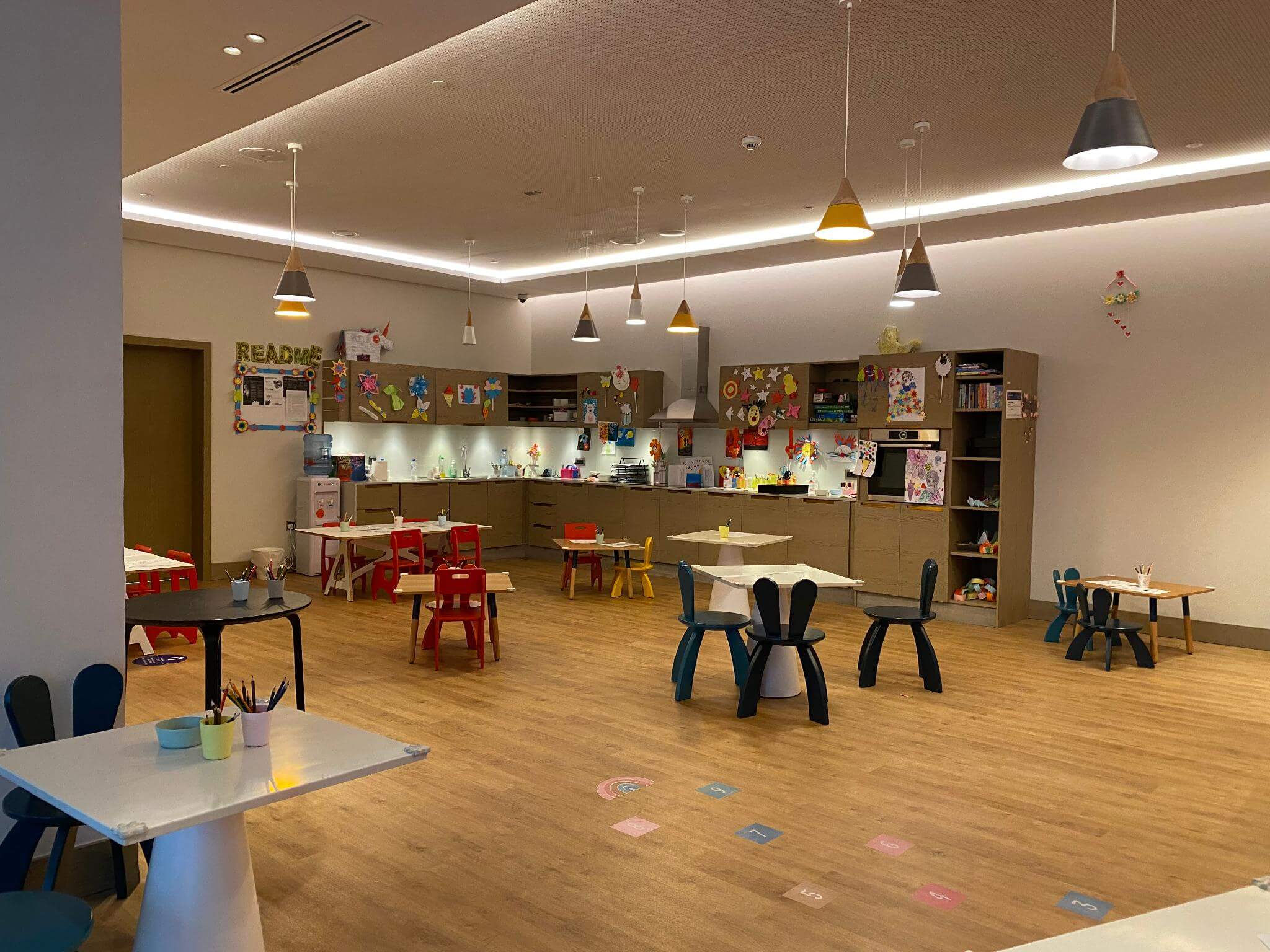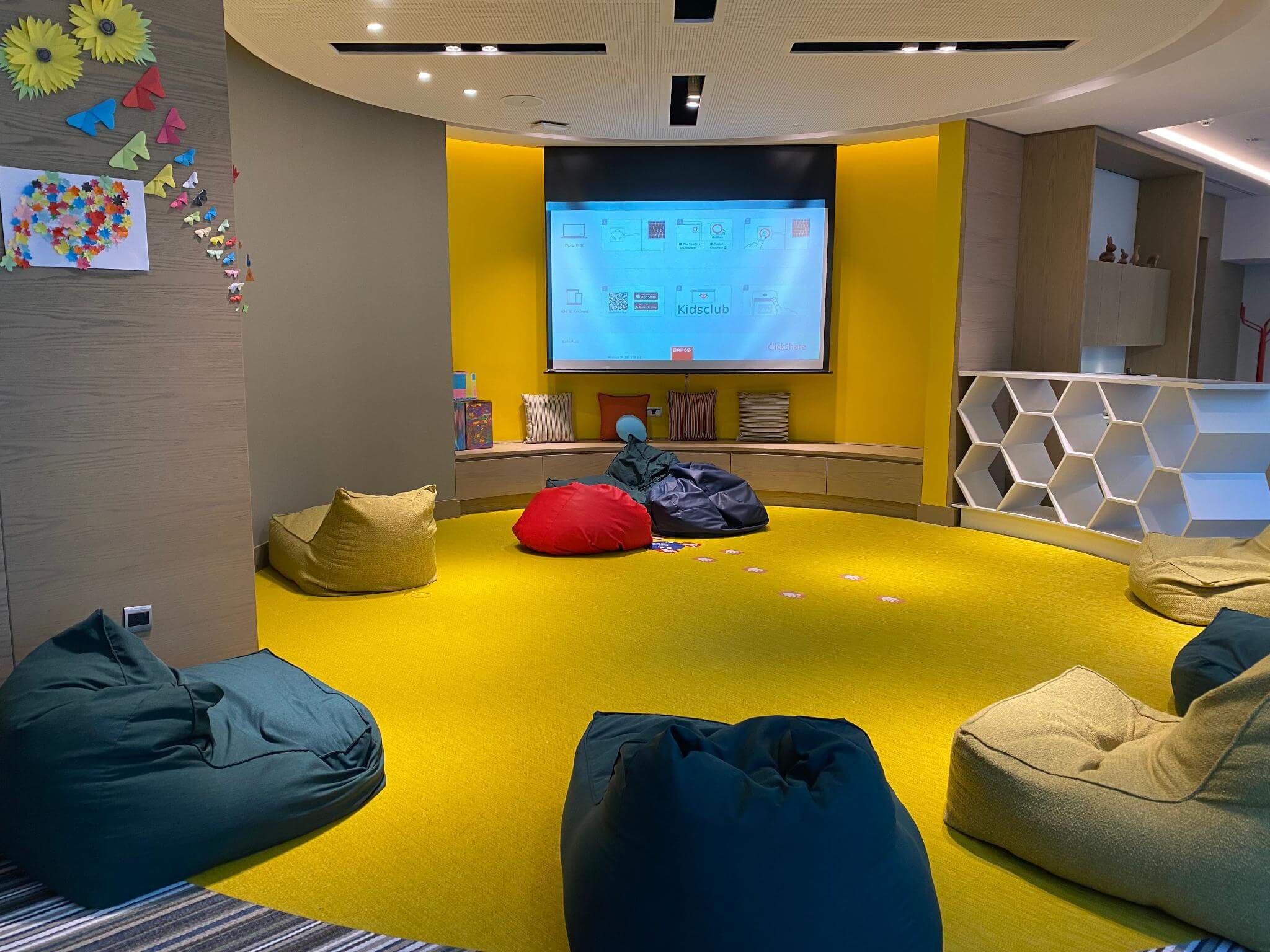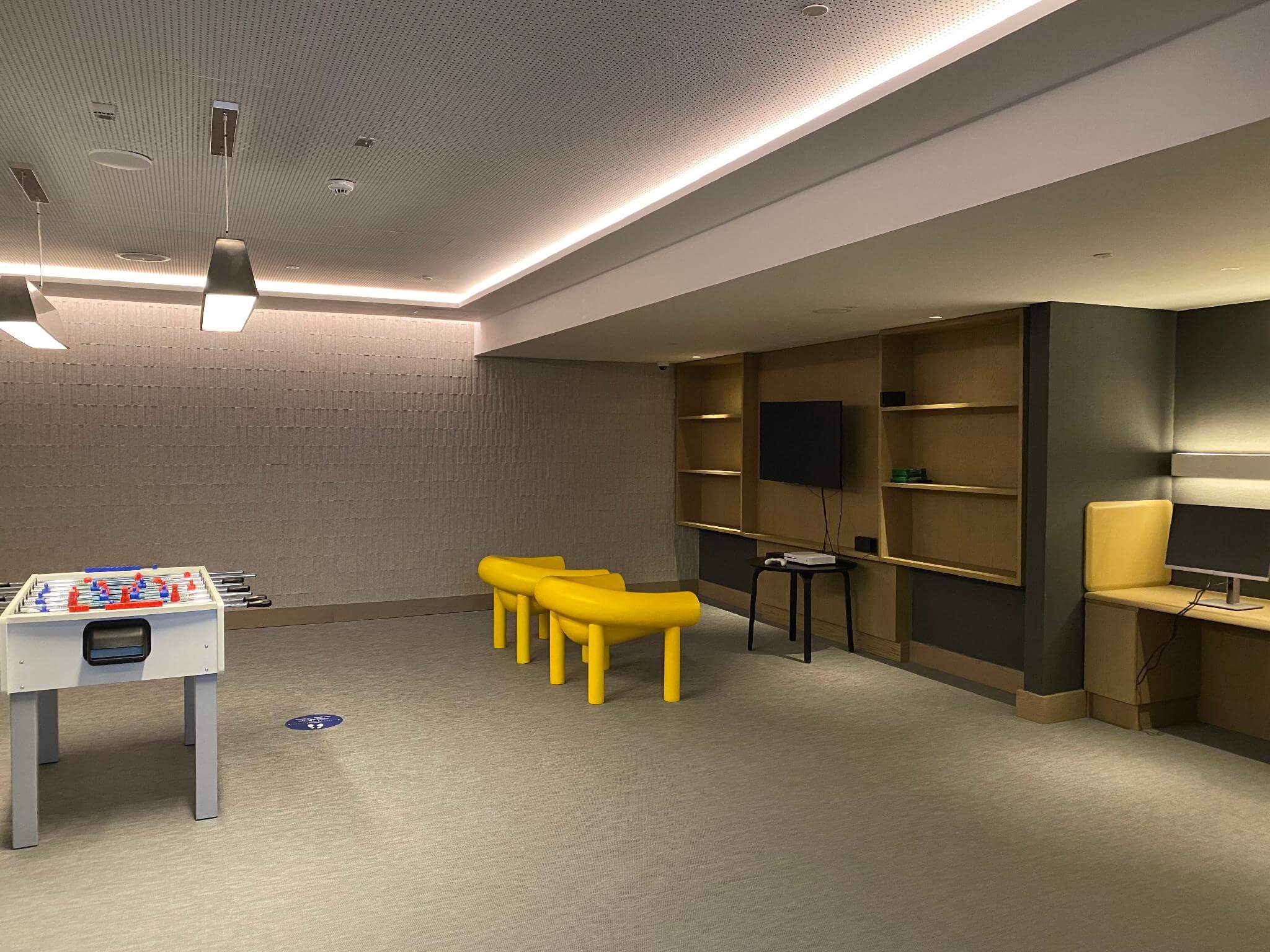 This Kids Club caters to children aged four to twelve for two-hour sessions, with a full schedule of activities, along with free play. The Kids Club offers indoor and outdoor activities, including a kids swimming pool, jungle gym and more. Prior booking is essential and bookings will be held for fifteen minutes. Ideal for parents who want to take advantage of the spa facilities or relax by the pool for an hour or two knowing their children are well taken care of. Parents or guardians are requested to remain on the hotel grounds when their children are attending any of the activities provided by the Kids Club, providing information on their room number and providing a contact number.
Games, Discovering and Activities
If children want to remain longer than two hours, they are more than welcome, subject to availability and a parent or guardian must return to the Kids Club to check their child is happy every two hours. The Kids Club team offer a full range of exciting and interactive activities, ensuring the children are entertained for hours at a time.
Children are watched and interacted with and will not be allowed to leave the Kids Club without their parent or guardian. The Kids Club focuses on child engagement with games, activities and discoveries. If leaving children for extended periods, maximum three hours, parents are reminded that no food can be consumed in the Kids Club area.
You can see an example timetable below: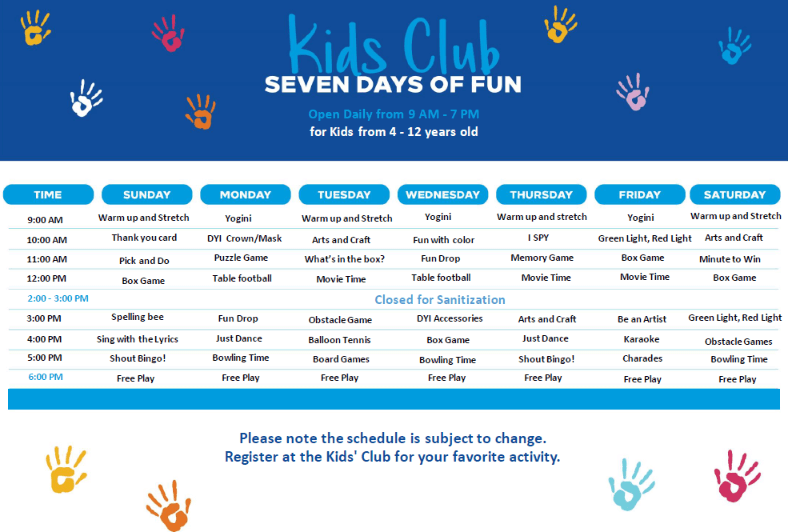 Extensive Selection of Fun Activities Seven Days a Week
The Hilton Abu Dhabi Yas Island Kids Club offers a full range of activities, seven days a week, from 9am to 5pm. From 5pm onwards is free play. Children are welcome to take part in activities or just enjoy some time playing with the games and toys available.
The schedule of activities starts each day at 9am with a stretch and warm-up or yogini, this is followed with arts and crafts, crown making, I-Spy, puzzle games and memory games. They also offer movie time, table football, spelling games, obstacle games, balloon tennis, singing games, dancing games and more.
The schedule at the Kids Club in the Hilton Abu Dhabi Yas Island Resort is brimming with exciting and fun games and activities, which ensures the children remain busy, when their parents need a much needed break, giving parents time for some relaxation and rejuvenation.
The Kids Club is also open to walk in guests at 50 AED per child for one hour.