JW Marriott Hotel Shenzhen Bao'an offers an executive club lounge that opens daily from 11am to 11pm. You will find the executive club lounge on the twenty eighth floor offering four complimentary food and beverage presentations daily, including:
Enjoy coffee, tea, soft drinks, cookies and candy throughout the day
Afternoon tea is served from 2.30pm to 4.30pm
Canapés can be enjoyed from 6pm to 8pm
Indulge in evening cocktails from 6pm to 9pm
Children are welcome in the executive club lounge when accompanied by an adult.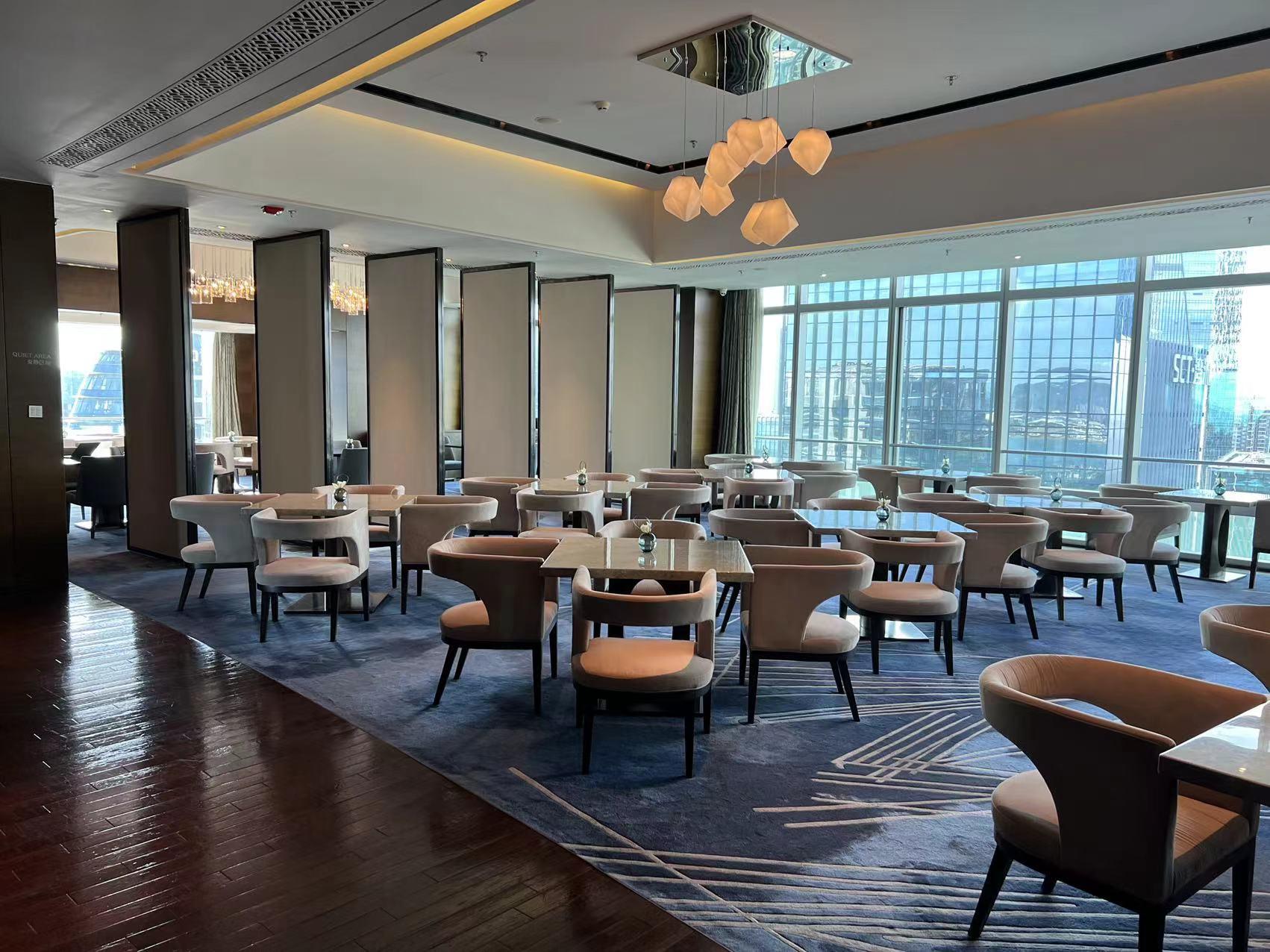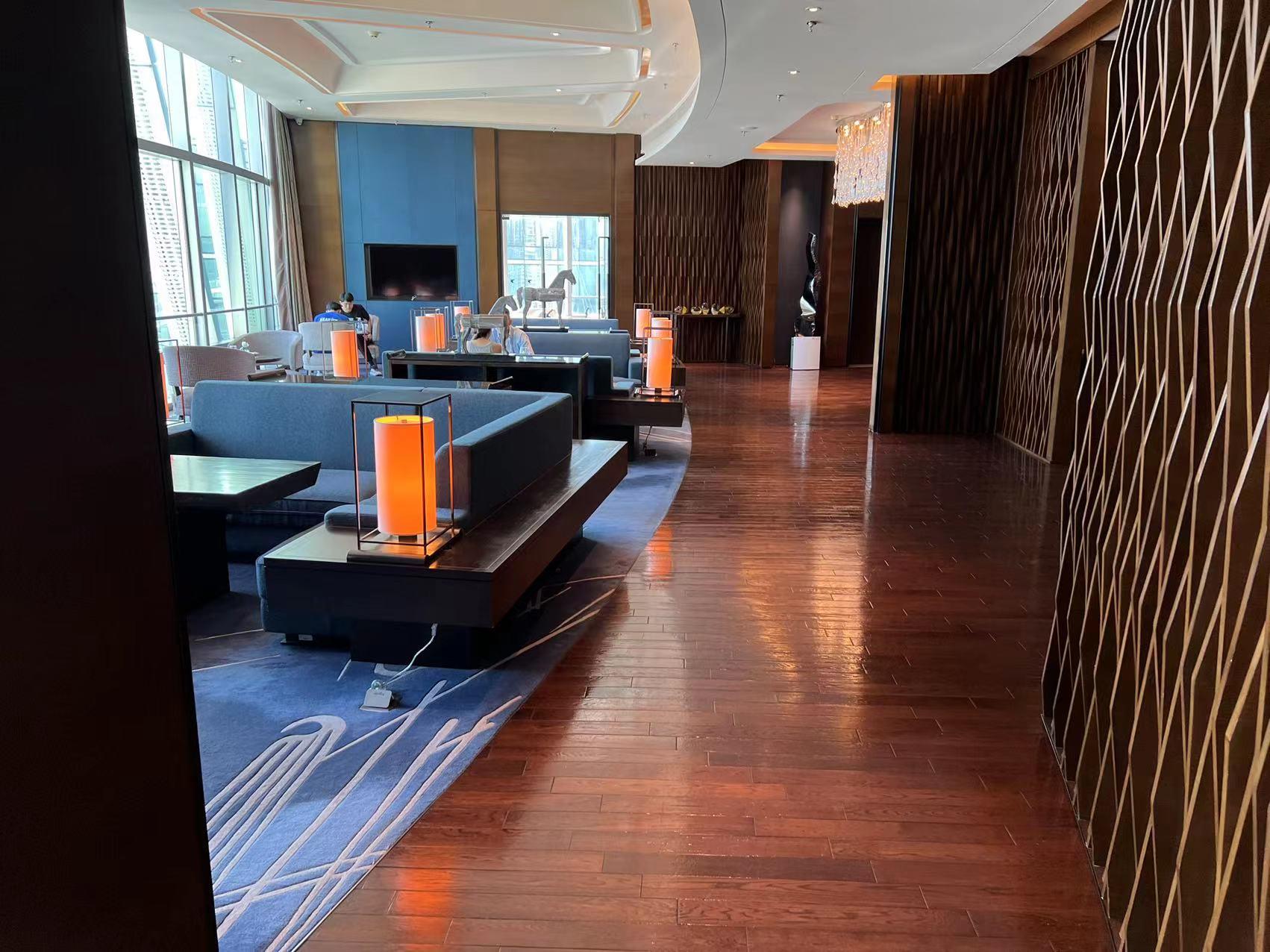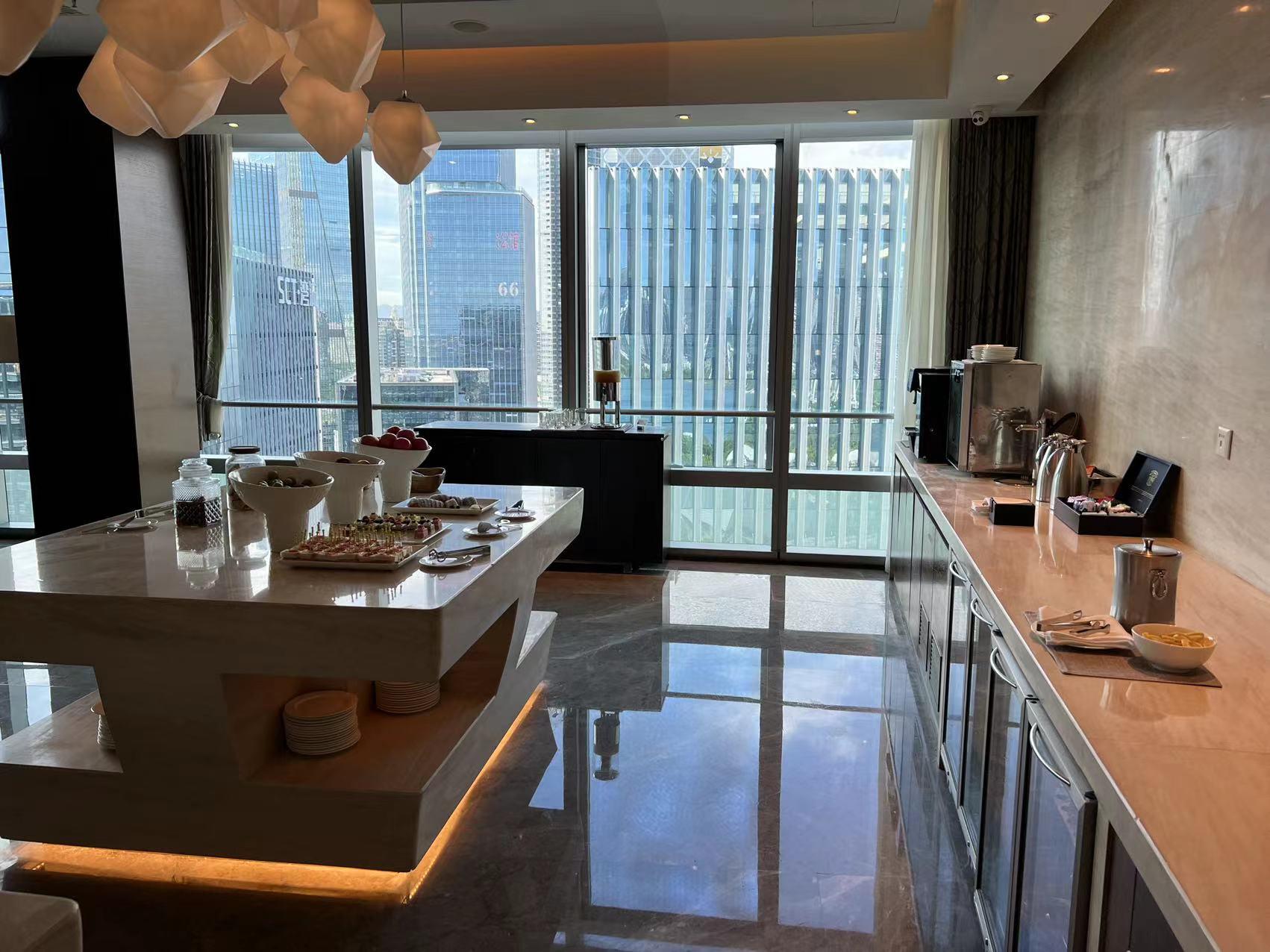 The executive club lounge at JW Marriott Hotel Shenzhen Bao'an provides exclusive access to guest staying in any of the hotels club level guest rooms or suites. Each room or suite accommodates two adults and two children under the age of twelve. Additional guests are welcome in the executive club lounge at an additional charge.
Spacious Executive Club Lounge with Panoramic Views
This executive club lounge is spacious and modern with panoramic views. The floor to ceiling windows don't only capture the spectacular views, they also allow for an abundance of natural light. What catches your eye as you walk into this executive club lounge for the first time is the vastness of space, along with the gleaming floors. There is a large food island with plenty of food and drinks.
They have separated the executive club lounge into a spacious, luxurious and comfortable lounge area with television and a large dining area. There is no shortage of seating, whether you want to quickly finish off your work project, enjoy an evening cocktail or relax with a magazine or newspaper as you take a break from exploring the local sights and attractions.
Outstanding Benefits
If you are wondering if it is worth upgrading to an executive club lounge guest room or suite, you will find that choosing exclusive access to this executive club lounge offers you outstanding benefits. For business travellers, you enjoy a range of business facilities including a workstation, printer, photocopying and faxing facilities. There is a ten seater meeting room in the executive club lounge and you have two hours complimentary access, subject to availability. A chance to impress your potential new clients or suppliers.
All guests also enjoy the convenience of the ironing of two items per stay and the opportunity of a late check out up to 4pm, subject to availability. The ideal option if you are catching a late flight. We found the separate lounge and dining areas made the space feel vast and spacious. The simple blinds that separate the two areas, ensure that you enjoy semi private relaxing or eating. Both areas take advantage of the panoramic views with floor to ceilings throughout the space.