The Kids Club at Lapita, Dubai Parks and Resorts, Autograph Collection offers young kids wonderful opportunities to learn and play at the same time as they are guided through games, and supervised when they play on their own, by responsible staff with great experience at dealing with the young ones. The Kids Club offers a total space of 220 sqm. and offers parents the ideal opportunity to get on with their own business as they leave their children at the Kids Club, which is open from Sunday to Thursday between 9am and 6pm, and from Friday to Saturday between 9am and 8pm. The Kids Club closes between 1pm and 2pm for cleaning and sanitisation.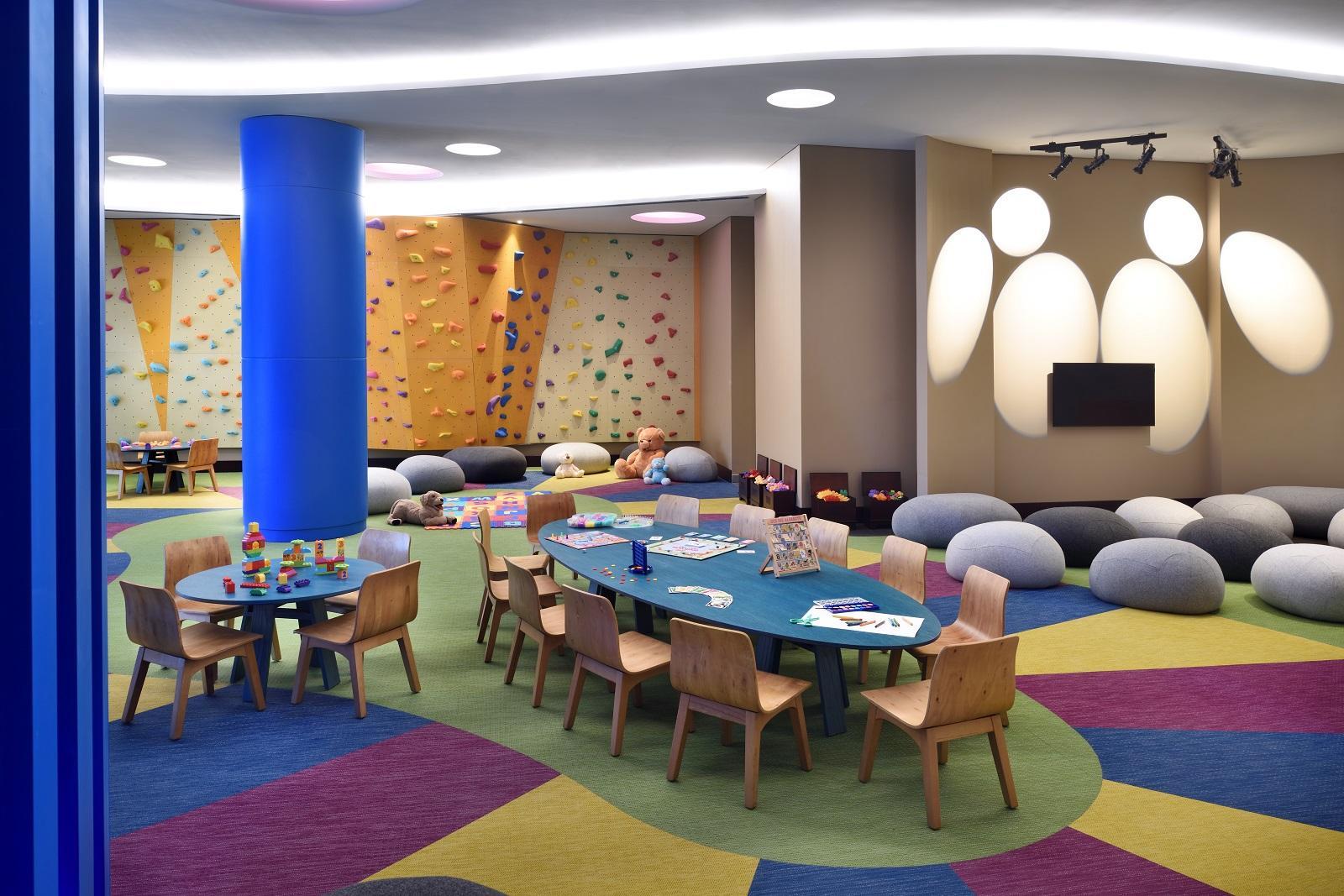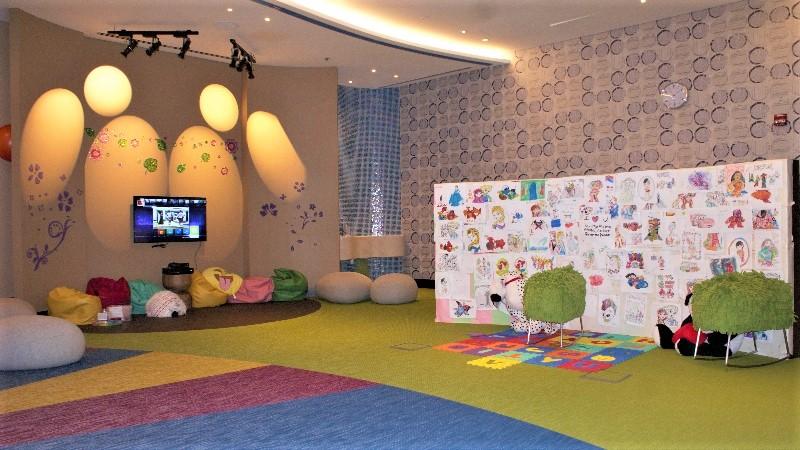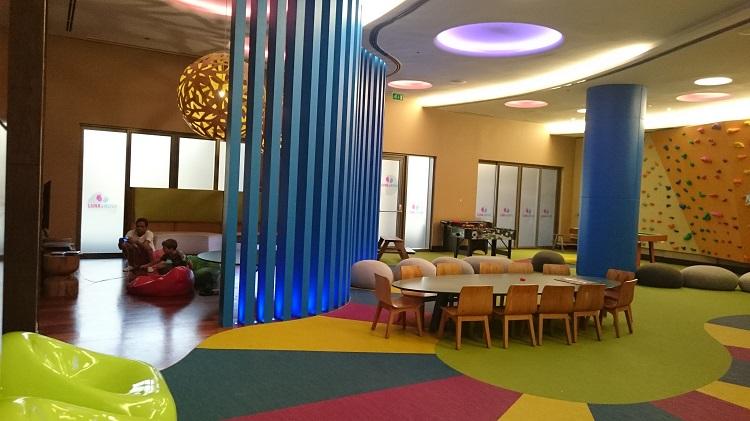 Children are allowed to attend up to two hours every day, such attendance offered as a complimentary service to the children of hotel guests. Those children younger than four years old are to be accompanied by a parent or guardian that should stay with them during their visit. Activities are offered and scheduled to ensure the kids benefit from their visit as they are offered great, exciting opportunities to play and to interact and learn form the staff and other kids, always with the emphasis on fun and enjoyment.
Different Activities to Ensure Kids Are Entertained and Kept Busy
Different programmes are drawn up to ensure the children are offered variety and a fun time that they are sure to remember. There are various programmes to include activities such as musical activities, pool activities where they fill bottles, empty the bucket, take part in relays and many more. Board games such as Ludo, Chess and Scrambles are played, while opportunities to develop their creative side see them do Face Painting, Henna Tattoos and Origami. Polynesian Welcoming Dances, Sand Castles, Sack Races and Volley Ball are some of the activities. Of course the staff will always ensure that children take part as much as they want to and not more, to ensure they are happy and having fun. Movie time and story time also form part of the programme.
You can see an example timetable below:

You can also see their outdoor activities timetable below: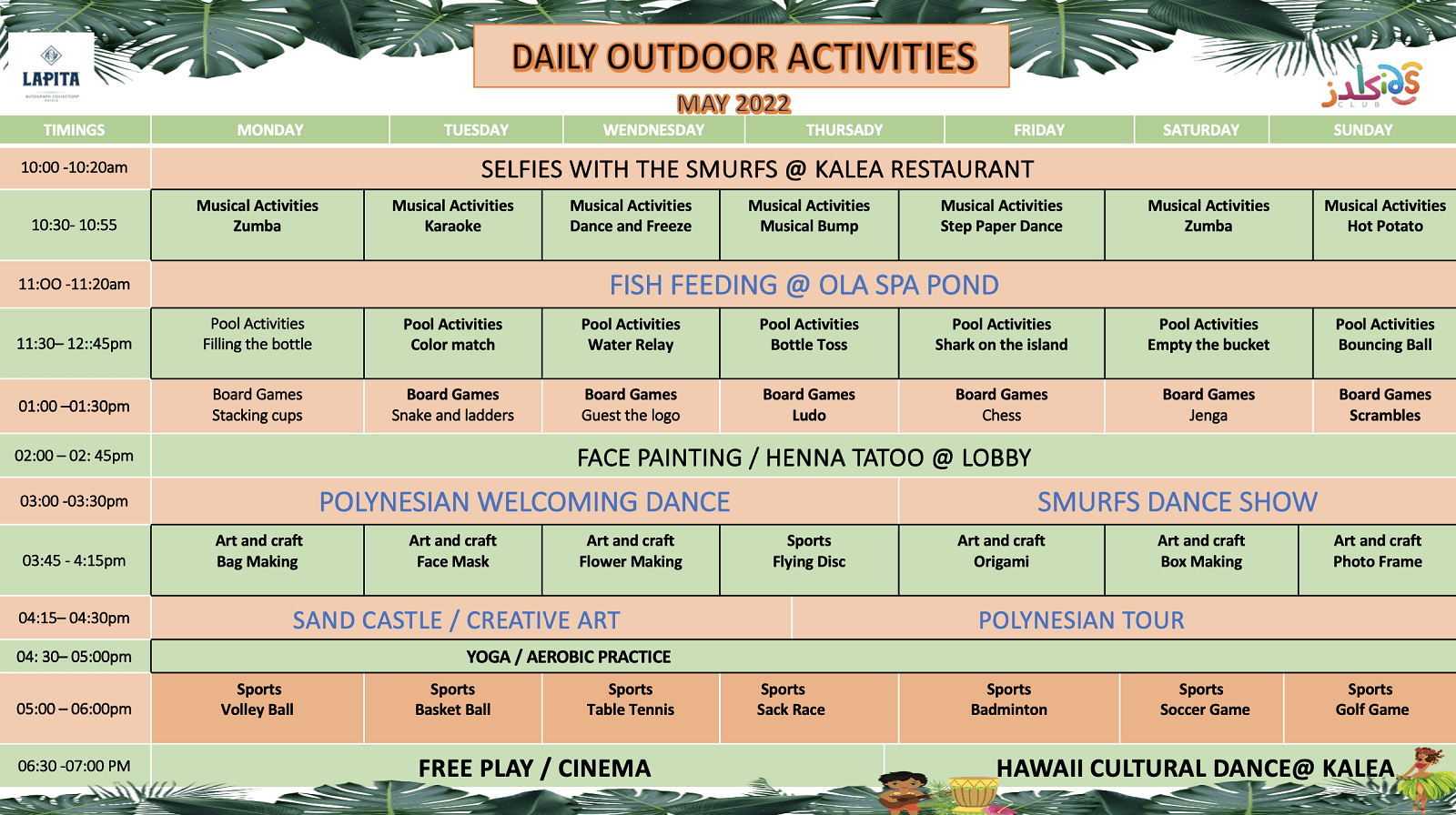 An Area Conducive to Learning While Having Fun
The area and spaces where kids spend their Kids Club time are designed to offer them great opportunities to learn about shapes and sizes such as the well-marked and painted floor blocks, the pictures of faces and objects against the walls, the soft, colourful cushions that they can relax on, the table and chairs where staff show them to sit and opportunities to draw, colour in and play with teddy bears and other soft toys. All programs consider children's age and the best activities aimed at their stage of both physical and mental development. Parents can feel confident that their children will get the most out of a visit to this great Kids Club at Lapita, Dubai Parks and Resorts, Autograph Collection.