LUX South Ari Atoll provides the convenience of a Kids Club to younger resort guests aged three to eleven years of age. The Kids Club is open daily from 9am to 7pm. Children under the age of three are welcome, if they are accompanied by a parent or babysitter. The Kids Club can assist with a babysitting service at the Kids Club or in your guest accommodation.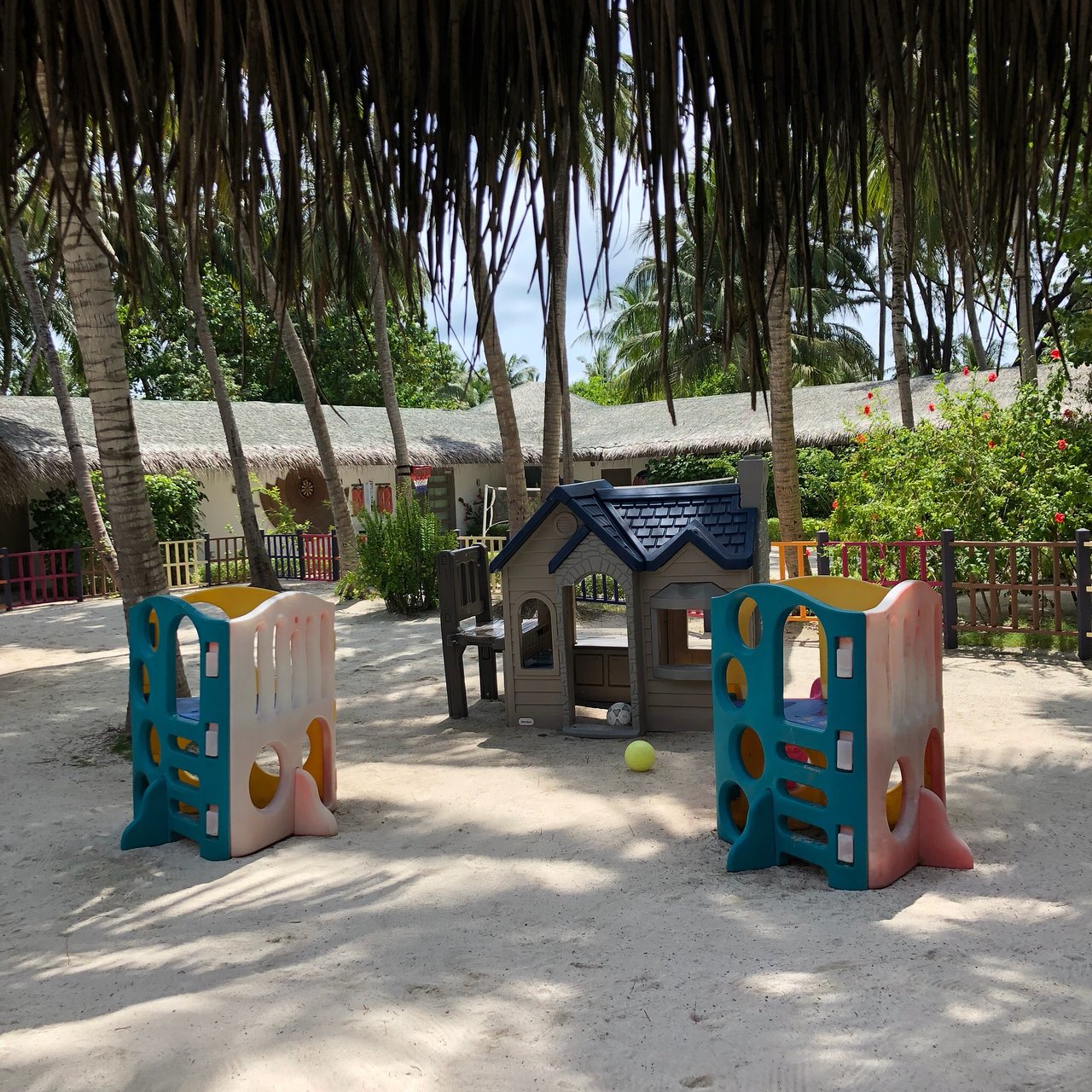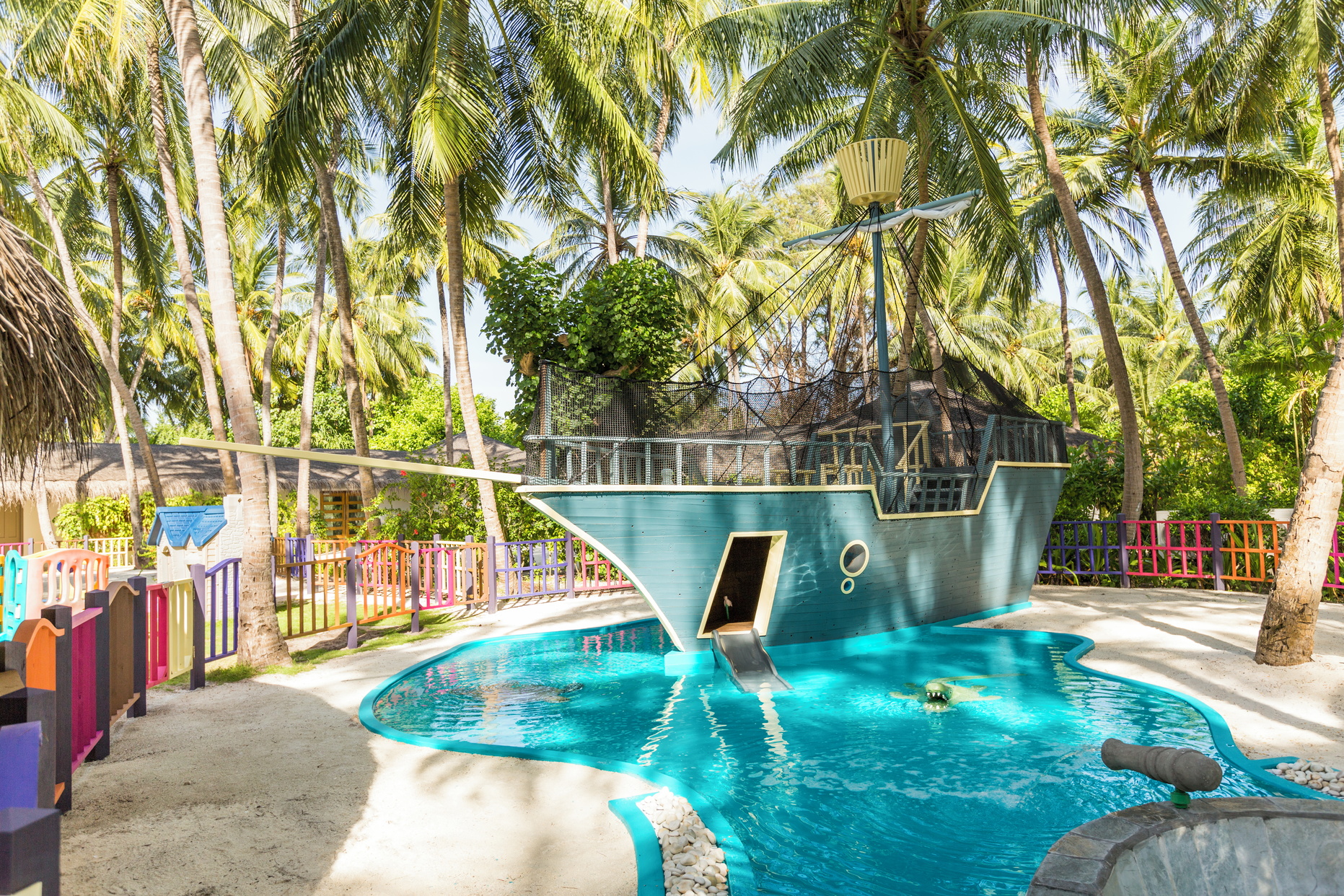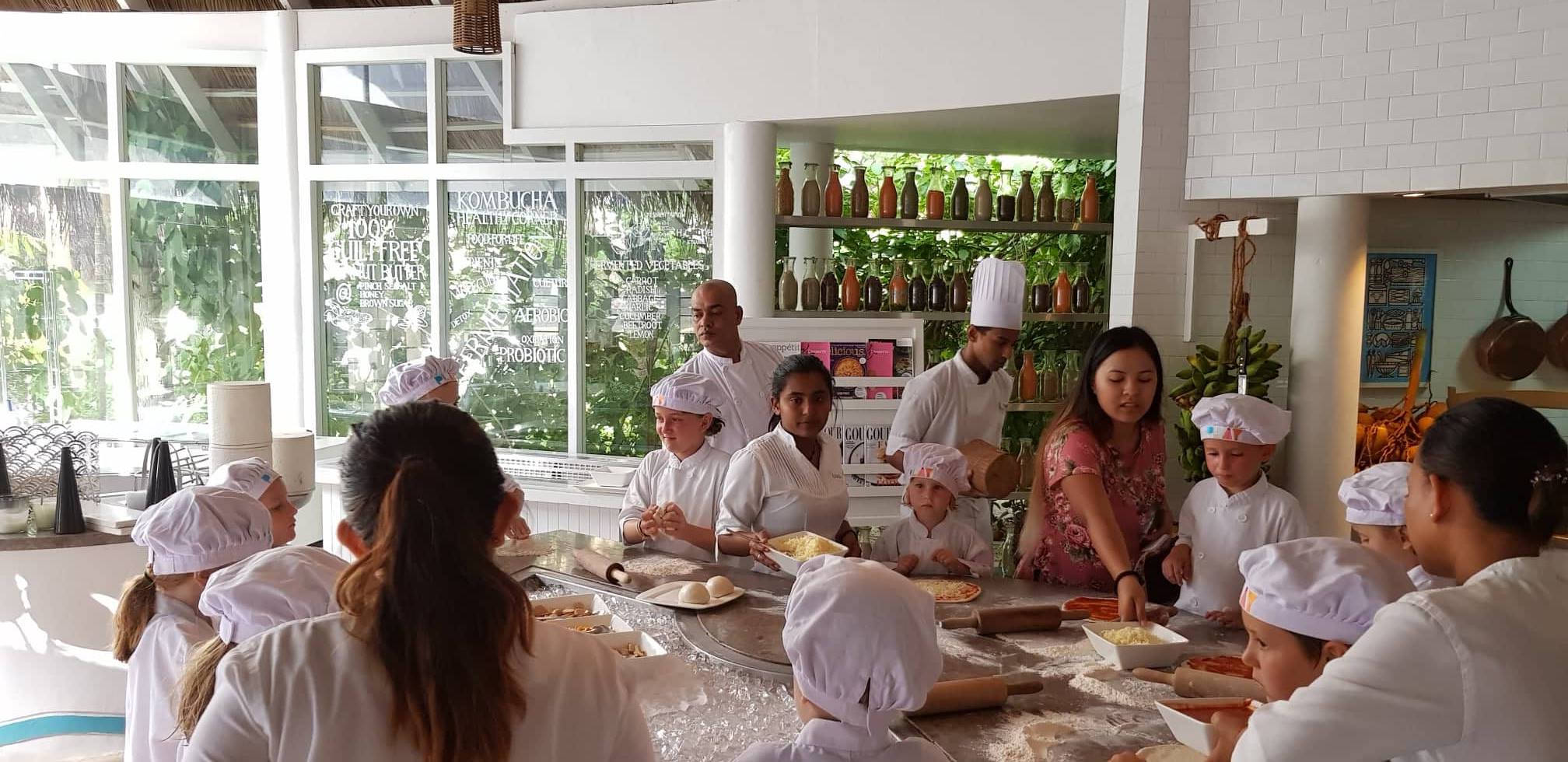 Supervised Entertainment for Younger Resort Guests
There is no need to book for the supervised Kids Club, which gives parents the opportunity to enjoy some of the adult facilities offered at the resort. It is important to note that some of the scheduled activities are at an additional rate and parents will need to register their children for these activities, such as the water sport activities and cake baking activities. The Kids Club offers a selection of toys and games that children can use and enjoy during their team at the club.
For parents wanting to leave their children under the age of three in the Kids Club, a babysitting service will need to be arranged, which is charged at US$25 per child per hour and is only offered until 6pm. There are three Kids Club supervisors, along with a manager on site at all times to ensure the children are safe and entertained.
A Selection of Fun Activities for Children to Enjoy
The fun range of scheduled activities, which is regularly changing, starts at 10am each day with Kids yoga and dance experiences. They also offer pool splash games, message in a bottle, leaf origami, book mark making, obstacle courses and face painting. The afternoons sometimes include hide and seek, scavenger hunts and jungle gym time. They also offer nature tours, herb planting and colouring, along with shell expeditions.
You can see an example timetable for the 3-5 year olds below: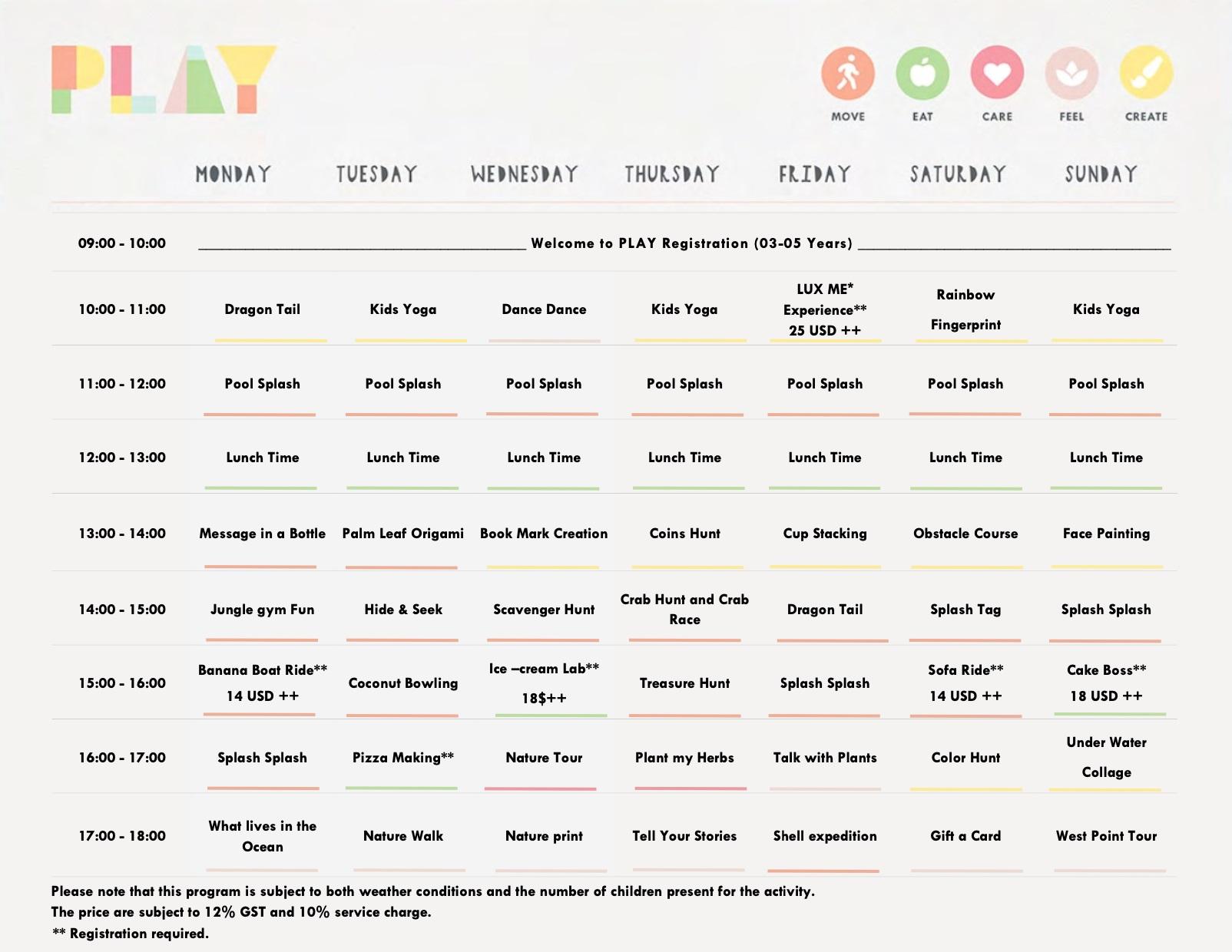 You can see an example timetable for the 6-8 year olds below: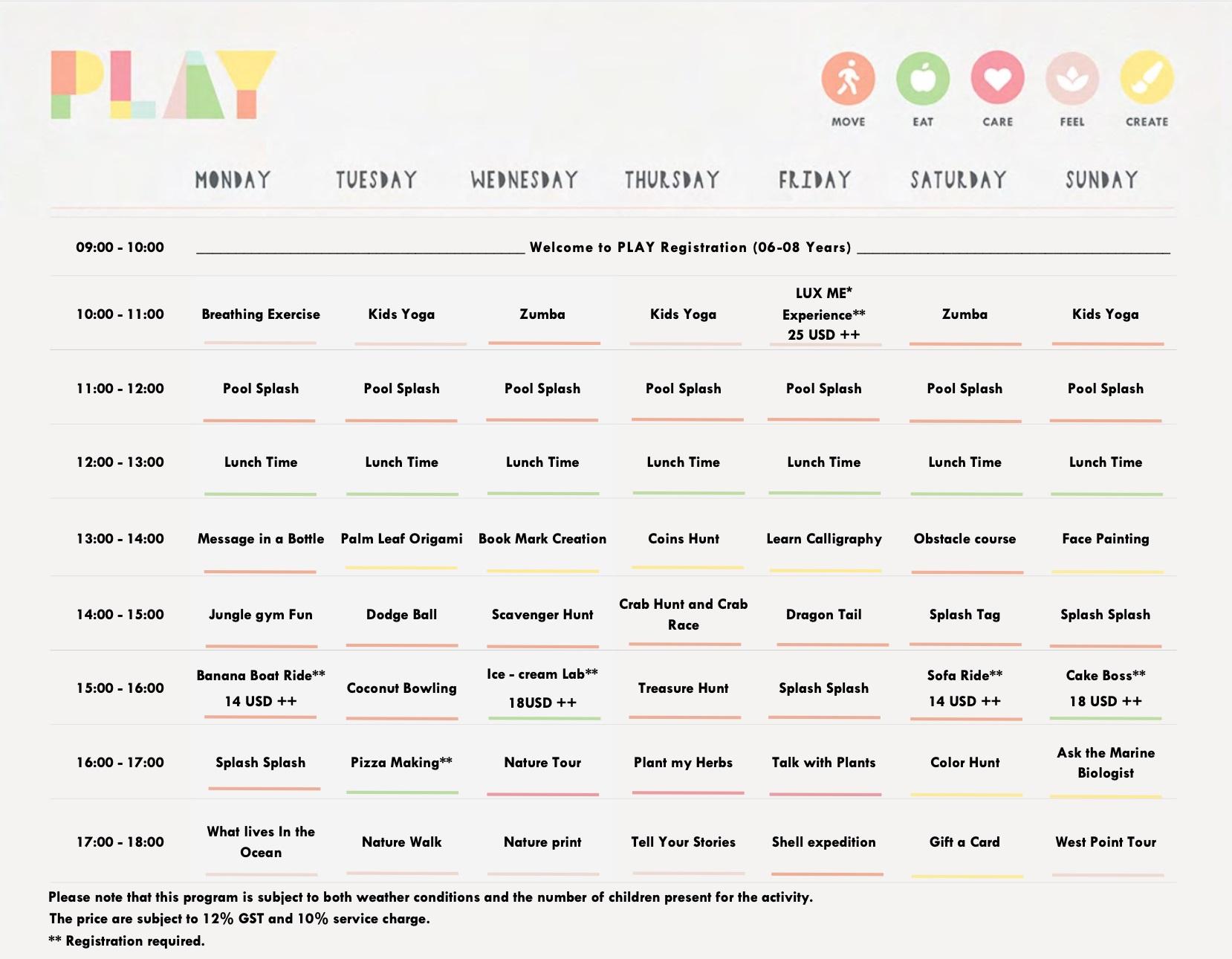 You can see an example timetable for the 9-11 year olds below: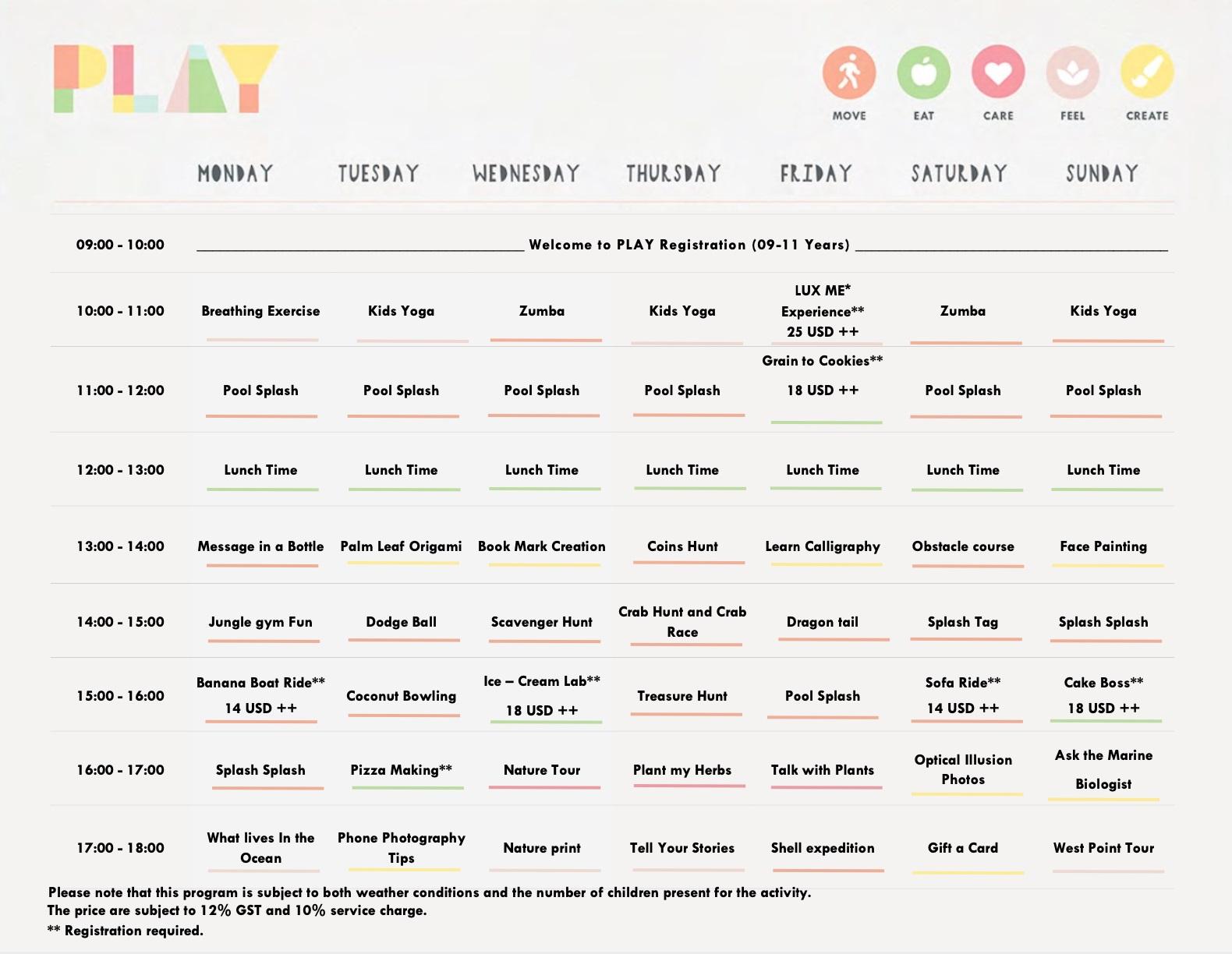 The charged for activities include cake making, banana boat rides, ice cream lab, and more. There is collage making, tours and more for children to enjoy when visiting the kids club, along with plenty of free play, toys and games. It's a great opportunity for younger guests to be entertained, give parents some quiet time and enable the children to make new friends with other young guests staying at the resort. The Kids Club offers babysitting services for children over the age of twelve months throughout the day until 6pm. They offer different rates from US$25 per hour per child to US$125 for a six hour package per child and a US$225 twelve hour package per child.