The Executive Club Lounge at the Marriott Hotel Al Jaddaf Dubai is an exclusive use Executive Club Lounge, providing you with the ultimate in luxury and comfort. Located on the sixth floor, the Executive Club Lounge opens twenty four hours a day with self-service, and serviced options from 3pm to midnight daily. They offer three complimentary food and beverage presentations, which includes:
Breakfast is served from 6.30am to 11am in the Market Place Restaurant
Soft drinks, tea and coffee, along with cookies are served throughout the day
Happy Hour is from 6.30pm to 8.30pm
Children are welcome in the Executive Club Lounge. Children under the age of fifteen must be accompanied by a parent. Children are not allowed during Happy Hour.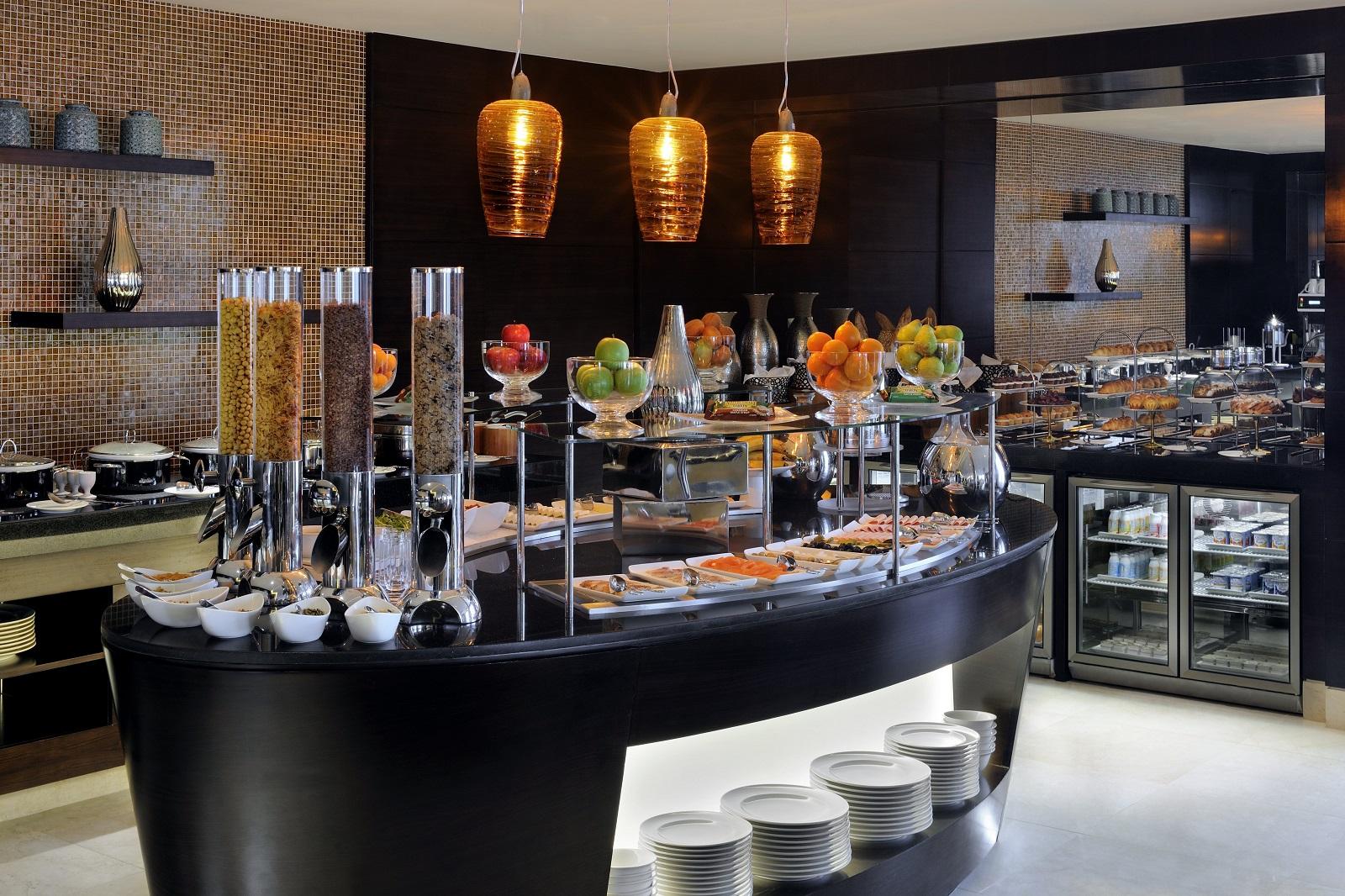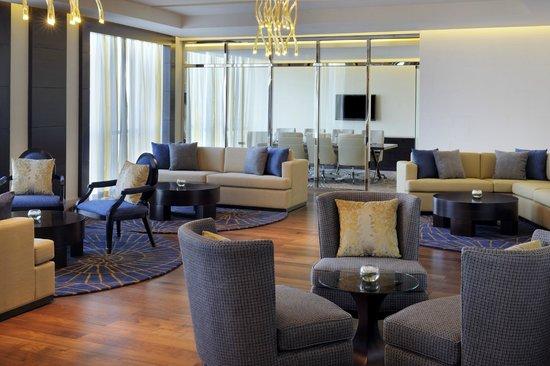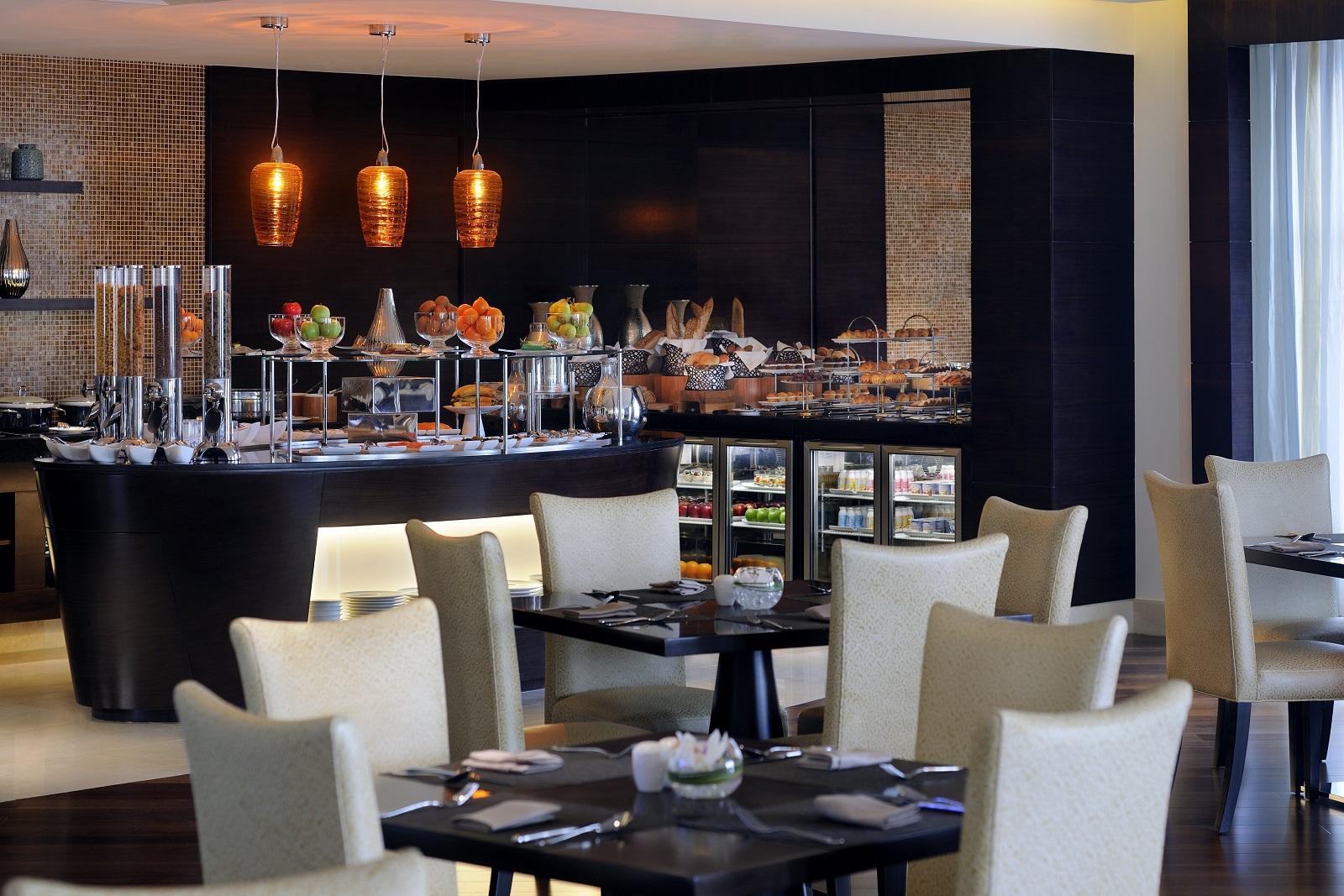 Exclusive Use with a Dedicated Team
The Marriott Hotel Al Jaddaf Dubai Executive Club Lounge offers the convenience of a fully equipped business centre for business travellers, along with complimentary wireless internet. Club Room and Suite guests can take advantage of the buffet breakfast. While the Executive Club Lounge times are from 3pm to midnight, the lounge is open twenty four hours a day with soft drinks, coffees and teas available as self-service.
The food island is overflowing with finger foods during the Happy Hour with an ever changing menu, which delights your senses. Business guests also enjoy the added privileges of a meeting space, which can be booked with the Executive Club Lounge team, offering two hours of complimentary use.
This Executive Club Lounge offers comfort, privacy and relaxation, the perfect place to unwind after a day of sightseeing or to start your day with a cup of coffee, if you get up early. Being open twenty four hours a day, gives you access to the complimentary soft drinks and cookies on offer. Upgrading to a Club Room or Suite is worth the money with all food and beverages offered in this Executive Club Lounge being complimentary.
Unrivalled Services
As a Club Level guest, you enjoy unrivalled service when using the Executive Club Lounge. There are cookies, baklava, coffees, teas, bottled water and some fresh snacks on offer twenty four hours a day, while happy hour offers a range of wine, beer and spirits. The Executive Club Lounge team are fantastic and always on hand to assist, whether it's printing a document, meeting your dietary requirements or making your dinner reservation at one of the hotels restaurants.
The large oval shaped food island has something for everyone and is constantly topped up by the experienced team, ensuring that there is never a shortage. The relaxed lounge area boasts floor to ceiling windows to capture the stunning views, with a comfortable dining area to enjoy your evening canapés. Wherever you sit you can take advantage of the view and the outstanding guest services provided.