The Kids Club at the Rixos Premium Saadiyat resort, known as Rixy Kids Club, caters to children aged four to twelve, providing indoor scheduled activities and games to outdoor experiences. The Rixy Kids Club is open daily from 10am to 10pm, ideally located in the right wing of the hotel.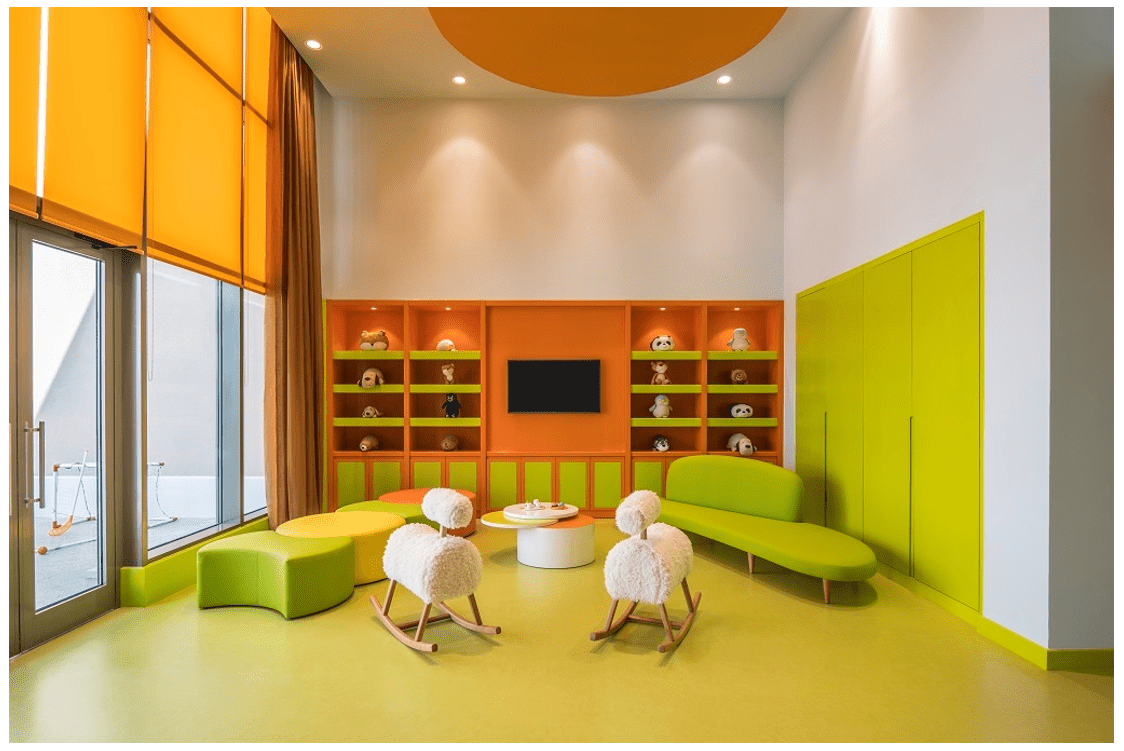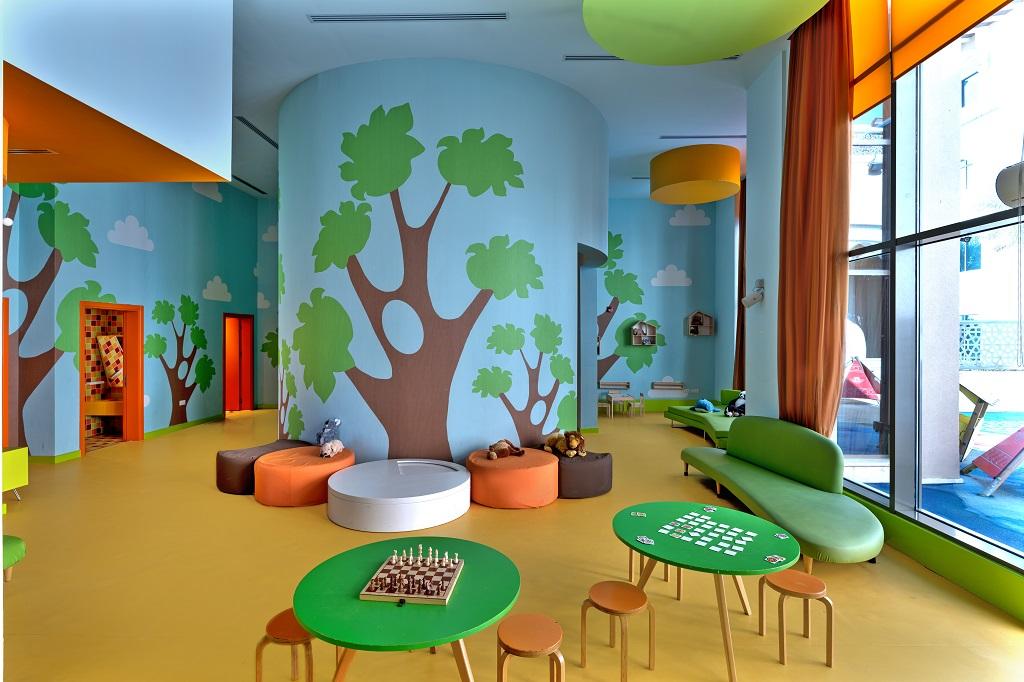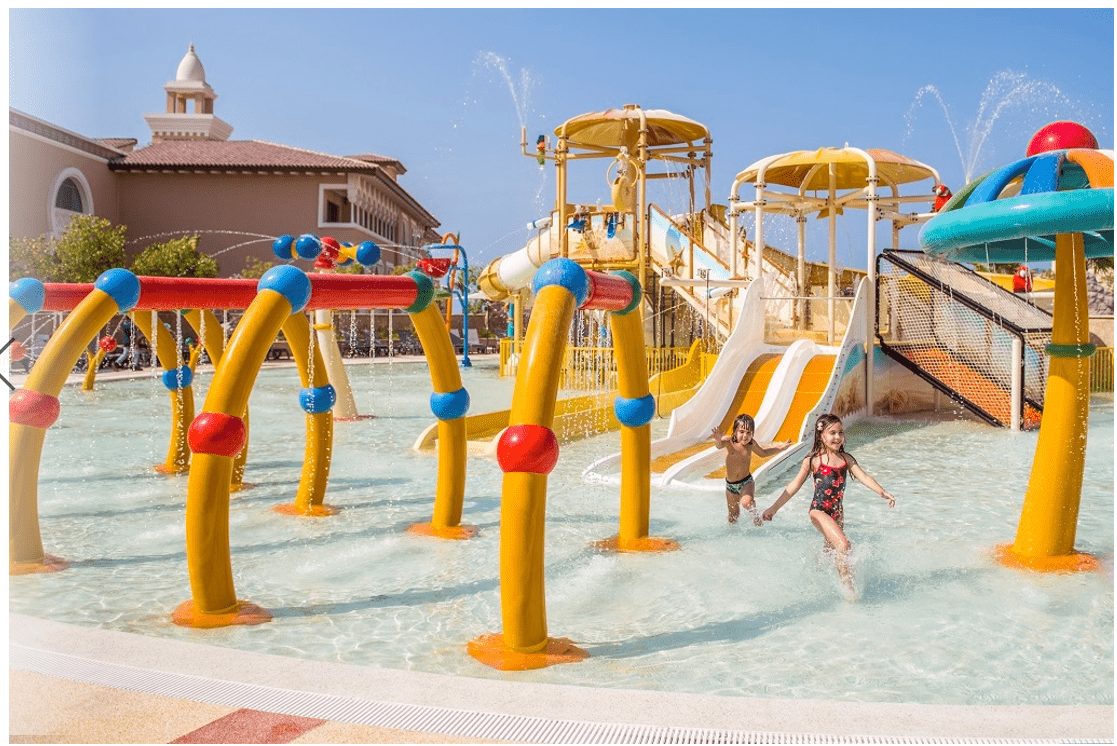 The Rixy Kids Club offers sixty square metres of indoor space, catering to up to fifteen children at a time. The Kids Club is managed by trained professionals, ensuring a safe and engaging experience for children aged four to twelve. This experience for young children is offered as part of the Rixos Premium Saadiyat Island resorts all-inclusive experience, treating the children as VIP guests, ensuring that they enjoy their holiday experience. This Kids Club focuses on creativity in a safe and educational environment, where children can meet other children staying at the same resort.
A Host of Fun Scheduled Activities Daily
The Rixy Kids Club at the Rixos Premium Saadiyat Island resort offers a host of scheduled activities daily with hand crafts offered first thing in the mornings, followed by musical games, balloon games, collect colour games, funny bowling, movie time, colouring in, wood painting and hotel quizzes. They also have clay figure making, Olympic games, sand art, kite flying, step games, face painting, Jenga and hotel, music, geography and animal quizzes, along with cartoon time.
You can see an example timetable below: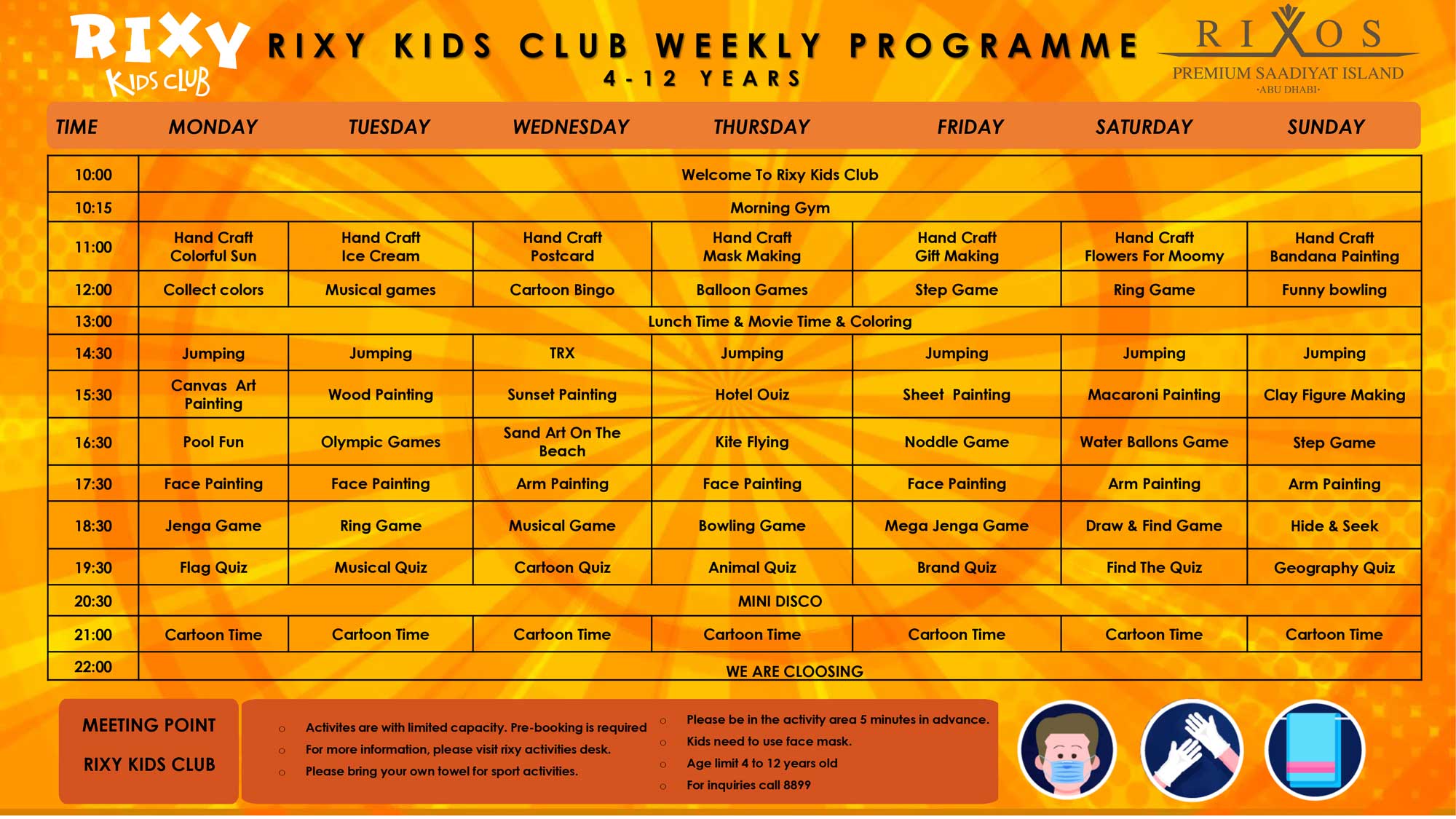 It is requested that parents pre book their children for the scheduled activities, and if attending any of the pool fun games, children must bring their own towel. The Kids Club offers parents the opportunity to drop their children off and make use of the resorts facilities. There is a caring team on site at all times.
Lots of Space to Play and Learn
The brightly coloured Rixy Kids Club carries the Mediterranean theme and colours from the rest of the resort. The spacious indoor area is a fun space for children, with trees painted on the walls, kids size tables, chairs and sofas, where children can play board games, paint, play and make use of the rocking horses and abundance of toys. This Kids Club overlooks the kids pool.
Outside is an exciting wonderland with a fenced outdoor play area, complete with jungle gym, art easels and more. This area ensures children remain within the kids area, while enjoying some outdoor fun and activities.
The kids pool at Rixy Kids Club is an exciting place to enjoy some water fun in the heat. The kids pool is a safe water depth, complete with a water jungle gym with slides, fountains and all decorated in bright and fun colours.