The Atlantis, The Palm Kids Club is the perfect place where you can leave your children supervised while you make the most of the fantastic on-site facilities and amenities at this five-star resort. Open to children aged three to twelve years, the Kids club opens from 10.30am to 8.30pm daily.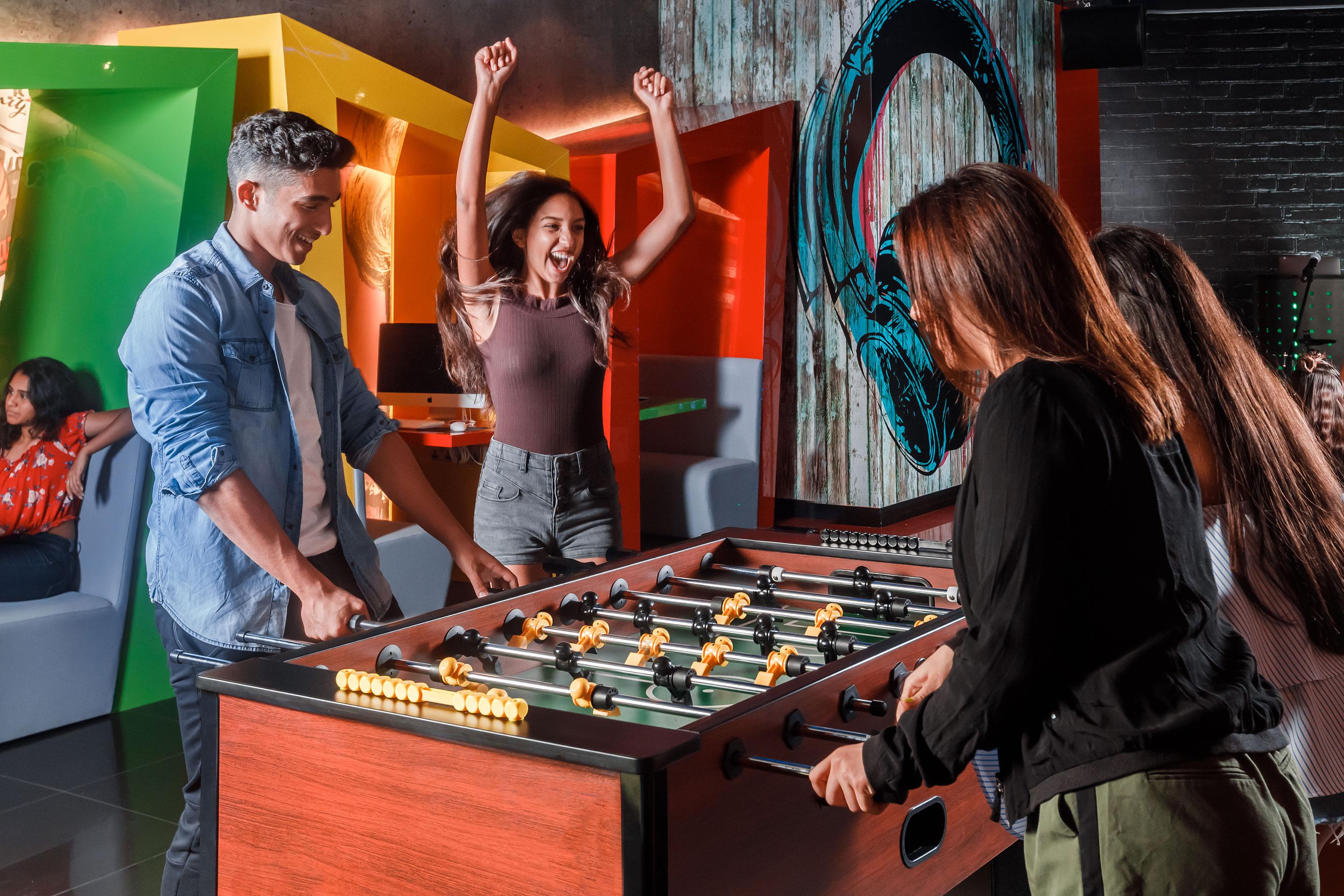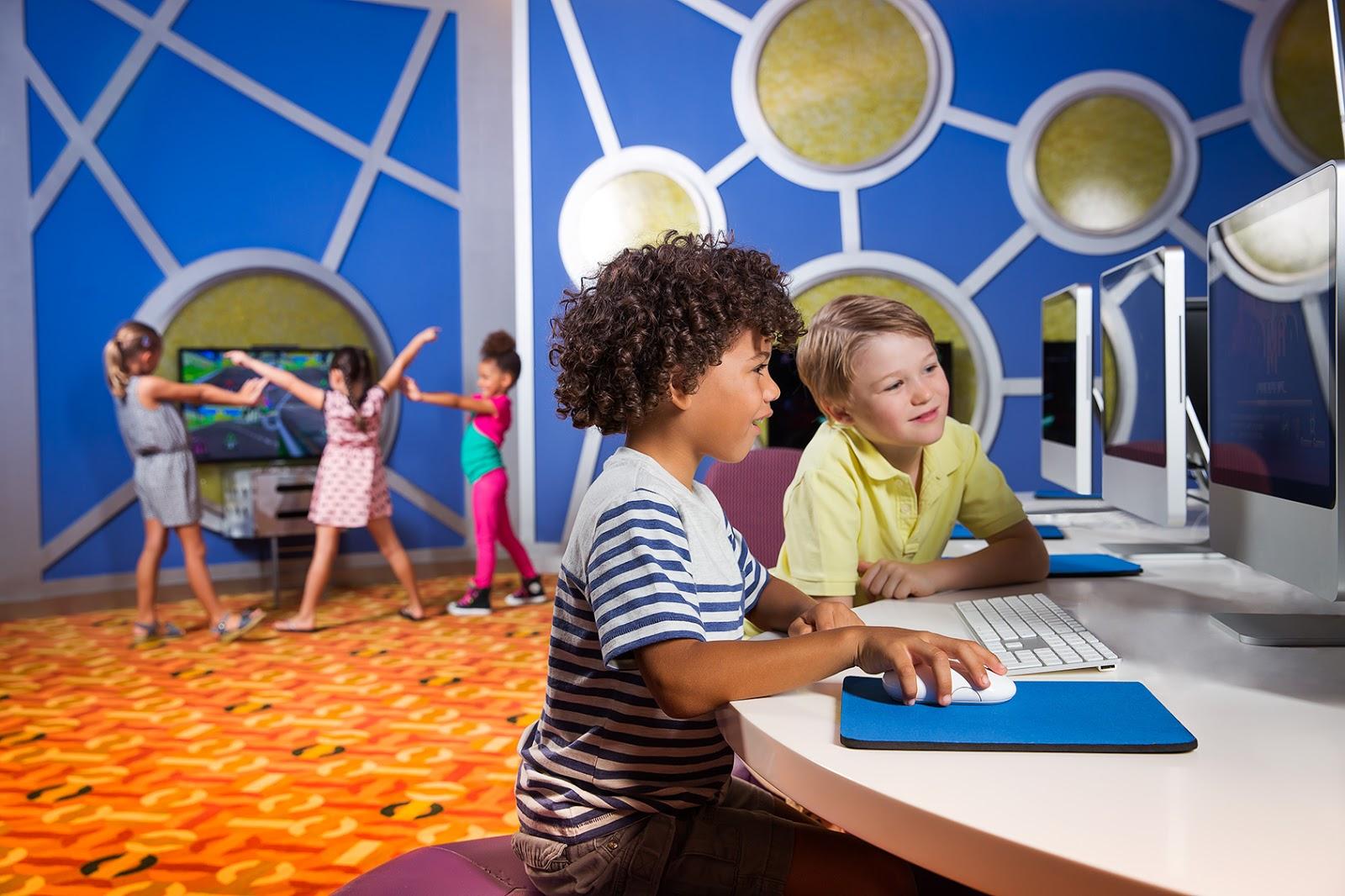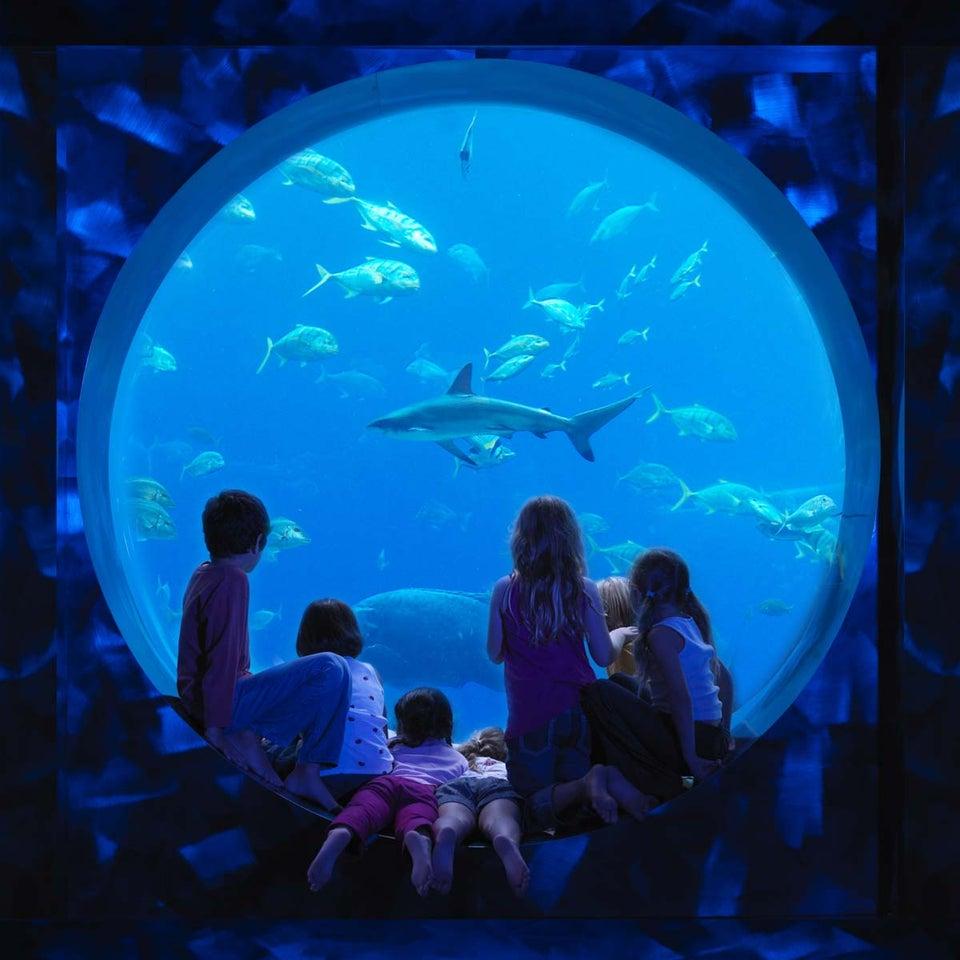 Morning, Special Activities and Afternoon Scheduled Events
Executive Club Lounge's younger guests enjoy the convenience of a complimentary morning and afternoon adventure per day and Deluxe room guests have one complimentary afternoon adventure per child per stay. While pre-booking isn't necessary, there is a registration form that needs to be completed by a parent or guardian.
The Kids Club at The Atlantis, the Palm, offers a number of adventures, with morning adventures starting from 10.30am to 1.30pm, charged at 160AED per child. These activities include animal crafts, card creations, origami and recycled arts, along with hoop lasso challenges, athletics, marathons, beach football and a visit to the Lost Chambers. Children also enjoy hoola hoop challenges and dance competitions. The Kids Club closes for lunch from 1.30pm to 2pm, children at the club are charged at 60AED per child.
Meet the Experts is from 2.30pm to 3.30pm and is open to adults and children, with children charged at 30AED. This includes Shark Ed and Fish Hospital, Meet the Trainer with Falcons and Hawks, Fur Seals and Seal Lion Point and more.
The afternoon schedule at the Kids Club at The Atlantis, The Palm resort is charged at 160AED per child and includes free play, basketball, obstacle courses, dodge ball, relay races, popsicle art, science experiments, necklace making and flower creation.
The Kids Club remains open from 5.30pm to 8.30pm at 200AED per child with themed evening events, which includes a pizza dinner. Evening events include fun and exciting themes, such as Candy Olympics, Arabian Nights, Pirates on the Palm and Willy Wonka Wednesdays. Hourly adventures are also available at 80 AED per child.
You can see an example timetable below: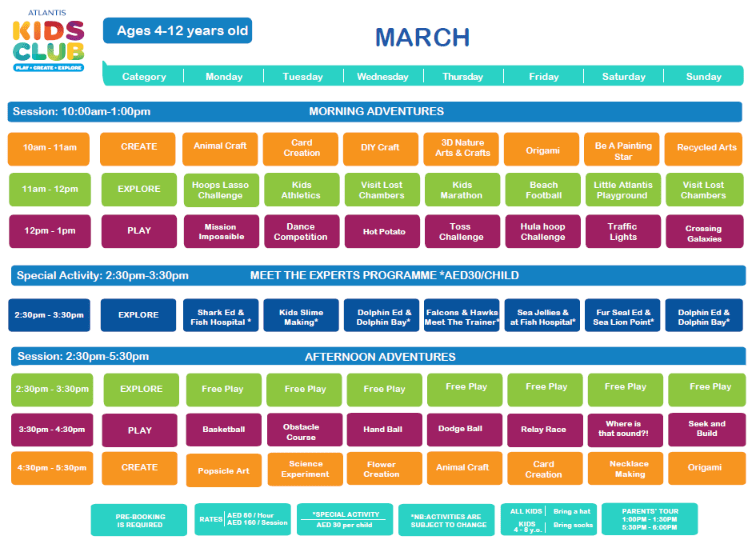 Four Spacious and Fun Areas
The Kids Club at The Atlantis, The Palm is separated into four separate zones, which includes a play zone, creation zone, command centre and underwater theatre. The Kids Club follows the ocean theme of the hotel rooms with a bright and cheerful space, brimming with activities and games for the children to enjoy.
The play zone is filled with fun obstacles, which will keep children entertained and challenged for hours, while the creation zone enables children to get hands on, creating arts and crafts that they can take home with them. The command centre is where children can play video games, including Xbox, Wii, PlayStation, along with fifteen computers. The underwater theatre is a place where children get closer to the underwater world, learning about marine life or watching movies.