Top 5 Leading Family Friendly Hotels in Morocco
With so much to see and do around Morocco, this lovely area can be the perfect setting for your family holiday. We have reviewed hotels, and these are the top 5. Staying at one of them will offer you the luxury you desire, great views, and access to the activities you wish to take part in. Your family will have wonderful memories of your travels to Morocco!
Riad Dar Anika
While this hotel is exquisite on all levels, it books rapidly as it only features 12 rooms. If you desire to stay here, make sure you book as soon as you know your travel dates. Some guests plan their holiday around when rooms are available here. It is worth it for the majestic décor and fine dining here.
Bicycles are for rent from the Riad Dar Anika. There is also horseback riding offered. These are wonderful ways for your family to explore the surroundings. It is close to Djemma el Fina Square. There are two swimming pools, one inside and one outdoors. Both offer plenty of fun for all!
Image: The Riad Dar Anika is one of the most amazing hotels found in Morocco!
Riad Idra
This hotel is warm and inviting and situated in a great location. Many guests choose this hotel because it is close to landmarks, museums, and historical places they wish to visit during their stay. Your family will enjoy the wonderful food offered at the free breakfast buffet. There is also a restaurant open for meals, offering a variety of food you will love!
For an amazing view of the city, visit the rooftop terrace at the Riad Idra. One of the unique places to visit in Morocco is Bahia Palace. You will be able to walk there from your hotel. There are many shops, restaurants, and live entertainment around this area. Bus tours are an option for places you wish to go, but they are too far for you to walk to.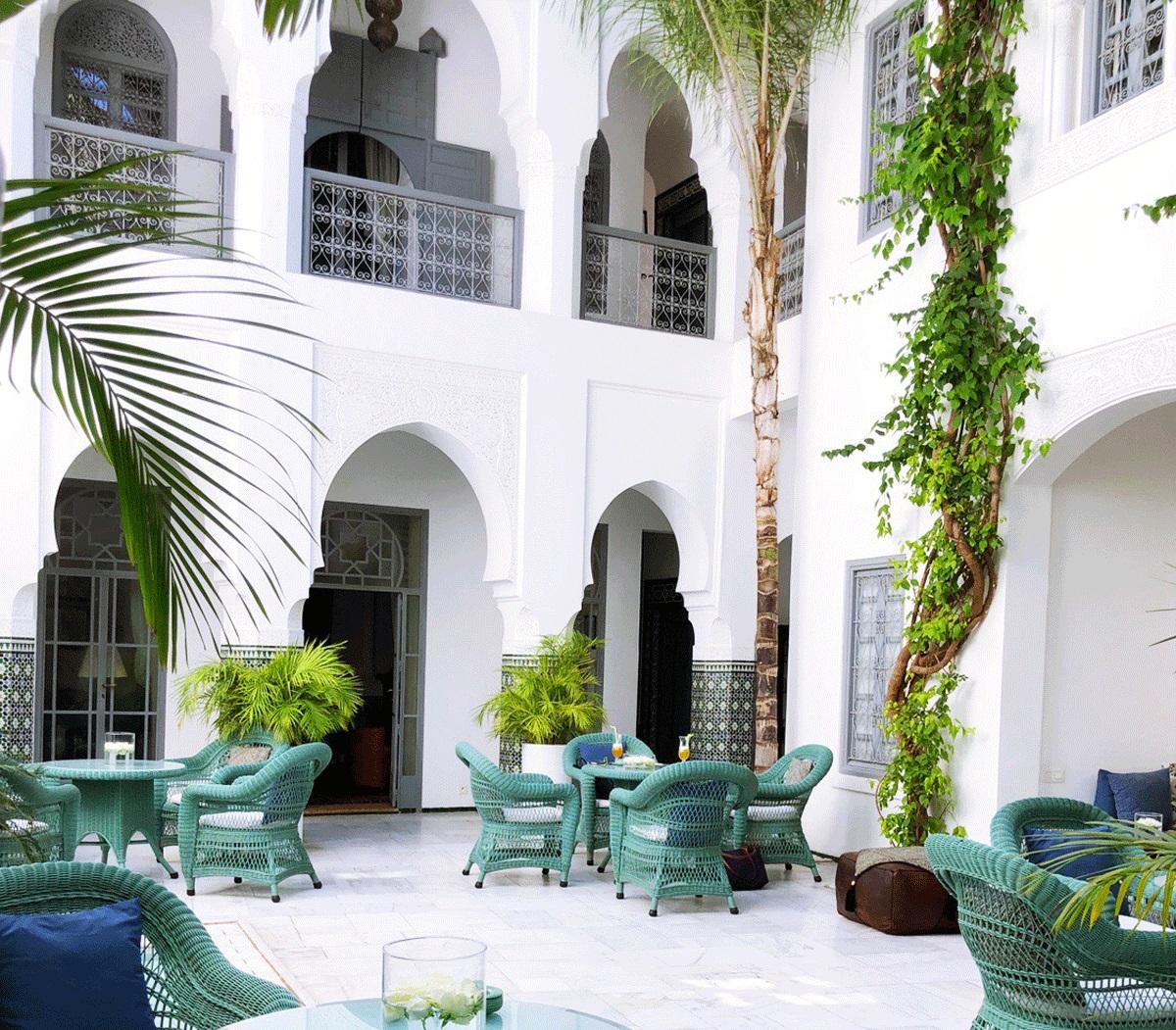 Image: Riad Idra is a beautiful hotel where you will feel right at home. It is close to many exciting places to dine or explore.
Dar Ayniwen Hotel
Children stay free at this beautiful hotel, featuring large rooms for everyone to relax and sleep. Wake up and enjoy a free buffet breakfast each day during your stay. When the weather is nice, the patio is the perfect spot to dine. Children's meals are offered both with the buffet and at the restaurant, ensuring they will be happy with what is available.
Two swimming pools are featured at the Dar Ayniwen Hotel. One of them features a shallow end, perfect for children to play in. They will enjoy the variety of toys offered to take into the pool. Bike rentals are a fun way to explore the area as a family. There is a game room here with plenty to entertain the kids. Movies and books can be taken to the room and enjoyed there.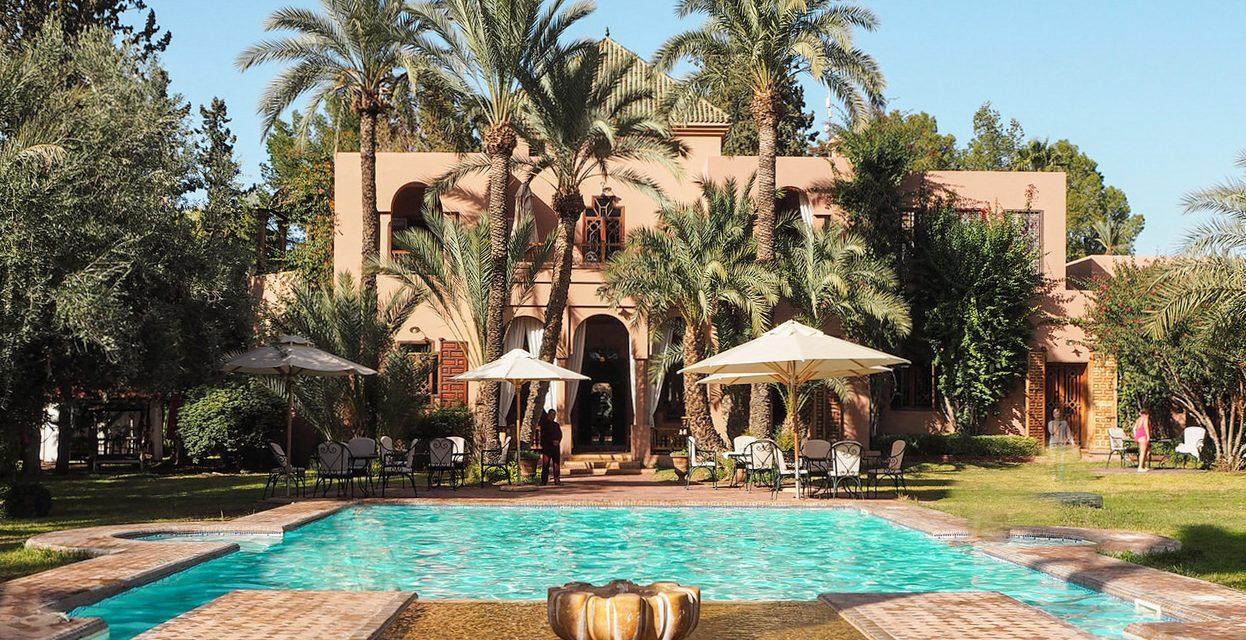 Image: The swimming pool is just one of the inviting areas at the Dar Ayniwen Hotel for your family to enjoy.
Riad Infinity Sea
Free breakfast is a hit at Riad Infinity Sea hotel, and a wonderful way to enjoy the day after a good night of sleep. The large, luxury setting in the rooms will help you relax and sleep well. Bike rentals may be a good choice for you and your family to explore the area during the day. Since it is located in the heart of Medina, there is plenty to explore in all directions!
You will find plenty of small shops to explore around the area. They offer unique items you can purchase as keepsakes of your time in Morocco or as gifts. The streets are lively with various entertainers. There are half-day and full-day bus tours offered if you desire to see some of the sights further from your hotel.
Image: The food at the Riad Infinity Sea is delightful, and just one of the many reasons families select this hotel during their time in Morocco.
Ksar Char-Bagh Small Luxury Hotel
This hotel is off the beaten path, giving you a quiet and private place to stay. Yet it won't take long for you to get the action if you wish to explore the culture and sights. The large suites are more like small apartments, perfect for your family to stay in. Each of the rooms features a private terrace or garden, offering an amazing view you will always remember!
Childcare services are offered at the Ksar Char-Bagh Small Luxury Hotel. Such a service makes it possible to have a family vacation but also some adult time while in Morocco. You may desire a romantic dinner or time to talk and have drinks without interruptions. There are two swimming pools, one inside and one outside.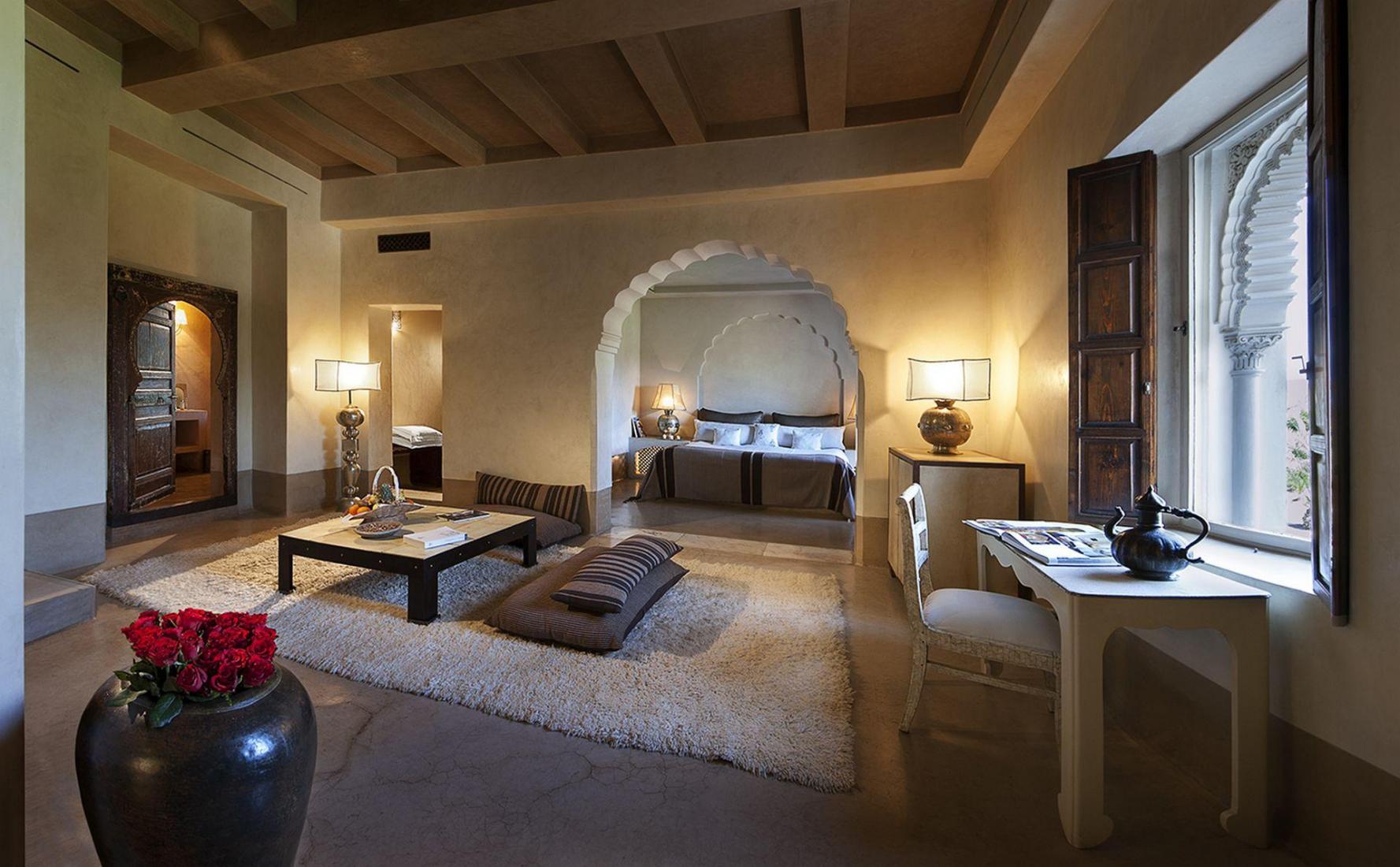 Image: The Ksar Char-Bagh Small Luxury Hotel offers plenty of space for your family and an amazing view.