Top 5 Leading Family Friendly Hotels in the United Arab Emirates
The lovely essence and beautiful architecture around the United Arab Emirates are amazing to see in person! You will be in awe of everything to see and do, and having your family there with you to take it all in is memorable. These are the top hotels we recommend after reviewing tons of them.
Raffles Dubai
This pyramid-shaped hotel is a fun and comfortable place to stay. It is in the centre of the city, making it easy to explore. There are plenty of places to shop, enjoy live entertainment, and grab a snack or a meal. Wafi mall is one of the most popular places to shop in this area. You will appreciate not having to carry your purchases too far to get back to your hotel.
With over 250 rooms, Raffles Dubai offers a great view of the city. Your family may enjoy staying in a suite as they have more space. There are 7 wonderful restaurants at this hotel, all of them offering plenty of great food selections. There are activities for kids and an outdoor playground. The hotel features several pools, including one for children that is shallow. Bowling and a water park are offsite but close to the hotel. Babysitting is available if you need some adult time!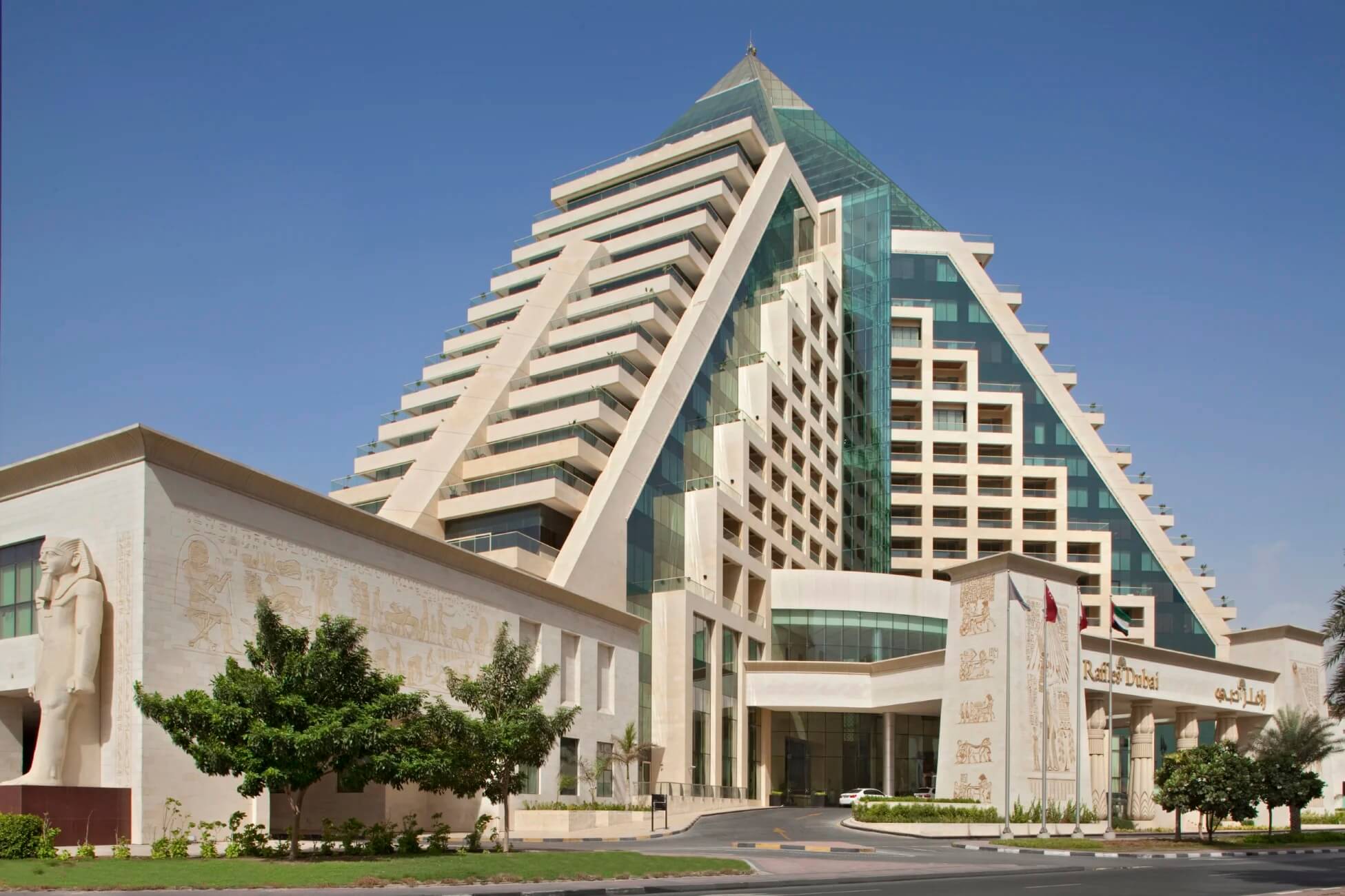 Image: Staying in this hotel is fun and a unique experience due to the pyramid shape at R
The Address Dubai Mall
The lovely hotel is in a prime location, right downtown. There is plenty for kids to take part in. Many of the activities are designed for the entire family to enjoy. Childcare is offered if you wish to schedule activities for adults only. The kid's club is a place they will love to spend time at.
The Address Dubai Mall is attached to the Dubai mall, a hot spot for shopping and entertainment. There is so much to explore and great places for your family to get something to eat. You will find one of a kind items to purchase as reminders of your time here. Your family will love the Dubai aquarium and underwater zoo!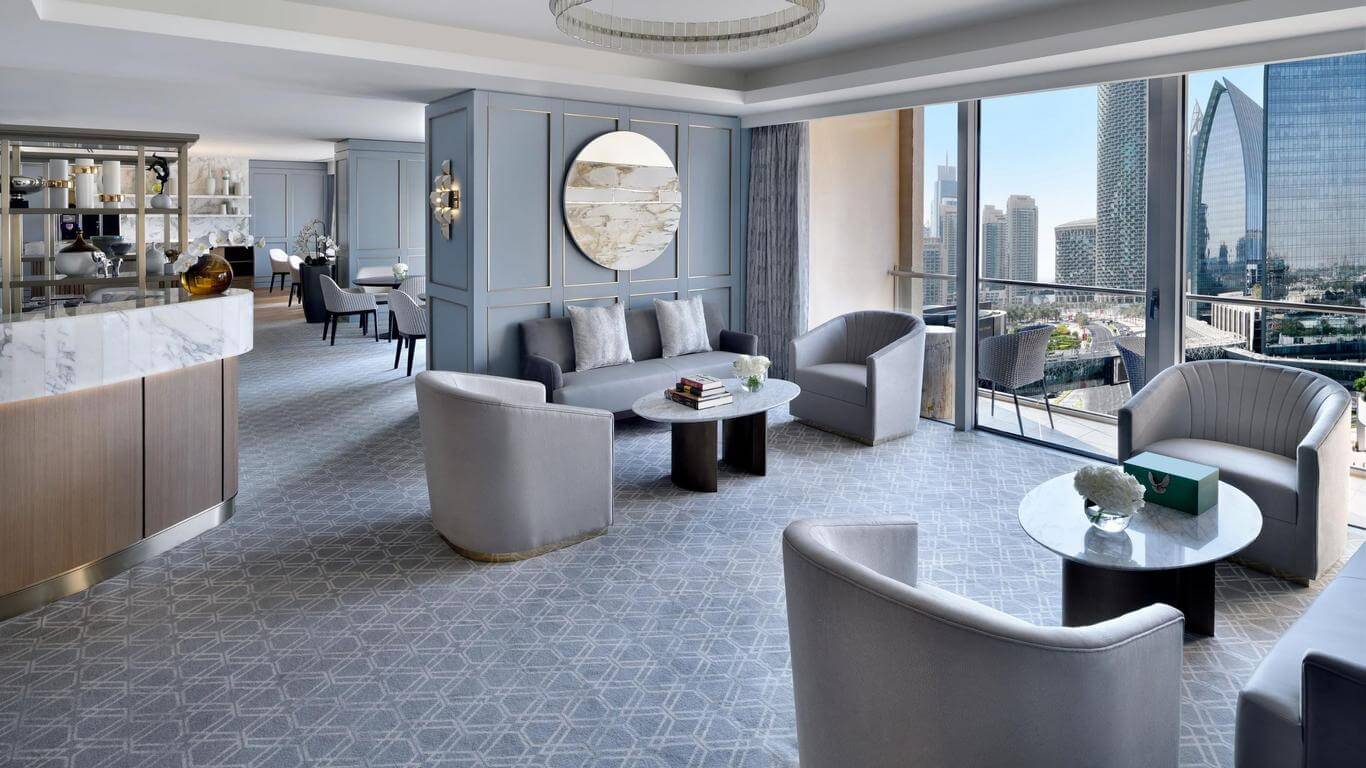 Image: Your family will love the open space and location of The Address Dubai Mall. The tall windows offer an amazing view of the city.
Kempinski Hotel Mall of the Emirates
This hotel is connected to the Mall of Emirates, making shopping both fun and convenient for guests. This is an amazing place for more than just shopping, there is often live entertainment featured. Many wonderful restaurants are available in this area. Plan on spending a day or two here as it has more than 500 stores and a large movie theater.
Kempinski Hotel Mall of the Emirates offers a kid's club with plenty of fun activities to keep them entertained. The game room features video games, table tennis, and billiards. And board games. The hotel features several swimming pools and toys for kids to use in the water. Babysitting is available, giving adults a family holiday with some adult only time carved in!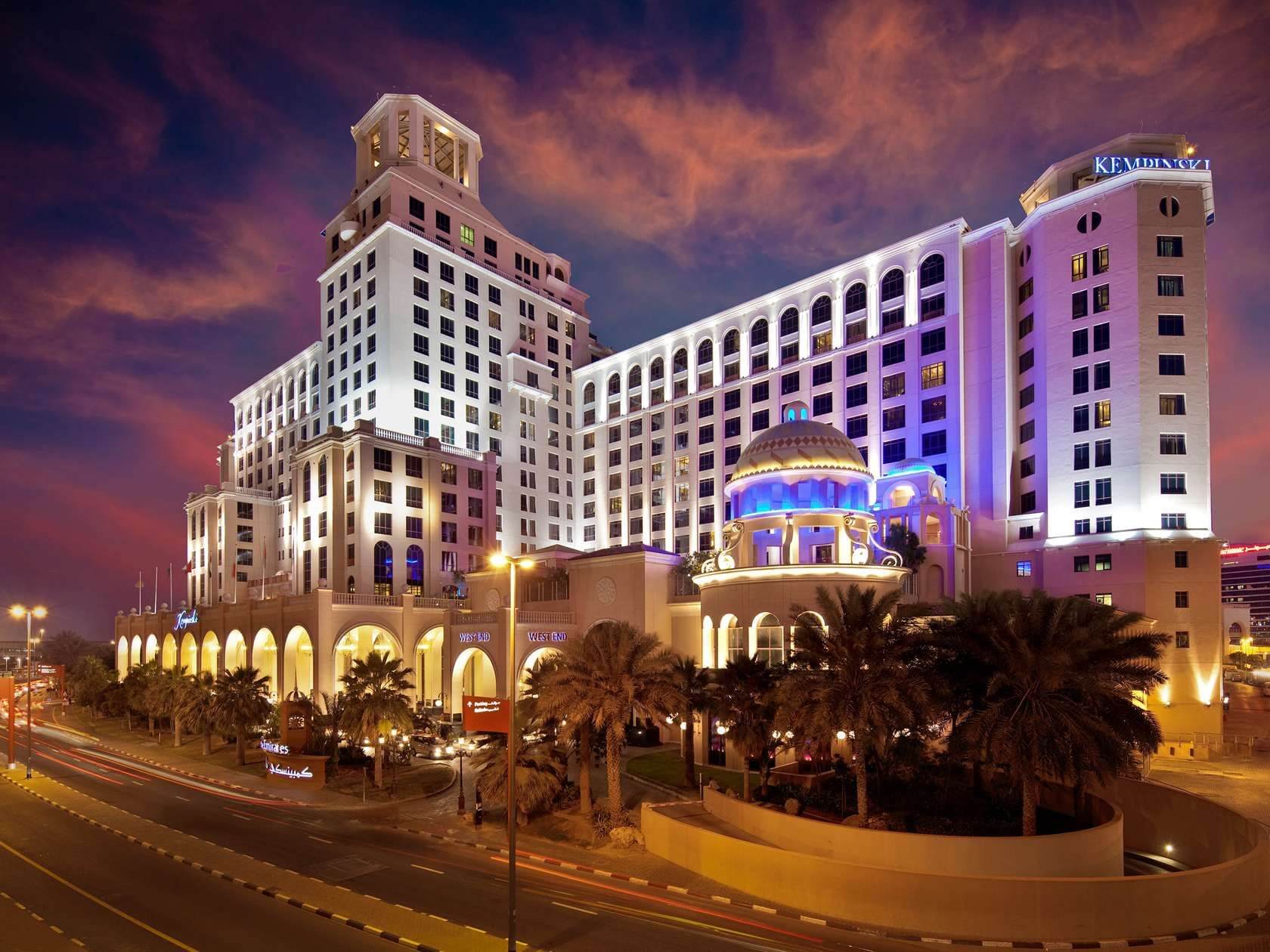 Image: The beautiful Kempinski Hotel Mall of the Emirates has plenty to offer and it is in a prime location.
The Chedi Al Bait, Sharjah
This is a newer hotel, established in 2018. It continues to get rave reviews and it is very popular with those coming on holiday. The hotel is the result of restoring historical manor houses, and the result is 53 beautiful rooms/suites. The lovely architecture is appreciated, and families enjoy the comforts of home when they stay here.
There is plenty to explore close to The Chedi Al Bait, Sharjah. This includes wonderful places to shop, eat, and enjoy entertainment. There are three of the top museums in this area, and they offer a remarkable way for your family to learn about the history and culture of this region. The Sharjah Art Museum is also a fun place to visit.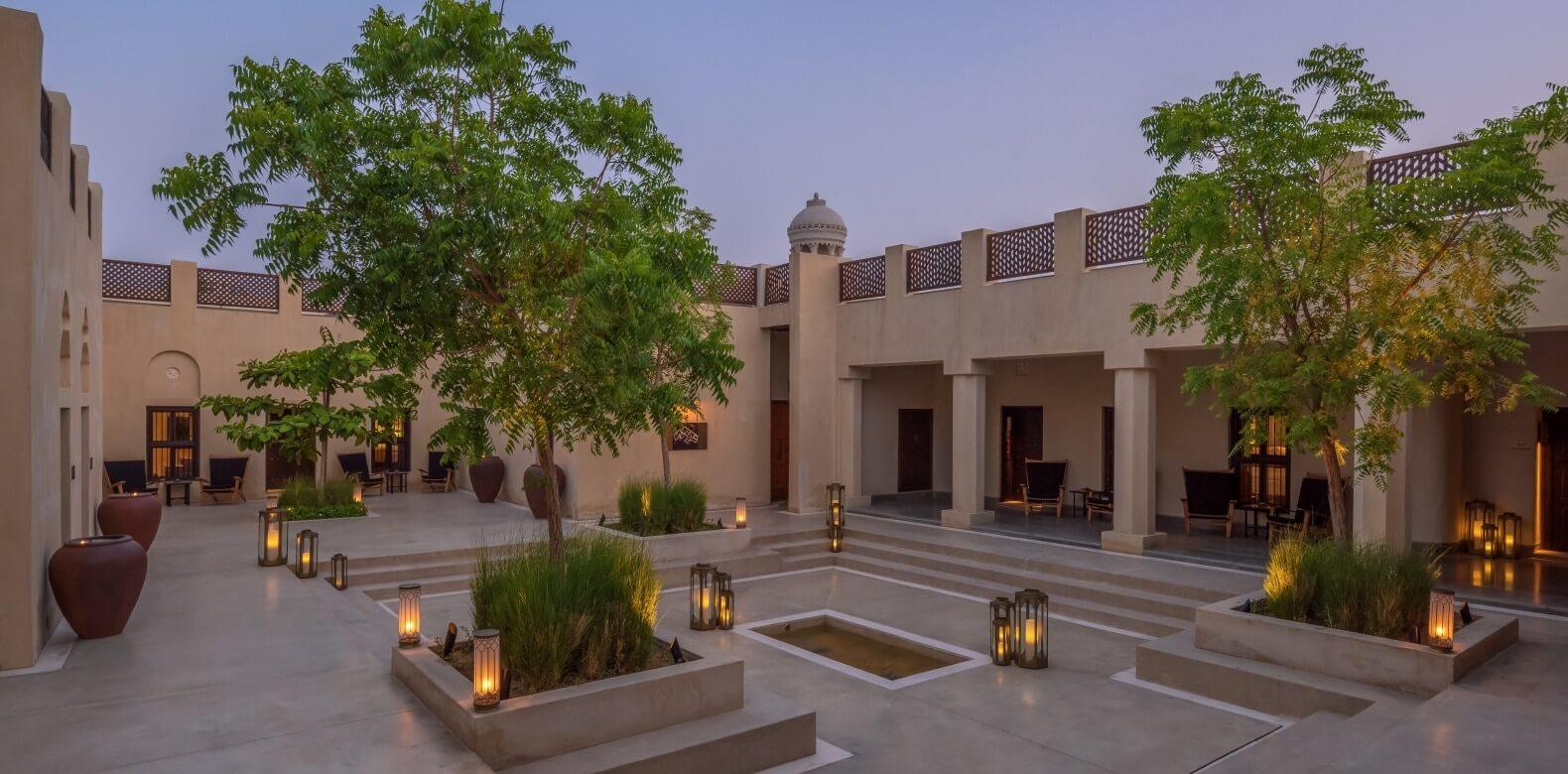 Image: The Chedi Al Bait, Sharjah is comfortable and inviting both inside and out. The rooms are large and offer plenty of perks while you are on holiday.
The St. Regis Abu Dhabi
Guests love the large windows at The St. Regis Abu Dhabi, providing a lovely view of the water. The giant rooms here are delightful and give your family extra space to spread out. The beach is outside the front door, and private. You don't have to worry about it being overcrowded. You can conveniently go back and forth to your room all day long. The beach is a great place for a lovely moonlight stroll too.
There are several swimming pools here, and one that is shallow for the kids. It has plenty of toys for them to take into the water with them. The restaurant offers amazing dishes, and you choose to eat in the restaurant or outdoors. Food can also be delivered to your room. There is a kid's club and childcare services offered.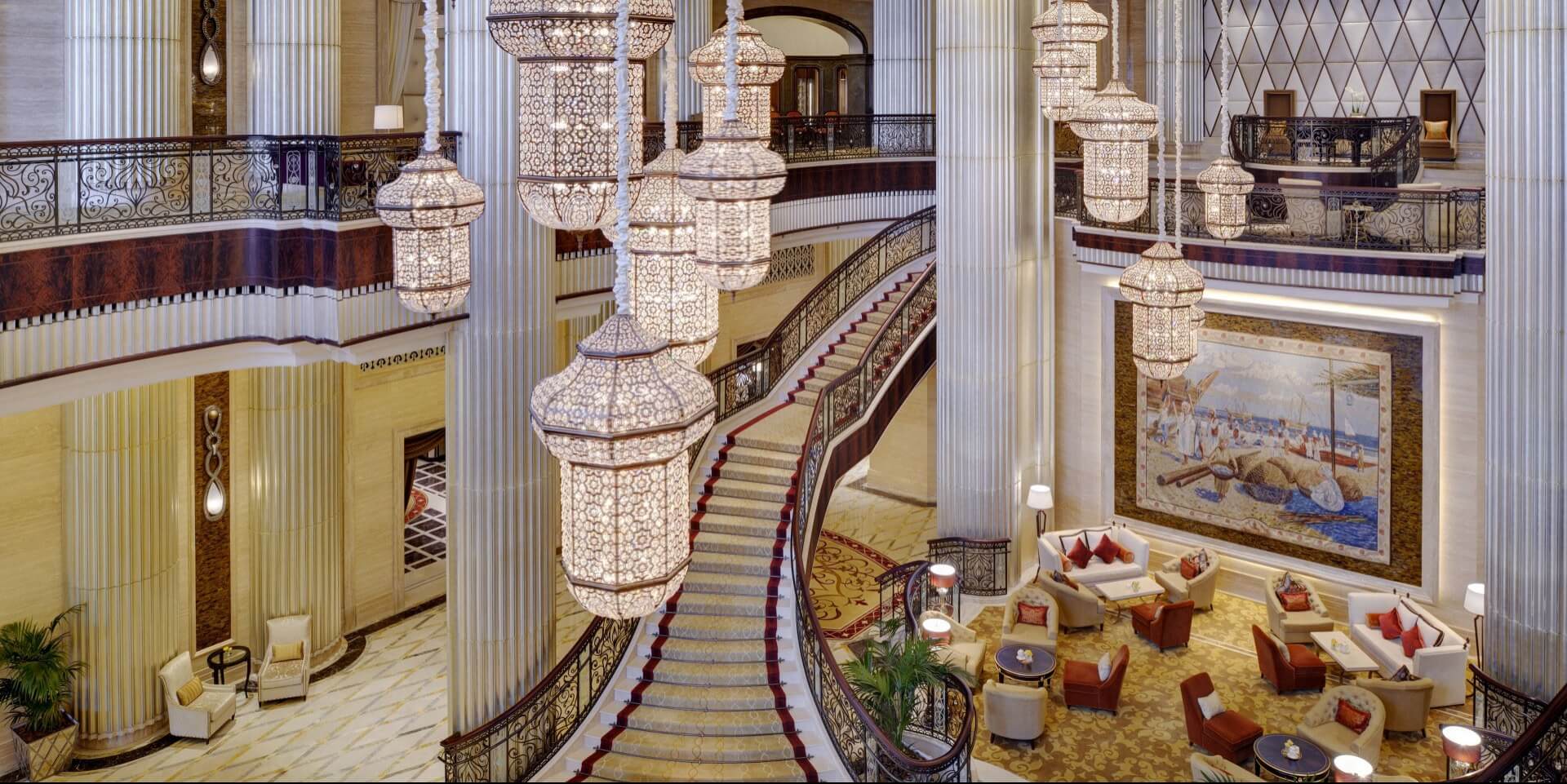 Image: The exquisite St. Regis Abu Dhabi is one of the most beautiful hotels you will ever see!