Top 5 Rated Best Value Family Friendly Hotels in Athens
Athens offers beautiful weather, family friendly hotels and plenty of activities to keep children busy and entertained. It is a very popular family friendly destination, where you can visit the city or spend time on the pristine beaches.  Athens is popular with families with children of all ages. The museums and sights offer plenty of children entertainment, along with lovely parks and of course a spectacular seaside, making it the perfect choice for your next family holiday.
Electra Metropolis Athens
Electra Metropolis Athens is a five star luxury hotel located in the heart of Athens. This modern hotel is only two hundred metres from Syntagma Square, offering a rooftop pool with waterfall, sun terrace and spectacular city views. The top floor restaurant offers gourmet dishes, which can be enjoyed by the whole family. The hotel offers a wide choice of guest rooms and suites with marble tied en-suite bathrooms, a satellite television, mini bar and laptop safe. The hotel offers complimentary wireless internet throughout.
In the centre of the hotel you will find the lounge area, with a sky light that is an atrium and decorated with art. There is also a ground floor bistro with open kitchen. This hotel offers a twenty four hour front desk, room service, an airport shuttle, and family rooms. There is also a spa and wellness centre on site, offering an opportunity for some pampering during your stay.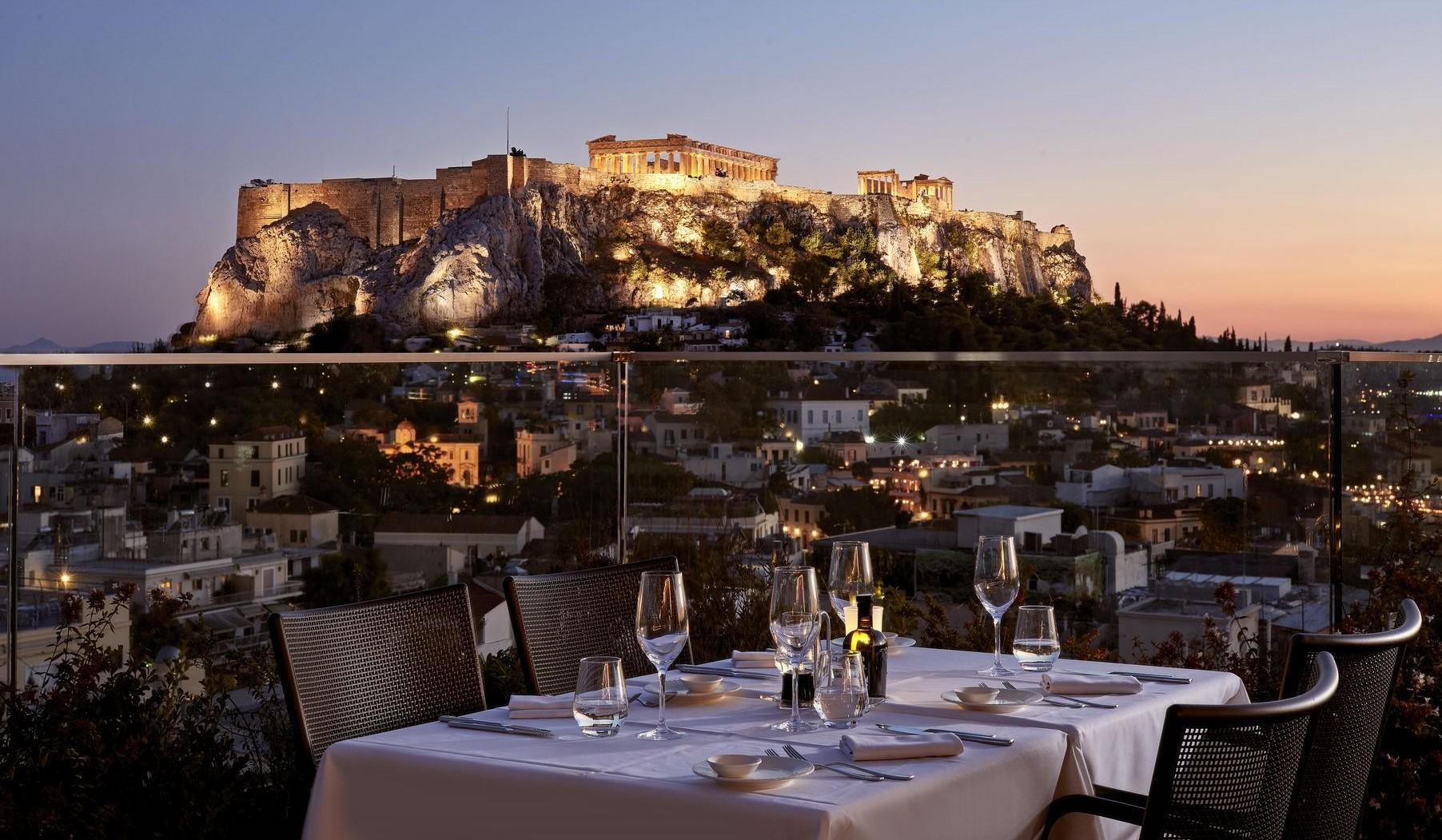 Image: Five star luxury family friendly hotel in the heart of Athens.
Electra Palace Athens
The Electra Palace Athens is located in the centre of Plaka offering personalised services, rooftop swimming pool and spacious guest rooms. This five star hotel offers a buffet breakfast, which is included in the price, getting you ready for your day of exploring the sights or having some seaside fun. You can walk to most of the top attractions in Athens from the hotel, with the shopping districts only a five minute walk.
The guest rooms are spacious and well-appointed offering satellite televisions, airconditioning and en-suite bathrooms. The hotel's on-site restaurant has a terrace, where you can enjoy spectacular Acropolis views. There is also a spa on site, along with sauna and indoor swimming pool.  In addition to the two swimming pools, the hotel offers an airport shuttle service, fitness centre, room service, and currency exchange services. All rooms are non smoking for convenience.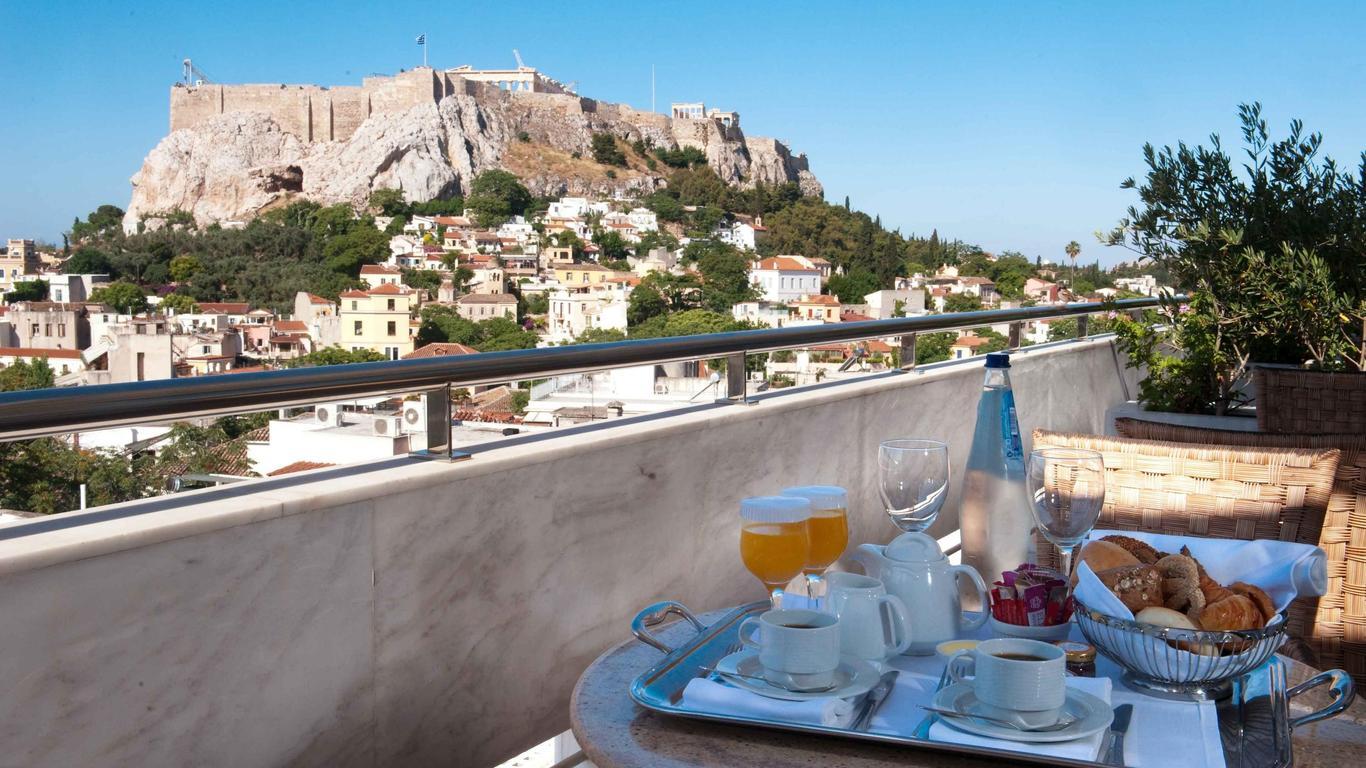 Image: A five star family friendly hotel offering a range of luxurious amenities and facilities.
Grand Hyatt Athens
The Grand Hyatt Athens offers guests the comfort and luxury of an on-site spa, atrium swimming pool and a rooftop, which boasts spectacular views of the Acropolis. The guest rooms are all air conditioned and elegant in design with modern technologies. This five star luxury hotel offers a spa and fitness centre, along with an on-site restaurant. The rooms all offer a work desk, mini bar, marble bathroom, safe and twenty four hour room service.
The on-site restaurants offer the best of Mediterranean and Asian foods, along with a selection of signature cocktails. The fitness centre is open twenty four hours a day. This hotel is a short drive from the centre of Athens with Pincus Port being a twenty minute drive from the door. The Acropolis is less than three kilometres away. This hotel is popular with families with it's non smoking rooms, room service, fitness centre, spa centre, three swimming pools and ATM and currency exchange services.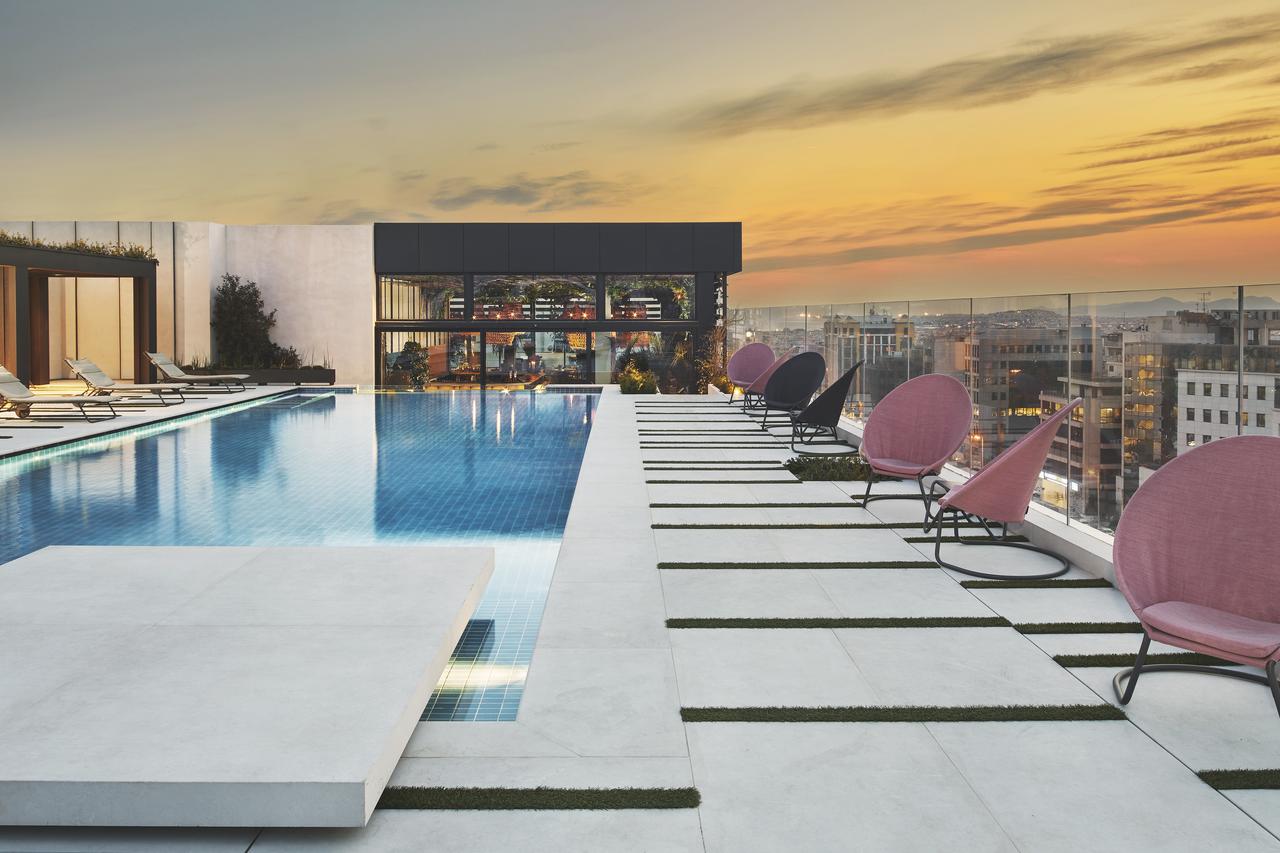 Image: Family friendly hotel offering easy access to the top Athens attractions.
InterContinental Athenaeum Athens, an IHG Hotel
The InterContinental Athenaeum Athens is located only three kilometres from the Acropolis. It is located within easy distance of the metro stations, making it ideal when wanting to explore the sights and attractions in Athens. The hotel offers award winning restaurants, a twenty four hour fitness centre and an on-site spa. The guest rooms are spacious and elegant, complete with marble bathrooms, satellite televisions, and a work desk.
The hotel's on-site restaurants offers international dishes, along with some Greek favourites, Mediterranean cuisine, pastries and light meals. You can take a refreshing dip in the swimming pool, or make use of the spa treatments, beauty treatments, hot tub and sauna. There is also a state of the art fitness centre on-site. In addition to the swimming pool, spa and fitness centre, the hotel also offers non smoking guest rooms, room service, an on-site ATM and tea and coffee making facilities.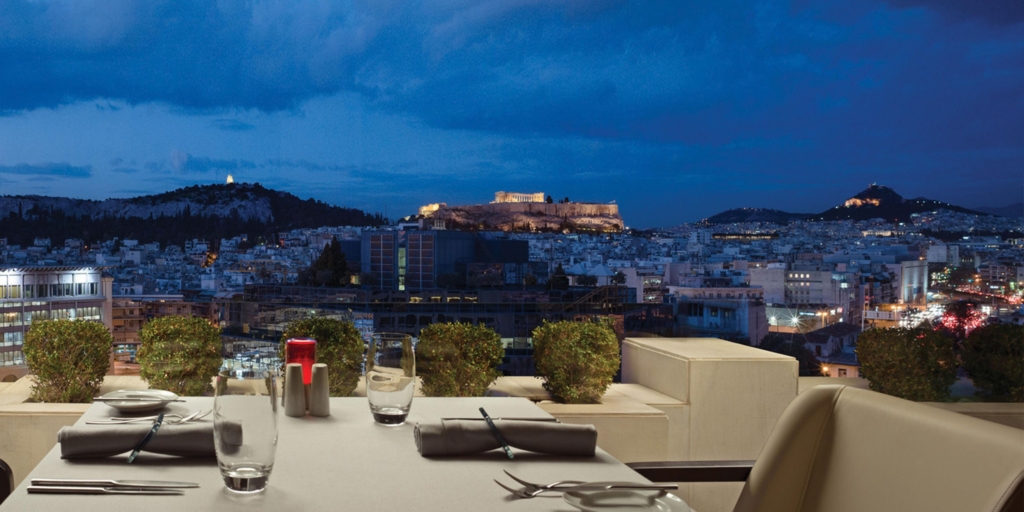 Image: Luxurious hotel only three kilometres from the famous Acropolis in Athens.
Divani Palace Acropolis
This five star luxury hotel offers spectacular Acropolis views from the rooftop terrace. The hotel is within walking distance of the Acropolis museum and Herodion Theatre. All guest rooms boast private balconies and are decorated to the finest standard, complete with satellite television, air conditioning and safety deposit boxes. The hotel has it's own touch of history with the Themistocles wall, which is ancient ruins which were discovered in the foundations when the constructed the hotel. They have incorporated these ruins into the architectural style of the hotel.
The Divani Palace Acropolis Hotel offers a complementary shuttle service to Syntagma Square, while the metro station is only five hundred metres from the door. The hotel offers room service, fitness centre, non smoking rooms, a swimming pool, excellent breakfasts, and they have an ATM and currency exchange services on site.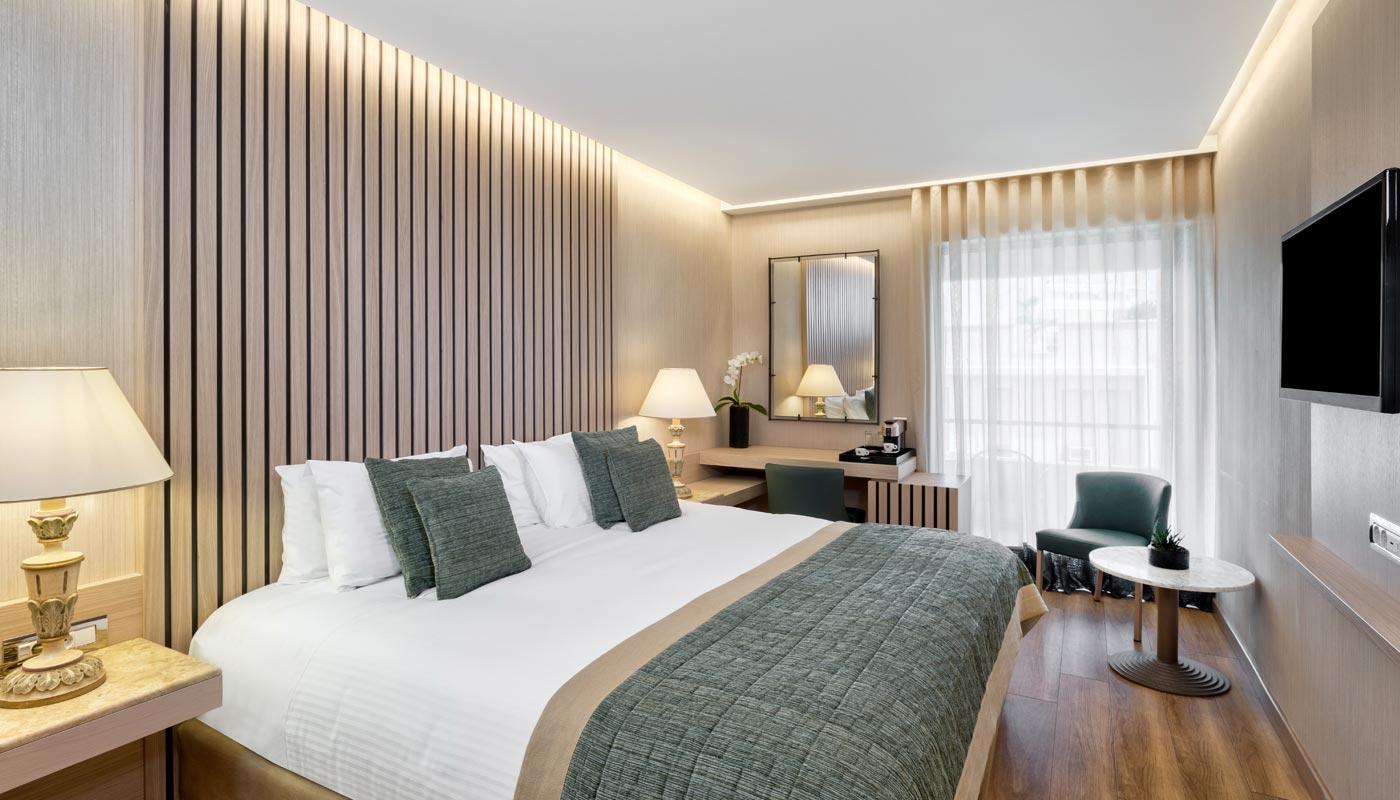 Image: Five star family friendly hotel complete with private balconies, top facilities and amenities in prime Athens location.