Top 5 Rated Luxury Family Friendly Hotels in Muscat
With so much to do in Muscat, your days and evenings will be filled with fun and adventure. Where will you spend your time relaxing and sleeping? The value of a luxury hotel as part of your family holiday is important. It ensures you love the location, the décor, and where you stay. Feeling safe and comfortable matters, and we have done the digging around for you. Any of these 5 hotels in Muscat offer upscale accommodations you will love!
Kempinski Hotel Muscat
This beautiful hotel offers a great view of the Gulf of Oman, and there are plenty of water activities to enjoy there. This includes boating and windsurfing. It is also close to a beautiful golf course. Make sure you book your tee time in advance to secure your spot out there! Each day the hotel features family activities and the kid's club is a fun place for younger kids to hang out. There is babysitting offered at the hotel, giving adults time for some adventure on their own!
Tennis courts and bowling are offered to guests, they are offsite, but not far from the accommodations. The restaurant offers great food, and they have both indoor and outside seating available. Mutrah Geotrak is a beautiful scenic walking area your family will enjoy. White Star Tailors is a few minutes away, and has some impressive shopping and dining options.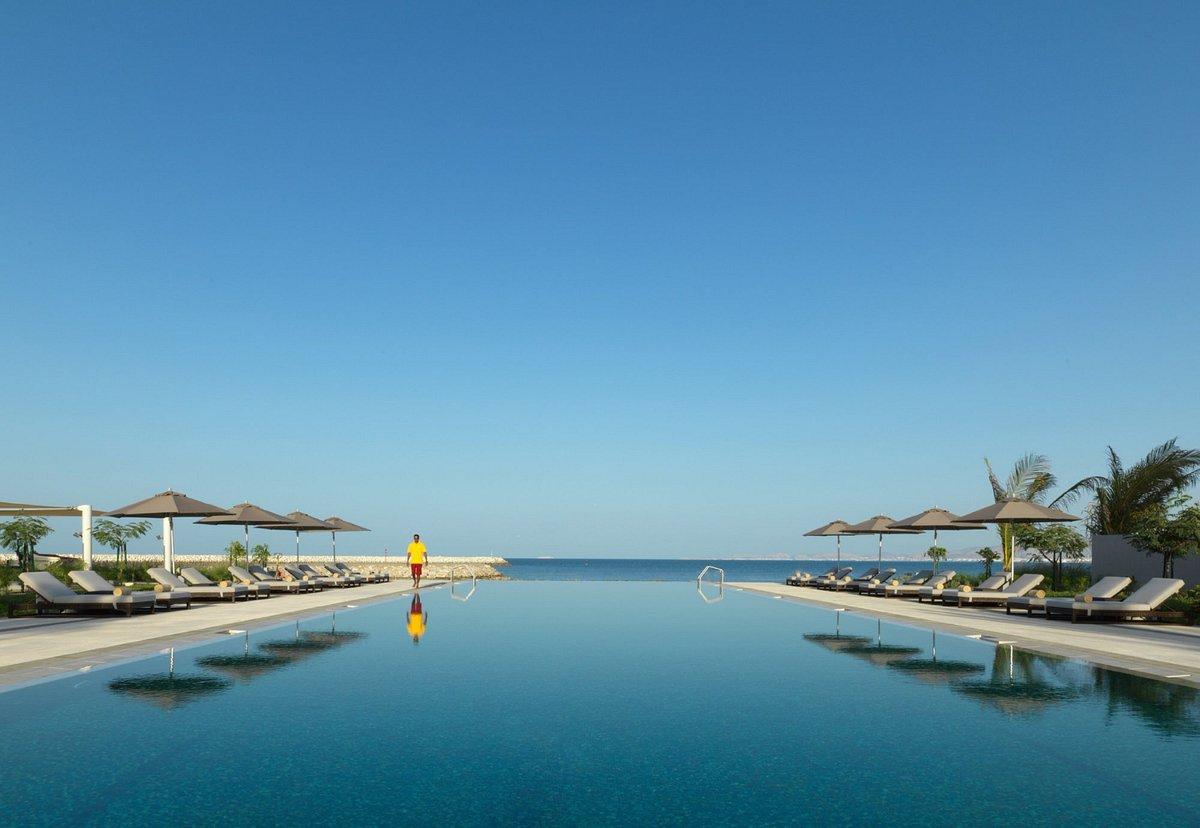 Image: Enjoy an amazing view and close access to the beach/water of the Gulf of Oman when you stay at the Kempinski Hotel Muscat.
Hormuz Grand Muscat
Featuring 231 luxurious rooms, the Hormuz Grand Muscat is a luxurious hotel with so much to offer. Many of the rooms are suites, and that offers additional space for your family to have when you stay here. The view of the mountains and the lush green valley is impressive. The hotel has two wonderful restaurants. You are in for a treat as one of them features a bakery!
The outdoor swimming pool is a common place for family fun. A snack bar is out there, offering a variety of food and drink choices. City tours and Muscat nature tours can be set up through the hotel. Some of them are half of the day and others are a full day in length. There is also a nature and wildlife reserve about 5 miles from the hotel.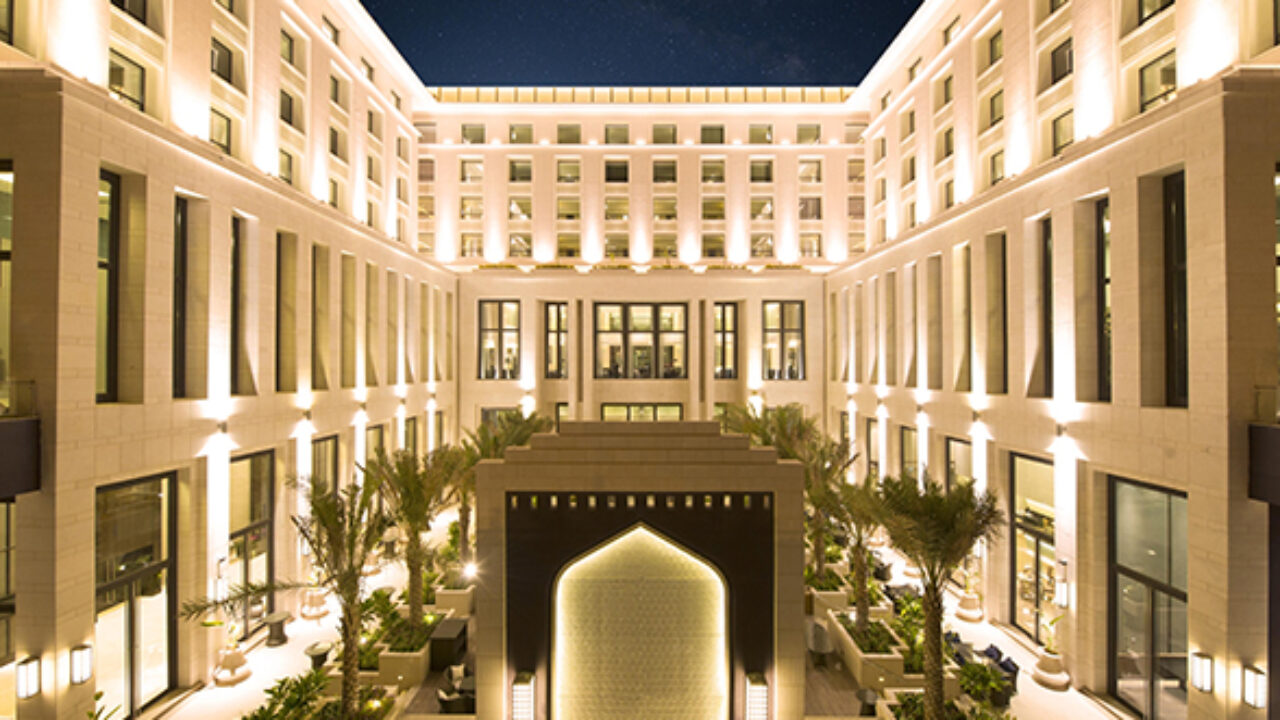 Image: Your family will love staying at this upscale place, Hormuz Grand Muscat is also in a wonderful location.
InterContinental Muscat
Guests love the view from the InterContinental Muscat. This includes the Hajjar Mountains and the beach! Being able to walk out the front of the hotel and immediately access the sandy beach is ideal. There are plenty of activities in the water too including diving, boating, and snorkelling. This hotel has tennis courts and two swimming pools. One of them features a shallow end, perfect for small children to play in.
The kid's club is perfect for children to enjoy a variety of activities. There is also babysitting offered, allowing adults to book some adventures the children are too small for. Evening entertainment is offered and there is a poolside bar open for adults. The game room offers table tennis, darts, video, games, and board games. There are some delightful art galleries to explore, about a 10 minute walk from the hotel.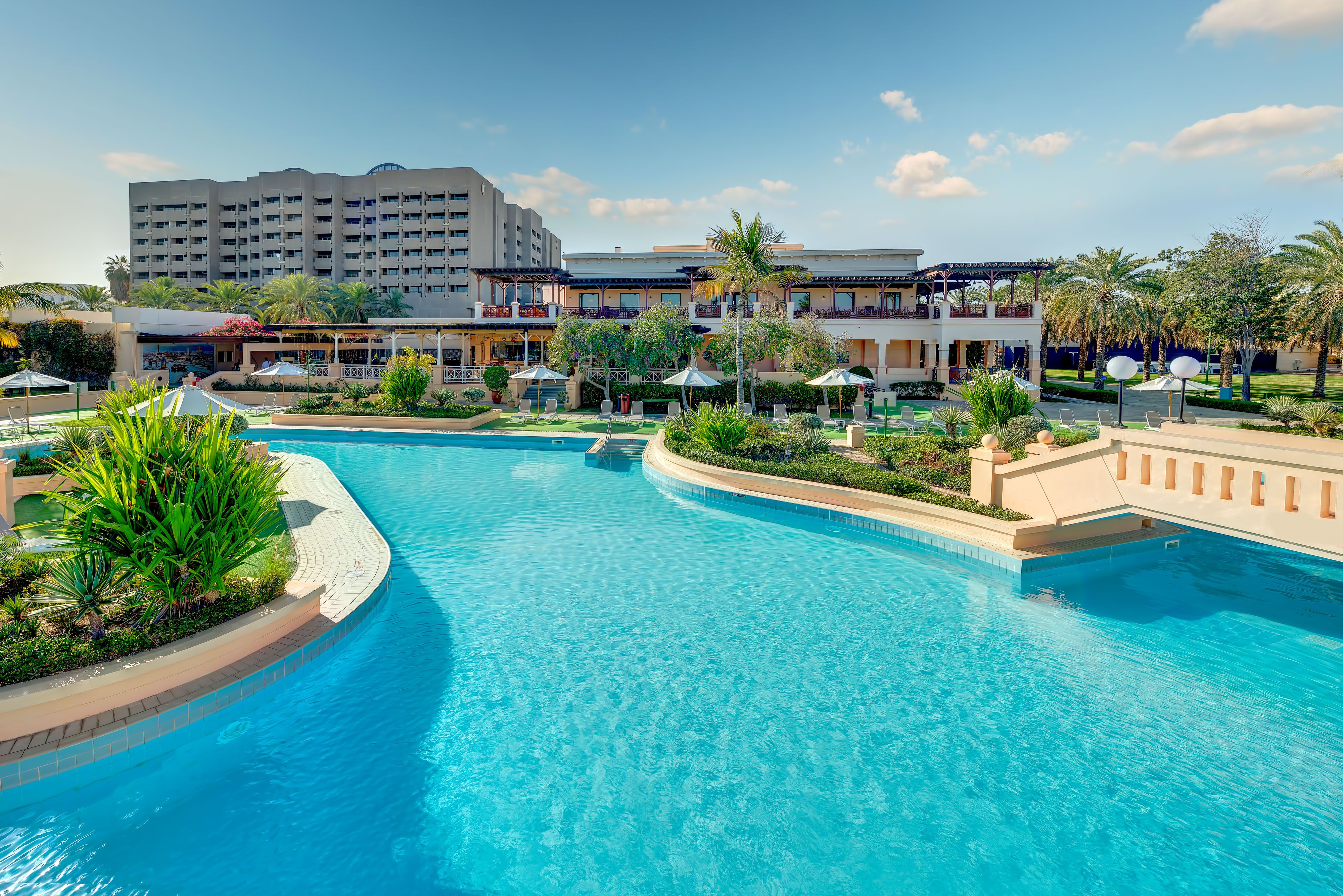 Image: The InterContinental Muscat is beautiful with plenty of perks to pamper your family.
Sheraton Oman Hotel
This hotel has been defining luxury accommodations in Muscat for the last 30 years, and still going strong. The hotel has been renovated several times to ensure it continues to offer outstanding options for guests. The Sheraton Oman Hotel is the tallest building in the city, and offers a great view of the surroundings.
The hotel has three swimming pools, a restaurant, and a snack bar. Enjoy delicious treats and wonderful meals when you access what the hotel has to offer. A scenic walking area, Mutrah Geotrak is a few minutes down the street and fun to explore at your own pace. There are shops and places to eat about a 10 minute walk from the hotel.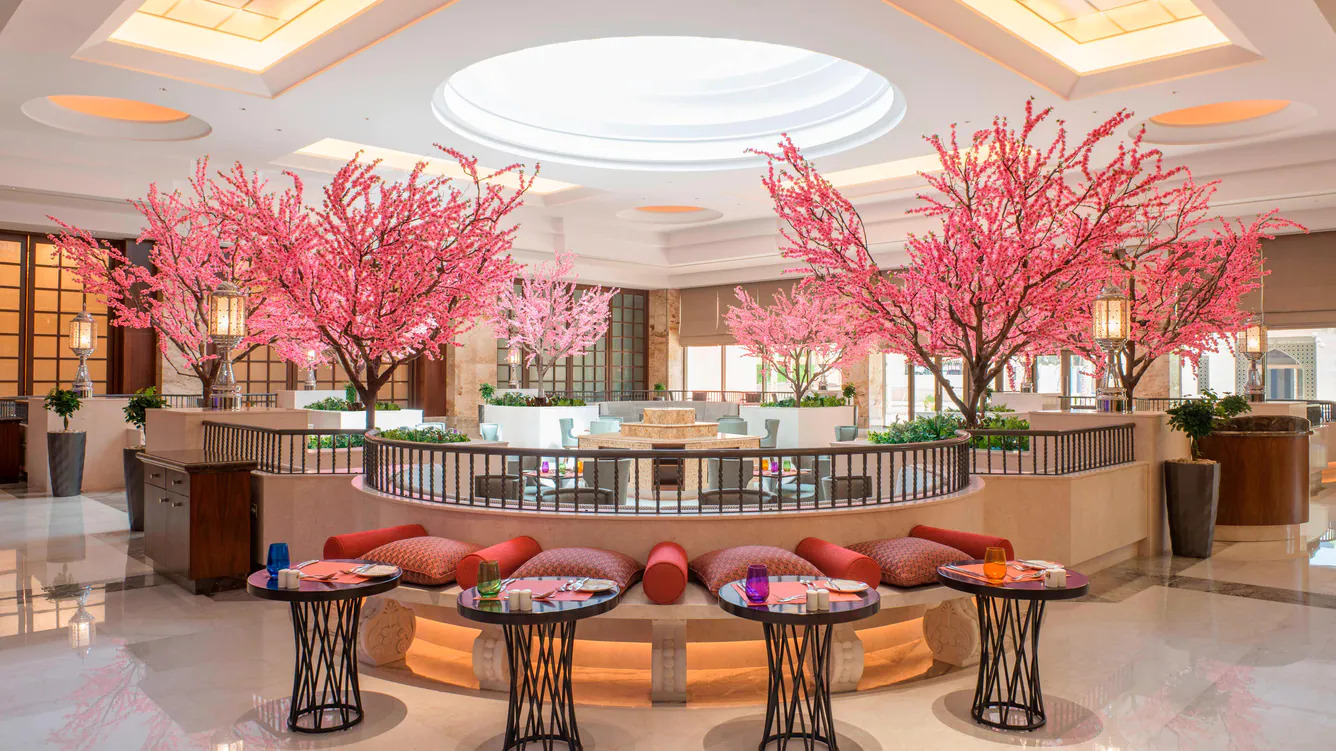 Image: The lovely design and the location are just a few reasons why Sheraton Oman Hotel is a fantastic place to stay.
Shangri-La
The beautiful design of the Shangri-La is warm and inviting, and guests rave about the view. This hotel sits on a cliff, providing a unique view of the city below. The hotel offers a private beach area, ensuring you don't have to deal with overcrowded tourist areas. Canoeing and diving are popular events in the water. Equipment can be rented from the hotel.
The hotel features two swimming pools and a lazy river. It is a fun place for the family to relax and cool off. The hotel has an excellent restaurant, and both indoor and outdoor dining. The scenery around this area offers plenty of walking paths and relaxing areas. You will find great shopping options close by.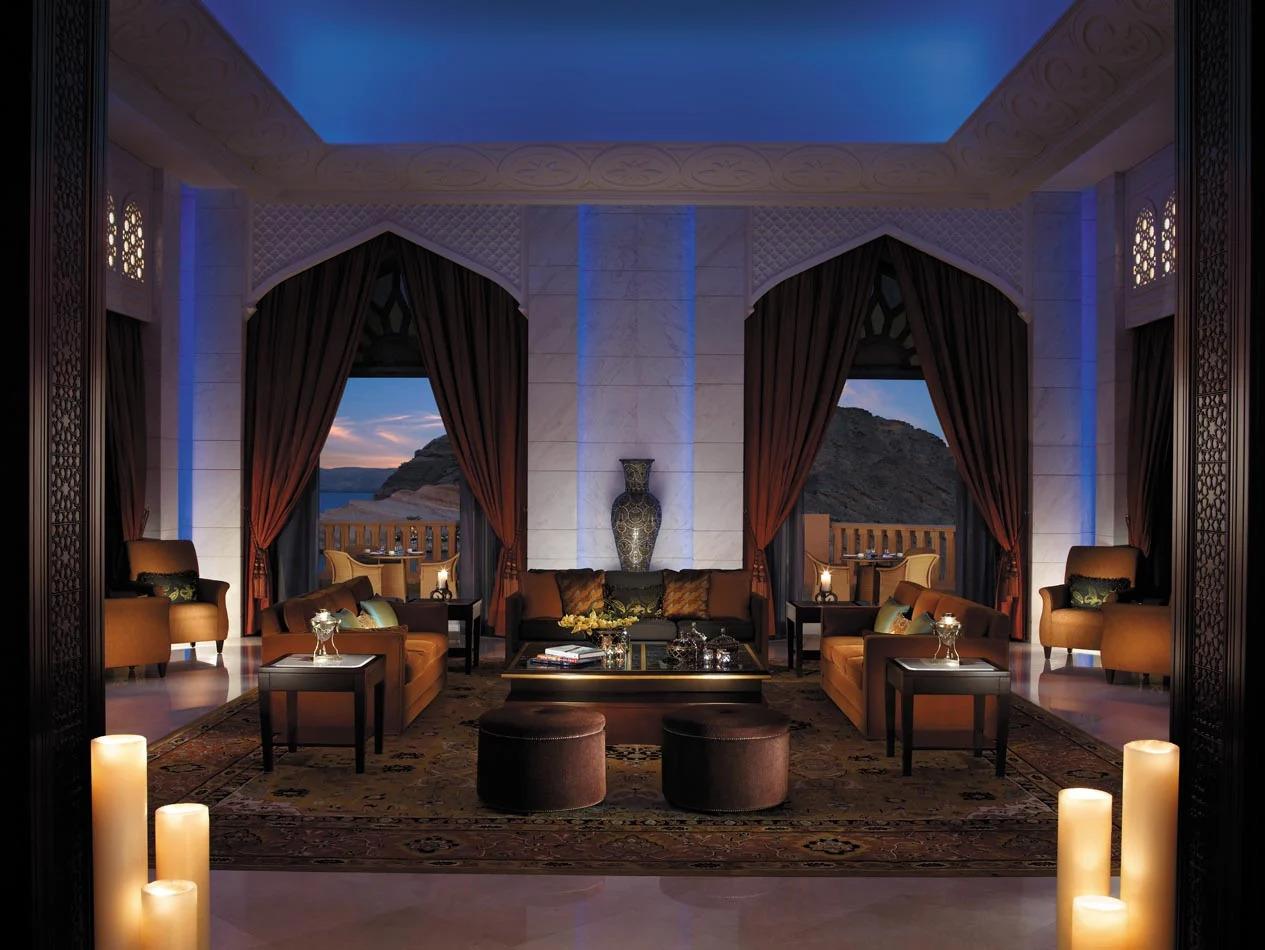 Image: The lovely décor and amazing rooms at Shangri-La are something your family will never forget.