A country famous for its stunning natural wonders, large cinnamon and tea exportation, and rich biodiversity
Sri Lanka is a popular vacation destination for people of all nationalities. But what about Sri Lanka with children? Is Sri Lanka a nice place to visit for families, especially those with young children? The simple answer is yes, however this advice will help put your mind more at ease about taking a family vacation in Sri Lanka.
While this is understandably one of the most commonly asked questions about Sri Lanka, millions of tourists, including families with children, continue to visit the country each year because there is so much to see and do.
From mid-December to mid-April is a great time to visit Sri Lanka with children, since you have the best chance of experiencing perfect weather. If not, another good time to visit Sri Lanka is between July and September. The country also boasts a solid healthcare system on which parents can rely, as well as government hospitals located throughout the country.
Sri Lanka, similar to a delicious curry, provides a dizzying diversity of options for families, but it is clearly not a first-world country, so the child expecting a Disneyland experience might be disappointed. There are, however, several child-friendly resorts where you can relax on the beach and build some sandcastles with your kids.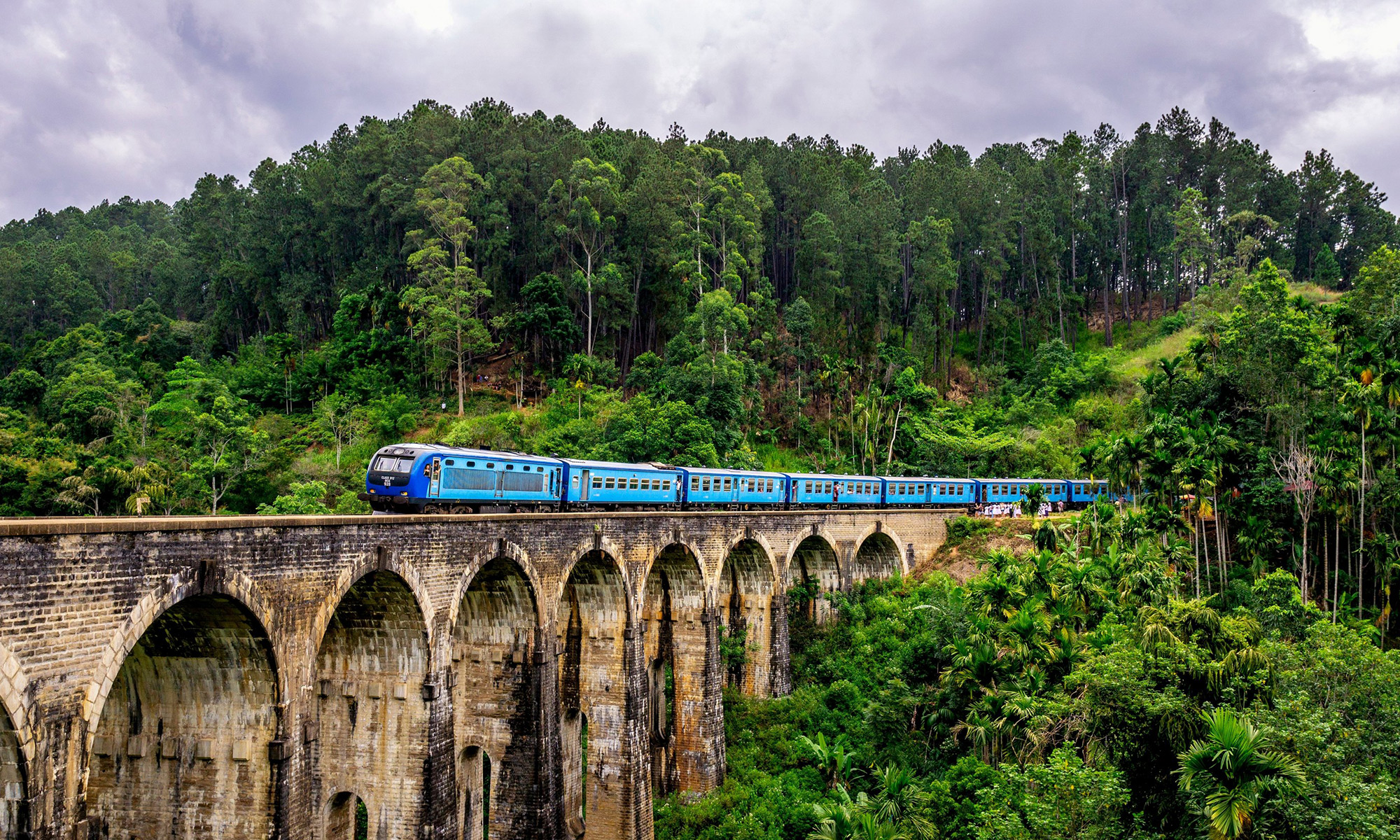 IMAGE: One of the best experiences in Sri Lanka, is taking a train drive through its beautiful landscape. For example, you can take the amazing train excursion to Nuwara Eliya to see the scenic hill regions of this Asian treasure. This train ride takes you across mountains and through tunnels and it's an adventure you and your children don't want to miss.
Even if there are no amusement parks in Sri Lanka, its residents have a unique affection for children, and families with children that travel to this country will find that the little ones often receive a lot of attention. Historical places, beaches, and elephant-filled national parks can all intrigue and entertain children. However, due to a lack of special facilities, children will benefit from the same sense of adventure in visiting the country as adults do.
There is a risk of Malaria in Sri Lanka and there are some recommended vaccinations for both children and adult travellers, like DTap, MMR, Typhoid, Japanese Encephalitis, Hepatitis A, Hepatitis B, Cholera, and Rabies but having said that, travelling with children to Sri Lanka can be a lot of fun if you plan ahead of time and pay attention to a few details while you're there.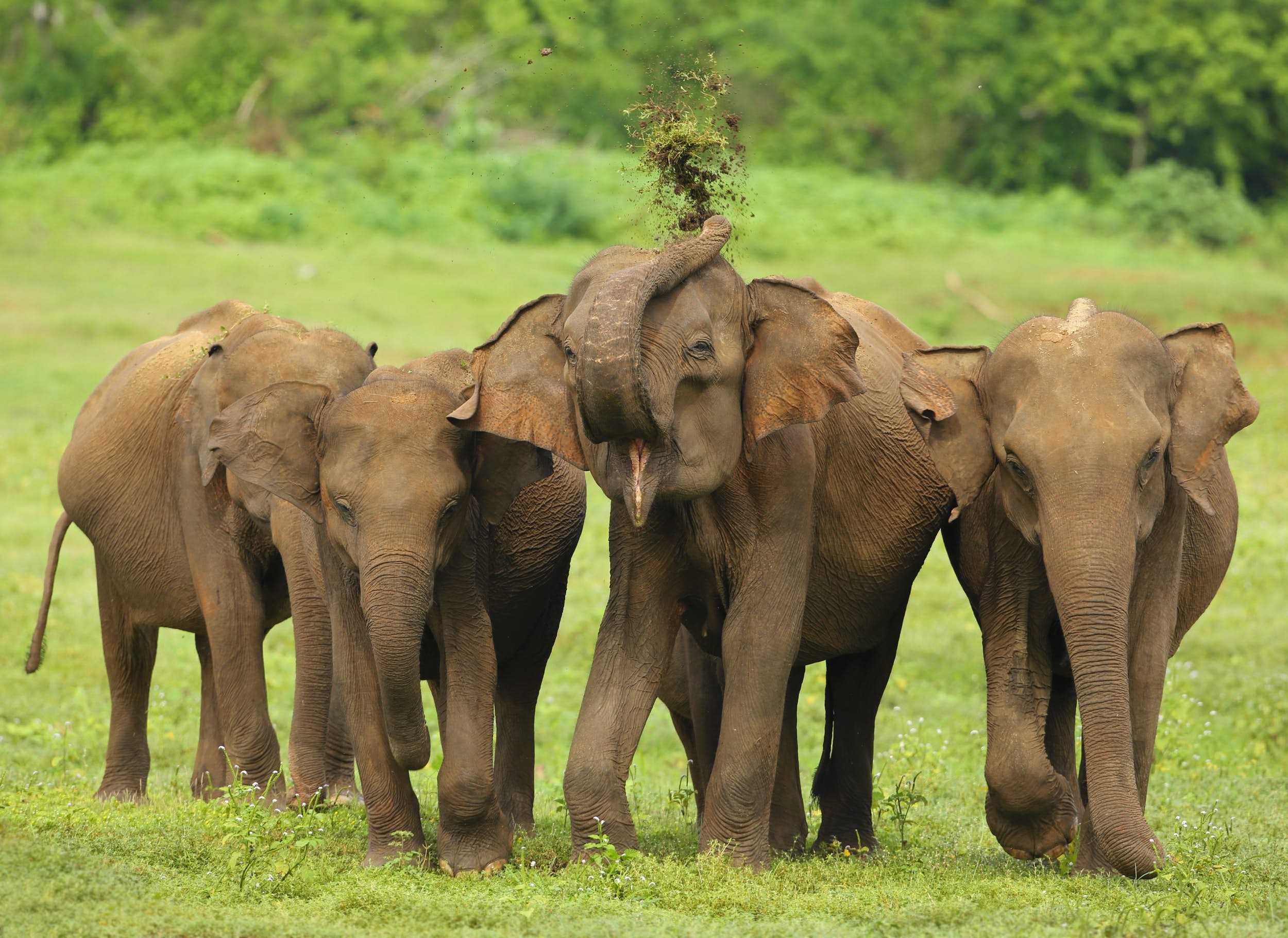 IMAGE: Udawalawe National Park in Sri Lanka is located near Ella, and private safari trips include a 4x4 game drive to observe some of the park's wildlife, such as elephants and crocodiles. There is a variety of safari times to choose from, and there is an optional elephant orphanage visit that you can opt for.
Unawatuna
Unawatuna is a popular destination for international visitors, thanks to its turquoise waters, palm-lined beaches, and a decent selection of guesthouses and eateries. The resort is in an excellent location, with the old city of Galle only six kilometres away, and a wooded headland to the west filled with little bays. Unawatuna has a lively atmosphere without being noisy: picture sunset drinks rather than all-night partying vibes.
Uda Walawe National Park
Uda Walawe's main attraction is elephants, which may be found in herds of up to fifty in the park. There's an elephant-proof barrier along much of the park's border, which is said to keep elephants out of human-populated regions.
This Sri Lankan national park is one of the best in the country, including herds of elephants, spotted deer, wild buffalos, enormous squirrels and sambars. In fact, for elephant watching, Uda Walawe frequently outperforms many of the most well-known East African national parks.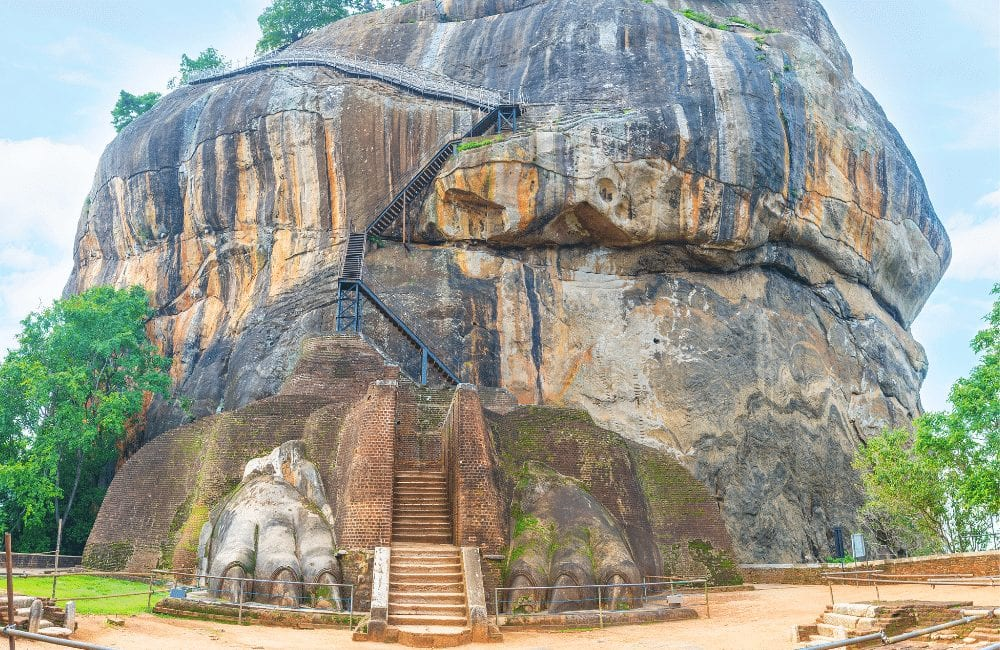 IMAGE: Sigiriya fortress, known as the "Eighth Wonder of the World," is a spectacular rock fortification complex with significant archaeological significance in Sri Lanka.
Sigiriya Fortress
The Sigiriya rock plateau, located in the northern Matale District, towers up to 200 meters in height. It is surrounded by magnificent walls, ponds, fountains and gardens and it is also one of the 'Wonders of the World'. The complex's main entrance is sculpted to look like massive lion claws, which were once part of a large lion rock sculpture until the upper sections of the lion were destroyed.
Galle Fort
Make sure you don't miss the Galle Lighthouse when visiting Galle Fort, which has stood since 1848. Also, take a trip around the swanky neighbourhood to visit some local restaurants, museums, historical landmarks. Galle Fort is a UNESCO World Heritage site that features awe-inspiring colonial relics alongside tropical foliage, stylish cafés and a large beach.
Temple of the Tooth
Sri Lanka is also well-known for having one of the most treasured Buddhist relics: the Gautama Buddha's tooth. According to mythology (a major monastery site in Anuradhapura), the tooth was first assigned to the Abhayagiri vihra and because of its holiness, the tooth attracted various threats from foreign invaders, including a Burmese monarch who allegedly offered £50,000 as a ransom for the relic! The relic now rests peacefully in Kandy's Temple of the Tooth.
Finally, if you visit Sri Lanka, you will most likely encounter some locals playing cricket and while this is the most popular sport in Sri Lanka, the country's national sport is volleyball, according to the Ministry of Sports. Sri Lanka is, in fact, one of the few countries to have won a Cricket World Cup and while in the country, you can undoubtedly watch some spectacular live cricket matches, whether official or not.