A country that is fast becoming one of the leading locations in the world for family vacations
It should come as no surprise that the United Arab Emirates (UAE) is now one of the most popular destinations for a stop-over flight, especially with Dubai Airport being a central hub to pretty much all corners of the globe and now taking over from Heathrow International as the world's busiest in passenger numbers. What you may not have known, is that UAE is also becoming increasingly popular as a holiday destination for families with young children.
The reason? The truth is that the UAE is a country of extremes, from rolling desert dunes to cosmopolitan cities, and while embracing its Islamic cultural traditions and remaining highly conservative, it is also forward-thinking and investing heavily in tourism and its future.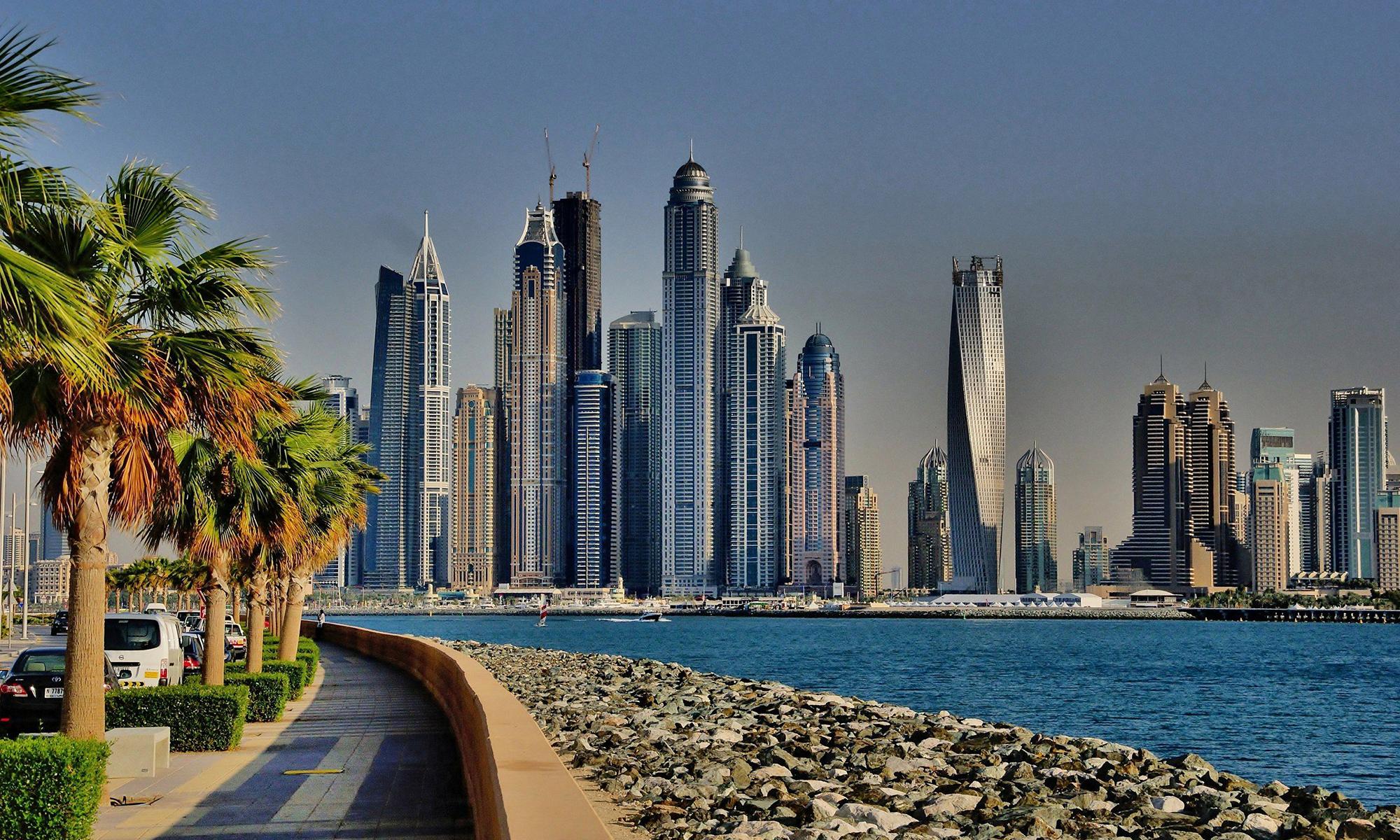 IMAGE: During 2019, prior to the Covid-19 outbreak, Dubai received over 16 million tourists. This is a significant increase over the previous two years, owing to the country investing heavily in tourism and an increase in visitors from all over the world.
Every month, new theme parks, beach resorts, shopping malls, museums, and out-of-this-world attractions open in this vibrant and energetic country, and the first thing any tourist will see from the sky, are the cranes busy at work.
Many families are still unfamiliar with the UAE's Islamic and Middle Eastern culture, but one thing is certain: this country is truly very family orientated. However, if you are considering a family vacation to the UAE, there are a few things you should keep in mind, the first of which is the country's weather. Dubai is a desert city and as you can expect, the mercury's needle rises to well above 50 degrees Celsius during the Summer months.
Therefore, the best time to visit Dubai is between late October and March, but note that it can still be very hot during this time, and that sunscreen is simply a must - especially for young children and the Brits who are not used to hot, dry weather and getting lots of sunshine.
Interesting fact! Over the summer in Dubai, you may need to use the water taps differently. Because of the extreme temperatures, you may find that when opening the hot water tap, the water is much cooler than the water from the cold water tap – always be sure to check first.
Moving on to the fun sides of things. Visiting the UAE with children is simple and safe, and you will find that it has an abundance of high-end resorts and hotels that feature executive club lounges, playgrounds, pools and kids' clubs.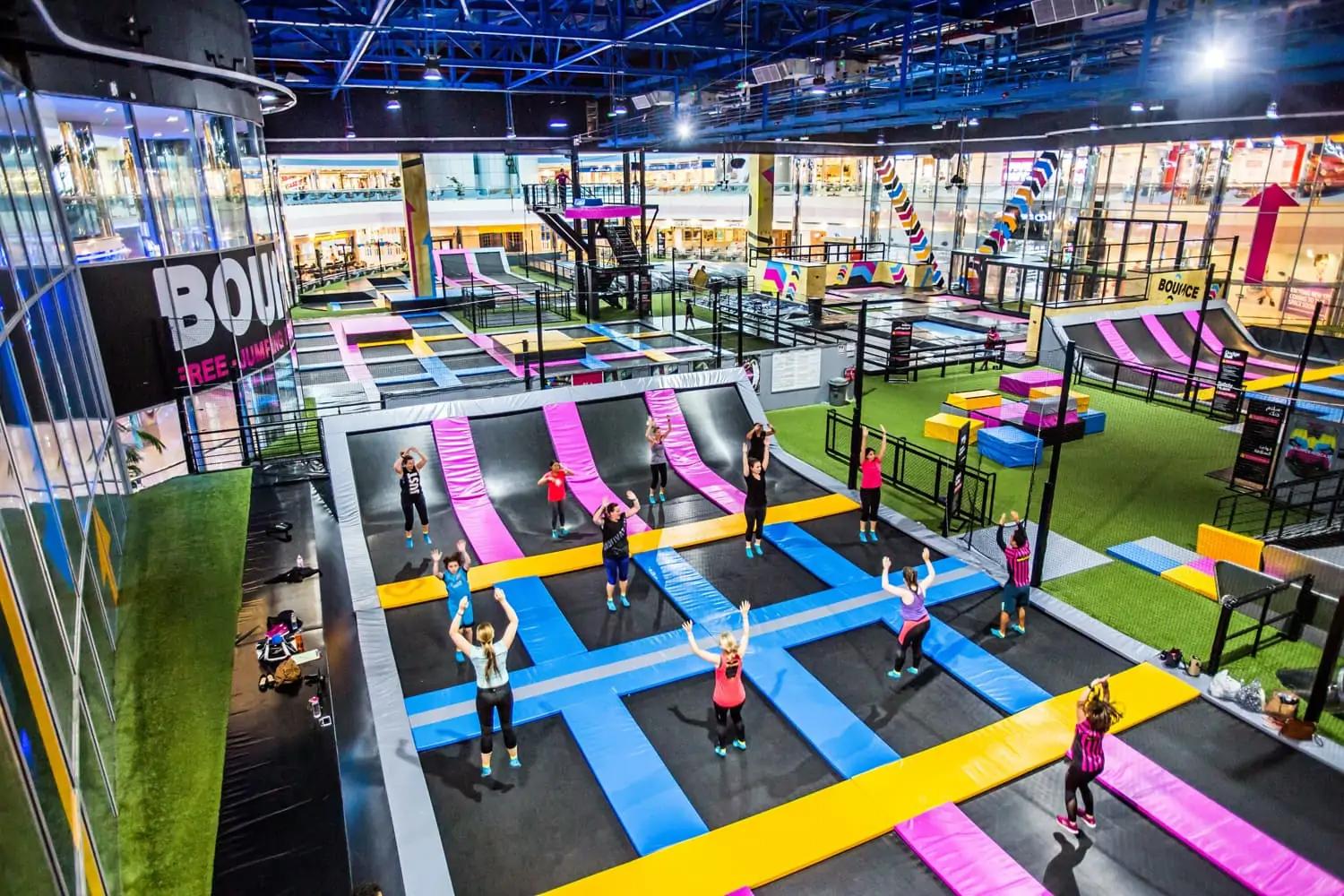 IMAGE: The Bounce Indoor trampoline park in Dubai is a freestyle playground with almost 3,000 square meters of indoor trampolines (all interconnected), adventure activities, airbags, and padding.
If you're looking for some indoor fun with your kids, you might want to check out Bounce Indoor Trampoline Park in Dubai, or Green Planet, which brings the tropics indoors with a bat cave, toucans, and sloths. A visit to Warner Bros World Abu Dhabi, a completely enclosed theme park with attractions based on DC Comics characters and other animation favourites, is another indoor activity.
Bring on the adventure
For adventurous families, family-focused kayaking among Ras Al Khaimah's (RAK) mangroves is a must. If you want to see the more natural side of RAK and get away from the beach for a day, this is a fantastic option. This company mostly caters for corporate events or school groups, but it certainly also welcomes families with children. They also offer three-hour kayaking experiences through Ras Al Khaimah's mangroves, and they organise various walking itineraries for tourists.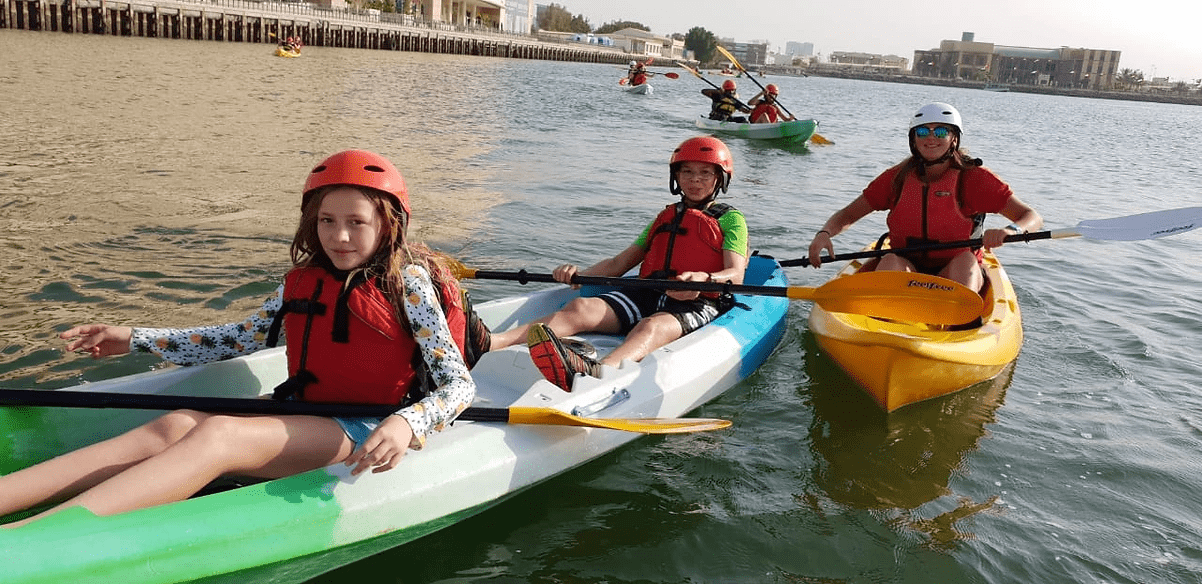 IMAGE: Families with children can explore RAK's mangroves by kayak and literally lose themselves in the natural splendour.
Kitesurfing and water Sports in Umm Al Quwain
Umm Al Quwain is a water-sports centre set on a secluded stretch of smooth white sand dotted with shaded seats and hammocks. It provides surfing instruction, kitesurfing, and the rental of stand-up paddle boards, kitesurfing gear, and kayaks. When hunger strikes, there is also a terrific cafe on-site.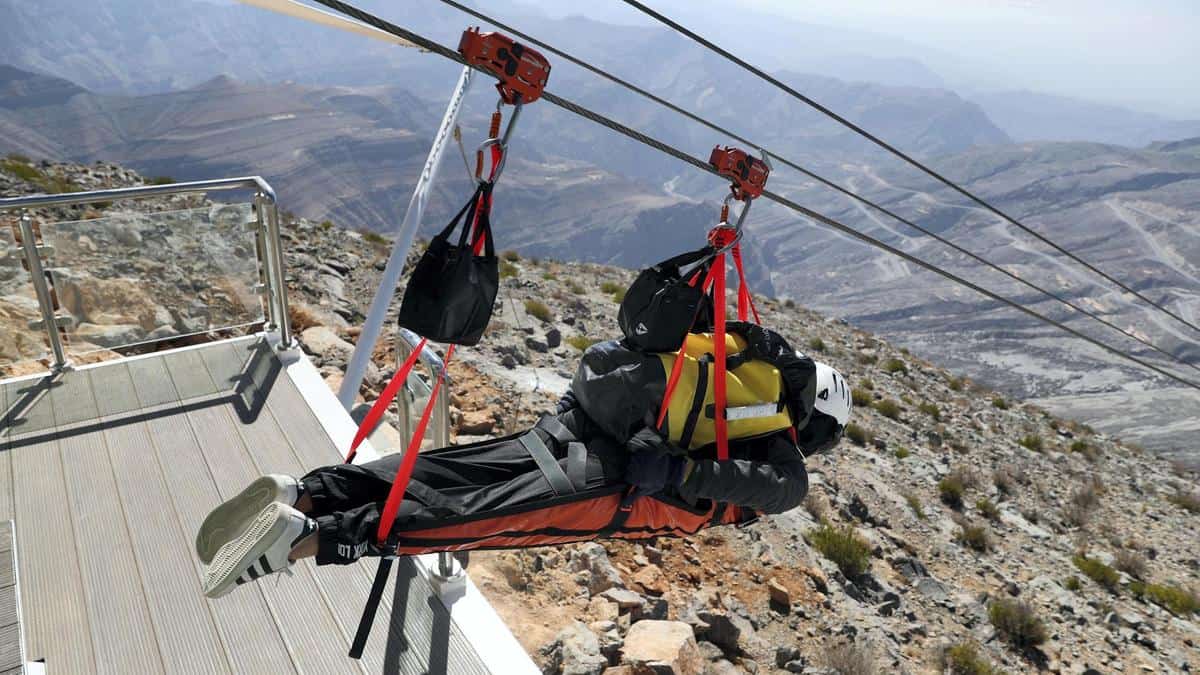 IMAGE: If lying on the beach becomes too monotonous, you can always send yourself off a cliff. Literally! Jebel Jais is the place to go for this extreme sport, but keep in mind that this activity is only for older children and adults.
Launch from the 1680m translucent platform and fly down the slope at speeds of up to 150 kilometres per hour on the world's longest zip line, measuring 2.83km. Don't freak out, because ultimately, you will safely land on a suspended platform, followed by another, short-trip zip-ride back to solid ground.
Finally, while the UAE lacks a freshwater lake, there are multiple oases in the emirate of Abu Dhabi, as well as lots of things to do and places to visit in this country. Make sure you are and your family members completely vaccinated before flying to the UAE, and keep in mind that wearing a mask is still mandatory, even on a family holiday!