The guest that expects the best in terms of which special treatment and attention to all reasonable requests are offered as a privilege, can expect the Executive Club Lounge, the Grand Club, to perform as they ensure that these guests receive the best service and choices, in addition to what this 5-star destination is known for.
Priority concierge and checking in and checking out assistance.
Breakfast between 6:30 am and 10:30 am.
Afternoon Tea between 3 pm and 5 pm.
Pre-Dinner Drinks between 6 pm and 8 pm.
Complimentary Non-Alcoholic Drinks between 6 am and 11 pm.
Complimentary internet access at all times.
Guests are advised that the dress code at the Executive Club Lounge, Habtoor Grand Resort, is smart casual, and that children younger than 12 are not permitted around the bar area or on the terrace.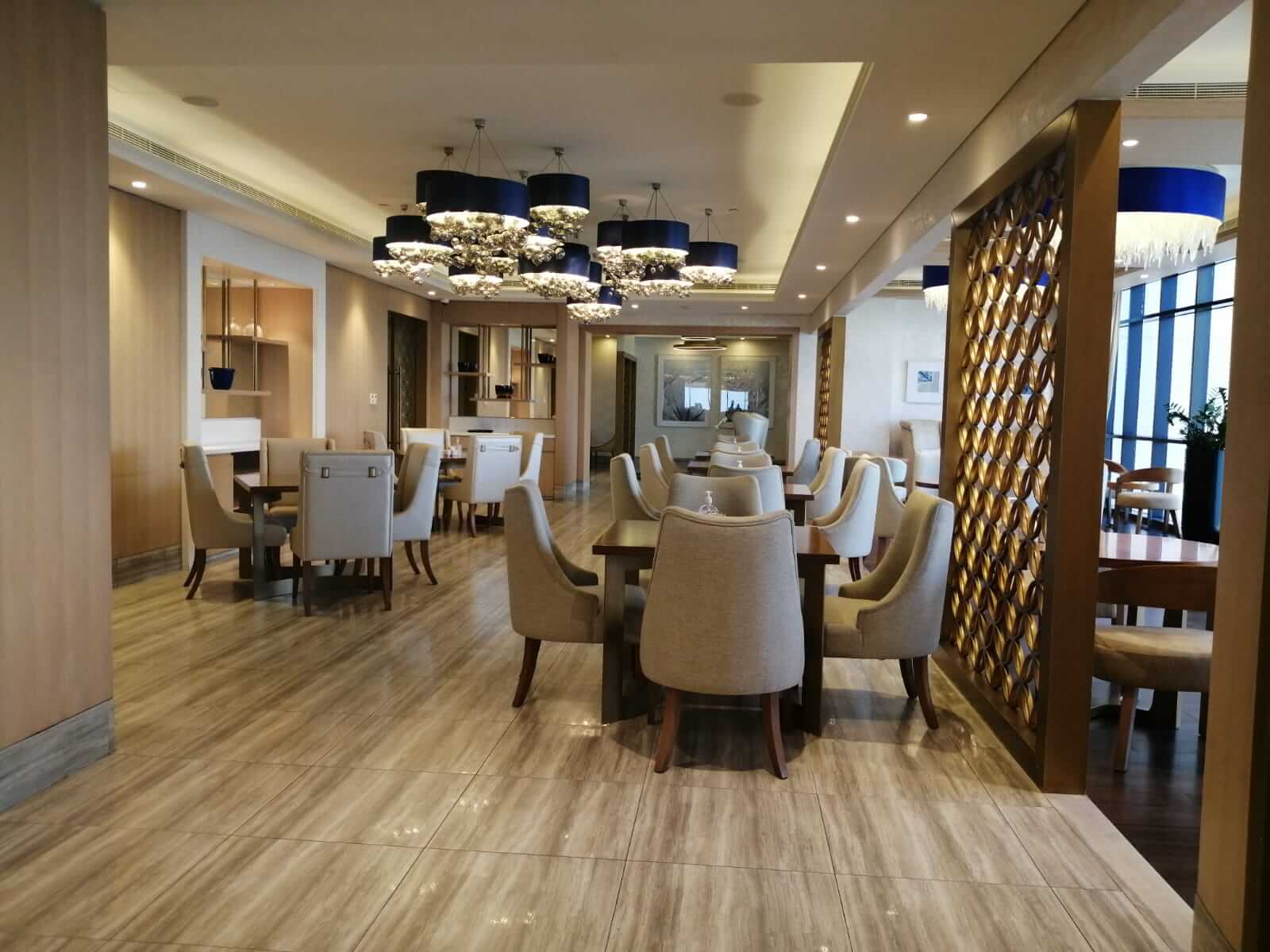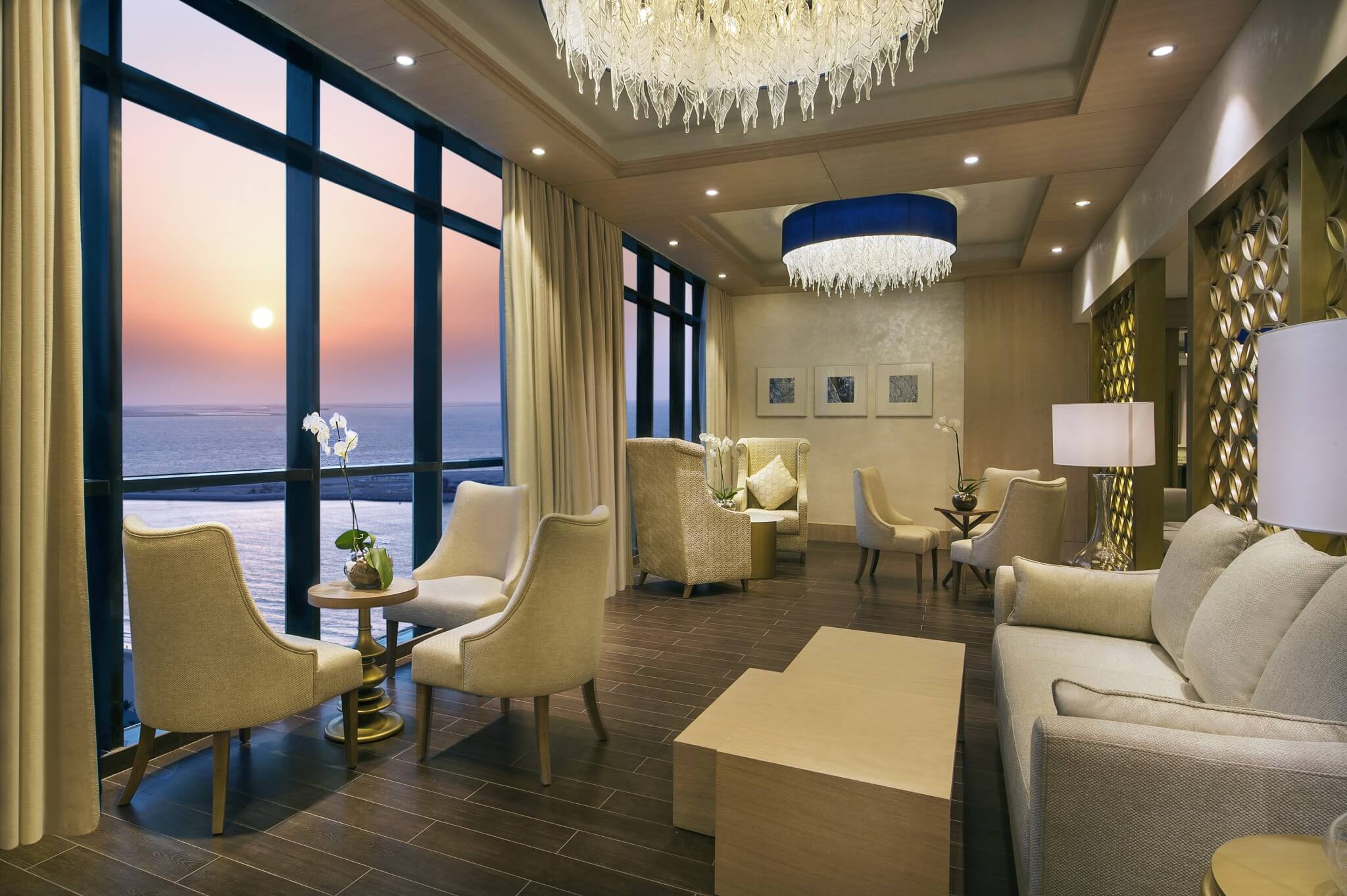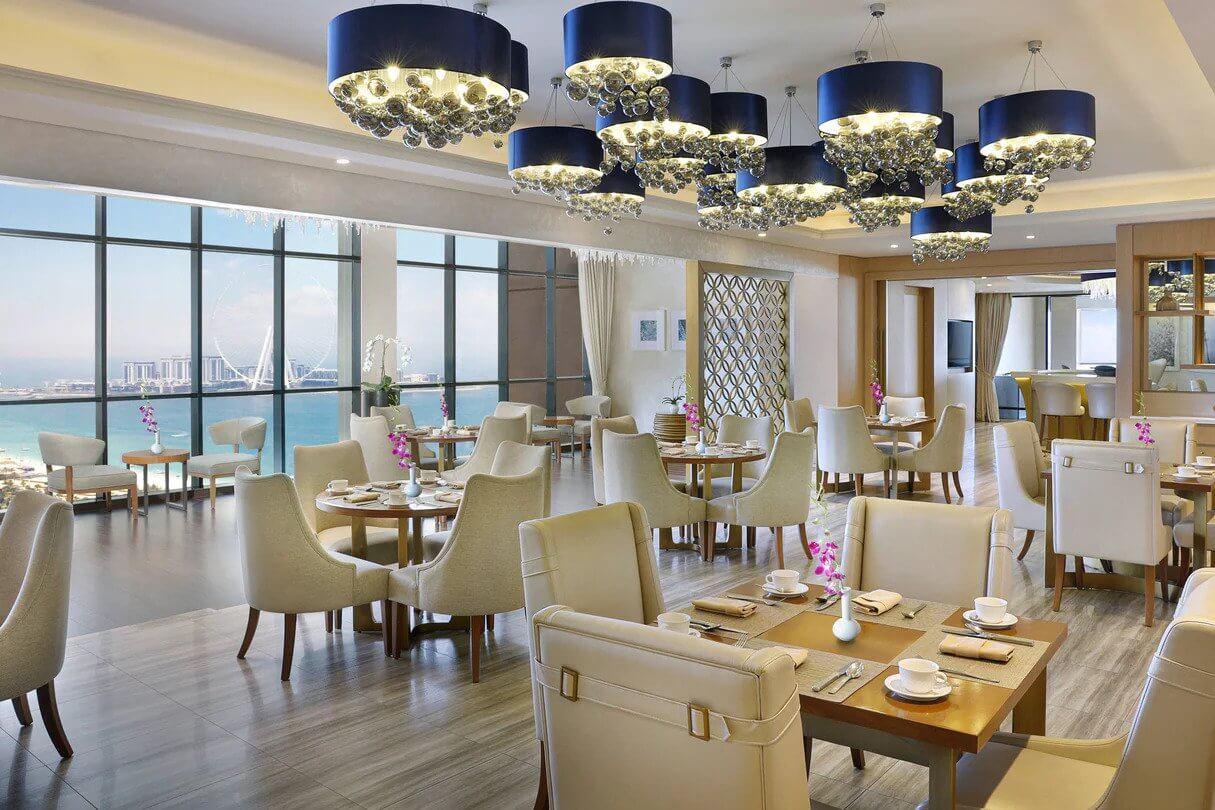 Personable Staff and Exemplary Service
The Grand Club is the executive's dream with stunning views across the ocean, over the Palm Jumeirah and Dubai Ferris Wheel. Enjoy a great spread at Breakfast and during Afternoon Tea. Be tempted by tasty sandwiches, scones with jam & cream and an assortment of cakes, or enjoy Pre-Dinner drinks when both hot and cold canapés are served.
You can either sit down inside or be spoilt to the most beautiful sunsets as you relax on the external area, drinking in the early evening atmosphere as you sit by yourself or with your partner, or as you mix with other guests. Staff are friendly and personable, helpful and courteous. They are also approachable when their presence is required, which helps to make the guest's visit special.
Well-Appointed Spaces and Peaceful Ambience
The décor in the Habtoor Grand Resort Executive Club Lounge truly appeals to the senses. Choices of lighting ensure that the guest can enjoy brightly lit spaces from floor to ceiling, with outstanding views over the ocean. Chandeliers suspended from the ceiling add to the visual aspect of what the Executive Club Lounge at Habtoor Grand Resort is renowned for. Comfortable sofas and chairs  to lean back on as you enjoy drinks and eats contribute to the peaceful ambience. Furniture, curtains and sofas, paintings and ornaments were chosen to blend in with the surrounds, complementing the vistas and atmosphere.
Guests that visit the Grand Club at Habtoor Grand Resort are ensured of spending time in spaces which have been designed, finished and decorated to appeal to the guest with high expectations. Chairs offer comfort for guests to relax in as they marvel at the beautiful vistas which are enjoyed from all angles. Outstanding service remains one of the important features that the Executive Club Lounge guest is treated to.