Guests that have booked executive accommodation are offered access to the stylish Executive Club Lounge which is available to them on account of their Executive Lounge status. The Executive Club Lounge is located on the 9th floor and boasts magnificent views of the surrounding skyscrapers and the ocean with brilliant sunsets to marvel at through floor-to-ceiling windows. The décor is tasteful and smart, which contributes to the feel of luxury in a space where guests can enjoy the company of their partners and other guests.
The Executive Club Lounge at Hilton Dubai Jumeirah offers exclusive services and privileges to guests that expect nothing but the best, such as outstanding service, great hospitality and the personal attention that one would expect from a 5-star establishment.
Breakfast is served between 7 am and 11 am, with great choices of either cold or hot buffet items.
Between 2 pm and 4 pm afternoon tea can be enjoyed, with a choice of cold and warm beverages on offer that include soft drinks, sandwiches and different cakes.
During Happy Hour, between 6 pm and 8 pm, guests are treated to an assortment of both cold and hot canapés, as well as alcoholic beverages such as beer, wine and branded spirits.
Dress code during especially Happy Hour is Smart Casual.
Children are welcome to join their parents in the Executive Club Lounge.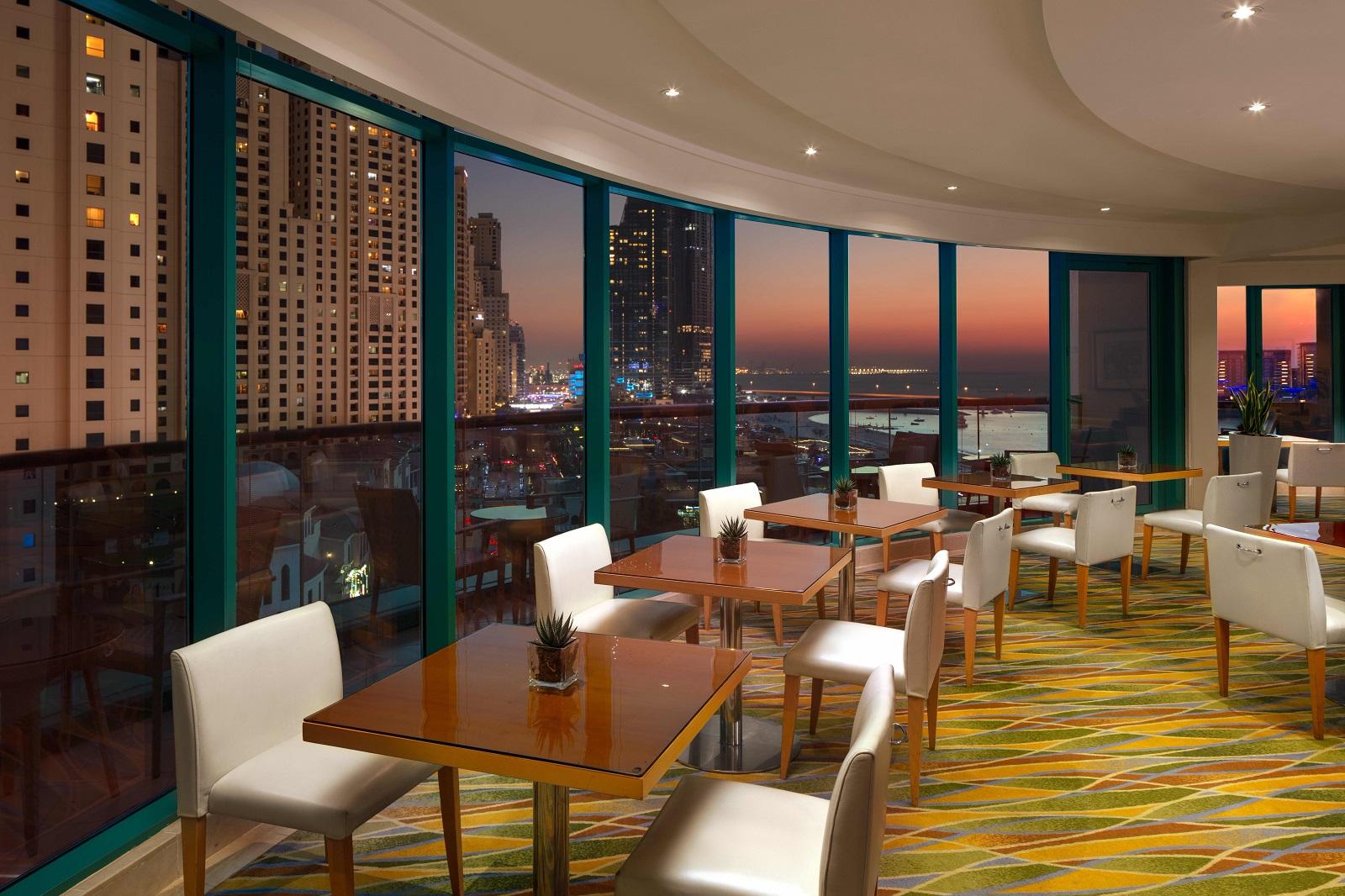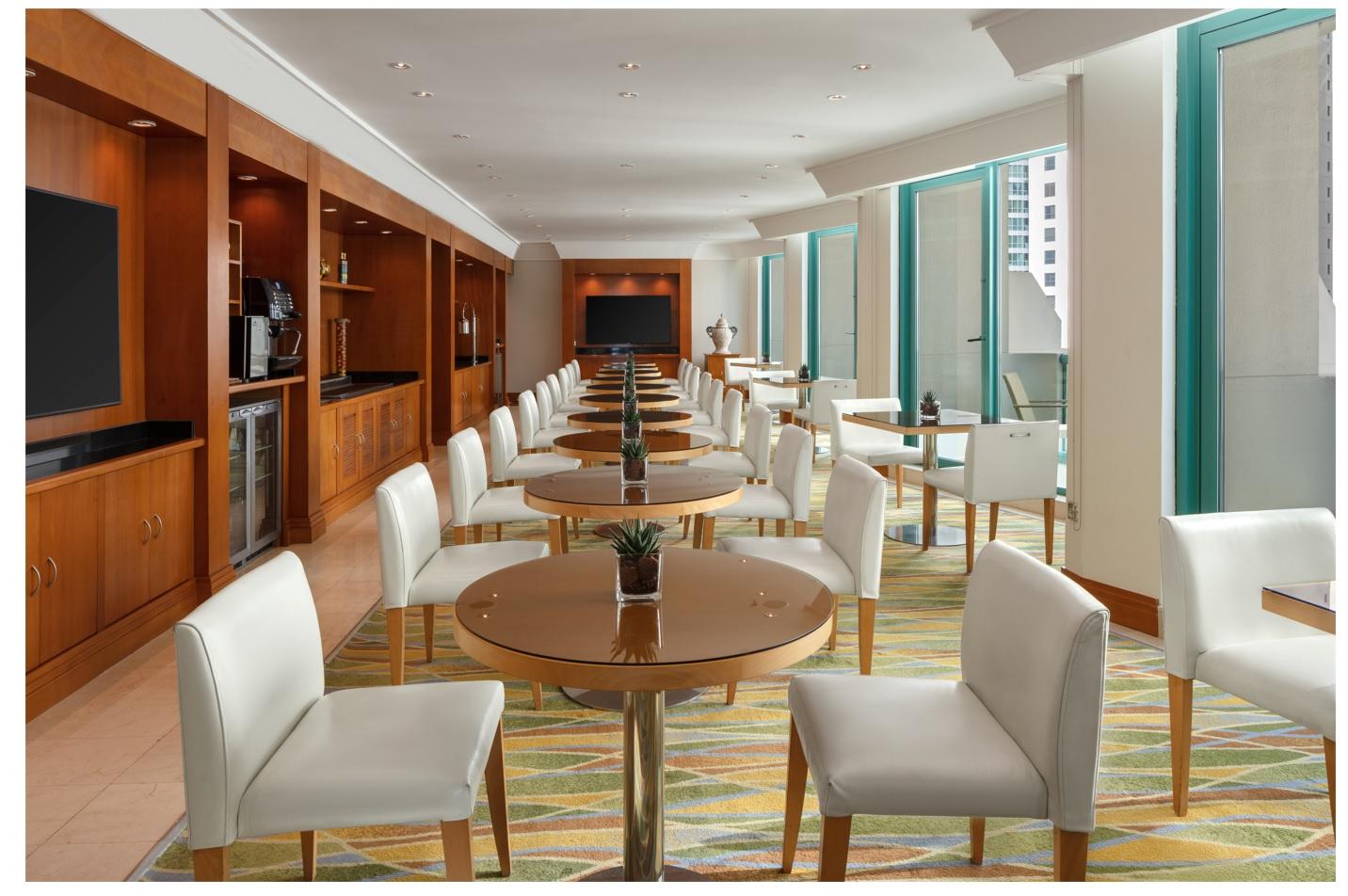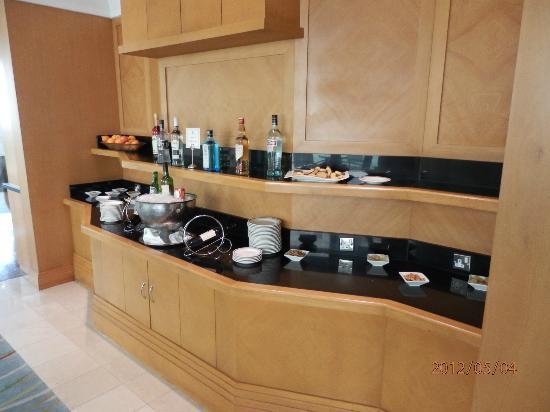 Friendly, Helpful Staff to Ensure Guests' Comfort
The staff in attendance go to great lengths to ensure their Executive Club Lounge guests are treated well and are offered every assistance that makes their stay at Hilton Dubai Jumeirah pleasant and memorable. They are always friendly, professional and ready to offer their service, whether the guests simply want information about the area, or whether they need some assistance with booking transport or time at the business centre. They are always ready to help and to make sure that Hilton Dubai Jumeirah lives up to its reputation as one of the city's top 5-star destinations.
Well Appointed Executive Club Lounge - A Memorable Experience for the Discerning Guest
The Executive Club Lounge is furnished tastefully in colour combinations that complement the space and laid-back atmosphere. Whites and browns blend beautifully with the soft aquamarine on the walls and pillars. Lighting in the Executive Club Lounge is practical but never intrusive, to ensure guests can relax and become one with their surroundings. Magnificent views and dreamy sunsets ensure that the Executive Club Lounge offers guests a space where they feel cherished and may wish to visit often. Service is commendable and the surrounds truly beautiful.