The Kempinski Hotel Muscat Executive Club Lounge is described as an exclusive space for an exclusive individual and it is placed conveniently on the lobby level of the business wing. This luxury Executive Club Lounge offers guests access to various amenities as well as different food options and cuisine throughout the day, including:
Afternoon tea snacks, coffee, tea and soft drinks served from 2pm to 4pm.
Happy hour and evening canapes served from 5pm to 7pm.
It must be noted that guests under the age of twenty one, will not be able to attend the Executive Club Lounge facilities during beverage service hours because of the local laws.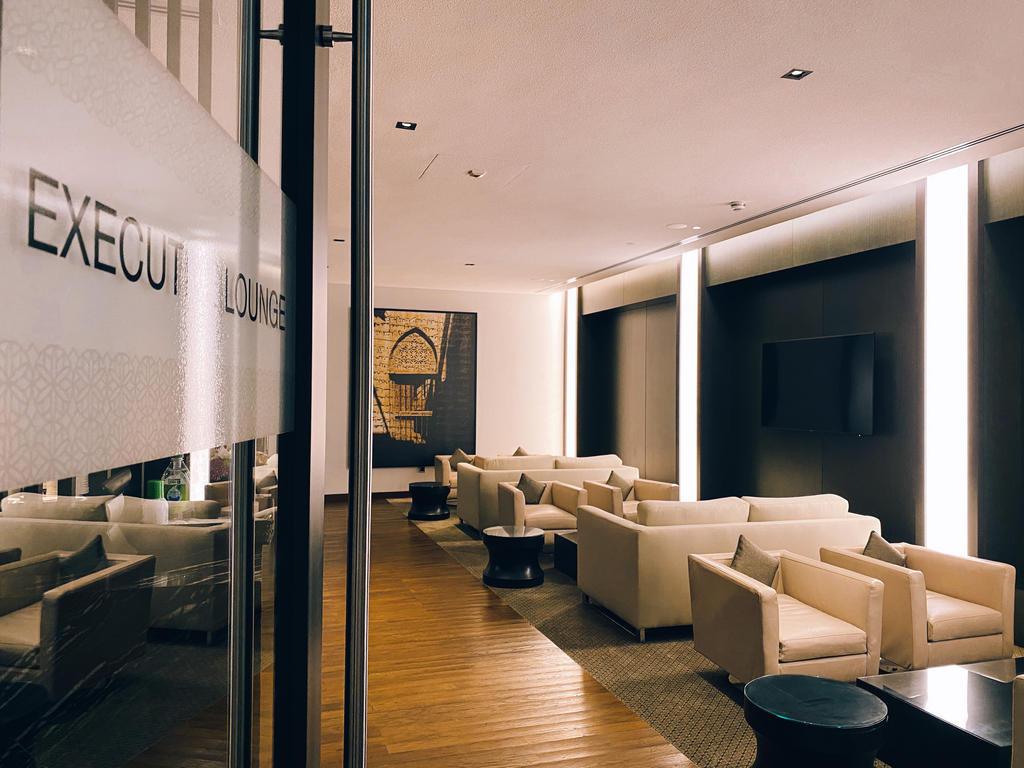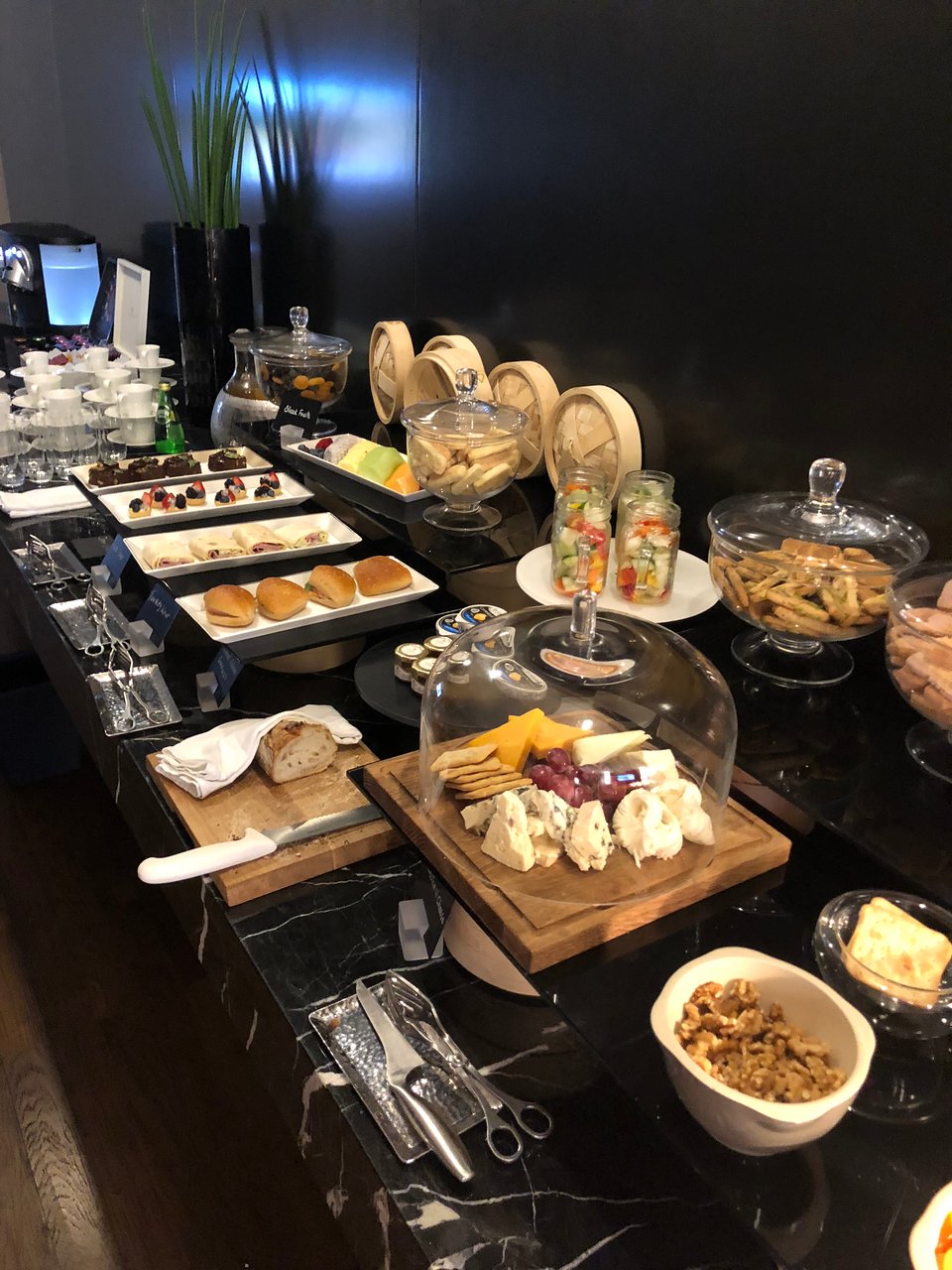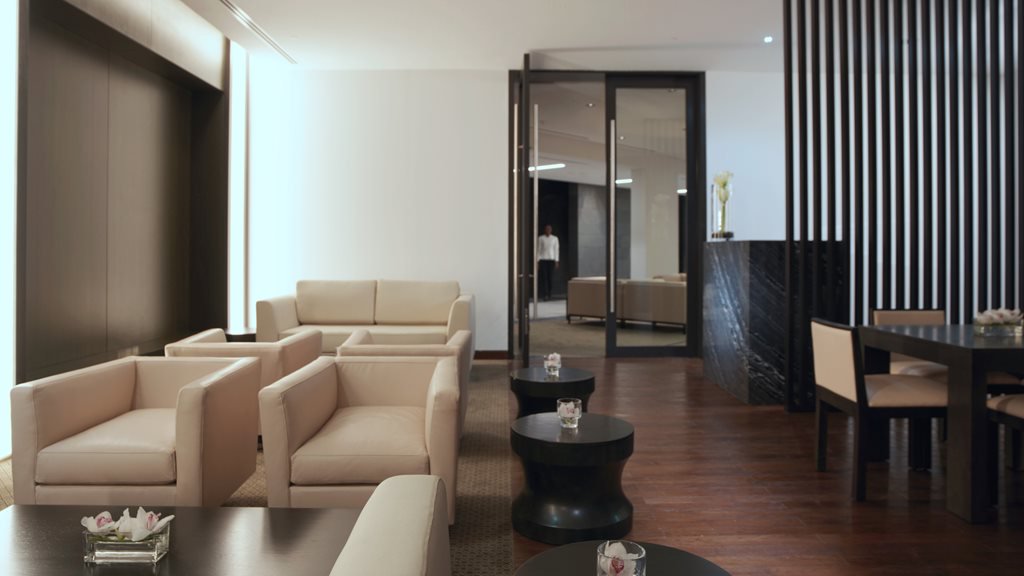 Meticulously Furnished Executive Club Lounge
As guests walk into the Executive Club Lounge at the Kempinski Hotel Muscat, they see an essence of luxury. From the meticulously furnished lounge, to the attentive staff making sure that guests are at ease, all the way to the food that is served throughout the entire day. Guests that have booked into one of the Executive rooms and suites are able to access this exclusive Executive Club Lounge throughout the day, as and when they please. This luxury Executive Club Lounge has been furnished with sophistication and comfort in mind. It is furnished with the highest quality and premium black and beige furniture throughout.
The hotel staff in the Executive Club Lounge are exceptionally helpful and they are there to help you in any way that they can. Guests often find themselves enjoying the atmosphere of the Executive Club Lounge while they are waiting for either meetings or for their families to get ready. If guests are not on business, they can just enjoy the beautiful views of Oman, while reading through the newspaper or a book with an afternoon tea snack. The Executive Club Lounge is furnished with furniture so comfortable, guests will not want to leave.
Premium Convienience for Business
While booking to stay with the Kempinski Hotel Muscat, guests need to know what kind of benefits that they are receiving as a Club guest. From being able to enjoy Happy Hour and evening canapes from 5pm to 7pm, to complementary use of the Business Centre Services Centre as well as two pieces of laundry washing per guests stay. If guests are visiting the hotel on business, guests will be able to wait between meetings in the Executive Club Lounge, while they have access to high speed wireless internet access in the Business Centre that is open twenty four hours daily. If your clients or work colleagues have Executive Club Lounge access as well, they will be impressed at the setting that they are able to conduct business in. If guests at the hotel have guests of their own, an additional guest invited to the Executive Club Lounge will only be charged at OMR 15, per meal.
There is also a comprehensive drinks selection that guests are able to enjoy during the cocktail and canapes hour in the Executive Club Lounge. Guest can enjoy having drinks with their friends or family. Some of the best enjoyed drinks enjoyed include sparkling wine, white wine, as well as premium whiskey, gin and beer.