The Le Méridien City Centre Bahrain Executive Club Lounge has been conveniently placed on the eleventh floor of the hotel. With breath-taking views, it also boasts a wide variety of different food options to choose from, throughout the whole day, including:
Breakfast served from 7am to 11pm
Afternoon tea served from 2:30pm to 4:30pm
Evening canapes & beverages served from 6pm to 8pm
Guests will be able to enjoy delicious food, while overlooking the beautiful city scape through the Executive Club Lounges floor to ceiling windows. The hotels Executive Club Lounge insists that guests that are aged fifteen years old and below, will not be allowed in the Lounge from 6pm, every day.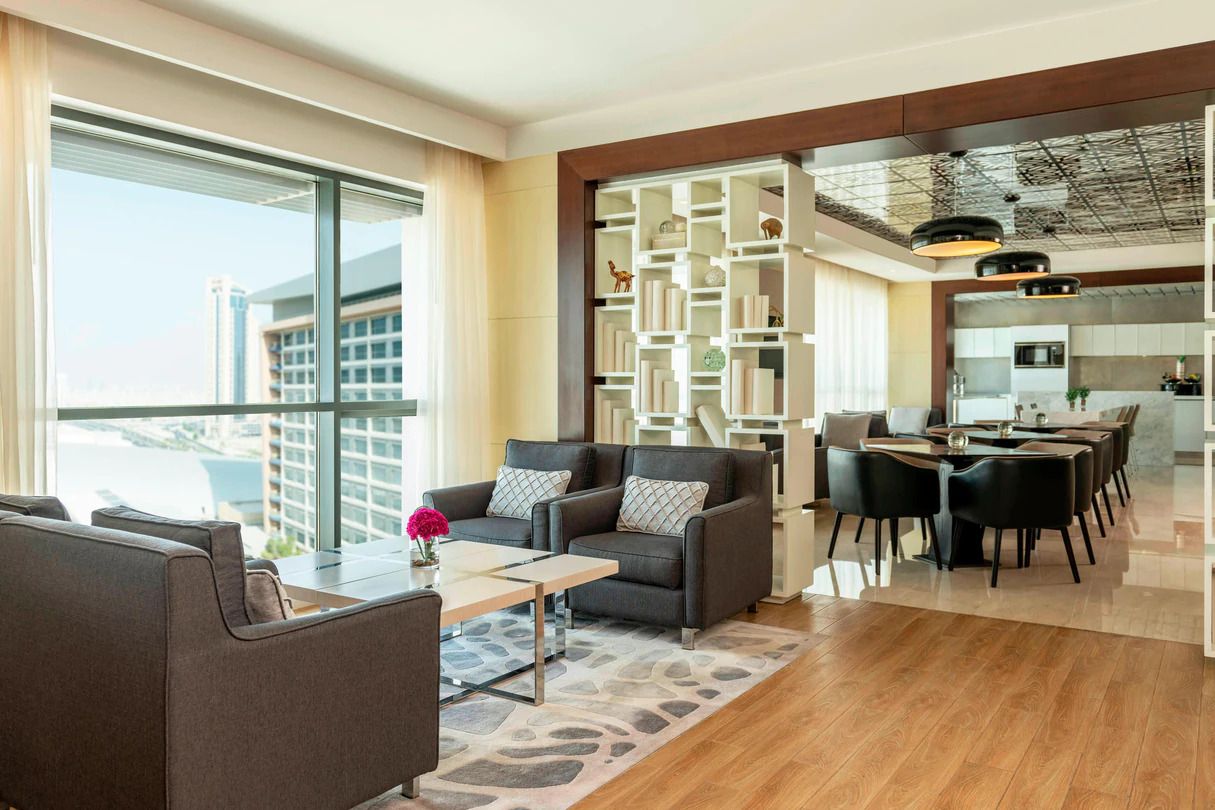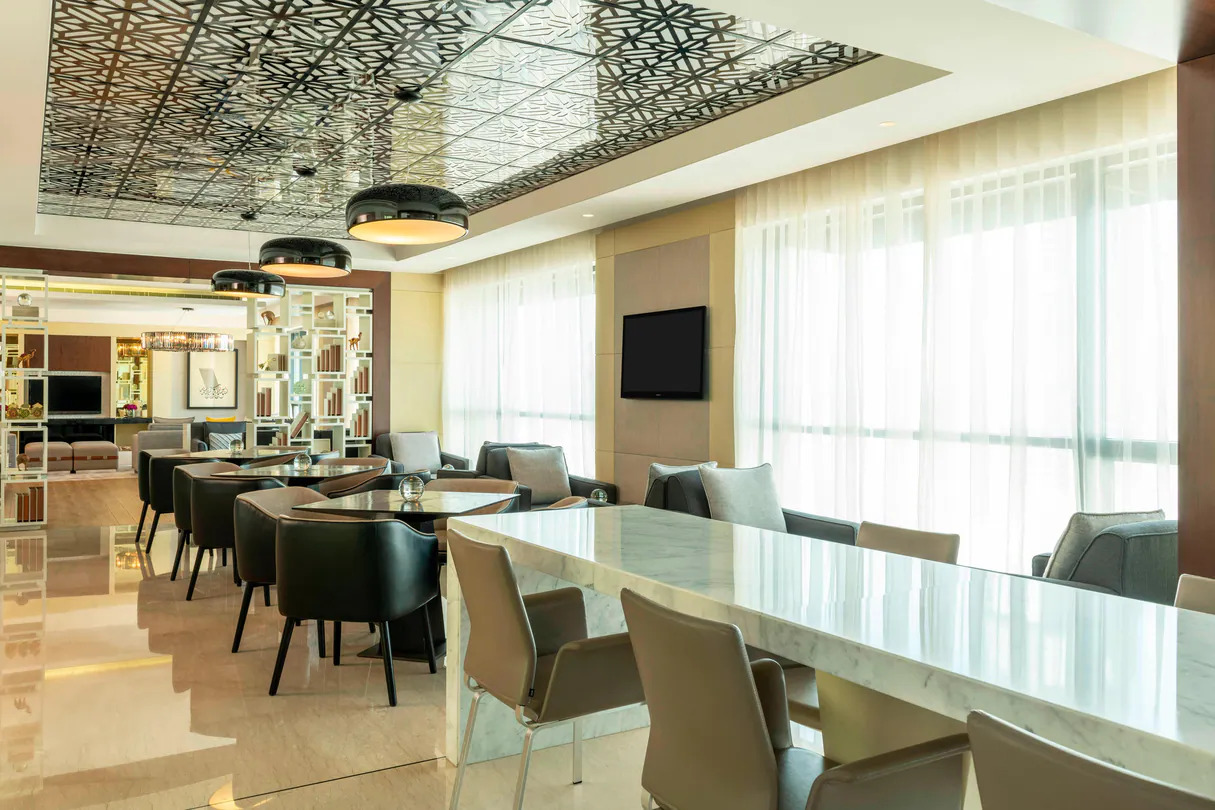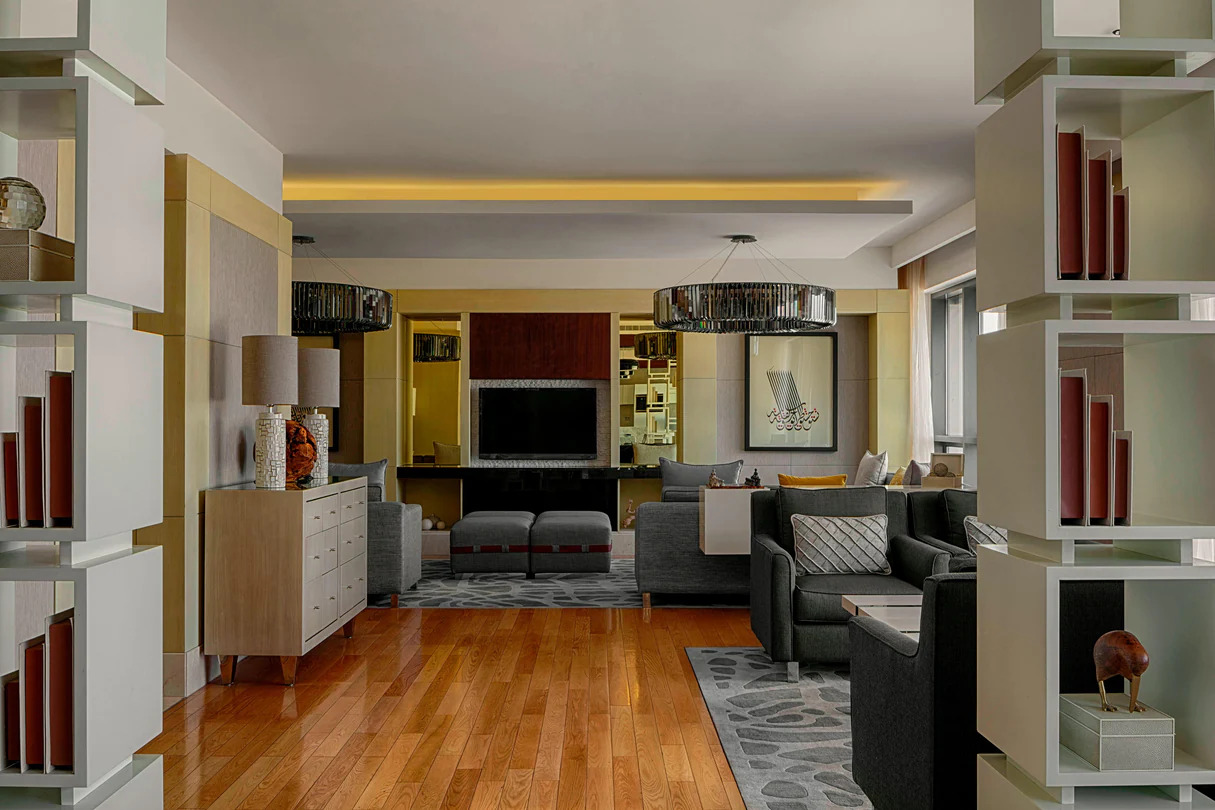 Décor and Furnishings to be Admired
This exclusive Executive Club Lounge that is based in Le Méridien City Centre Bahrain offers some of the best views in the city, it is able to offer such amazing views because of the height that it sits at in the hotel on the eleventh floor. Guests are able to appreciate such views in the comfort of the high standard premium furniture that the Executive Club Lounge has been decorated in. With transitions from wooden to tiled floors, most of the furnishing has been accented with blacks and whites, as well as some browns. Even the ceilings in the Executive Club Lounge are something to admire while being decorated with symmetrical and original patterns. This Executive Club Lounge has a luxury marble table as a centre piece of the room, while it is able to seat six guests.
Guests will be spoilt for choice with all the different options of food they will be able to choose from. With breakfast guests are offered a variety of different baked items, juices as well as illy coffee that can be tailored to their liking. Afternoon tea has a selection of different teas and coffees to be enjoyed cookies and dates. Evening canapes include delicious canapes, soft drinks and alcoholic beverages. The staff that work within the Executive Club Lounge are also highly attentive and helpful towards guests.
Executive Club Lounge in Leading Business Hotel
Guests will be able to either enjoy some leisurely time with friends and family in the Executive Club Lounge. They can even spend some quiet time to themselves while enjoying some of the international and local publications that are in the Executive Club Lounge. Guests will find that upgrading their rooms to include the Executive Club Lounge access is well worth it, with the complimentary breakfasts and cocktail hours.
As the hotel was voted to being Bahrain's "Leading "Business Hotel 2021" at the World Travel Awards Middle East, the Executive Club Lounge has ample space for any business people needing to do business. There are computers available for guests to us with access to wireless internet. When wanting to make use of the Executive Club Lounge facilities, guests just need to make sure they abide by the dress code. The appropriate dress code for the Executive Club Lounge is described as not including shorts and slippers. Beautiful views, comfortable and stylish furniture as well as an array of different food options, guests will find it hard to leave the Executive Club Lounge facilities.