Located on the tenth floor, the Le Meridien Mina Seyahi Beach Resort and Waterpark Executive Club Lounge opens from 11am to 10pm daily, offering three delicious food and beverage options, which includes:
Breakfast from 7am to 11am
Light lunches from 3pm to 5pm
Complimentary alcoholic drinks from 6pm to 8pm
The Premium Bar is open throughout the day at an additional charge.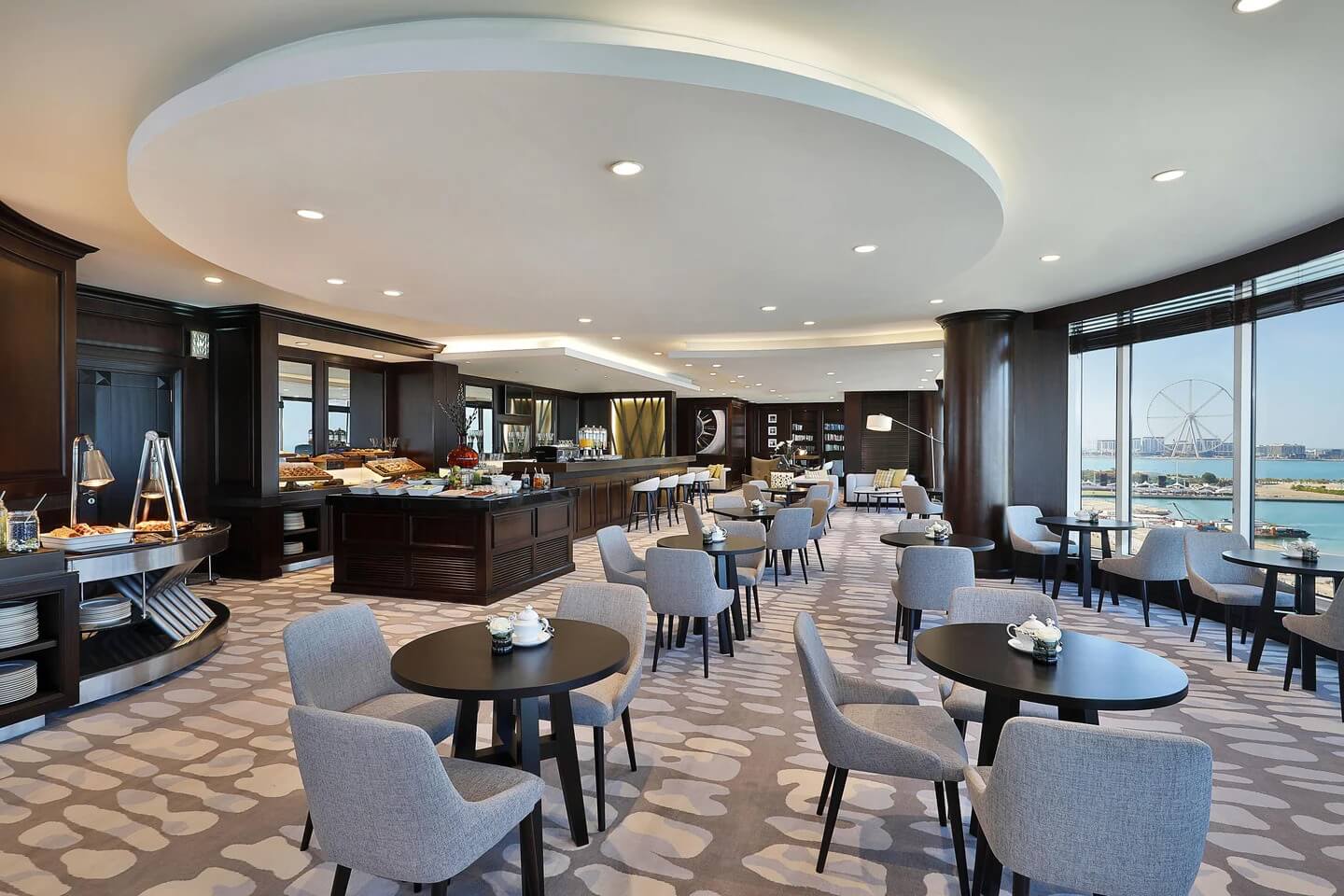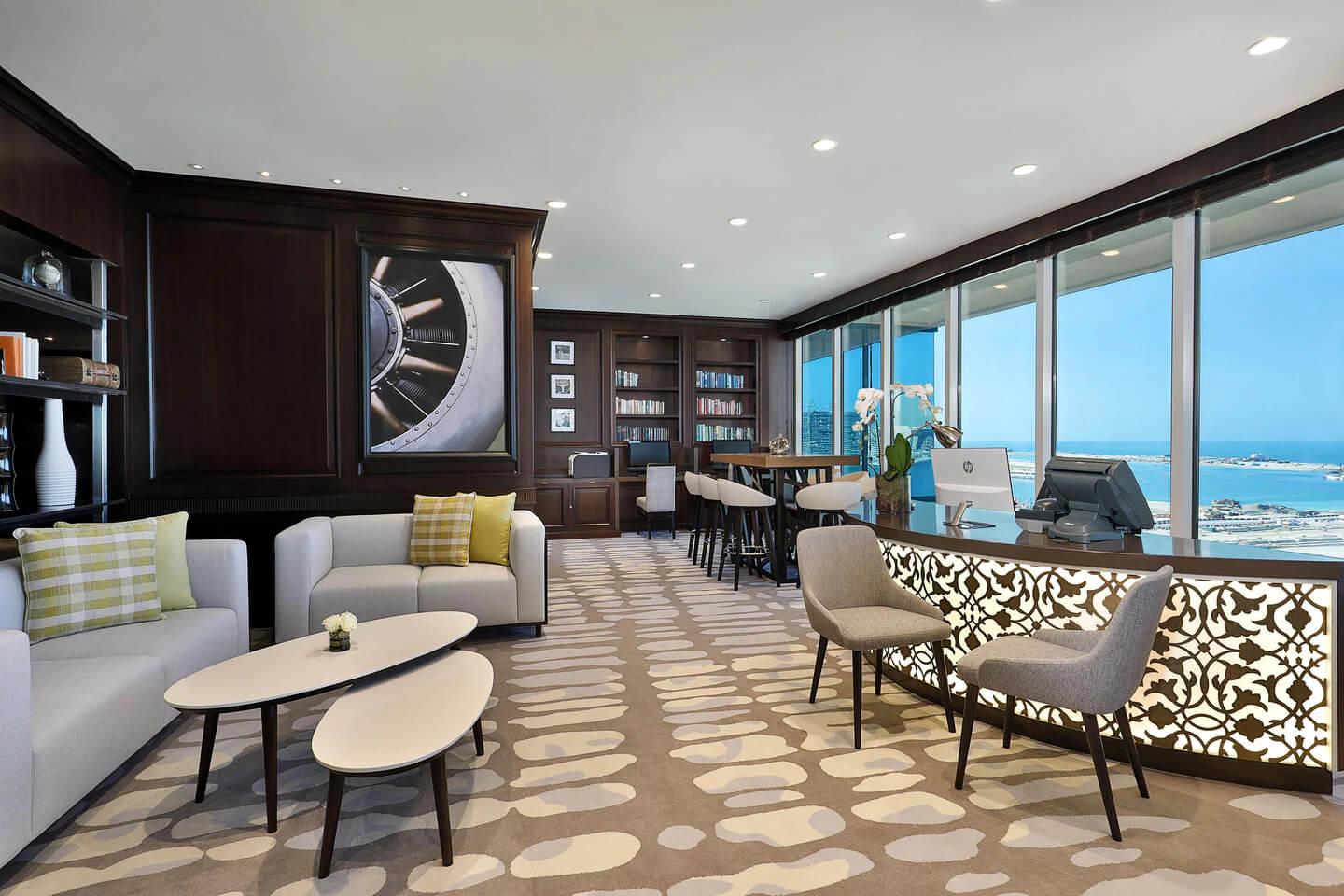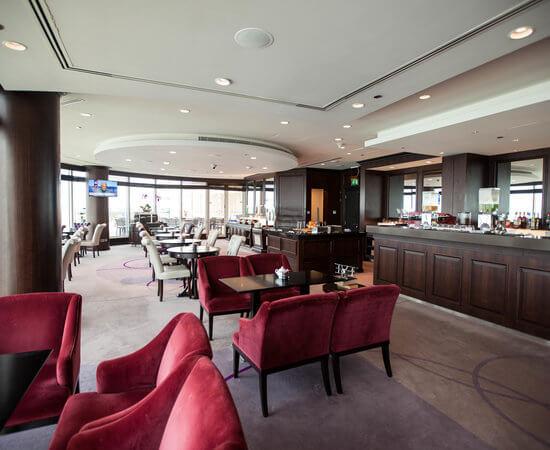 Club Level guests staying at Le Meridien Mina Seyahi Beach Resort and Waterpark can enjoy exclusive access to the beautiful, welcoming and comfortable Executive Club Lounge, which ensures that guests enjoy a personalised service and seamless holiday experience. The dedicated Executive Club Lounge team ensure their clients needs are taken care of, whether ordering a cup of coffee to watch the view or to gain access to the complimentary wireless internet to finish off some work.
Full Range of Excellent and Exclusive Benefits
The Le Meridien Mina Seyahi Beach Resort and Waterpark provides Executive Club Lounge guests with the added convenience of complimentary return transfers from Dubai International Airport, saving you time and frustration in ordering a taxi or hiring a car.
In addition to this, booking a Club Level guest room or suite provides guests with access to the private access Executive Club Lounge, complete with its own dedicated outdoor space, offering you privacy, comfort and relaxation. The Executive Club Lounge also provides business travellers with complimentary business services, along with complimentary ironing of one garment per stay. Business travellers can also take advantage of the complimentary use of the Lounge Meeting Room in Westin Club for four hours during their stay. Note that this needs to be booked in advance.
Club Level guests are welcome to invite visitors to join them in the Executive Club Lounge at an additional charge. It is also important to note that the dress code is smart casual from 6pm and no flip flops, sandals, slippers, beach wear or sleeveless shirts are allowed.
Floor to Ceiling Windows with Spectacular Views
The Executive Club Lounge at Le Meridien Mina Seyahi Beach Resort and Waterpark is a place to relax and indulge with its high ceilings, neutral tones and dark pillars. The floor to ceiling windows ensures that wherever you choose to sit, you enjoy the most magnificent views.
From the dining tables with comfortable chairs to the lush lounge areas with glass coffee tables, you can find where you are most comfortable to just soak in the view, sip on a coffee or enjoy a sundowner pre-dinner drink.