The Executive Club Lounge at the Pullman Dubai Creek City Centre hotel offers exclusive use to a select number of guest rooms, such as their Executive rooms and suites. The Executive Club Lounge, located on the eleventh floor, opens from 6.30am to 9.30pm daily, offering three food presentations daily, which includes:
Breakfast served from 6.30am to 10.30am. Enjoy breakfast in the Executive Club Lounge or at Medley, which is located on the first floor.
High Tea is served from 2pm to 4pm offering traditional afternoon delights of sweet and savoury with light refreshments.
Happy Hour is offered from 6pm to 8pm offering pre dinner canapés and house beverages. Only those aged twenty one and over are allowed in the Executive Club Lounge during Happy Hour.
Complimentary tea, coffee and soft drinks are offered throughout the day.
Children are welcome in the Executive Club Lounge, except during Happy Hour, which runs from 6pm to 8pm.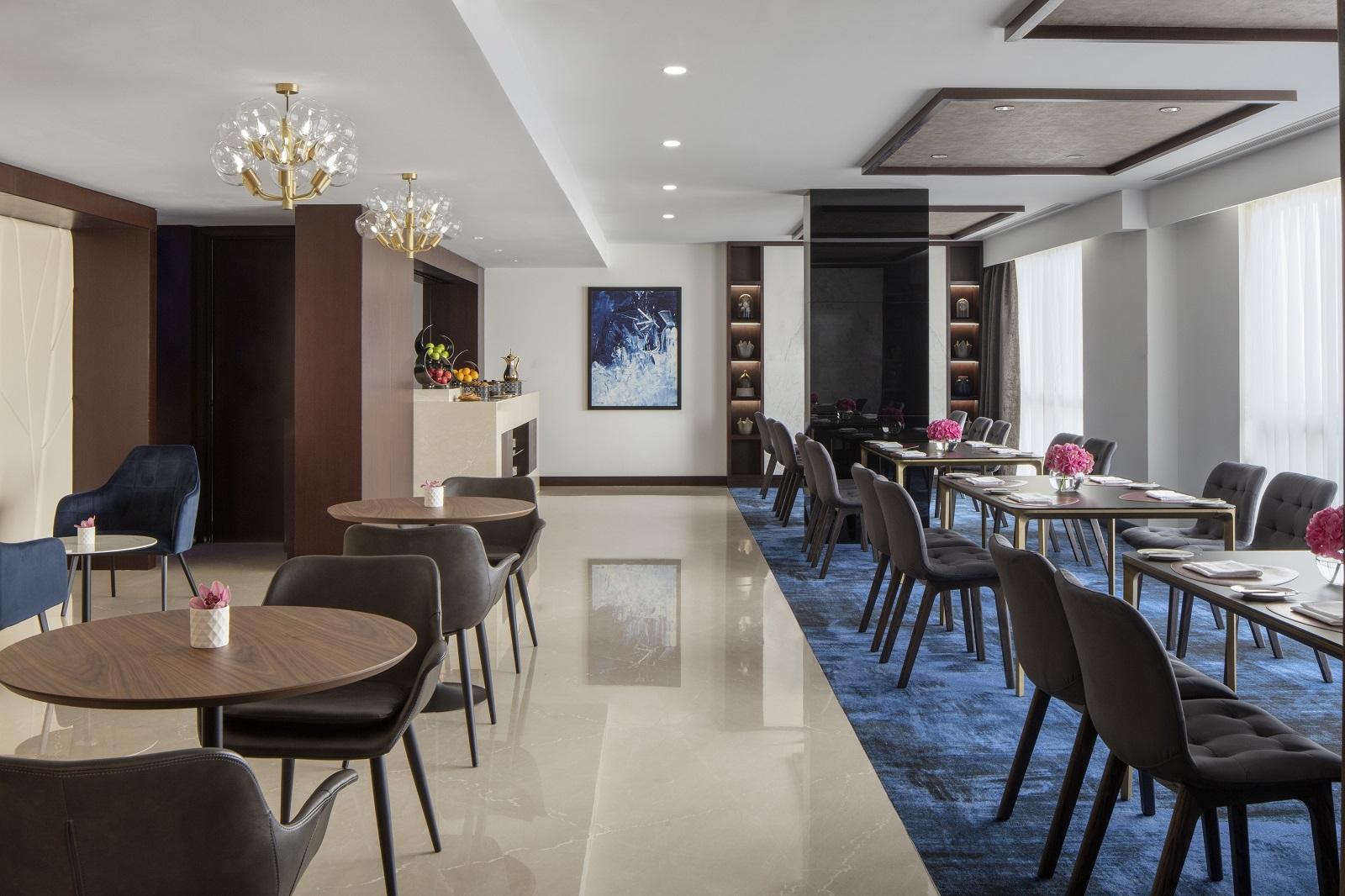 Executive Club Lounge guests enjoy a complete range of exclusive benefits, which includes complimentary late checkout, subject to availability, along with personalised check in and check out facilities, which are offered in the Executive Club Lounge, eliminating the need to stand in the queue at the hotel's main reception desk.
Comfortable and Spacious
The Executive Club Lounge at the Pullman Dubai Creek City Centre hotel is worth every penny. There is food and drinks offered at various times of the day. The traditional Afternoon Tea offers a delicious selection of pastries, juices, teas and coffees, while happy hour offers two hot canapés, two cold canapés and salad. The alcoholic beverages on offer during happy hour includes house drinks, spirits, wines and Prosecco.
Guests are welcome to bring visitors into the Executive Club Lounge at 150AED per person plus taxes. Please remember that this is a smart casual club lounge and no bathrobes, slippers, swimwear or shorts are to be worn at any time.
Beautifully Decorated with a Professional Team
Arriving on the eleventh floor and walking into the Executive Club Lounge, you know you have arrived somewhere special. The lounge is beautifully decorated in a minimalistic design with floor to ceiling windows, which capture the spectacular views. As you sit at any of the tables, you can see the panoramic views, soaking up the beauty as you enjoy your complimentary breakfast or watch the sunset during Happy Hour.
In addition to being exclusive use with exclusive privileges, the Executive Club Lounge offers the finest in quality. The food island is constantly topped up during breakfast, afternoon tea and evening happy hour and there is always something for everyone. The team are professional and attentive and are always happy to assist, ensuring your stay is enjoyable.
The team are highly professional, they have extensive area knowledge and are always happy to make recommendations or assist with restaurant bookings. The Chefs prepare the most amazing canapés and afternoon tea light bites, they are also always willing to cater to guests dietary needs.