Reserved for the exclusive use of guests with access to the Executive Club Lounge, the Horizon Executive Club Lounge is located high up on level 41. From this position guests can enjoy sensational views. Executive Club Lounge guests benefit from special privileges and the outstanding service offered by experienced, friendly, helpful staff that understand what true hospitality is about. The Executive Club Lounge is open every day from 1 pm to 11 pm, and Executive Club Lounge guests are treated to the following complimentary services:
Breakfast is served between 6:30 am and 10:30 am on weekdays, and Saturdays, Sundays and Public Holidays until 11 am. Visit Dunes Café for the breakfast that offers great buffet options.
Afternoon Tea is available between 2 pm and 4 pm.
Happy Hour is served between 6:30 pm and 8:30 pm.
Coffee, tea and a choice of soft drinks are available at all times throughout operational hours.
Children younger than 5 are not allowed where alcohol is served; instead they are seated in a dedicated area of the Executive Club Lounge (ask the staff in attendance) where they can be comfortable and eat. Dress is Smart Casual in keeping with the exclusive atmosphere that the Executive Club Lounge guest expects and is entitled to.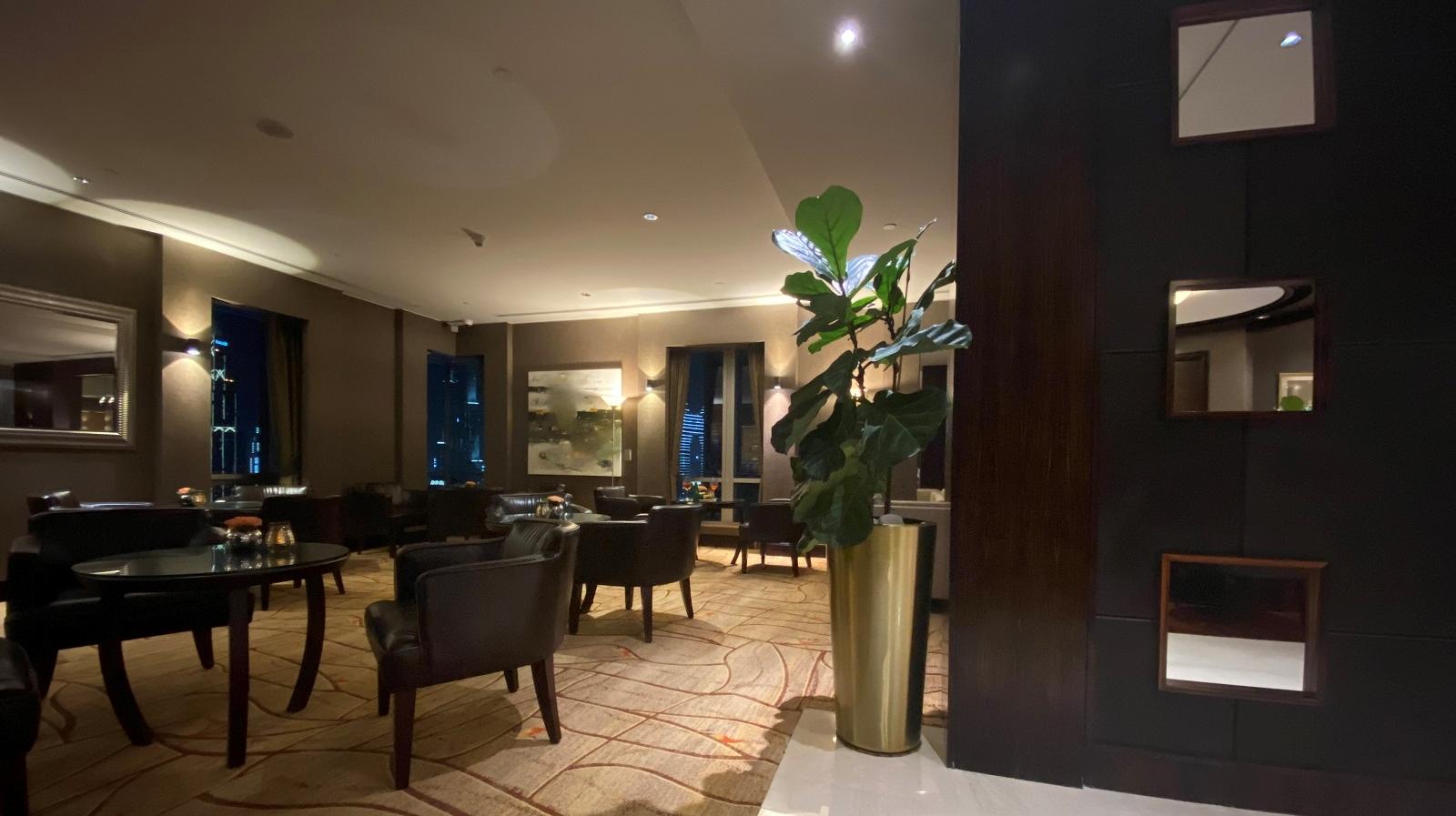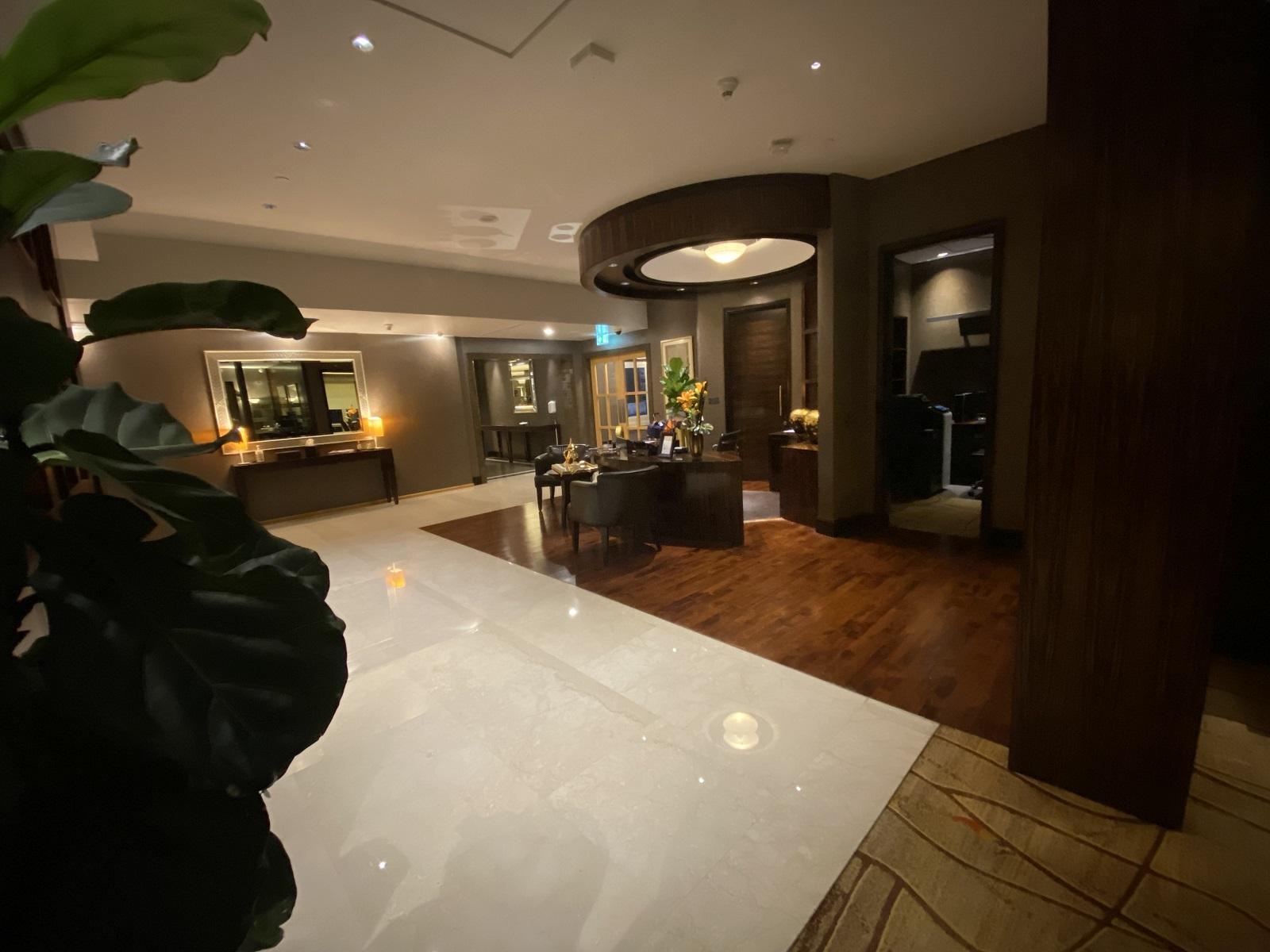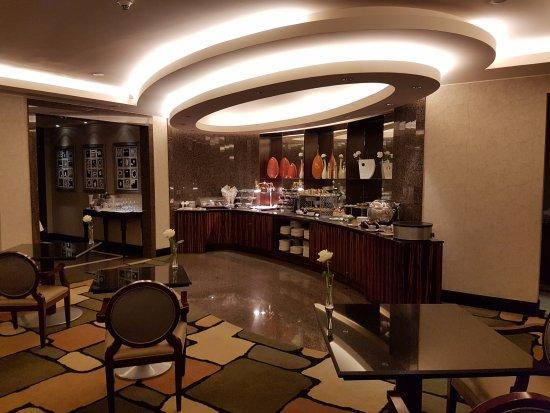 Exclusivity and Special Treatment at the Heart of the Executive Club Lounge and its Privileges
Guests with access to Shangri-La Dubai's Executive Club Lounge are offered special privileges during their stay, as well as certain complimentary features. They can expect access to the Horizon Executive Club Lounge's gym and pool on Level 42 between 6:30 am and 10 pm. They are also entitled to fast and friendly assistance when they check in and out, as well as when they arrive at the Executive Club Lounge for meals and drinks.
Executive Club Lounge guests can take advantage of the complimentary 2 hours per day boardroom access that is offered to them – advance booking is recommended. Executive Club Lounge guests are also offered complimentary pressing services of 2 pieces of clothing throughout their stay. Every Executive Club Lounge guest is guaranteed the best attention and outstanding service to help make their stay memorable.
Tasteful Interior and Friendly Service Contribute to Lovely Ambience
The Executive Club Lounge at Shangri-La Dubai is beautifully appointed with attention paid to finishes of walls, counters and other surfaces to ensure surrounds complement guests' expectations. In this space they can relax, meet other guests and mix with them, as they marvel at the city and ocean views day and night time. The peaceful atmosphere is enhanced by clever use of lighting in The Executive Club Lounge and the effective placement of plants and ornaments. Staff are experienced, attentive and friendly, but never intrusive, to ensure guests are comfortable and happy.