Sunborn London offers spacious guest accommodation on a floating super-yacht hotel, less than a minutes walk from ExCel London. This luxury hotel offers complimentary wireless internet, a restaurant and bar, along with spacious guest rooms and suites, complete with air conditioning and en-suite bathrooms. This super-yacht hotel offers a twenty four hour front desk, tour desk and a sun deck, where you can relax and soak up the fresh air on a warm day.
The lounge bar provides a complete range of beers, wines, ciders and spirits, while the restaurant provides freshly prepared dishes, including breakfast and an a-la-carte evening menu. This ideally located hotel provides you with the convenience of family rooms, twenty four hour front desk, a balcony, room service and concierge service to make use of during your stay.
Whether travelling to London on business or pleasure, Sunborn London guarantees a unique hotel experience with first class guest facilities and services and superior quality guest accommodation.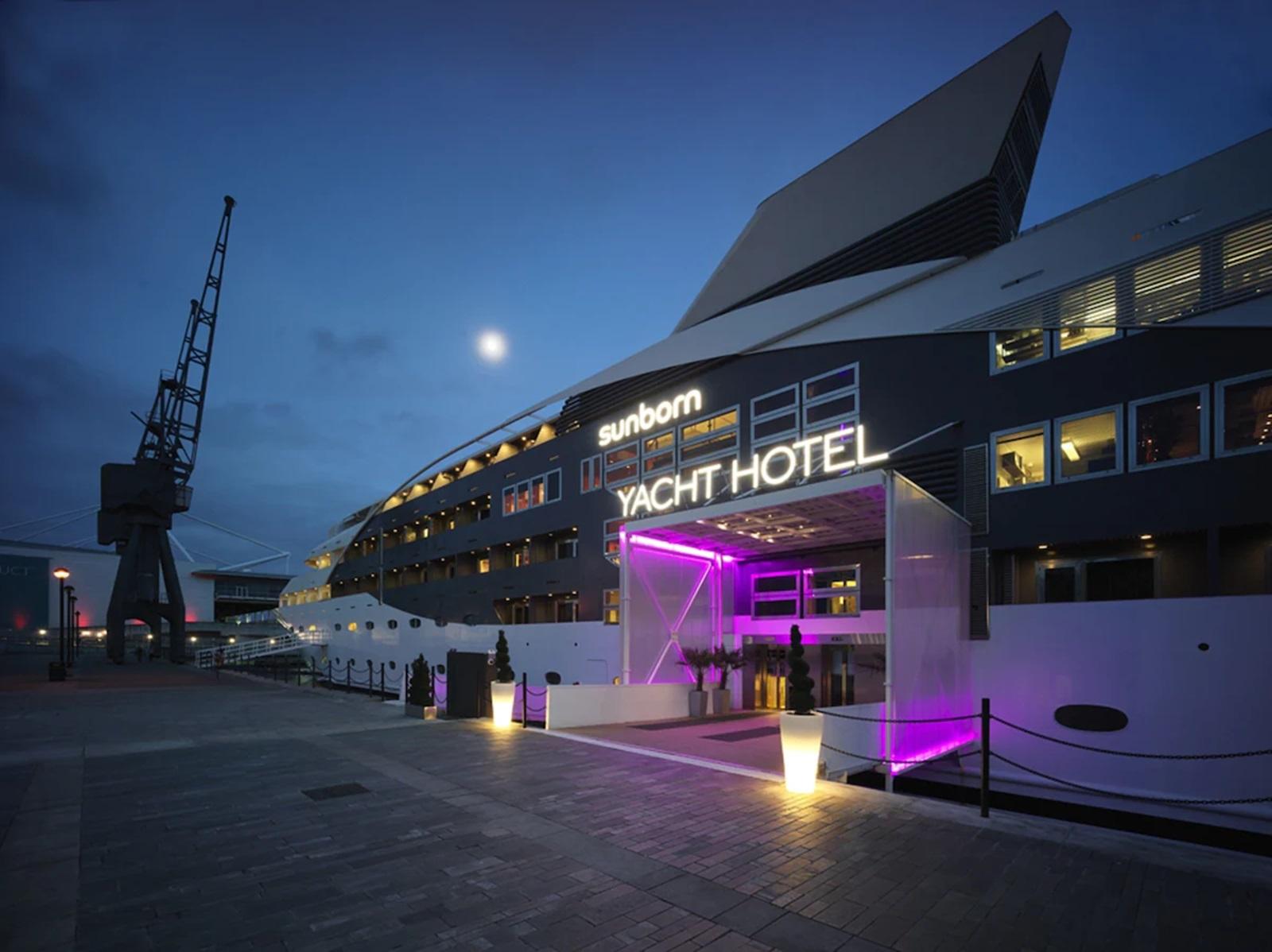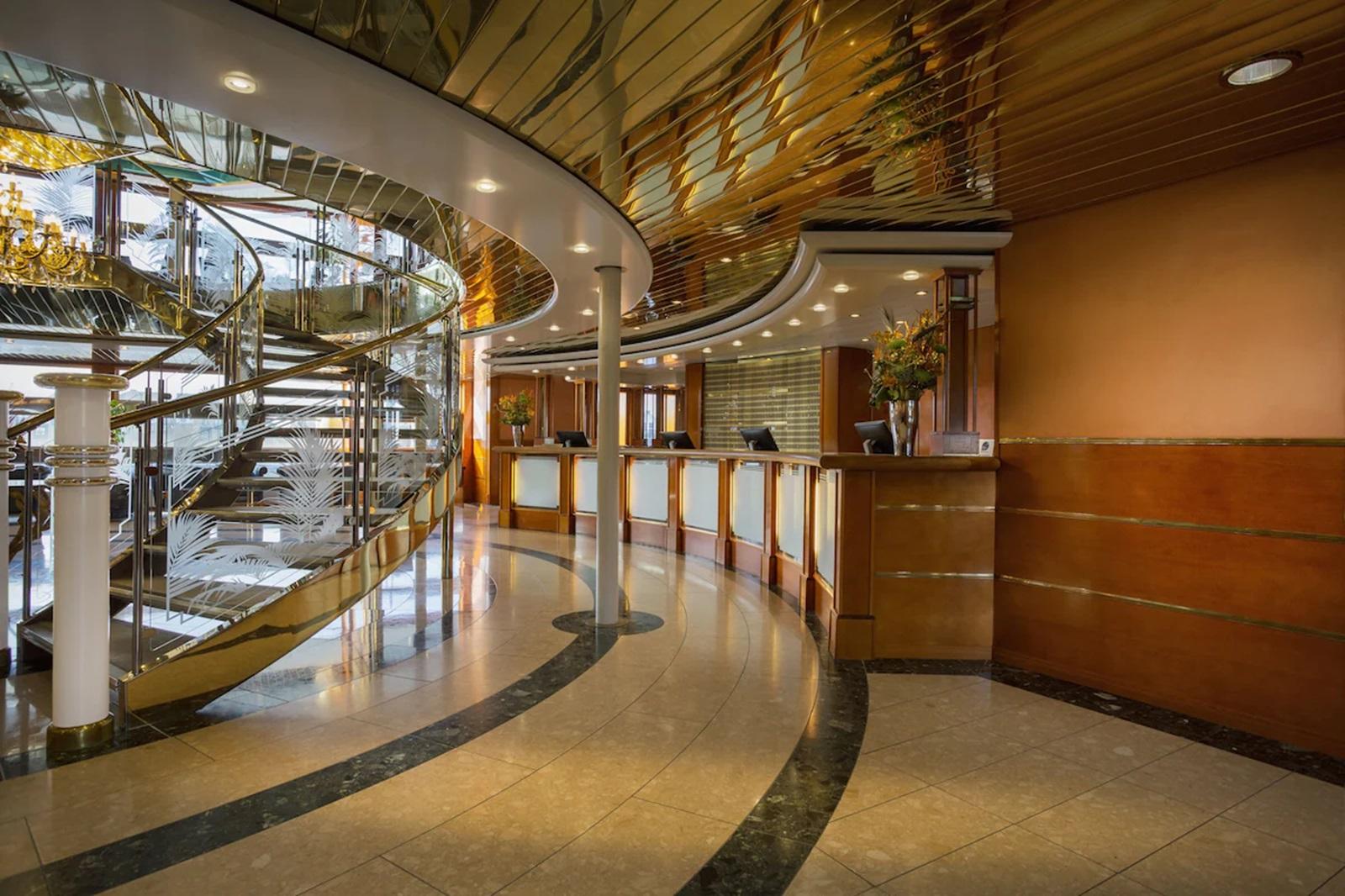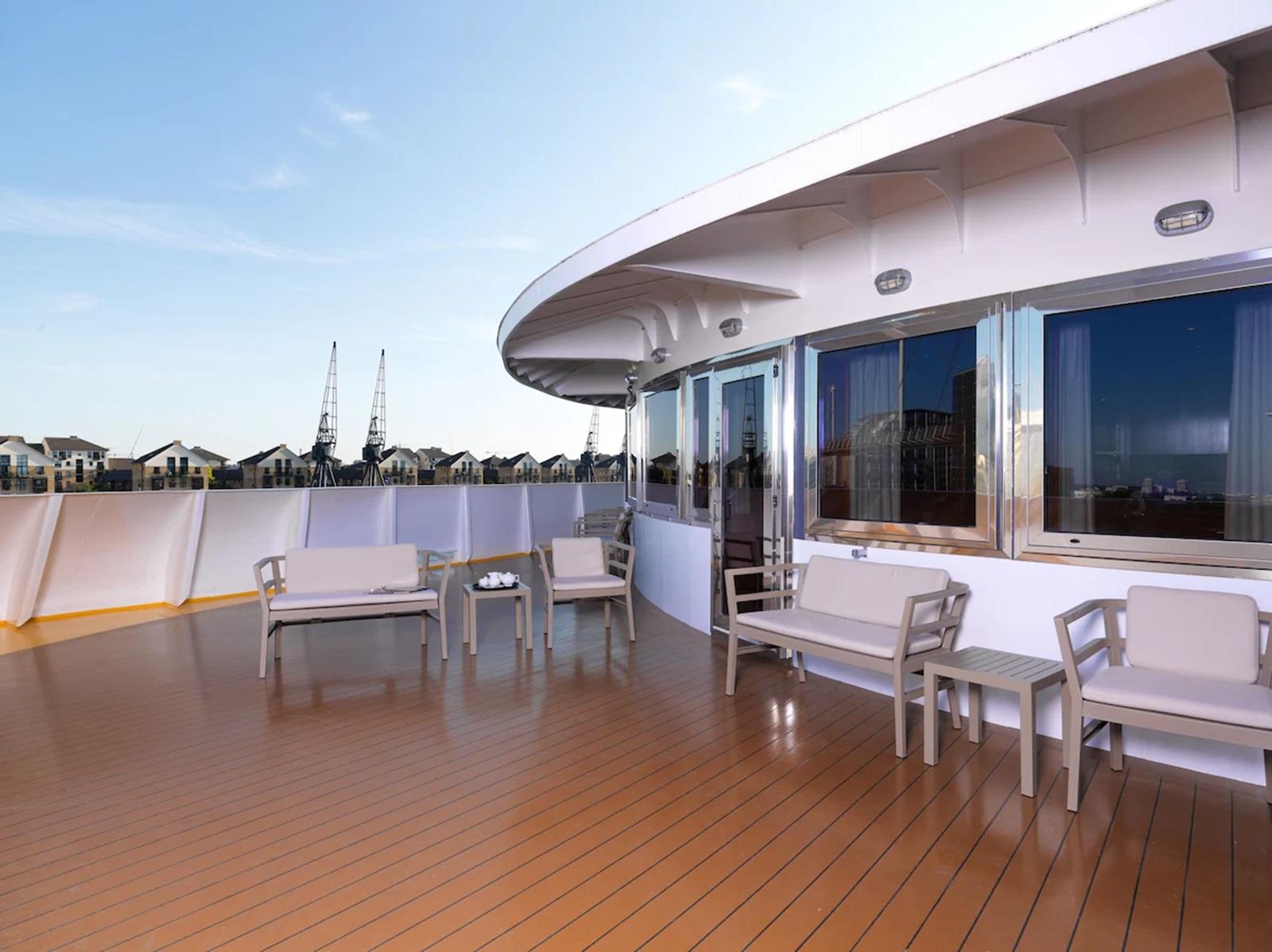 Why You Should Go There
With the train station only two hundred and fifty metres from the door, you can visit the top London attractions with Greenwich Park, Victoria Park, Tower Bridge, Tower of London, Sky Garden, London Bridge, Somerset House, Big Ben and Trafalgar Square all within eleven kilometres from the door. This luxury hotel is only one millimetre from London City Airport. During your stay, don't miss out of Afternoon Tea, offering a selection of sandwiches and sweets with spectacular Canary Wharf views
The Sundowner Bar is an elegant setting where you can enjoy morning coffee and signature cocktails, while the on-site restaurant offers a selection of delicious cuisine, freshly prepared and presented to perfection. Sunborn London provides a twenty four hour front desk, concierge service and luggage storage for your convenience. During your stay, you can enjoy private dining in eight settings, each with its own features and spectacular views.
This luxury hotel also accommodates conferences, providing an unforgettable location, perfect for award ceremonies and product launches. They also provide unforgettable weddings with a stylish venue.
If you are looking for a once in a lifetime guest experience in London, Sunborn London will not disappoint. It provides you with the feeling that you are on a cruise, while offering the convenience of a central location with easy access to all London's top attractions.
Accommodation
You can choose between luxurious guest rooms or suites. It provides a unique experience where you enjoy quality and comfort from this top quality super-yacht hotel. The suites provide extended living spaces, where you can spread out and enjoy the spectacular views, along with complimentary mini bar.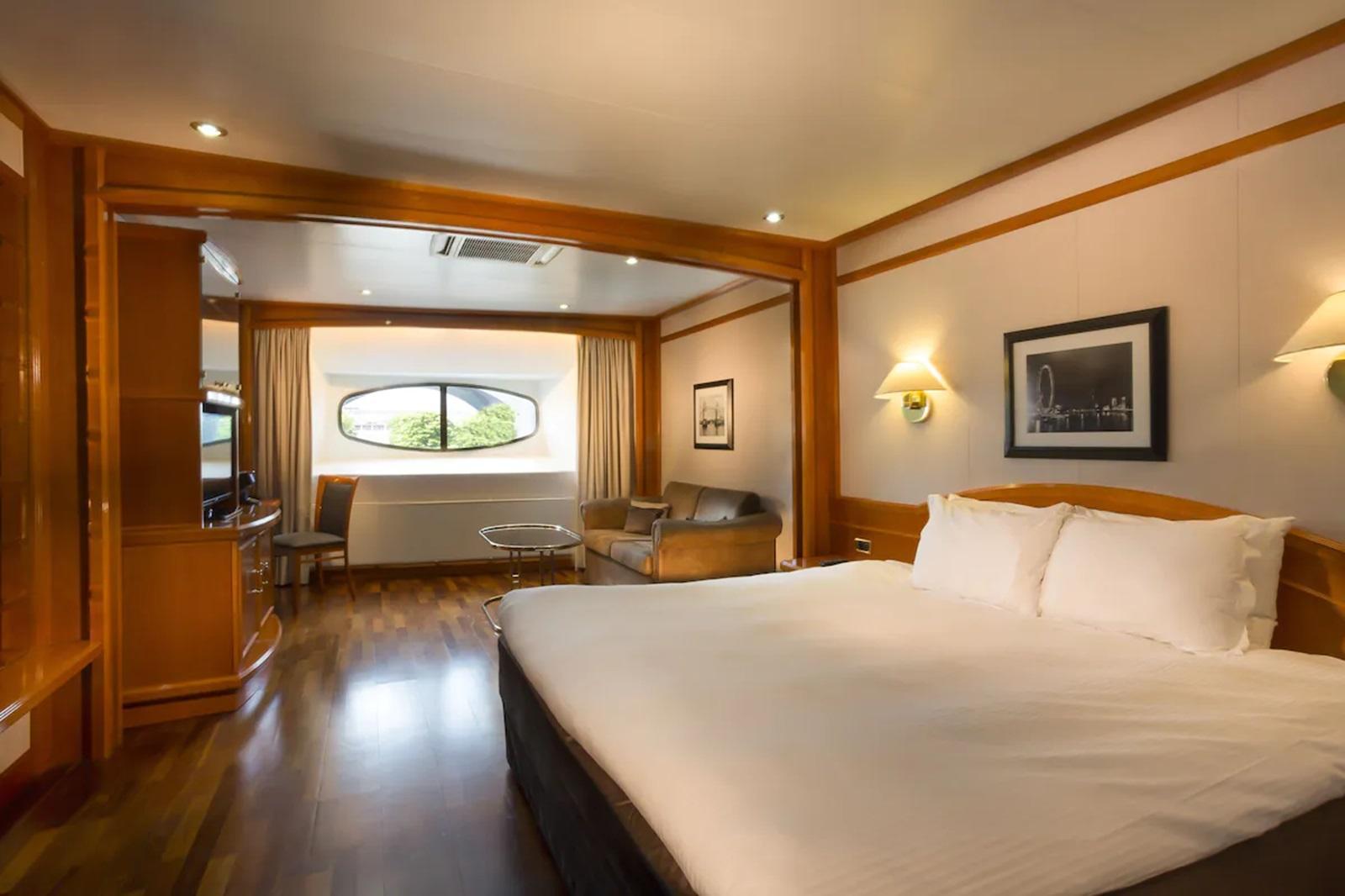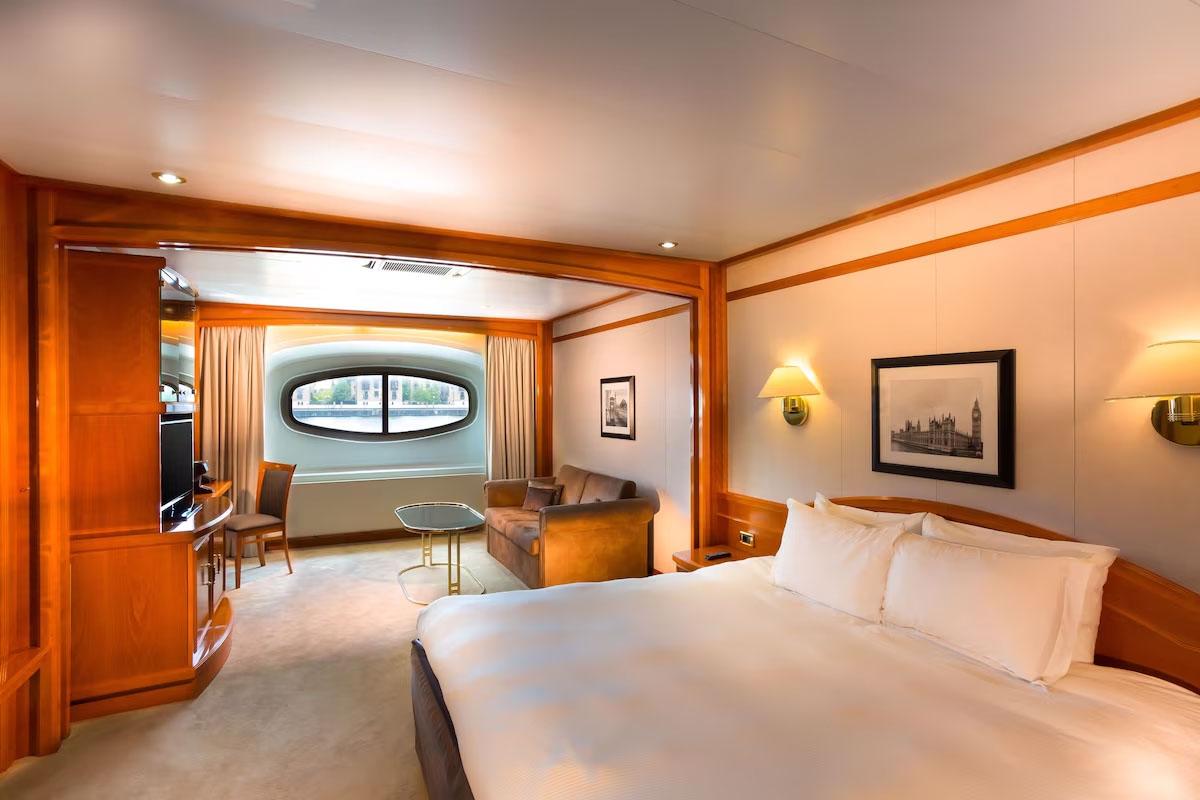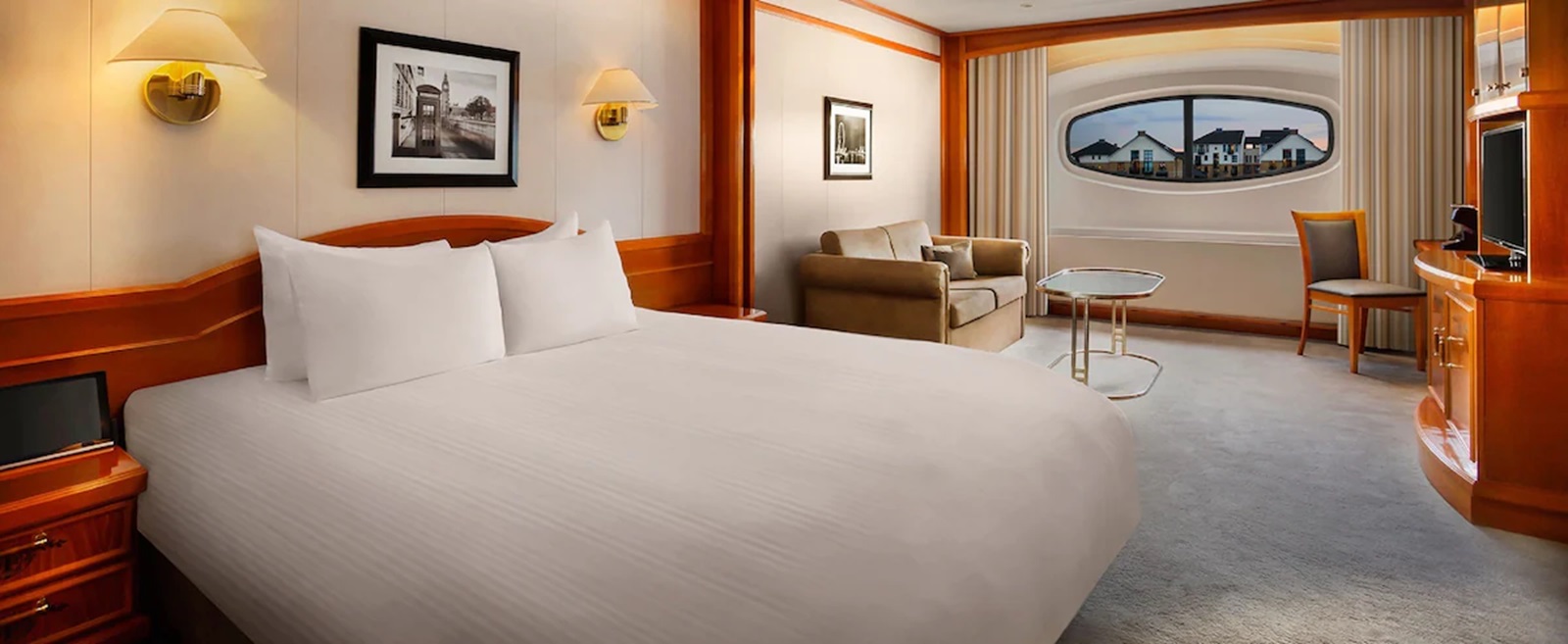 The classic family room offers thirty square metres of space, along with en-suite bathroom, air conditioning, complimentary wireless internet and coffee machine. This room boasts a king sized bed and sofa bed, sleeping up to two adults and two children. The forty five square metre junior suite offers a private balcony with sea views, air conditioning, en-suite bathroom and king bed. It also has a sofa bed, free view television and coffee machine.
All the rooms and suites at Sunborn London offers the ultimate in luxury with beautiful furnishings, bespoke bathrooms and panoramic views. There are one hundred and thirty six luxury rooms to choose from, of which only four are suites. They are all designed to create ample space with elegant interiors. Guest staying in any of the four suites enjoy a dedicated concierge service.
The suites at Sunborn London offer complimentary tea and coffee making facilities, high speed internet, private balcony with view, king sized bed plus a queen size sofa bed and bathrobes and slippers.